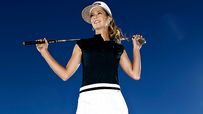 LPGA rookie Anna Rawson tied for 13th at the LPGA State Farm Classic for her best finish this season.
Welcome to SportsNation! On Tuesday, LPGA golfer Anna Rawson stops by to chat about her first year on tour, the financial future of the tour and her modeling career.
In his latest piece for E:60 (Tuesday, 7 p.m. ET, ESPN), Tom Farrey sat with Rawson as she laid out her ideas for making her sport more marketable.
The 2009 season is Rawson's first as a card-carrying member. She played her collegiate golf at USC, where she was an All-Pac-10 honorable mention in 2001-02 and 2004. She began her modeling career at the age of 16 in her native Australia and has secured sponsorships from GoDaddy and J. Lindeberg since turning professional.
Send your questions now and join Rawson Tuesday at 3 p.m. ET!
More Special Guests: AnnaRawson.com | Previous chats | SportsNation
Buzzmaster
(2:59 PM)
Anna should be here soon, so get your questions in!
Buzzmaster
(3:02 PM)
Anna is here!
Steven (NJ)
What is your favorite tournament to play at?
Anna Rawson
(3:03 PM)
Hmmm...That's such a hard question. I'm at the British Open this week, so this is my favorite tournament. I do love links golf. It's really fun. My favorite tournament that I've ever played in is probably in Dubai. It's in the European Women's Tour.
Joe (Philly)
Do you feel sexuality should be a big part in marketing the women's game? As the saying goes, "sex sells"
Anna Rawson
(3:04 PM)
It can be a part of marketing. I don't think it should be the total marketing that's used. It's just a part of everything. You market the golf, players, personalities and the looks. It's a combination of everything.
Joe (LA)
You should have a win a date with Anna Rawson contest.
Anna Rawson
(3:05 PM)
That's hilarious! I don't know if that would work. I don't know if that would get more fans. It could scare people away.
Amy (Sweden)
Anna, I just love your style and how you look so good on the golf course, i just have to know, what is your favorite brand of jeans and have you ever worn leather pants? What is your favorite club in the bag
Anna Rawson
(3:06 PM)
I would have to say Acne jeans, which are Swedish, actually.
Steve New london Wi [via mobile]
What would give you more satisfaction To be on the cover of a popular magazine or winning a major golf tournament Good luck on your golf career
Anna Rawson
(3:06 PM)
Winning a major golf tournament.
Nick (Portland, OR)
What is the best score you have posted on 18 and where?
Anna Rawson
(3:07 PM)
65 in Springfield at the State Farm Classic.
Dan (Denver)
You're a model as well as a professional athlete. From what I have heard and read about you, you don't seem to fill the stereotype sometimes associated with models - the ditziness and, "blonde moments." How do you feel about those stereotypes?
Anna Rawson
(3:08 PM)
I was just lucky that I finished high school. Some of the models start at 13, 14 and don't actually finish their education. I don't know if that's why or not. But everyone's their own individual and has their own personalities. That's just one that models get, unfortunately. I would encourage you to get past the stereotypes and get to know the person.
Mike (Chicago)
What would you think about letting a fan or 2 on the course with the players?
Anna Rawson
(3:10 PM)
I believe there is a program that the LPGA has that does allow that. I think there is a contest that has fans get close and then blog on the Internet. That's a fabulous idea. Anyway we can get the fans more interactive is great. I think that's a fabulous idea. During tournament play, you have to focus, but during a Pro-Am, I couldn't see why not.
Amy (Sweden)
I read a little bit about your ideas to change the game, if you had a song that played before you teed off, what would the song be?
Anna Rawson
(3:11 PM)
Probably one by Flo Rida.
Clay (Charlotte)
What is your opinion of women playing in PGA tournaments? Do you think if they are good enough they should play or that they should be kept seperate?
Anna Rawson
(3:12 PM)
I think it was great for women's golf when Annika played with the men. It brought a lot of attention to her and women's golf. It gains a lot of attention. I think you get the No. 1 player on the women's tour, why not. Give it a go. Why not? I think it's great for women's golf.
Joe (Austin)
Hi Anna, I?ve read that you say regular guys have a chance when it comes to dating you. How would a regular guy get in contact with you or what do you look for in a guy to date? Thanks!
Anna Rawson
(3:13 PM)
Just come talk to me when you see me. I actually had a conversation with someone the other day where I said I've never really been picked up on or whatever. In the grocery store or something, no one's ever come up and said hi or whatever. It's never happened to me. I don't know why, it just hasn't. So, if you did, you would be the first one.
Joe (DC)
Hi Anna, do you play any other sports or follow any other sports? What are your favorite teams?
Anna Rawson
(3:15 PM)
I played every sport growing up - tennis, basketball, hockey, everything. My favorite teams are the USC Trojans. I can't wait for football to start back up! I'm a big Dodgers fan, happy to have Manny. I'm not a huge Lakers fan. I'm not really into the NFL, maybe it's because we don't have a team there. But my USC Trojans seem to fill up my calendar up. I love tennis and I like to watch men's golf too.
Brandon (Lodi, CA)
If viewers only have 3 hours available to watch golf on a Sunday, why should they watch the LPGA Tour over the PGA Tour, especially when Tiger and Phil play?
Anna Rawson
(3:17 PM)
Obviously, we wear skirts and shorts. So you're going to see more legs. But if you're not a leg person, I would say you can learn more from us. The men are just ridiculous that their games are so much more different than an amateur. Our games, I would say are closer to the amateur and you can learn a lot more from watching us.
Steven (NJ)
Do you expect to be one of the top players in the LPGA in the near future?
Anna Rawson
(3:18 PM)
Yeah, definitely. That's the goal. It's always to be the best you can be. I think I'm still a couple of years away from that. I didn't start with a full time coach until I was out of college. That's difficult when you're playing against girls who were coached since they were 15 or younger. But I'm moving forward quite fast. My coach is expecting to be there. I'm expecting to be there. It took Lorena five years to get to be No. 1. I'm in year 2.
David (Naperville IL)
There is a noticeable television ratings boost/decrease when Tiger Woods plays or doesn't play in a tournament. Do you feel Annika's retirement from the LPGA caused a loss in interest in the LPGA?
Anna Rawson
(3:20 PM)
That's an intersting theory, but I don't think so. Lorena was a dominant player last year. This year we haven't had a player who's won multiple times. But there doesn't seem to be disinterest out there. There are many stars out there. I'm sure Annika is missed. She was such a phenomenal player. I'm not really sure.
Anna Rawson
(3:20 PM)
Thank you for listening. I hope to see you out at an LPGA tournament this year!