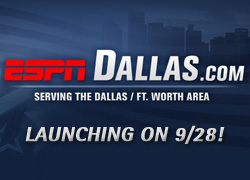 Welcome to SportsNation! On Monday, we're going to help launch ESPNDallas.com with an all-day chat filled with Dallas sports personalities.
Monday's chat schedule is: (All times CT)
Noon- Former Cowboy Nate Newton
12:30pm- Cowboy WR Patrick Crayton
1pm- Former Cowboy Darren Woodson
1:30pm- Mavericks F Shawn Marion
1:30pm- Cowboys owner Jerry Jones
2pm- Former Cowboy Roger Staubach
2:30pm- Former Cowboy Tony Casillas
5pm- Click here for Rangers' Ian Kinsler

Send your questions now and join the chat block Monday!
More ESPNDallas.com: Index | Previous special guests
Dexter (Fort Worth)
Nate, excited to see your son tear it up down in Austin?
Nate Newton
(1:03 PM)
I'm truly excited. These are the things that he's worked for, the things that he's worked at Southlake. When Texas offered him a scholarship he was truly excited, took advantage of the opportunities that he has. He's got a 3.3 grade average, that's what I'm most excited about.
Hayden (Logan, UT)
Nate, was up? hows life after football?
Nate Newton
(1:05 PM)
It's great. I do a little bit of stuff for a pregame show. I do 103.3, work the Michael Irvin show, get to see both my sons play football. I've got a 12-year-old that's a solid football player at Southlake Middle. I'm excited with these opportunities.Nate King Newton, he's a solid individual, A, A, A, B student. He's turning into a solid businessman and he's in the seventh grade.
BIGFORD7000 (DALLAS,TX (OAK CLIFF))
BIG NATE, WHEN WILL WE SEE MORE BENNETT IN THE SCHEME? HE IS AN IMPORTANT VALUE TO THE OFFENSE, WE HAVE A LOT WEAPONS AND I JUST WANT TO SEE MORE OF MARTY B. YOU ARE DOING A GREAT JOB IN YOUR MEDIA CARRER KEEP IT UP BIG HOMIE.
Nate Newton
(1:06 PM)
Marty B like I tell people ... this offense is still a works in progress. A lot of times when you see teams early in the preseason it doesn't cover what you see early in the week. He's a red zone guy but I think his game is much much better than just a red zone guy. He blocks well, comes off the goal line and creates some t hings. Right now, they're just trying to make sure that Tony Romo is doing what he needs to do.
Steven (Nj)
Who was the hardest guy to block?
Nate Newton
(1:07 PM)
For me it was Jerome Brown. For the Dallas Cowboys it seems to be nobody because the offensive line is the strength of the team. ... But we can't afford to get anyone hurt. Tell Steve in New Jersey, GO JETS!
Adam (Cotton)
Do you believe that Romo is the QB of the future for the Cowboys? Considering his inconsistencies in big games does he stay as the starter after this season?
Nate Newton
(1:09 PM)
It's early in the season, it's one bad game. It's unfortunate that it happened with all the hoopla around the new stadium. It's time for him to back up and say "I've got too much talent around me." He should be more conservative in how he does things and realize the talent he has around him.We have enought consistency on defense that he can hold in there. What you want is get to the fourth quarter and be up by three or down by three.
Dave (Grapevine)
Nate, the O-line has looked pretty good so far this year. Was Kyle Kosier that important?
Nate Newton
(1:10 PM)
Evidently he was. Now I didn't have him rated as high ... he's more like Mark Stepnoski, he can play to his strength ... good technique guy.We cannot afford, I repeat, we cannot afford to lose anyone, because our backups have not shown to be able to stand up consistently more than three games.
WARD ELLIOTT (DETROIT,MI)
nate,who is your favorite nfl player today?
Nate Newton
(1:11 PM)
That's hard to say, I like defensive players man. Right now it's just hard for me to say. You like D-Ware but he hasn't done much, Shawn Merriman hasn't done much.
ryan bearden (burleson tx)
Hey Nate Newton, you and Larry Allen are 2 of my favorite all time cowboys. I'm very thankful to you and your son, for Tre enrolling at the the university of tx. Please tell your son to run all over those sooners. With 3 super bowls and 6 pro bowls, do you feel your not in the hall of fame because of your off the field trouble? I think Nate Newton, Erik Williams, Mark Stepnoski, and Larry Allen should all be enshrined together with Emmitt Smith, for the gaping holes ya'll created. I believe the off line of the 90's was the greatest of all time!
Nate Newton
(1:12 PM)
that could be it, but the hall of fame goes only to a select few. That Hall of fame thing you can't control. Who knows, I can die and they can feel sorry for me and put me in there. God has a plan ofr me.
Jeremy Pierce (New Orleans, LA)
Nate, do you believe that the O-Line can hold up over the entire season and continue to be effective?
Nate Newton
(1:14 PM)
They have to. They have no other choice. I just don't believe we have the backups, especially at the tackle position, to play more than three games, that would take away from the offense.These guys we have starting right now, they normally do man on man blocking and pick up the blitz well.
Keith (CO)
Nate, Where is Leon Lett these days, do you keep in contact with him?
Blake (Dallas,tx)
Nasty nate keep feeding your boy, he is starting to fit in with the texas offense. Out of the three or four backs texas has who do you think will have the most success? I think Trey has it in him.
Nate Newton
(1:15 PM)
Leon Lett is in Dallas, I haven't talked to him in a couple of months. He's doing well, normally I'll do a show during the middle of the week, I'll have him on during the year.
Nate Newton
(1:16 PM)
It's hard to say. It depends on who they're running in this week. My son is the most knowledgable in picking up the blitz. I think all the backs are ready, what you have to do is be ready when the opportunity comes ... definitely tae it to the house.
Pro Vikes (Dallas, TX)
Nate, I first want to commend you on the great job that you do on the Mike Irvin show. My question is this: Since you played for Jimmie Johnson (Super Bowl coach) and Barry Switzer (Super Bowl Coach), do you see any of the same characteristics in Wade Phillips? Do you think that Wade what "it" takes to take this team to the "Big Dance?"
Nate Newton
(1:17 PM)
You can pick between Dallas, Minnesota, the New York Giants ... those lines are solid. The Patriots are maybe a distant fourth or fifth. The Jets line has been playing nice, but you have to see that over the years.
Kyle (Austin, Tx)
When and/or can the Cowboys begin to get pressure on opposing QB's? How big of a mistake was letting Greg Ellis go?
Nate Newton
(1:18 PM)
That was a big mistake. It's not being mentioned a lot. They don't have constant pressure on the quarterback. Sometimes you have to let a great player like DeMarcus Ware freelance. ... I don't konw if they're going to let those guys rush as much. Now the "real" Steve Smith is coming in, I don't know how much man to man, Cover 2, some type zone ... I don't know how much pressure that's going to put on the pass rush.
Charles Hans (Spring Hill, Florida)
Nate, do you feel Romo Is the super star quarterback hes been touted to be? Or are you as disapointed in him as I am? He just doesnt seem to have the drive of some other players, a little too hollywood for me. MY opinion.
Nate Newton
(1:21 PM)
I think he has the drive. I think he can do what is necessary to get himself going. You have to remember what got you there, the ability to be patient and to grind it out. As the years go on ... you're going to have to be a precision guy, take what the defense give syou.
Jake (Ann Arbor)
Nate, what career would you have chosen if you had not been a pro?
Nate Newton
(1:21 PM)
A professional football player. Didn't have a chance to do anything else. Wanted to be a fireman growing up, but they didn't have a suit big enough.
Dem (San Francisco, CA)
Nate, how do feel about the Michael Vick situation?
Nate Newton
(1:23 PM)
The guy paid his price. He's done what he's done. As long as he keeps his nose clean, do what he has to do, everything will be alright. People are going to learn that you change, but it's not going to be overnight. Only time will tell and only time wil l help them.
corey (garden city, ny)
what are your thoughts on Mark Sanchez and him starting the season 3-0?
Nate Newton
(1:24 PM)
If he stays poised, he's the type of rookie that has a short memory for the bad and a long memory for the good. The USC coach said he wouldn't be ready but when you have a great defense, special teams are solid, all you have to do is manage the game. That's my thing with quarterbacks, can you manage the game without hurting anyone?
Jose Shwadsky (Mexico City)
Why is Wade Phillips running the defensive coordinator task and the head coach position all together? Dallas is the only NFL team not to have yet a sack and neither force a turnover, isnt too much responsabilities given to Phillips?
Nate Newton
(1:25 PM)
There's a lot of guys that are head coaches and coordinators. The guys just got to pick it up, but it still comes down to the players to perform. Guys just gotta get up and play, man, and that's the bottom line.
Keith (CO)
Nate, what is your take on these rookie salaries. Do you agree that a rookie salary cap should be implemented? Since players are getting alot of money before proving themselves.
Nate Newton
(1:26 PM)
You always say that once you become a veteran. But the r ookie salary cap escalates a veteran salary cap. Let it continue to be what it is.
Big C (Dallas)
Big Nate, I know its a little to early to talk about the draft, but do you think the cowboys should maybe draft a QB next year for the future?
Nate Newton
(1:27 PM)
At this point, Kitna's OK and Tony's OK. My thing is we better get some offensive linemen. Get a second-round pick that can play in the offensive line. You look at other teams, they all have a second-round pick who can play on the offensive line.
Jacob (Loisville, Ms)
Do you think this cowboy team will make it to the playoffs and win a game?
Nate Newton
(1:29 PM)
If we lose any of these games (coming up) that's not good because on the back end of our schedule .. at Philadelphia, at Green Bay ... New York, New Orleans, that's a murderer's row. Seven games that we can lose. We have to pick it up. We have to get on a six or seven game row starting tonight.
Kyle (Austin, TX)
What will it take to save Wade's job? If he does lose his job who would you like to see coach the Cowboys next year?
Nate Newton
(1:30 PM)
Anybody that's going to start out in OTA, letting everyone know that every position is open. I don't know who that guy is or should be. Whoever can get guys back physical, getting upset about losing. You got a lot of names out there, don't know what these coaches want to do about control or how they want to run their program.
SPORTS NATION
(1:33 PM)
Thank you Nate.
Buzzmaster
(1:34 PM)
Next up is Patrick Crayton from the Cowboys! Send in your questions for him now!
Buzzmaster
(1:42 PM)
Hang on a second folks. We're tracking down Patrick right now.
Ray Silva (Las Cruces, NM)
Does the jumbo screen in the new stadium distract any players?
Patrick Crayton
(1:44 PM)
No it doesn't distract us at all. It helps us view the replays a little better. On the sidelines all you see is everyone's head looking up.
Jeff (Dallas, TX)
How do you get yourself prepared mentaly for the game? Any rituals that are personal to you? Superstitions?
Patrick Crayton
(1:45 PM)
Rituals....No. 1, I'm there anywhere between 2.5-3 hours before game time. I read the media guide, then put my headphones on and eat gummy worms. Have to have my gummy worms.
Blake (austin, tx)
How do you feel about going up against the panthers D this week?
Patrick Crayton
(1:46 PM)
Love it. I think we're going to have a few opportunities to make some plays this week. Looking at the film, we're going to have some plays down the field and run after the catch.
Ryan (San Antonio)
Patrick,I need you to catch a TD tonight.Your on my fantasy team. Whatcha say?
Patrick Crayton
(1:46 PM)
Trust me, no one wants to catch one more than myself. I'm trying to get in the end zone every time I have the ball. We'll see how it goes tonight.
Jeff (Dallas, TX)
I was wondering what sort of route is your favorite? Is there one you just feel the most comfortable doing?
Patrick Crayton
(1:47 PM)
Man, maybe a 7 route. It's about a 16-18 yard out.
Jeff Prince (Lubbock,TX)
Patrick, how does it feel to play in the new stadium? Do you have any cool behind the scenes stories we don't get to see or hear about in terms of the stadium and its many features?
Patrick Crayton
(1:47 PM)
You know what, it's amazing. Once you get over all the entertainment part of it and how big it is, it's still a football field. But it's something about how big that thing really is.
Tyler (Stillwater, OK)
Patrick, how is the offensive game plan different without T.O.?
Patrick Crayton
(1:48 PM)
Not at all. Not at all. We still have some of the same plays and added a few new ones. The offensive game plan is still the same if we have a chance to throw it deep, we'll throw it deep. If not, we'll take the intermediate and short passes.
Chris (NE ARKANSAS)
felix jones the real deal?
Patrick Crayton
(1:49 PM)
Yup he is. He is the real deal. The type of speed that he brings is a true gamebreak. He's the real deal. He hasn't reached his top game, but once he maxes out, he's going to be great. I think he has the chance to be as good as Marshall Faulk.
Patrick (Clearwater, FL)
Patrick, if you could play another position on the team what would you choose?
Patrick Crayton
(1:49 PM)
QB.
JD (Arlington, TX)
Patrick, what's it like walking through the bar area to go to and from the field?
Patrick Crayton
(1:50 PM)
I'm still actually getting adjusted to it. That's different to have two bars on two sides of you as you're walking out. Usually you have a tunnel, and you're doing a lot of comraderie things. But now we don't have the tunnel and we can't do that.
Chris (NJ)
What's the key to bouncing back from last week's loss against the Giants in the stadium opener?
Patrick Crayton
(1:50 PM)
Eliminating turnovers. Period.
Michael (Chicago)
When you score, have you ever thought of showing up Ochocinco and doing your own endzone dance?
Patrick Crayton
(1:51 PM)
I'm pretty sure he practices those. He puts a whole lot of thought into them. I've never put a whole lot of thought into it.
Rob (New Orleans, LA)
Patrick, Will we see you taking some snaps at QB, in the wildcat formation? And are you comfortable doing it?
Patrick Crayton
(1:52 PM)
I hope so. I hope so. We'll see here shortly. It's not in the works right now, but we'll see what transpires.
mark (dallas, tx)
What do you think about all of the critiscm on Romo? Do you think he is the Cowboys Qb for the long haul?
Patrick Crayton
(1:52 PM)
I think some of it is not deserved at all. It's a little too unfair. But you're going to get that. You're the QB of America's Team. I think he handles it well. Often when he has a bad game, he responds with a good one.
Parker (Heyworth, IL)
Patrick, do you feel that the Cowboys WR core is underrated? You and Roy Williams get no credit.
Patrick Crayton
(1:53 PM)
That's true. But we don't really care about being underrated at all. We'll silence the critics and at the end of the day, I don't think we'll be underrated at all.
Davin ((MN))
Who do you fear more in the division, New York or Philadelphia?
Patrick Crayton
(1:54 PM)
Neither. We don't fear any team at all. We enjoy playing both of them, actually.
Jarret (Dallas, TX)
Who is the toughest corner back in the league that you most hate playing against?
Patrick Crayton
(1:55 PM)
There's not really a corner that I dislike playing against. There are some tough ones - Al Harris and Woodson in Green Bay is a good tandem. Usually in our division, you play the CBs in our division by committee. It's an entire defense that you see, but if you're talking tandem, the one in Green Bay is a good one.
Amar (Boston)
Patrick,do you feel like that new stadium puts extra pressure on you guys to win?
Patrick Crayton
(1:56 PM)
I don't think it puts a lot of pressure on us. I think a lot of people are more amazed with the story about the stadium versus how we're playing in it. We don't worry about that pressure at all.
Tony (Arlington, TX)
PC-Those cage dancers take your mind off the game like they do me?
Patrick Crayton
(1:56 PM)
I actually did not notice the cage dancers until they put them up on the jumbotron during a TV timeout. Of course, you're going to pay attention for a little bit, but then it's back to game time. We have a job to do.
Brian (Waco, Tx)
Patrick, what corner back talks the most trash? Are you much of a trash talker?
Patrick Crayton
(1:57 PM)
Most of them don't really talk a whole, whole lot. The ones that are doing most of the talking are the LBs because they are very very rarely in a one on one matchups. But the CBs are not doing much talking.
steve (san francisco)
what's your favorite part about the stadium?
Patrick Crayton
(1:58 PM)
I would probably have to go with the jumbotron. I'm pretty sure it has to be the biggest TV in the world.
Patrick Crayton
(1:58 PM)
I appreciate the support. Look forward to us taking care of business tonight and the rest of the year.
Darren Woodson
(1:59 PM)
Let's get started!
Terrail (Atlanta,Ga)
Darren what do you like most about the stadium?
Darren Woodson
(2:01 PM)
The screen is one thing you admire...it's definitely something the fans admire when you walk into the stadium. But as an ex-player, walking into the locker room area at the old Texas Stadium was horrible. The tunnels where the teams walked out were horrific. The bar area and locker room in the new stadium is one of the best I've ever seen. The facilities where the players are at are a much-improved upgrade.
Kyle (Lancaster, PA)
Darren what was your greatest moment as a Cowboy
Darren Woodson
(2:02 PM)
I would say that first Super Bowl in 1992. I came in as a rookie, a nickel/special teams guy, and we ended up winning the Super Bowl, but as a youngster, I didn't know how big that event was. To actually be there was a special moment for me, and I realized how special it was when I was walking to the locker room after that game. I saw guys who had been in the league many years before me crying afterwards, and I realized then that this doesn't come easy. A lot of those guys had been int he league for a long time.
Raymund (Austn, TX)
Darren, do you think the league is protecting the WR's and QB's too much?
Darren Woodson
(2:04 PM)
Yes, I'm a defensive guy, of course! I understand the rules---you do have to protect a defenseless player. A lot of the rules are based on times when you take a shot at a QB's head, which is good, but the new Tom Brady rule where you can't take a shot at a QB's legs is a terrible one. Guys are going to be on the ground trying to make a sack, and you're going to take the game away from them. I think they should do away with the horse-collar rule as well...why would you get fined for trying to make a stop? Usually you're trying to save a touchdown when you make a play like that. It's a tough situation.
Christian (Albany, NY)
Darren, what do you think the Defense needs to do to step up their game, no sacks, and turnovers in two games, I think that's a bigger problem then Tony Romo. Do you agree? Thanks.
Darren Woodson
(2:07 PM)
I think it's a huge problem. The Cowboys realize they're missing Greg Ellis opposite DeMarcus Ware. He's seeing nothing but double-teams and chip blocks. They have to find another person to create pressure or havoc in the middle, or teams will sit back like Eli Manning and the Giants did. It exposes a lot of your weaknesses, especially in the secondary. When you don't have pressure, guys get beat one-on-one in the end. I would like to see Romo play better, for sure!
Darren Woodson
(2:07 PM)
Thanks for your questions, everyone!
Shawn Marion
(2:30 PM)
I'm here!
ryan (dallas)
do you plan on having a new nickname here or is Matrix still the main game?
Shawn Marion
(2:31 PM)
It is never changing!
Dave (Grapevine)
Shawn, have you spent any of your free time getting to know your fellow Mavs a little better?
Shawn Marion
(2:32 PM)
Oh yes. Definitely. I have hung out with a bunch of the guys. All great guys.
Austin (Dallas, TX)
Shawn, How nice will it be to know you don't have to gaurd a guy like Dirk? I have always thought you gaurded him well, but he made you work hard for it. Welcome to the Mavs baby!!!
Shawn Marion
(2:32 PM)
Yes. It's cool but I really like the challenge of guarding him.
James J. Johnson Jr. (Bronx, NY)
Shawn: How does it feel to keep being traded even though you are one of the most talented players in the league?
Shawn Marion
(2:32 PM)
No. No hard feelings. It is what it is. Part of the business. The NBA is a business first.
ryan bearden (burleson tx)
Shawn Marion, what type of offense do you think the mavs are going to run this year with you Howard and Dirk? Is it going to be like when you were in phoenix were jason kidd just hailmarys you the ball down the court and you dunk it? I also think playing the pick n roll with you and dirk could be both extremely effective cause you can both drive to the hole and shoot the jumper. What do you think?
Shawn Marion
(2:33 PM)
It's going to be a very free-flowing offense for sure.
Carl (Florida)
If you weren't playing basketball, what other sport could you see really excelling at?
Shawn Marion
(2:34 PM)
Good question. I love football. I like baseball, too. You name it. If I wanted to play it I could have played it. I started concentrating on basketball full time pretty early on. I played it for leisure but then as soon as high school hit it got serious.
Earl (Miami, Fl)
Tough question but do you regret leaving pheonix
Shawn Marion
(2:34 PM)
There is nothing to regret. I got traded. It's just part of the game.
Prez (Houston, TX)
I like the edge you bring to the team! Are you ready to step up and be a leader on the team?
Shawn Marion
(2:35 PM)
They have plenty of leaders on this team. I will be part of that but it's not MY team. I'm contributing to a great core that is already in place.
Eric (Davidoff)
Shawn: How do you like Cubans approach to the game from an owners position. Do you like how involved he is, and do you think that helps make everyone part of the mavericks "family"?
Shawn Marion
(2:35 PM)
He is a great guy. You have to love his intensity and support for the team.
Jason (Texas)
Who do you consider the most dominate or most valuable player, (any position) in the game today?
Shawn Marion
(2:36 PM)
The most dominant player in the league right now... hmm, that's hard to say. I really don't know. It's hard to answer. When you think about dominant you think about Shaq just because of his size.
Eric (Amherst,MA)
Can you name one moment in your career that humbled you the most?
Shawn Marion
(2:37 PM)
I'm always humbled!
Leonardo (Las Vegas, NV)
Have you been to the new Cowboys stadium yet? Gonna try and make sure you make it the All-Star game next year?
Shawn Marion
(2:37 PM)
Yes, I have. Unbelievable.
Shawn Marion
(2:37 PM)
I want to hook my Playstation up to that video screen.
Steve (Texas)
Shawn, what did you think of Michael Jordan's hall of fame speech?
Shawn Marion
(2:38 PM)
Man, I thought it was good. That's MJ. I thought it was really cool. I had nothing wrong with it.
Matt (Springfield, MO)
Shawn, The media always makes a small story into front page drama when they want to, but is there some real drama between you and Amare?
Shawn Marion
(2:38 PM)
No drama at all.
Nick (Arlington, TX)
I know its everyones goal in the NBA to win a championship. Do you really believe Dallas is close or has the makings of a championship team right now?
Shawn Marion
(2:39 PM)
We have a talented team right now. We just have to gel and make it happen on the floor.
Nick (Hartford, CT)
Did you have a favorite player growing up?
Shawn Marion
(2:39 PM)
Reggie Miller!
Steven (NJ)
Do you have any pregame rituals?
Shawn Marion
(2:40 PM)
Yes, I do. I eat a nice little lunch and go take a power nap.
Shawn Marion
(2:40 PM)
Yes, I do. I eat a nice little lunch and go take a power nap.
Mark (New Haven)
Hey Shawn, I always wanted to know about the "J". How many coaches over the years have tried to change your release point? Your considered an efficeint shooter, although it's not a thing of beauty. Still love your game though.
Shawn Marion
(2:41 PM)
None. They don't try to change me.
Ray (PITTSBURGH)
Shawn your a great player.What do u think about D.Howard?
Shawn Marion
(2:41 PM)
He's a talented player period. He is trying to put it on your head at all times.
Edwin (New York)
Why are you so good
Shawn Marion
(2:44 PM)
Lots of hard work.
Shawn Marion
(2:44 PM)
Lots of hard work.
Oscar (Sanford, FL)
Hey Shawn, tell me a little about Dallas? How would you compare it to Miami, Phoenix, Toronto the other cities that you played for?
Shawn Marion
(2:53 PM)
It's definitely one of the nicest cities in the league. They have all been nice. I'm a city boy.
Taylor (Madison, WI)
Being 31 years old now, how much longer do you think you have left to play?
Shawn Marion
(2:54 PM)
I have five years on this deal. After that I don't know.
Shawn Marion
(2:57 PM)
Thanks for chatting. I'm going to do a blog post today on my website so send any ideas you have to me on Twitter! Take care!
Roger Staubach
(3:06 PM)
It's gonna be fun chatting with you today. Hopefully everyone's pulling for the Cowboys tonight. We're all excited about our new stadium, and we're going to host the Super Bowl next year. I'm very excited as part of the committee for that, and we've got a lot of good football going on.
Zach (Lincoln, NE)
Who is the best player you have ever played against or with?
Roger Staubach
(3:07 PM)
I was very fortunate, when I joined the Cowboys, I was in the Navy, I watched Don Meredith, who retired as soon as I joined. I had years of Bob Lilly, Mel Renfro, and another era of Tony Dorsett and Randy White...I could never single any of them out. We never had a losing season, so there's a lot of great players to choose from.
Clayton (Wichita Falls, TX)
How would you rate Tony Romo's performance the last 2 years?
Roger Staubach
(3:08 PM)
When you look at his overall performance and where he's come from as far as being undrafted, I think he's done very well. He is a very good athlete who is a little bit inconsistent, but I think Tony will continue to develop into a very good NFL QB. He's won almost 65 percent of the games he's quarterbacked, and his ratings last year were very high. He's headed in a good direction.
bill (san diego)
hi roger, doyou think physical tools are overrated in sports today? i think what happens between the ears is neglected to a certain degree. by the way, i was 7 years old when you retired and i cried like a baby that day!
Roger Staubach
(3:10 PM)
I was crying when I retired also! It's a great question, as in the NFL, there are no weak players in terms of arm strength and physical skills. You can't just do it on your physical skills. If you're a QB, you have responsibilities as a leader. The mental aspect of football is very important, but at the professional level, physical strength is key. You can get away with it at the college level, but at the professional level, especially at the QB position, you need the physical skills to do what it takes.
Heather (Columbia, MO)
Roger, do you think Colt McCoy will be a good NFL quarterback?
Roger Staubach
(3:12 PM)
I met Colt a few years ago, and even though we're generations apart, we got along great. We had some mutual friends. He's a gifted athlete and a good person. We've stayed in touch, and ESPN did a story about our relationship. I'm a big Colt McCoy fan...he has the skills to be an outstanding NFL QB as well. I enjoy college football and watch it every weekend, especially my old school, the Naval Academy.
Bill (Sioux City, IA)
Hi Roger, Whats you opinion on the way the league protects quarterbacks now. Its not the same as when you played. Has the league gone to far??
Roger Staubach
(3:14 PM)
I don't know if they're going too far. It's a tough game. There's an old formula that I used to plug...force equals mass times acceleration. You have 320 pound linemen who can move around very quickly. Back in our day, the QBs were the meat back there. They let a lot of things happen. The injuries became an issue, and you don't want to lose QBs. There are some good rules as they are put in positions where they cannot protect themselves. Some referees do overdo it, but some have a good balance. If a lineman is in the middle of sacking a QB, and the QB gets rid of it, it's 50/50 whether they call roughing the QB or not, even though the lineman really can't stop his momentum. I think overall they do a good job of protecting the QB when he's helpless.
David (Crofton, MD)
Which rivalry is better Skins/Cowboys or Army/Navy?
Roger Staubach
(3:15 PM)
The Army/Navy rivalry goes back many generations and is an extremely important one to lots of people. As far as the NFL goes, the Dallas/Washington rivalry is one of the best and is still heated. It was fantastic in the 70s, like a playoff game. Giants-Cowboys might be a bit more intense in this day and age. But the Army/Navy rivalry has a much longer history.
Tim Shubzda (Lemoore, Ca)
Roger I was a kicker at the Naval Academy while one of your understudies was there, Steve Holley (a heck of a good College QB/RB). What was the most important attribute you brought from the Naval Academy to pro football?
Roger Staubach
(3:17 PM)
What I learned from the Naval Academy and the service in general was the value of hard work and perseverance. You get knocked down, you pick yourself back up. Teamwork was also emphasized, and trust in your teammates. As a quarterback, those qualities helped me out a lot in terms of being a leader on the Dallas football team.
Steve (Tennessee)
Which group was better: The 71 Cowboys team or the 77 Cowboys team?
Roger Staubach
(3:19 PM)
The '71 and '77 were very different. I really feel that the '77 team was a little stronger on offense, as we had Dorsett, Tony Hill, Drew Pearson, Butch Johnson, a little bit more depth at receiver. I think defensively, the '71 team was a bit stronger. We both won Super Bowls, but the '77 team had more depth, especially on offense.
Roger Staubach
(3:19 PM)
It was fun talking about the old days with you. Make sure you root for the Cowboys tonight!
SPORTSNATION
(3:24 PM)
Stay tuned for Tony Casillas. Send your questions.
Heidi (Dallas)
Tony, how is managing a restaurant different than managing a team on the football field?
Tony Casillas
(3:32 PM)
It's like anything else. You got to find the right people, the right soldiers. When I talk to people, I try to explain to them that running a business is similar to running a team, you have to have different pieces of the puzzle. Everyone has their assignments and executions. We all know what the quarterback does, he's the CEO.
Enrique Guevara (Mexico)
Saludos Tony, what do you think of steroids? They should be legalized for football with medical supervision.
Tony Casillas
(3:34 PM)
Absolutely not. I think one of the things that you see in football, the players are so big, stronger. As years go by, you see kids from younger generations ... bigger and physically stronger now. To have steroids in any sport, there's not a place for it. Athletes will try to push the envelope when something is not illegal, within their sport. What happens is that you're at risk as far as head trauma. You think about the violent impact that players make, it's almost like cartoon characters. It's a violent game as it is, i couldn't imagine athletes being bigger or larger with synthetic materials.
Kyle (Austin, TX)
Tony, so far the o-line has protected Romo pretty well. Can they sustain that effort the rest of the season?
Tony Casillas
(3:36 PM)
I think they can. They have a nucleus of players that have played very game. They know each other. Certainly if they can all continue to stay healty, it's definitely a strong part of their offense. I think they're playing more physical this year, as everyone saw against the Giants and a pretty good defense. They got a lot of Pro Bowlers led by Flozell Adams and Big Leonard Davis. ... The health issue is going to determine the success. Kozier was out last year and that created a soft spot. They've only given up one sack in the early season.
Tony Casillas
(3:38 PM)
One of the things that the quarterback is measureed on is the consistency. I think for Tony Romo, he's got to have thick skin, play withink himself and continue to try to protect the football. I would like to see Tony Romo ... moving around, scrambling and making common sense decisions. I'd like to see some of that when he does take off and scramble.
Steve (Tennessee)
When Aikman left the Sooners, did you ever think you guys would wind up on the same NFL team
Tony Casillas
(3:39 PM)
Well, not really at that time. I had so much respect for Troy Aikman. It was quite unique to see him run the wishbone. ... You didn't see a lot of his type wishbone quarterbacks. I always had a lot of respect for his work ethics. I'm glad I got the opportunity to play with him one more time, or else I wouldn't have two Super Bowl rings.
John (San antonio)
Do you think wade has the thick skin required to be the head coach of america's team?
Tony Casillas
(3:41 PM)
That's a great question. You look at New York, Rex Ryan, you see the difference between him and Mangini. They have basically the same talent but he was able to bring in his swagger. The players bought into it, and you see his defense. They talk smack, he talks smack. Wade Phillips is a different type of leader. I wish he was a little more vocal. I know he's a soft-spoken guy, old school guy .. but some guys need a kick in the seat of the pants.
Clayton (Wichita Falls, TX)
Tony...How does the 2009 Cowboys defense rank against your superbowl winning defenses?
Tony Casillas
(3:43 PM)
It's not even close. It's a different type of defense. We ran a 4-3. We had so much depth, it reminds me of the New York Giants defense of today. It was under certain paramaters as far as free agency and the salary cap, but we had a bunch of guys that play very hard. We had so much depth, so many playmakers, we just wore you out.
Victor (Hutto, TX)
Are you for or against the coaches calling timeouts right at the last seconde to ice field goal kickers.. i.e cowboys - giants game
Tony Casillas
(3:44 PM)
I hate that rule. I wish (Mike) S hanahan would've never started that in the NFL. You're going with the odds. If you call a timeout and he makes it, then misses then yeah. ... I don't like the rule, it takes awasy the whole drama if the game.
Ken (Eagle River, AK)
Tony, if Jerry relieves Wade of his duties after this season, who would you like to see as Head Coach? Holmgren, Shannahan, Cowher, Garrett, any other?
Tony Casillas
(3:46 PM)
I like Bill Cowher. I also like Jon Gruden. There's going to be a lot of coaches out there, they may want to get back in. It's a unique situation being the coach of the Cowboys. You saw with Bill Parcells, it was a different dynamic. Jerry tried to bring in a dictator, it didn't work. I like Cowher, he will get attention, for some of the players that need an "in your face" coach. I like someone who has a lot of energy. You carry the personality of your coach. I like Gruden, he's exciting, a lot of fire sometimes you neeed that.
eric g (colorado)
tony do you think this cowboy team can go to the big dance?
Tony Casillas
(3:48 PM)
Certainly, it's a big game against Carolina. There's no gimmes. They have an opportunity to regroup, it's a tough loss. One thing I did take away from the Giants ... there's a lot there for the team to improve. If they can get to 4-1 before the bye with their schedule, anything can happen in the NFL. But you need to start fast. In these league no one goes undefeated.
Fernando Cruz (Corpus Christi, TX)
Tony, I am a Philadelphia Eagle fan from South Texas. What do you think of Michael Vick all the media attention after his performance this past week? Do you think Kevin Kolb should have got attention instead since he played exceptly better than in week 2?
Tony Casillas
(3:49 PM)
You know who the bigger name is. Michael Vick, before he got in all this trouble was one of the more dynamic quarterbacks in the NFL. Kevin Kolb did a tremendous job backing up Donovan McNabb. Michael Vick is a huge story, I'm glad he's gotten another opportunity to play in the NFL. He's saying all the right things.
dale (midland,tx)
as a former ou player how would you compare barry to bob stoops are there any similarities and was barry any different to play for when he was coaching the boys
Tony Casillas
(3:52 PM)
Similarities between those coaches ... they're both charismatic. Bob Stoops is a great leader, great football coach. Switzer's a real personable guy. Whenever you a college guy, you have to have personality. I had the opportunity to play with the best college football coach in the game and one of the best in pro football with Jerry Johnson. And they win football games and have been hugely successful at the University of Oklahoma.
Kenney (Wilmington,CA)
why is the offensive play calling so predictable and repeated?
Tony Casillas
(3:54 PM)
It seems to me, Jason Garrett is trying to run the ball. With some of these wide open offenses it's a lot harder. As a coordinator, they game plan, it's a chess match. For him, it's the running game. I question what he's thinking about when he throws the football when he's having so much success. At the end of the day, you know what we're trying to do, what you have to do is try to stop us.
Ray Silva (Las Cruces, NM)
Troy, Emmitt, and Dorsett have made comments concerning Tony Romo. Do you think it's okay for former Cowboy greats to criticize him? I know some fans can't stand it. I, however, appreciate these greats expressing their concerns.
Tony Casillas
(3:56 PM)
I think it's constructive criticism. You can't have thin skin to play quarterback. It's a judgmental business. He's got a long ways to go. The one thing I will say about Tony Romo ... it's a game now, there's so much money involved. Romo is the best viable quarterback they've had since Troy Aikman. Jerry's hungry for that. You have to capitalize on that. It's like anythhing else, you go out there, do your job and you get rewarded for it. He's done a lot more since any quarterback than Troy Aikman.
Mike (Denton, TX)
Hi Tony, what are you most looking for tonight out of the Cowboys on both offense and defense?
Tony Casillas
(3:59 PM)
I'm looking for the defense to play physical, and I want to see that in the passing game. I want to see the secondary, guys up front play with s ome confidence. You can't blitz every time, and if you blitz you have to get the quarterback. Attack the line of scrimmage, create turnovers. Offensively, they're not going to have Marion Barber and that may be a factor. I'd like to see them utilize Martellus Bennett. They cannot turn the ball over against any team. If they're able to have success with the running game, they'll get some big plays with the passing game. But that's a desparate team coming in here tonight.
Tony Casillas
(3:59 PM)
This has been fun, I've enjoyed it.
SPORTSNATION
(3:59 PM)
Thank you Tony.
THIS WEEK'S CHATS (All Times CT)