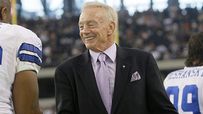 Three of the Cowboys' five Super Bowl titles have come under Jones.
Welcome to SportsNation! On Monday, to help launch ESPNDallas.com, Dallas Cowboys owner, president and general manager Jerry Jones will stop by to chat about his team and the Cowboys' Monday Night Football game against the Carolina Panthers (8:30 p.m. ET, ESPN).
Jones bought the Cowboys in 1989 and turned them into a team that dominated the 1990s. After three straight seasons of finishing below .500 before Jones, Dallas won back-to-back Super Bowls in 1992-93 and three in four years. During the 90s, the Cowboys went 101-59, winning six NFC East titles.
Jones and the Cowboys made big news in May 2009 when the $1.3 billion new Cowboys Stadium opened. The new stadium is already scheduled to host Super Bowl XLV in 2011, as well as the 2010 NBA All-Star game and the 2014 Men's Final Four.
Send your questions now and join Jones Monday! He's Jerry Jones. He's super busy, but he will call into the chat sometime between 2:30-3:30 p.m. ET/1:30-2:30 p.m. CT.
More Special Guests: Previous chats | SportsNation
Buzzmaster
(2:28 PM)
Jerry Jones has a busy schedule today, but he's going to join us between 2:30-3:30 p.m. ET/1:30-2:30 p.m. CT. Keep checking back!
cody neil (West vriginia)
Hey there Mr. Jones. I'm a huge cowboy fan. What are your expectations for the cowboys this year?
Jerry Jones
(2:54 PM)
I think our defense, especially our front, including our LBs, have played well and are going to continue to play well. We will get into sync in the secondary. I have a lot of confidence in Wade Phillips and coaches like Dave Campo. I really think that after we've reached our 16 games, we'll be proud of what this team accomplishes. On the offense, our offense has performed well. With our second year with our new OL coach, I don't see why we won't get better. I think our QB position, specifically Tony and our backup Kitna, is in the best shape with the exception of Aikman in our Super Bowl years. Tony is going to be everything we want him to be. Our RBs, on a night like tonight, when we have a limited Barber, we'll have to add some depth. Our WRs, I couldn't ask for more. Roy Williams has worked hard and it's showing. Our young receivers, in trading Terrell, it opened it up for them. They are prepared and if successful, they'll know they have roles. I can't stop without talking about our special teams. With Joe D., I think we'll be much improved. We are able to kick for touchbacks a lot of the time. We should have real good kicking. I don't want to forget our TEs. I think they will be as much a part of our offense as it's ever been and that's saying a lot considering what Jay Novacek did for us in the past. We all know what Witten is. He's in the top 5 of ball players that I've been around. I feel good about those aspects of the team.
nat (boston, ma)
how big is the tv in your house?
Jerry Jones
(2:59 PM)
(laughs) An infitesimal fraction of the screen at the Stadium. We are tonight going to have it put in the Guiness Book of Records as the largest screen. What does make it so interesting is no matter where you are, it's in your periphery at least. You're getting a total feel for the game in real time. All of the content is done by Sony digital camera, we have 8 of them. If you didn't do it that way, the team would be going on the wrong side of the field on the other side of the screen. We're also going to show the stands during the game. It's going to be a unique experience. It's important that our fans have a chance to come to the stadium and have a unique experience. Only a fraction of our fans of the NFL have ever been to a stadium, something like 7 percent. So it's important that the experience that can be articulated by our commentators. Therein lies a big reason why I spent the money on the stadium so that our fans all over can experience that without even being here.
Jason (Little Rock, AR)
Mr. Jones--what do you see as the number one priority issue facing the NFL within the next five years?
Jerry Jones
(3:05 PM)
We need to get with the players and craft an extended labor agreement. I would say that I would put that at the top. The other thing is that we always need to work on enhancing the game, the competitive aspects of the game. One of the things the NFL has been able to do because of a very conscientious effort by the teams is keep it competitive and balanced, keep it as real as the fans expect it to be with the offense and defense. Never forget about how competitive and important it is to have a game with a lot of good plays.
Jesse (Toledo, OH)
Jerry, Is the new stadium exactly how you wanted it or are there still things you want to do with it?
Jerry Jones
(3:07 PM)
We are tinkering and we do have some things that we want to do. We have some exciting plans for the rest of the year that will address our tradition and our legacy. Our Hall of Fame and ways to present that in 3-D and 4-D type of presentation. Our non-event tours, we're having as much as 2,000-3,000 people come through a day. We really want to use the center board to make a tour of this stadium very unique. There is a lot that we can do and we are just scratching the surface of what we can do with the boards and enhance the fans experience of being here. We want that to be a part of their experience as good as you can imagine.
Terrail (Atlanta,Ga)
Hey Jerry how are you?! Are you concerned about the lack of sacks and pressure on opposing QB's?
Jerry Jones
(3:09 PM)
I'm a little puzzled, but at least I feel I know some of the reasons why we haven't. Those are very correctable. As you know, sacks contribute to turnovers in coverage. But coveraged can turn into sacks as well. The other thing we need to do is get our guys a blow and let them be spelled by some of our other players. At the end of ball games when we're really trying to get some pressure, you'll really see some sacks revolve around that. We did get some hurries on Manning and we made some plays when he was hurried. I feel very good about our inside guys and when you fan them out with Spencer and Ware as good as they are, we can make some plays.
Ryan Casper (Green Bay, WI)
What do you think the most stressful part of owning a football team especially when the team struggles? Is find the right coaching staff? Or making sure you have the right football players together on a team?
Jerry Jones
(3:20 PM)
I've never felt like I own the Cowboys. I know how to feel about owning things: a car, a house, a piece of land, but I never felt I own the Cowboys. That would be like saying you own Notre Dame or University of Texas. The fans own the team. What I do feel strong about is doing everything I can to make a better franchise or a better team. The expectations that I put on myself are almost certain to disappoint. But that's the game. It's 90% disappointing, but it's the other time that makes you love football. For instance, I wanted to do everything I could to do to give our Cowboys fans a great stadium. I can't believe that I was involved in making a decision like this. I pinched myself all the time. Talking frank, this last year and half to two years, there has been a lot of worry in the economy. You know it, I know it. Having $30-$40 million a month in payroll and having workers out here. It goes back to the game and the one we're playing tonight. You wake up with your throat tight.
Craig (Tampa, FL)
Although the season is young, what areas of improvement do you see necessary for this team to have the kind of season Cowboy fans expect this year?
Jerry Jones
(3:22 PM)
I don't know about the different personnel, although we have different players that are going to be coming along. We have to handicap young players, but they will improve as the season goes along, just from practice reps. Sometimes they can be behind a veteran, but as the season goes along, they can surpass them. Especially the defense, we have some players. We certainly do have some receivers that I feel will show not only that they can run their routes but also do the other things that you ask of a reciever. Block and be real precise.
Anthony (Chattanooga, TN)
Do you feel that NFL Player scrutiny by the media has gotten out of control with players comments making the news more than ever before?
Jerry Jones
(3:22 PM)
I think just because there's so much information now as opposed to when I got in the league 21 years ago. It's an honor to do anything in the NFL. That's just part of it. Nobody's complaining here. There's more scrutiny, and the technology involved that creates more visibility and players have to be more careful.
Nicolas Marin (Escazu, Costa Rica)
Jerry, how involved are you in gameday football decisions?
Jerry Jones
(3:23 PM)
I am not in gameday playcalling. I am aware and informed as to what our strategy is going to be against our opponent, but I do not influence that strategy with any input. Where I am involved is anything to do with personnel. That might have to do with an injury situation or protection situation. For instance if we had a left tackle that might be limited, I might be involved in decisions to keep a back in to protect the QB. That would be only from the standpoint of a personnel perspective. I am involved more in the preseason in terms of who we're going to involve so we can evaluate with our staff who will be on our roster. Throughout the year, we're continually evaluating players on our roster to the extent that I would have discussions about if someone would be active with our coach or coordinator. Things that are all defined that are traditionally for the duties of a GM.
Justin ((Ar))
Alright Jerry, i know your a big hogs fan, so how do you feel about the disappointing start to the season.
Jerry Jones
(3:26 PM)
I'm disappointed but not discouraged. We have one of the finest coaches in the country. For example, by coming down next weekend to play Texas A-M, the Pigs are coming down to the biggest part of high school football in the country. Now, we can tell a player's mother or grandmother that if they want to see them play a game where the Cowboys play, then he should become a Razorback. It's good for me to know that they'll be playing in Cowboy Stadium. We have a QB that Jon Gruden, who's doing our game tonight, was asking about him and saying how good he is. I'm excited for what Coach Petrino is doing there.
Jerry Jones
(3:27 PM)
I am, and I know as is the team, excited to be playing on Monday Night Football. We've had more appearances on Monday Night Football and won more Monday Night Football games than any team in the league. To get to be playing it in this new stadium and as meaningful a game as it is in this stadium, to add it all up, this is a pretty exciting day. It's one that you wouldn't trade anything for. I don't know how much you can stand it. It's like the old joke about the cat loving the skunk. He said he has to stop, and the other asked why? And he said it's about all I can stand of it. And that's how I feel at times.
Buzzmaster
(3:27 PM)
Thanks for chatting Jerry!!