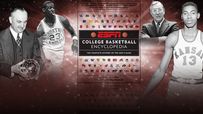 Welcome to SportsNation! On Monday, ESPN.com senior basketball writer Andy Katz stops by to chat.
The newest edition of "ESPN Basketball Encyclopedia" hits stores Tuesday. Within the book are the Sagarin's all-time rankings, which, Katz writes, have already stirred up some debate. Pat Forde also voiced his thoughts on the rankings.
In addition to covering college basketball on a daily basis and breaking news for the site, Katz pens the "Daily Word" and "Weekly Word."
Send your questions now and join Katz Monday at 4 p.m. ET!
More Andy Katz: Search | Blog | Chats
Andy Katz
(4:03 PM)
Here to chat for a bit. Hope everyone got a chance to see the encyclopedia debut today.
John (Sunrise, FL)
Wyoming is 63. Florida is 64. I understand the majority of Florida's basketball history dates back to 94 but what has Wyoming done in 71 years to come close to matching that? And any word on Nimrod Tishman being cleared to play yet?
Andy Katz
(4:05 PM)
I'm guessing its the 1,368 wins the Cowboys won all time versus Florida's 1192. But yes if you were to look at them now it's not even close.
Jeff (Memphis)
Memphis 61? Seriously? Wow the most wins in a season ever the most wins in a 4 year period ever Memphis hasnt lost a confernce game is forever. How did yall rank these they are horrible. And Tennessee 33? That shows there that yall are biased to a power conference over a mid major conference they have NEVER been to a elite eight and you rank them ahead of Memphis by 30 spots thats a joke.
Andy Katz
(4:08 PM)
Once again, Sagarin ranked these based on wins and losses over a 70-plus year period. NCAA wins did count double. Remember this is historical, not just in the 2000s.
Ken (CA)
With Calathes out and Boynton in, what are the prospects for the Gators this year? Do they have the appearance of an NCAA tourney team?
Andy Katz
(4:09 PM)
A lot has to depend on Vernon Macklin. If he can be a double-figure performer than the Gators have a shot. The problem is that they are in arguably the toughest division in the country with Kentucky, Tennessee, Vanderbilt and South Carolina all talented enough to win the side.
Ray (DC)
If Greg Monroe can really dominant this season, Do you think the Hoyas can win the Big East and challenge for a National Championship?
Andy Katz
(4:12 PM)
I do. Gtown has the talent to win the league. The experience will be there after a rough stretch run last season. Monroe could be the Big East POY if he can get past Luke Harangody. JT3 is quietly confident about how well this team could be in March.
Russ (New York, NY)
Any news on this long-term deal between UConn and Jim Calhoun?
Andy Katz
(4:13 PM)
Calhoun's camp wants four to six years, leaning more toward the six. UConn has the control at this juncture and the Calhoun camp is waiting to hear from the administration.
Ezed (Connecticut)
The UCONN ranking is just terrible!! Where do you think they rank?
Andy Katz
(4:16 PM)
Not in the eyes of UConn. Think about it. This is over a 72-year history. UConn wasn't a factor nationally prior to Calhoun's arrival in the mid-1980s. Connecticut was rightly represented in the top 10 in the 1990s and 2000s.
RAYGORDON REID ( ATLANTICBEACH FLA32233)
QUESTION TO ANDY KATZ AT 4.20 PM HI ANDY KATZ WHO WINS ATLANTIC 10
Andy Katz
(4:16 PM)
DAYTON
Charles (Jacksonville)
How could do you see Florida State being this season and can they compete for a spot near the top of the ACC?
Andy Katz
(4:17 PM)
I'm not sold on Derwin Kitchen being the go-to player on the perimter. Certainly Solomon Alabi can be a big-time talent up front and a dominating presence. I still think they'll miss Toney Douglas to compete for the ACC title. But being a bubble team is certainly within reach.
Alan (Chicago, IL)
What logic could have possibly been used to place 7 Big Ten teams ahead of Sparty? Correct me if I'm wrong, but shouldn't a National Championship and Final Four appearances count for something...
Andy Katz
(4:20 PM)
Not to the computer. The rankings Sagarin did gave double points for NCAA tournament wins, but not added bonuses for the national titles. I was surprised to see that many Big Ten teams ahead of MSU. If I were ranking the programs today MSU would be No. 1 with a clear separation for second. But the 2000s rankings do show Michigan State ahead of the rest of them at No. 5.
nagle (big apple)
do you think Ed DeChellis's track record warranted the extension through 2013 he just got?
Andy Katz
(4:23 PM)
It's a good question. Penn State was close last season, maybe one or two wins away from earning a berth. The Nittany Lions have another shot this season. The problem if they were to make a move then are you just starting over again. I do think DeChellis deserved to get another shot. He's also well-liked in State College and doesn't cause problems. That helps.
Troy (Seattle)
Kentucky fans might be the most "passionate" when it comes to how outspoken they are and their overwhelming sense of entitlement, but I've been to both Rupp Arena and Allen Fieldhouse and the game day atmosphere/energy goes to Kansas hands down. Which others would you put in the conversation for most passionate fans?
Andy Katz
(4:26 PM)
I agree. I feel like I've lost some hearing at Phog Allen. I would put KU No. 1 for atmosphere, Kentucky No. 2, Duke and Carolina in some order for 3 and 4. But then after that you could a number of different directions when the arenas are rocking: Michigan State, Oklahoma State, Maryland, BYU, Pitt, Illinois, Oregon and Washington.
Matt (Milwaukee)
Andy - with the departure of the three Amigos, and all the injuries and transfers already, any hope for Marquette to finish in the top half of the Big East this year?
Andy Katz
(4:27 PM)
No. I think Marquette is going to be the team that drops with the injuries this offseason and the inexperience. Seton Hall, Cincinnati and St. John's are going to rise a bit and someone has to come back.
Mike (Ann Arbor)
Hello Andy,I was curious to know if the rankings take into account years that the NCAA vacated wins (ie: the Fab Five)...how are those factored?
Andy Katz
(4:28 PM)
They're not. Sagarin told me he doesn't vacate any wins.
Marc (Big D)
How is the outlook for Purdue this year? They have everyone of consequence coming back.
Andy Katz
(4:30 PM)
The Boilermakers believe they can be in Indy after toppling Michigan State and everyone else in the Big Ten. Robbie Hummel, E'Twaun Moore and JaJuan Johnson give the Boilermakers as experienced a threesome as any other team in the country.
nick (ohio)
andy , do you think the preseason polls are overrated as they are in coll football?
Andy Katz
(4:31 PM)
Yes. I'd love to see all polls wait until a month into the season.
Alex (Chicago)
How good do you think Iowa State will be this year? I think they are NCAA tournament bound.
Andy Katz
(4:32 PM)
Craig Brackins had to come back and he did. But the Big 12 is so loaded at the top I find it hard to believe Iowa State can get past KU, Texas, Oklahoma State, Kansas State, Oklahoma and Texas A&M.
Roman Lane (Manhattan, KS)
Hey Andy, was just curious on how you think the Kansas State will fare this year in the Big 12, and nationally?
Andy Katz
(4:33 PM)
I like the experience returning led by Denis Clemente. This team was a bit of a surprise last season. I wouldn't be shocked to see K-State in the NCAAs at all.
Nick (Birdland)
Andy, does Maryland have a chance at upsetting the ACC elite this year and making a run at an ACC title? Love Gary coaching up talent, and this year he actually has some....
Andy Katz
(4:34 PM)
The Terps could. I don't see it but the ACC could be wide open with all of the teams flawed. My guess is that UNC and Duke will be 1-2 but after that it's wide open with Maryland, Boston College, Wake Forest, Clemson, Florida State all capable of finishing third.
nick (ohio)
do you think the fights between the kansas football and basketball team have any negative impact on recruiting?
Andy Katz
(4:34 PM)
Not on recruiting. But it has hurt their image.
Andy Katz
(4:36 PM)
Thanks again for the questions. Basketball practice starts in two weeks so keep coming back to the site. Whether you agree with the rankings or not the encyclopedia is an invaluable resource of information. I'll keep it by my side every day (I can't take it on the road since I would be over the 50-pound limit for travel).