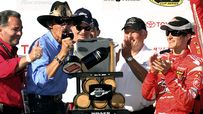 Richard Petty joins David Newton's chat Wednesday.
Welcome to SportsNation! On Wednesday, ESPN.com NASCAR reporter David Newton will stop by to talk about all the latest news and notes from the track. He'll also be joined by special guest Richard Petty during the chat.
Petty won seven Cup championships and 200 races during his 35-year career. He dominated the racing circuit in the 70's, winning the 1971, 1972, 1974, 1975 and 1979 championships. He ran in 1,184 races in his career, finishing in the top 10 in 712 of them.
Newton covers motorsports for ESPN.com after a career covering the NFL, college athletics and NASCAR. Newton previously worked for NASCAR.com and covered NASCAR and the Carolina Panthers for South Carolina's largest newspaper, The State, in Columbia. He has also served as a correspondent for Sports Illustrated, covered seven Super Bowls, dozens of college bowl games and every major race on the NASCAR circuit.
Send your questions now and join Newton on Wednesday at 3 p.m. ET!
More David Newton: Chats | Search | NASCAR index
David Newton/Richard Pettty
(2:50 PM)
Richard Petty will be with us in about 10 minutes. If you have question specific to The King please let me know. He will answer for about 15 minutes after signing autographs at the SEMA show in Las Vegas, then it's back to little old me, David Newton
Richard Petty with David Newton
(3:00 PM)
OK, folks. We're live at the SEMA show in Las Vegas. Richard Petty, the King, is here to answer your questions. We'll only take questions directed at him for the first 15 minutes, then it's back to me.
Cole Trickle (New York)
Richard and David what can NASCAR do to make it more popular and get their attendance back?
Richard Petty with David Newton
(3:01 PM)
That's amillion dollar question. Nobody has it figured out. It's all economy.
Kyle Petty (at the track)
Are you typing for my dad or is he actually on a computer?
Richard Petty with David Newton
(3:02 PM)
Are you kidding? I don't go on the computer. I read off of it but somebody runs it up for me.
Jake (Irving, Texas)
Hey Kyle and David, Do you think it is correct for Henrick crew chief Knaus to make public comments about Joe Gibbs Racing crew chief moves?
Richard Petty with David Newton
(3:02 PM)
He's laughing now...I missed that. Has he been rat-mouthing about him. Everybody has their own opinion.
Heather (NJ)
big fans of you kyle. will you be back racing in nascar?
Richard Petty with David Newton
(3:03 PM)
This is Richard, but the answer is they'll really have to talk to Kyle. It's his decision.
Jason (Hollywood, Florida)
Do you think Nascar team owners/employees can make legitimate commentary about their competitors on Nascar televison?
Richard Petty with David Newton
(3:04 PM)
They do, don't they?
Rick (Pa)
Among all the issues with Dega is that tires do not fall off (the 71 team had the same left tires for 170 plus laps). Why do the hated levigate to rough up the track and use soft tires. Also make the gas tank extra big which would force the drivers to manage tires and create space between the cars
Richard Petty with David Newton
(3:05 PM)
I've adjusted this question to what can you do to fix Talladega. Richard says stop up the tunnels and fill it with water.
Mark (SC)
How do you feel about becoming a Ford team?
Richard Petty with David Newton
(3:05 PM)
Well, we did it in 1969 and had a good year. Hopefully we can repeat what we did before.
Jessica (Denver)
Mr Petty, how would you feel about Chad Knaus 2nd guessing your crew chief moves like he has done with Joe Gibbs Racing?
Richard Petty with David Newton
(3:06 PM)
He probably does. I don't care. That's decision.
kevin (new jersey)
How did elliot sadler like the new ford engine?
Richard Petty with David Newton
(3:06 PM)
He thought it had a little more umph on the initial go. It had more accerlation.
Mark (SC)
King, do you think Waltrip should have gotten the same treatment as your driver AJ after Waltrip put a motorcycle rider in the hospital and blew a .06?
Richard Petty with David Newton
(3:07 PM)
AJ didn't run into nobody. Did Waltrip get a ticket? That's all he needed to do.
Rick (Philadelphia, PA)
For the King... After being involved in NASCAR for so long, do you think NASCAR has gone... too soft and too cautious? Recent races have been described as Boring and Uneventful, and you never heard that about NASCAR races in your era.
Richard Petty with David Newton
(3:08 PM)
We've been through this thing forever. OK. For good racing and bad racing. They can't all be perfect races. So you have to take the good and the bad.
Saul (Sacramento)
Mr. King, if you were NASCAR king for a day, what is the one or two things you would change. I am reaching deep in my pockets and flying to Texas Saturday to catch the race.
Richard Petty with David Newton
(3:09 PM)
Richard Petty Motorsports would win all of the races. You know, I don't think you can just change one or two things and make things better. It's going to ba a combinatio of small things.
Laura (Fort Lee, NJ)
Did you see Lee Roy punch Big Bill France at Dega '69 like Allison did?
Richard Petty with David Newton
(3:10 PM)
I missed it. I heard about it, but I missed all that.
John (Gilbert, AZ)
Are drivers more fearful than they were in your day?
Richard Petty with David Newton
(3:11 PM)
I'm trying to figure out how to answer that. Fearful? How can you be more fearful? It's about the same.
Leo (Connecticut)
Based on the Dega debacle this weekend, can we expect the same kind of racing this Feb at Daytona?
Richard Petty with David Newton
(3:11 PM)
No way. Handling comes into Daytona and keeps them seperated.
Bill France (NASCAR Hall of Fame)
If Mark Martin somehow someway wins the championship this year will this help NASCAR?
Richard Petty with David Newton
(3:12 PM)
It definetly will help Mark. Yeah, it would be good for NASCAR racing, too. It ain't going to happen.
John (Illinois)
Mr. Petty, do you still get into a race car from time to time just for fun?
Richard Petty with David Newton
(3:13 PM)
I've been retired, so no I don't. I've driven around some Driving Experience cars, but never in one of our cars. I went cold turkey and quit.
Bubba (Georgia)
Who is your best friend in Nascar?
Richard Petty with David Newton
(3:13 PM)
Linda. (Good answer).
Brandon (Kentucky)
New race fan here, which would be the best race to attend. Only been watching for a year or so, but I like it.
Richard Petty with David Newton
(3:14 PM)
I would say Richmond or Darlington. You've got a short track and superspeedway, and neither one of them is a hum drum deal. To me both of them are exciting.
Saul (Sacramento)
Sir, is there is one Race thing you would do over again, what would that be?
Richard Petty with David Newton
(3:14 PM)
Win more races.
Ed (Hartford)
Richard, did you ever run open wheelers like Indy Cars, Sprit Cars or F1? that would have been cool...
Richard Petty with David Newton
(3:14 PM)
Never had any ambition to go any further than stock cars. Never been in one.
John (Gilbert, AZ)
Mr. Petty, it seems you guys were tougher and more fearless than the drivers now!
Richard Petty with David Newton
(3:15 PM)
No. I was not fearless. I was common sense. There's a difference in being brave. Being brave gets you killed. Gets you hurt.
Lois (Ft Myers)
Mr King, In your opinion does Dale jr deserve to be in spint cup?
Richard Petty with David Newton
(3:16 PM)
Sure. He won, what, a couple of championships to get here. He should be here over some of the people that are here.
David Newton
(3:17 PM)
OK, you're backd to me. Richard has signed autographs for two hours and answered questions here for 15 minutes and he has to move on. I'll jump back in and answer as many questions as I can.
Fred (al) [via mobile]
So with Brad k. taken over the 12 this week will Roy McCaulley remain the crew chief.... and is roger lookin at ron m. to be the crew chief
David Newton
(3:19 PM)
As far as I know Roy will be the crew chief this week. His name is on the entry list. As for Ron Malec, he's pretty dedicated to Knaus and Hendrick so I can't see him making that move. If he were making the jump to crew chief he probably would have put in for the 88.
Jon (NC)
Is Labonte making a good move switching to TRG racing? Why can't he get a good ride with top equipment?
David Newton
(3:19 PM)
He's done well in the few races he's run for him. As for why he can't get a top ride, look at the stats the last five years.
Jack (Phoenix, AZ)
What are JPM's chances at least winning one of remaining races this year & which one? I think has a good shot at coming in 2nd in the chase. Thoughts?
David Newton
(3:20 PM)
Texas looks like his best shot. It fits his style. Seems like only yesterday he was running at Homestead for the first time and getting into it with Ryan Newman.
Nick Rolando (Orlando`)
David, glad to see McMurray win for Ford, any chance he's in line for a 4th RPM car or is it EGR or wait until 2011?
David Newton
(3:21 PM)
He's out of the RPM mix. Looks like EGR if they can work things out with the sponsor, Bass Pro Shops.
John (Gilbert, AZ)
David,Rumblings are ongoing about Danica Patrick making her Nationwide or Truck series debut at Phoenix. Any more information on it?John
David Newton
(3:22 PM)
Nothing to it. She will make her debut at Daytona in February.
Marc (Malden, MA)
May as well give JJ the trophy now.
David Newton
(3:22 PM)
Unfortunately, it's over. But enjoy the ride to history.
Leo (Connecticut)
What's the liklihood of NASCAR actually "fixing" the COT -- spoilers, instead of wings, air dams instead of splitters, springs instead of splitters, etc.?
David Newton
(3:23 PM)
They are looking at things for 2011, but I believe the wing and splitters are here to stay with this car. They do need to do something with the way the wing appears to lift cars when they spin backwards at Talladega.
Heather (NJ)
how soon do you expect all of brad k's enemies-carl, denny, bliss, kurt-to pay him back for his on track wrecking?
David Newton
(3:26 PM)
This will be interesting. I know Pat Tryson, Busch's crew chief for three more races, was upset on Sunday. But he was working with Brad on Monday at Tuesday at Daytona and had no problems.
Josh (WI)
David, is NASCAR still confiscating the 48 car after each race? Under the guise of checking for possible infractions, might they be taking the opportunity of having the 48 car in the R&D dept. to have a close, personal look at Chad's modifications to the COT? Is it feasible that they are looking at his "genius" in order to make series-wide changes to the COT to improve side-by-side racing?
David Newton
(3:27 PM)
They are confiscating still. I suspect it will be for the remainder of the year. The good thing about this is it will eliminate any doubt they are cheating. If NASCAR hasn't found anything yet I doubt it will.
patrick (plano, texas)
what kind of experience did you have racing vs dale, sr?you hear different things, dirty racer, etc etc, what was your experience like with him/
David Newton
(3:28 PM)
Sorry I missed this one for Richard. He is off to another venue. Maybe another time.
jeff (iowa)
David can you give me just one good reason Talladega is in the chase. I have been racking my brain for the last three days after that mess and cannot come up with one. Thanks.JEFF
David Newton
(3:29 PM)
I actually like it in the Chase. I wish Daytona was as well. I like the drama both tracks create, with the exception of this past weekend's train wreck. I also agree with Richard Petty who just left. He says Darlington and Richmond should be in the mix.
JAMMER (UTAH)
WITH DANICA REPORTABLY SIGNING WITH JR MOTORSPORTS, OBVIOUSLY SHE WON'T BE RUNNING A FULL TIME NATIONWIDE OR CUP SCHEDULE TILL SHE FULFILLS HER CONTRACT WITH ANDRETTI-GREEN RACING. WITH THE LEARNING CURVE IT TAKES TO DRIVE STOCK CARS, IS SHE GOING TO HAVE A HARD TIME BECAUSE SHE WILL BE SPLITTING TIME IN AN INDYCAR AND A STOCK CAR?
David Newton
(3:31 PM)
If you want to know my opinion she will have a very hard time. I'll honestly be surprised if she makes it to Cup. I'm not cheering against her at all. I think she would be great for the sport. I just believe the demands of the car and the schedule will make it tough to succeed there.
Rob (Colorado Springs)
David, great article about JJ and the lack of respect. I think the main problem with JJ is the fact that he has no rival. The King had the Silver Fox, Earnhardt had Waltrip and Rusty, Gordon had Earnhardt, Jimmie has no real competition when it comes to championships. Hard to root for someone when the rest of the field just defers to Jimmie.
David Newton
(3:32 PM)
I tend to agree with you, Rob. If he had a rival you'd have fans that would be forced to side with him.
Marty (Chicago)
Do you think that the #88 might drop out of top 35 in owners points?
David Newton
(3:32 PM)
No.
William (Mooresville)
Is there any truth to the fact Ganassi is looking to have JPM run the Indy 500 and 600 since they've change the times?
David Newton
(3:33 PM)
Haven't heard anything on that yet, but if it is possible I'm sure JPM and Ganassi would love to do it. It would be great for both series.
Marty (Chicago)
If Danica gets 300K per Nascar race how much is Gibbs paying Kyle?
David Newton
(3:34 PM)
She's not getting that much. I was assured it won't even be close.
Andy (Greensboro)
Will people slack off on the JJ/Chase thing now that he would be leading the points in the old system too?
David Newton
(3:34 PM)
Geez, I hope so. People really need to get a life and appreciate what he's accomplished.
Matt (New York,NY)
David do you think Jr and Mcgrew will start to run better now that they know what they're future is?
David Newton
(3:35 PM)
Hard to say. It's not like they were not trying as hard as they were before.
Marc (Malden, MA)
Is the Danica deal strictly a NWS deal? Or will she be driving for Jr. Motorsports in NSC?
David Newton
(3:35 PM)
From what I understand it's Nationwide with the potential for a few ARCA races.
Nathan (Austin)
We are really mad about Penske replacing Stremme for Brad K. Do you think David will be a cup ride for 2010?
David Newton
(3:36 PM)
I feel your frustration, but this should have been expected. As for next year, my guess is he'll wind up in a Nationwide car.
Mike (CT)
Please tell me you have the video link of Kyle Busch yelling out "Well maybe you should try it sometime" to Mike Helton. I think he just became my new favorite driver.
David Newton
(3:37 PM)
Haven't seen or heard that one. I did follow Kyle from the moment he got out of his car till he reached the motorcoach lot and he said nothing then. He was pretty frustrated in the car and had a few choice words.
Saul (Sacramento)
Do you think they?re a definite correlation between fans not identifying with the box car, and attendance /just being put-off? Do you see the Mustang and Challenger moving into the sprint cup series.
David Newton
(3:38 PM)
I think there's some correlation indeed. I love the Mustang and Challenger that will be introduced to Natiowide next year. I can't believe Chevy didn't put the Camaro in the field. My wish, and I'm not counting on it or predicting it, is that those cars would replace what we've got not in the Sprint Cup series.
Brian (Turks )
Do all the drivers cuss up a storm on their scanner radios? Who do you think we should listen to at Homestead?
David Newton
(3:40 PM)
Hmmm. For the most part they do tend to get a bit R-rated on the radio. As for Homestead, Kurt Busch always is entertaining. So is his brother, Kyle. If it were me I'd listen to Jimmie Johnson and hear everything he says on his way to history. But the way, he's one of the few that keeps his cool for the most part.
David (Charlotte)
To the JJ haters questionI am not a fan orr hater of JJ/48 team, I do respect what they do. It is like the Yankees, money speaks and remember the Yankee are out of tolerance in the salary structure of MLB. People need to respect them even if they dont want to see them win.GO MARK MARTIN!!!
David Newton
(3:41 PM)
Thanks, and I'm sure Martin appreciates your support.
Matt (New York,NY)
Whats Kenseth's contract status? If those Roush cars aren't any better next year i can't imagine him wanting to stick around much longer
David Newton
(3:41 PM)
He signed an extension last season. I believe it was for three years, so I really don't see him going anywhere. Roush will get this straightened out.
Robert (NC)
Next year, Jr resurrects his career and saves NASCAR by dethroning Jimmie Johnson and winning his first cup.
David Newton
(3:43 PM)
Please tap your heals together and repeat, "There's no place like home. There's no place like home."
Alison (Cali)
When are you gonna get Kyle Busch on here as your guest?
David Newton
(3:43 PM)
I'd love to have Kyle as my guest. I'll see what I can do before the season is out. Or maybe get him once during the offseason. He'd be great. He really can be a good guy.
Timmy (Hickory)
Could the drivers ever get together enough to even get France and the powers that be to hear 1 word they say?
David Newton
(3:44 PM)
They had the floor for a townhall type meeting a while back. Maybe it's the fans that need to schedule a townhall meeting with the Chairman.
kevin (new jersey)
did you notice that john andretti was running 6th before he ran out of fuel on the green white checker
David Newton
(3:45 PM)
Hey, it's Talladega. As Richard Petty told me, that kind of racing makes a lot of drivers look better than they are.
Brian (Turks )
Other than Jimmie Johnson who is your pick for Nascar driver of the year?
David Newton
(3:46 PM)
Hard to pick anybody else, but if you insist I'd go with Mark Martin or Juan Pablo Montoya. Each would be great candidates if the 48 weren't on the track.
Chris (Kentucky)
If Dave Rogers doesn't immediately improve the qualilty of cars for Kyle do you think Gibbs will go after Alan G or promote Jason Radcliff?
David Newton
(3:46 PM)
I think the job is pretty much Rogers at this point.
Jeff (Maryland)
David,Your comment about B. Labonte is not fair, he has been in lacking equipment if you notice he runs better in the chevy then the fords. Well because all the fords are struggling this year.You know Petty equipment was not up to Gibbs.I think he would perform better than JR in Hendrick equipment.How about you?
David Newton
(3:47 PM)
His stats included a few years with Gibbs, and the Petty cars aren't as horrible as you think.
Megan (Denver)
Did Jr Motorsports land Danica by paying her $300K per race when the other teams couldn't afford that?
David Newton
(3:47 PM)
Not from what I'm told.
Harvey (Dunn, NC)
Mr Newton, 1st Hows your dad doing? 2nd People are saying Brad has a target on his back, who is really out to get him?
David Newton
(3:49 PM)
Thanks for asking on my dad. He's having a bit of a rough time and remains in the hospital. As for Brad, if he keeps up the aggressiveness somebody might try to put him in the hospital. I say that jokingly, but he really is ticking off people. Then again, so did Kyle Busch a few years ago.
ChrisC (Memphis TN)
Mr. Petty, do you think Dale Inman should have been in the final 25 for consideration for the HoF?
David Newton
(3:50 PM)
I'll answer that one for Richard. Yes. He's the most successful crew chief in NASCAR history and has more titles than anybody, including the King and Earnhardt. It was a travesty he was left off that list.
Frank (Lansdale. Pa)
Does Knaus stay on the pit box until the 48 streak ends and then Malec takes over or does Knaus stay a crew chief for a few more years. I can't imagine that anyone can keep up the pace he does for as long as he has.
David Newton
(3:50 PM)
That's kind of the scenario I have in my mind.
kevin (new jersey)
hey dave last week i said david ragan would win and to book it. what i meant to say was david ragan will be in contention for the win and get shuffled back with 7 laps to go and jamie mac will win.
David Newton
(3:50 PM)
You were right on target then.
kevin (new jersey)
How about robert richardson jr. finishing 18th in a start and park car
David Newton
(3:51 PM)
Again, plate racing will make drivers look better than they are.
Jolt (KC)
Mr. Newton, Let's practice hindsight for a second. Do you feel that Jr. would have fared better with Gustafson and the #5 team in 2007 and beyond rather than with Tony Jr. and the old #25 team?
David Newton
(3:52 PM)
Hard to say. Gustafson and Kyle Busch didn't exactly tear it up. It's hard to predict what will result in great chemistry.
Nuvia (Pembroke Pines, Florida)
Is Kyle Busch 2009 Nascar Most Popular Driver?
David Newton
(3:52 PM)
I voted him second. Juan Pablo was No. 1.
Bryan (KY)
Chances NASCAR finds "something" in the 48 car and docks them points before Homestaed to make the pints race closer and thus interest and ratings higher?
David Newton
(3:53 PM)
Slim to none, but that will be the only way to slow them down.
kevin (new jersey)
i hope jamie mac wins again this week since everybody seemed not to care this weekend
David Newton
(3:54 PM)
It is a bit unfair that Jamie Mac didn't get more attention for his accomplishment I'll pass along your good wishes.
David Newton
(3:55 PM)
I have to wrap things up a tad early and go in search of drivers in this cavernous building. Thanks again to Richard Petty for answering a few questions. He really is a class act. And thanks for participating. See you next week.