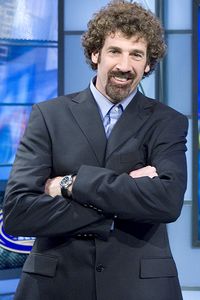 Welcome to SportsNation! On Monday, NASCAR Now's Boris Said will drop by to take your questions on all the latest motorsports news.
Said broke into NASCAR racing as a fill-in on road course events, and he quickly established a stellar reputation. He has given advice to more than 25 NASCAR Sprint Cup drivers, including Dale Earnhardt Jr., Carl Edwards, Kasey Kahne and Kevin Harvick, as well as team owners, most notably Jack Roush and Ray Evernham who've asked for help in training their young drivers in the art of road racing.
Send your questions for Said now and join him on Monday at 1:30 p.m. ET!
More NASCAR: NASCAR index
Buzzmaster
(1:18 PM)
Boris Said will be here at 1:30 p.m. ET to take your NASCAR questions!
Dan (Denver)
how crazy is it that the one thing that Jimmie couldn't have happen, happened? He wrecked his car. If he had another top 5 or top 10 finish, he'd be celebrating his win today.
Boris Said
(1:31 PM)
Yeah, I think it was something nobody expected. Certainly not Jimmie. But that's what racing is about. Expect the unexpected.
Christian Graham (Kingstowne, VA)
Doesn't Mark Martin have to win both races at Phoenix and Homestead to beat out Jimmie Johnson for the championship?
Boris Said
(1:32 PM)
Basically, Jimmie will have another problem like he had to lose the championship. He's still in the driver seat, so Mark's going to need help from Jimmie to have a shot.
Gary (NJ)
Who do you blame for Kyle running out of fuel after dominanting at Texas?
Boris Said
(1:33 PM)
I guess you have to look at the crew chief, but in fairness it was his first weekend dealing with those cars and he misjudged it. He made a mistake.
Sean (Socal)
How impressed were you with the #18's performance considering it was Dave Rogers' first weekend in charge?
Boris Said
(1:34 PM)
I thought it was really impressive. That's the closest Kyle's come to winning all three in one weekend. It would have been impressive to set that record. I think it gives him confidence going into next year.
Sandra (Orlando)
How does Kyle rally his #18 team to come back from the devasation of leading 232 laps then running out of gas?
Boris Said
(1:34 PM)
I don't think it's anything he needs to worry about. He has the confidence that he had the speed, the pit stops, the car, but they made a mistake.
Ty (Fremont, CA)
How depressing ia it that everytime Junior runs well, he finishes bad? I can't take the bad luck he's having. I know he'll come good right out of the box next year!
Boris Said
(1:35 PM)
My jaw dropped when it happened to Junior again. It seems like countless races he's running the top 10 and something happens. His crew chief made an error with the fuel and Junior dropped. He's got to be frustrated.
Laurie Gillett (Idyllwild, CA)
Boris - Thanks for always supporting Jimmie ! You are such a great ambassador for the sport and always enthusiastic. We need more of that. I still think Jimmie can make this happen. What do you think?
Boris Said
(1:36 PM)
Yeah, there's no doubt in my mind that he's going to win the championship. But I think it's better for the sport, because he won't have it wrapped up by Phoenix, it will go to the last race. but I still think it's just a small bump in the road for Jimmie.
Cory (Geneva, IL)
What is the uproar about Kyle running out of gas. If he pits he loses anyway, why not got it?
Boris Said
(1:37 PM)
I think the uproar is that he missed it by so many laps. Three laps is unacceptable. If he had run out on the last lap or a lap to go, that would have been another story, but three laps to go is too far off the mark
Jared (Mississippi)
If Nascar were to make changes to the chase schedule, how soon would we see a change in the schedule?
Boris Said
(1:38 PM)
For sure, we're not going to see any changes next year. That's definitely a question for NASCAR, but I don't think we'll see any changes in the schedule in the near future.
Trudi (Phoenix)
What makes The Busch Brothers such great racers?
Boris Said
(1:39 PM)
Well, I guess it comes from their upbringing. THey've been racing a long time. They're a pair of the best racers in the world. It comes from years of practice and pushing each other.
Jody (NJ)
We were supprised to hear Harvick throwing his team under the bus during the Nationwide race. How do sponsors react to that type of negativity?
Boris Said
(1:40 PM)
Well, I think that was an emotional cry in the heat of hte battle. He got a bad stop and it cost him a chance at the race. Once he gets out of the car, I think he talks with his team and talks about how to prevent it the next time. And I don't think sponsors care about it.
Scott (Tenn)
During the Nationwide race we heard Pops Eury say "Brad is the worst driver I ever seen on re-starts". Do you agree with Pops?
Boris Said
(1:41 PM)
No. I don't. I thought it was an entertaining comment. I just think it was an emotional comment in the heat of the battle.
Keri (Alabama)
Do you think that Mark Martin is having fun this year as opposed to years past? He won Pheonix earlier this year if he wins again... Where will Jimmie have to finish to clench the championship?
Boris Said
(1:42 PM)
Well, I think Jimmie just needs to finish in the top 5 to keep pace. But Jimmie is the best average finisher among active drivers. For Mark to win the championship, he's going to need Jimmie to have another problem. It's not impossible, but it seems to me to be highly unlikely.
Laura (Fort Lee, NJ)
Are you running those BMW M3's for Rahal-Letterman in American Lemans series?
Boris Said
(1:43 PM)
Nope. That's not true. I might run a few long races next year, but it would probably be in a Ford product. But I am building a BMW dealership that will probably be ready next year. So I still have some ties to BMW.
MM (MD)
Geez, Junior wanted to pit earlier. How is he supposed to trust Lances judgment when Junior seemed to know better in this case?
Boris Said
(1:44 PM)
Well, I don't specifically know that he wanted to pit. I think he has a lot of trust in Lance. For sure, there was a problem there. What we don't know is if there was a problem with the fuel cell, if it was picking up all the fuel. They won't know until the take it to the shop and take it apart.
Craig (Eugene)
Is the #18 pit crew now the best in all of NASCAR? They had only 2 pitstops that were above 13 seconds
Boris Said
(1:44 PM)
They are definitely one of the top crews for sure. They proved it Sunday. It seems every weekend one crew rises to the top.
John (Illinois)
Boris, Can you describe what it feels like to hit a wall at over 100 mph? I understand that your body is well secured with the harness, but how do you keep from breaking your arms and legs in a hard crash like some of the Talladega crashes?
Boris Said
(1:46 PM)
I've been in those and it's a hurt that's impossible to explain. It's like getting hit by a truck, I'd imagine. And even though you're not in the hospital, but your body is hurt and stiff for a week. Like yout got beat up.
Jake (Irving, Texas)
Did you ever advise The Busch Brothers on road racing techniques like you have helped many of the other cup guys?
Boris Said
(1:46 PM)
Not as extensively as I've helped out other people. I've taken Kyle Busch around a few tracks and just showed him around.
Carlos (Orlando)
In post race interviews Kurt talked alot about how he learned all about cars and racing from his dad. Is that what makes the Busch Brothers so great?
Boris Said
(1:47 PM)
I'm sure it is. It's not easy for kids to get into racing unless they have their parents or someone close to them in racing.
dale (co)
who else ran great yesterday?
Boris Said
(1:48 PM)
There were a lot of guys who ran well. Jeff Burton, first top 10 in a while. Clint Bowyer. Ambrose ran great all day long. Reutiman ran well.
Heather (Phoenix)
Boris, do you still have a Nascar Ford team? Are you planning on running any cup races in 2010 other than the road races?
Boris Said
(1:49 PM)
I'm working hard on it right now. We're trying to find a sponsor and if we find that, we will announce something as soon as we do. It's a tough economy to find a sponsorship, but we're not giving up yet.
Boris Said
(1:50 PM)
Thanks for all the questions!