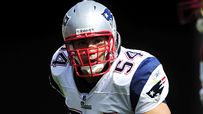 Bruschi won three Super Bowls with New England.
Welcome to SportsNation! On Tuesday, former New England Patriot linebacker, and current ESPNBoston.com NFL analyst, Tedy Bruschi makes a stop in SportsNation.
Bruschi retired in August, after 13 seasons and three Super Bowl wins with the Patriots. He started 189 games with New England, the most for any LB in team history. For his career, he had over 1,100 tackles, 30.5 sacks and 12 INTs.
Shortly after his retirement, Bruschi joined ESPN's stable of NFL analysts. In addition to being a regular NFL anaylst on ESPNBoston.com, Bruschi will also appear on "NFL Live," "SportsCenter," ESPN Radio and other ESPN platforms.
Send your questions now and join Bruschi Tuesday at 2:30 p.m. ET!
More Special Guests: Previous chats | SportsNation
Buzzmaster
(2:31 PM)
We've got Tedy!
Tedy Bruschi
(2:32 PM)
This is what it's all about everybody, playoffs. Let's talk!
Evan (Boston)
What are your thoughts on the idea that the offense won't take a huge step back without Welker. I think that sometimes due to the option routes Welker runs Brady has to stare at Welkers side of the field to see which way Wes is going. Do you think the loss of Welker will cause Brady to scan the field more and look deeper into his progression?
Tedy Bruschi
(2:33 PM)
Yes, I do. Losing Wes Welker is a huge loss. He was Tom Brady's security blanket. Whenever he needed a completion, Welker would get it done. Edelman will have to step up big.
Derek (Phoenix, AZ)
How do you feel about the ravens @ Patriots matchup? Who do you think will win and why?
Tedy Bruschi
(2:34 PM)
I think the Patriots get it done this week. I think they can still have success with Edelman against the struggling Ravens pass defense.
Chris W. (CT)
Hi Tedi. Love the work you're doing on ESPN. We know Wilfork and Warren will help vs. the run, but can they help with the pass rush? Will their presence free up the likes of TBC and Burgess? The lack of a pass rush vs. Houston was really disappointing.
Tedy Bruschi
(2:35 PM)
They can provide more inside push than other players have attempted for the New England Patriots. But the biggest way they'll help this weekend is stopping Ray Rice and McGahee.
sweet daddy (seattle)
Tedy, the Ravens will likely double Moss and come with pressure on Brady, do you see a heightened emphasis on the run this week and beyond, including screens? It's playoff time and when the Pats were winning titles, Smith and Dillon were grinding out yards consistently. Thanks
Tedy Bruschi
(2:36 PM)
Yes, this is where Fred Taylor and Sammy Morris will earn their money. A running game will have to be established. With the loss of Welker, Brady's favorite target might be Kevin Faulk out of the backfield.
Steve (Newton)
Hi Tedy. As a team leader, if you were on the Colts when they pulled the plug on an undefeated season, how would you approach the rest of the season? what would you say to lead your team mates?
Tedy Bruschi
(2:37 PM)
If I was a leader on the Colts, there's no way I would have let that organization not go for the undefeated season. Now, somehow some way you have to put it behind you. For the Colts, it's all about the playoffs and getting rest. We'll see if rest gets them a championship.
Ric (Louisville)
Coach says Brady has no broken ribs....media says he does...as a former player, is it even possible for Brady to play the last month with 3 broken ribs?....
Tedy Bruschi
(2:38 PM)
It would be very difficult to play with three broken ribs, especially at the QB position. You're constantly tweaking your midsection to release the ball with velocity. He's also taken some shots on those ribs. It doesn't look like he's in that much pain while you watch him play.
Matt (Plattsburgh, NY)
It seems that the Patriots' offense can pound the rock with two tight end sets when they want to, but at times this season where it would make sense to do so, they have not. Should the Patriots get a two score lead, can we look for they to grind out the win with their run game?
Tedy Bruschi
(2:39 PM)
The best the Patriots offense has looked this year is when they establish a run game and throw it off of playaction. If they can't establish a run game against the Ravens, it could be a short postseason for the Pats.
Joe (Salem, NH)
Turn overs are never good, however do you think Laurence Moroney gets back to 15-20 carries this week, with maybe Sammy Morris and Fred taylor taking red zone and goal lines carries... Or did he seal his fate with that first quarter fumble against the Jag's?
Tedy Bruschi
(2:40 PM)
I think the Patriots are going to go with Sammy Morris and Fred Taylor. When you carry the ball, you carry the fate of the entire team in your hands. It's difficult to trust a player with poor ball security.
satish (boston)
Will we see more 4-3 with Brace and wright as ends with vince and ty inside. This will also counter the size with oher playing gaurd and cousin at RT.
Tedy Bruschi
(2:42 PM)
I don't think so. I think the Patriots' communication problems on defense at midseason, they've gone with an exclusively 3-4 defense on first and second down. On third down, you could see anything, but their base is a 3-4 set.
Dan (Cambridge)
Do you the Patriots taking any shots down the field early in the game to try and keep Ed Reed far off the line of scrimmage in order to get the run game going?
Tedy Bruschi
(2:43 PM)
I don't know when it will be, but you can count on a shot or two to Moss deep down the field. I've only seen the Patriots gameplan shots once this year and that's only when Randy Moss's character was being questioned before Buffalo and they threw the ball deep.
Daniel Dragoo (Milwaukee, WI)
Who is in your Super Bowl?
Tedy Bruschi
(2:45 PM)
Out of the teams playing this weekend, I think the Cowboys have a great shot of emerging from Wild Card weekend. Out of the teams that have the first round bye, I think the Vikings and the Chargers have the best chance. The Patriots without Welker, it will be tough for them. Let's go Vikings-Chargers.
Steve (Newton)
It seems like the pats have been less successsful this year adding wrinkles at halftime this year than in the past. Often they're leading, so is it a case of don't fix what ain't broken? How much adjustments were made in year's past?
Tedy Bruschi
(2:46 PM)
That's been a strength of this coaching staff in the past, making halftime adjustments. That's been a problem this year. But how about this, the Patriots won more games last year with Matt Cassel at QB than this year with Tom Brady. That's crazy.
Sam (Nashua, NH)
With Welker out, do you see Moss running more short and intermediate patterns? He is a playmaker and it would make sense to get him the ball in space...
Tedy Bruschi
(2:47 PM)
I think it would be best to have Edelman run the routes that Welker ran. They won't be as good as Welker ran, but I think Randy Moss will stick to his usual deeper routes.
John (NY)
How does Coach Belichick's intensity level change from the regular season to the post season, and what is he telling his young defense about the need to play 60 full minutes?
Tedy Bruschi
(2:48 PM)
The beauty of coach Belichick is that he coaches every game the same.
ryan (kentucky)
do you think the jets can do any serious damage with an inconsistent rookie qb in Sanchez?
Tedy Bruschi
(2:48 PM)
I definitely think they can, with a solid defense and a great running game. The key will be how Brian Schottenheimer calls the game. He can't put Sanchez in a situation where he throws the ball 30+ times.
Ryan (Walpole, MA)
Hey Teddy. How do you feel the Pats match up against the Chargers and Colts, seeing they get through the first round? Do they have a fighting chance against the higher seeded teams?
Tedy Bruschi
(2:49 PM)
I think they can go into Indianapolis and beat them. The Colts were very disappointing the last two weeks. Going into San Diego without Wes Welker, it will be very difficult to beat them.
mike (ma)
Tedy,do you see any of Patriot's coordinators/coaches in the hot seat? I think we should try to get a new Special teams coach and def try to get a better O-coordinator if possible...
Tedy Bruschi
(2:50 PM)
Keep your ears open for a Charlie Weis hiring. I think that'd be a great fit for the Pats.
Matt A. (Manchester,NH)
What kind of a gameplan do you see the Ravens coming in with against the Pats Tedy?? Will it be their usual physical running game style or will they trust Joe Flacco to air it out a little more. What do you think??
Tedy Bruschi
(2:51 PM)
I think they attempt to pound the run. Ray Rice is a great running back and the New England front seven has shown fundamental difficulties in that gap control scheme.
satish (boston)
teddy,Last week we saw vollmer struggle against mario who is of similar size.He had good games against smaller guys but mario created issues for him. . Is it a bad game or its a issue of technique?.
Tedy Bruschi
(2:52 PM)
This is Vollmer's rookie season. There's a possibility he is hitting the rookie wall. But he's shown he has tremendous ability. I think he bounces back.
Josh (Boston)
Hey Tedy! Do you think the Pats secondary will hold up against Flacco, Mason and Co.?
Tedy Bruschi
(2:53 PM)
The Patriots secondary will need help against a QB like Joe Flacco. That help must come from the defensive line. If you pressure Flacco through the middle of the pocket and make him move, he's a much less accurate QB.
joe (Andover)
hey i just heard that you think the cowboys have the best chance out of the wild card teams. Wha about the packers. They have a great qb, a solid running game, and have been on a roll as of late
Tedy Bruschi
(2:54 PM)
The Packers are hot. I had to make a decision on whether I like the Packers or Cowboys. I look at the shutouts by the Cowboys and as a former defensive player, that's legit.
Jim (Omaha Nebraska)
What seems to be the reason the Patriots are so inconsistant this year ? At times they look like that 3 time Championship bunch and other times they seem like they cant get it going. Is it the D or O or a little of both?
Tedy Bruschi
(2:55 PM)
You first must realize that this isn't the three-time championship team. There has been tremendous player movement. With that comes growing pains.
rosco pico train (king of nj)
Teddy - Injuries aside, have you ever seen a D regress like the Giants from the last couple of years to this year? The most embarrasing D I can ever remember as a lifelong GMen fan.
Tedy Bruschi
(2:56 PM)
I hate to say this, but it seems like the Giants played like front runners this year. When things were good, they played well, but when they had to face adversity, they didn't step up to the challenge.
Ric (Louisville)
Is it more important to be healthy going into the playoffs, or on a roll?....Indy and New Orleans both have chosen the former.
Tedy Bruschi
(2:56 PM)
In a perfect world, you want both. But I would rather be on a role. Football is known to be played with aches and pains.
Vik Shaw (MA)
Do you see a repeat of the last regular season game between Dallas and Philly this weekend?
Tedy Bruschi
(2:57 PM)
I do. I don't know if it will be a dominant Cowboys victory like it was, but that team is hot. And I like hot.
Tedy Bruschi
(2:57 PM)
Thanks for chatting every body. Good luck to all your teams.