Chat about the Super Bowl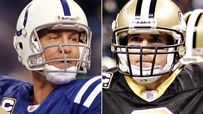 Which QB, Manning or Brees, will have a bigger impact on Super Bowl XLIV?
Welcome to SportsNation! On Tuesday, now that we have our Super Bowl matchup, we'll be chatting all day and giving you the first chance to ask any and every question you have on the game. Join our NFL experts and bloggers as they dish all the inside info.
Here is the schedule: (all times are ET)
11am- Len Pasquarelli, NFL senior writer
Noon- Matt Mosley, NFC East blogger
12:30pm- Matt Williamson, Scouts Inc.
1pm- Paul Kuharsky, AFC South blogger
1:30pm- Tim Graham, AFC East blogger
2pm- Kevin Seifert, NFC North blogger
2:30pm- Mike Sando, NFC West blogger
3pm- Pat Yasinskas, NFC South blogger
3:30pm- Bill Williamson, AFC West blogger
4pm- James Walker, AFC North blogger

Send your questions now and join the chat Tuesday from 11 a.m.-5 p.m. ET!
More Super Bowl: Super Bowl XLIV | NFL Index | NFL Nation blog | SportsNation
Jeremy (Indy)
Can anyone see Brees/The Saints Offense struggling against the speed of the Colts secondary??
len pasquarelli
(11:03 AM)
not necessarily . . . the entire indy defense is fast, ray ru=ice of balt did a good job of pointing that out after the second round game . . . but henderson and meachum are really fast and lance moore (if healthy) is very quick .. . . colston lays faster than his 40 time . . . and payton makes calls that get these guys cushion somehow
len pasquarelli
(11:04 AM)
given the mentality of the colts, don't see a big problem . . .. this is a very even-keeled team in the dungy/caldwell mold
Richard Chaney (JAX, FL 32216)
The new orleans saints will win the game in superbowl 44 in miami fla. I already said the saints were going to the superbowl before the playoffs. Now I'm saying that they will "WIN" in the superbowl and get a ring + the trophy. posted 1/26/2010.
len pasquarelli
(11:05 AM)
you'e entitled to your opinion and stand a 50-50 chance of being right . . . congratulations, sir, on the saints' season!
Kudrat (Moscow, Russia)
A question from NOT from a Vikings fan. In the NFC title game the Saints went after Favre a lot. Aside from a clear hit below the knees which left the QB crippled for the rest of the game, there were several other instances when the Saints defenders deliberately hit Favre away from the ball, and never got flagged. Question - in the SB, do you think the Saints will use the same tactics, and if so, will the officiating change in terms of protecting the QB?
len pasquarelli
(11:08 AM)
i think the saints' style of play, sir, is to blitz/hit the QB as much as possibe, no matter who it is . . . clearly it had a cumulative effect on favre . . . as far as late/excessive hits, i was at the game and didn't think anythuing was untoward . . . maybe i'll change my mind when i watch the video this afternoon
Chris Fiegler (Latham,NY)
Who was the last Number 1 seeds before Indianapolis Colts & New Orleans Saints to play in the Super Bowl? Which Super Bowl
len pasquarelli
(11:10 AM)
don't have my record book in front of me, sir, but i think it was the '93 playoffs when both no. 1 teams advanced
Caleb (Gulfport, MS)
Len, the Saints defense has flourished off the turnovers they've created this season. Will they be able to create the same big plays against Indy?
len pasquarelli
(11:13 AM)
obviously, sir, indy is very careful with the ball and they don't give up sacks . . . gregg williams, for as much as i admire him, has his work cut out . . . a gratuitous shot here, too, at rex ryan .. . . thank god he showed peyton some wrinkles he had never seen before, or manning might have thrown for 577 yards, huh?
Donald (New Orleans)
Everyone talks about the "star" receivers for Manning and much less about the Saints receiving corp. It seems to me the reason for this is because Drew spreads it around to so many that no one stnads out so much above the others. Does this really make them any less effective?
len pasquarelli
(11:14 AM)
no, sir, but i also thin peyton sprads the ball around, as indicated in sunday's game . . . both teams have excellent wide receivers/playmakers . . . one so-called "x factor" to watch his reggie bush, who will be a tough matchup in space
Axel (Montreal)
How Greg Williams will solve the offensive weapons of Indy ?
len pasquarelli
(11:15 AM)
blitz, blitz, blitz, sir
stacy (georgetown)
who wins the super bowl?
len pasquarelli
(11:15 AM)
colts, sir
Ian (WHO DAT NATION, LA)
Why is it that I hear Viking fans complaining about questionable calls in the overtime but yet they were on the recieving end of questionable flags going there way all game? You got the calls early we got them late.
len pasquarelli
(11:16 AM)
yes, i agree, sir, thought there were some questionable calls throughout on both teams
Haider Nasir (West Lafayette, Indiana)
Do you think Reggie Bush will have a big game or will the Colts be able to contain him like the Vikings did?
len pasquarelli
(11:18 AM)
if he plays within himself, sir, he'll be a difficult matchup, as i indicated earlier .. . i thought bush tried too hard to make a big, game-altering play on sunday
Bob (Houston)
To me, the Saints weakness has been rush defense. When Greer and Porter have played together, we have defended the pass pretty well. So as good as Peyton is, I think we'll have an easier time stopping the Colts due to their horrid run game. Is my bias blinding me?
len pasquarelli
(11:21 AM)
they've still got to pressure manning, sir . . . colts have come this far without a running game, so in the new age nfl it doesn't make as big a difference . . . your're right about porter and greer, terrific tandem
Jeff (New Orleans)
Long-time Saints fan here. On defense, I accept that there is no way we can stop Manning. I don't think the 85 Bears could at this point. But, our offense can score with the best of them. Do you think we can score enough to make it a close game?
len pasquarelli
(11:23 AM)
yes, sir, saints can move the ball . . . as i said on local radio here this morning, expect a lot of points, which means it'll probably be a 20-17 game
Paul (New Orleans, LA)
Do you think that the Saints will open up the gameplan and play wide open like we did for much of the year, or do you think they will play conservative again this week? It was a little confounding last week, but the ball was sailing on Dew a bit in that game.
len pasquarelli
(11:25 AM)
good point, sir . . . i was really surprised that, imo, sean payton wasn't as wide-open in the champ game . . . a lot of "bunch" formations instead of spreading the field as usual
Shawn (kENTUCKY)
Whats the injury status with dwight freney?
len pasquarelli
(11:27 AM)
ankle should be Ok, sir, from talking to colts people they expect him to be fine
Michael (San Diego)
If the Saints lose the SB will that take away from their NFC Championship?
len pasquarelli
(11:28 AM)
no, sir, great, uplifting season no matter what
Eric (Indy)
Do you think the Colts should kick to Bush? I may have nightmares of Hesters SB return if they do! GEAUX COLTS!
len pasquarelli
(11:29 AM)
the vikings, sir, swore they wouldn't kick to bush and they did anyway . . . won't be surprised to see bush returning KOs as well in this game
Jim (Indianapolis, IN)
Do you think that the Colts will have an easier time rushing against the Saints than expected, considering all their focus would seem to be on Manning and the passing game?
len pasquarelli
(11:31 AM)
not necessarily, sir, if the colts' have success running the ball, it will be because of the saints' ongoing problems in the area, not an over-concentration on manning
Steve (Indiana)
First off..Congrats to the Saints! Indy fanatic here..I like the way the Colts D matches up with the Saints..We are fast and can pressure with our front 4. My question..Do you think the Saints will blitz Peyton or only rush 4. Either way, Peyton will take what they give him, so I think the Saints will have a hard time slowing the Colts down. Thoughts?
len pasquarelli
(11:33 AM)
you don't change the way you play, sir . . . the signature of the NO defense is to pressure via the blitz, and i'd be shocked if they stop now . . . again, don't have my notes in front of me, but i thnk the saints blitzed or dogged on 27 of the 36 second- or third and long (five yards or more) the other night
nathan (nyc)
Len, big fan, great job. Nice to see you up and running back to your best. I have a question, does manning's masterpiece finally put to rest the critique abt him facing 3-4? What will the Saints bring
len pasquarelli
(11:35 AM)
thanks much, sir, for the kind words . . . i don't know if sunday's win will silence the 3-4 critics, but it won't matter in the SB, because we're not going to see any 3-4 looks from the saints
rod (new orleans)
We saw the saints struggle against tampa 2 defense, with the vikings, bucs this year. What is it about that tampa 2 defense that gives teams problems?
len pasquarelli
(11:37 AM)
the tampa 2, sir, takes away a lot of the deep plays and the deep seams in particular . .. saints like to throw their routes a little deeper than most . . . hate to keep harping on this, but expect a lot of reggie bush in the flat or on swings, where the colts will be forced to make a play in space
Olivia Manning (New Orleans, LA)
After watching the Saints / Vikings game, I am worried about what the Saints defense will do to my little boy. Do you think he stand up to the hits?
len pasquarelli
(11:39 AM)
your little boy, ma'am, is plenty tough . . . . one of the most competitive people i know
Tony (new orleans)
Who do you think has the edge in the kicking game? Thomas Moorestead for the Saints was phenomenal on kick offs and punts.
len pasquarelli
(11:40 AM)
terric point about morestead, sir, he's really been kind of an unsung hero for the saints . . . but mcafee, who like morestead kicks off, has been very good for the colts, too
ryan (montana)
if manning wins his 2nd super bowl does that make him a top 3 qb all time.. or even the best ever
len pasquarelli
(11:42 AM)
those ratings, sir, are always subjective. like i always start any list with unitas, although some disagree . . .this i know: manning is one of the smartest qbs i've ever seen
john (naptown)
Len we saw the saints reggie bush struggle the whole season...now he is playing well..do you think it was the money making him run so well
len pasquarelli
(11:44 AM)
not hardly, sir, although he's run much harder in the playoffs . . . i think sean payton has finally learned to use buch the right way, and i think bush has accepted his role as a guy who's going to get 12-15 touches a game
Fred (Washington)
How is Shockey doing? Do we know if he will be 100% by Super Bowl Sunday?
len pasquarelli
(11:45 AM)
talked to him, sir, after the game, and he wasn't any worse . . . week off will do him some good, but he still won't be 100 percent
victor (monroe,la )
steve in indiana thank you it was about time some one stood up for them and i heard reggie bush has made 800,000dollars sofar
len pasquarelli
(11:45 AM)
and another 500K, sir, if they win the super bowl
Richard (Indy)
What WR do you think is gonna have the best game?
len pasquarelli
(11:47 AM)
just a guess, sir, collie for the colts and colston for the saints
jack (peoria)
do you attribute the success of players like collie and garcon to manning or to just a simple overlooking of their talent coming out of college?
len pasquarelli
(11:49 AM)
i don't think, sir, the manning factor can be overlooked . . . but bill polian has a great eye for talent . . . so, while having manning helps those guys, having ability helps ever more
Kurt (State College, PA)
I've really liked how Donald Brown has looked the few times he gets the ball- downhill rusher, a nice complement to Addai's finesse. How much do you think Indy uses Brown in the SB?
len pasquarelli
(11:50 AM)
about the same, sir, as they've used him down the stretch . . . one point often overlooked on brown: he's very good in pass protection, which is a rarity among young players
Al (VA)
Seems to me the key to the Colts winning this game is not Manning and the Offense...they will get their points ....but the Colts Defense. I see a big game outta Bracket and Sessions if they are going to win, do you agree?
len pasquarelli
(11:54 AM)
as noted earlier, sir, the colts defense is very quick, especially laterally . . . better to run right at them than away from them . . . brackett and sesssion are a big part of that . . . but something that hasn't been mantioned much, and i want to get in before we run out of time -- colts' defense is one of best tackling units i've seen in a couple years . . . great discipline and technique, and that could be a key
tboywash from NO (TX)
I would like to know why everyone keeps looking at the stats for the saint defense? Doesn't anyone realize how deceptive those stats are, in the Wash, Dallas, and Tampa games and more better than 1/3 of the starters were out. I think that our defense is under estimated. what do you think?
len pasquarelli
(11:55 AM)
i agree, sir, but i think the same is true of the indy defense
Eric (Indy)
What about former Hoosier Courtney Roby? Last I remember, he had to be carried off the field. What's his injury status?
len pasquarelli
(11:57 AM)
hey's banged up, sir, no doubt . . . and i think an overlooked part of last sunday's game was the pierre thomas ko return in overtime, with roby hurt . . . think we'll know a little more about roby as the week goes on
Peter (West Monroe, LA)
how would you see the Saints Secondary matched up with the Colts recievers?
len pasquarelli
(11:59 AM)
i think, sir, the safeties will have the same kind of matchup problems with dallas clark that everyone else seems to have
Brett Farve (Mississippi)
If Peyton gets hit as much as me, the colts better be worried. Peyton is a legend but he's not superman
Dennis (Indy)
The Colts aren't a "good" blitzing team...Yes the added pressure has had an effect on opposing QB's, but they havent faced an arial attack close to this yet. Should they stay close to the cuff on "D", play more Tampa 2, and eliminate the shots down field to keep everything in front of them? Rely on precise tackling?
len pasquarelli
(12:02 PM)
with larry coyer as their DC, sir, the colts have blitzed a bit more than in the past . . . still relay a lot on cover-2, but we'll see a few bltzes
mosley
(12:02 PM)
Brett, I hope you're feeling better. And thanks to Len P. for getting us off to a great start. I think Peyton will get rid of the ball sooner than Favre. And if the Saints sell out on the blitz to try and beat up Manning, I think he will burn them more than the Vikings did.
J. Coleman (Boston)
Who's a better back for the Saints P. Thomas or R. Bush?
mosley
(12:03 PM)
Obviously, Bush is the big-play back who can turn a short catch into a huge gain. But Thomas is the better all-around back.
Quinn (AL)
How much do you think experience in Super Bowls matter? Do you think NO's lack of experience in the big game will play a big role? Teams in their first appearance in the Super Bowl as a franchise are 4-15 against franchises that have already gotten over the hurdle of making it to a SB.
len pasquarelli
(12:04 PM)
thanks so much for your time, interest and questions . . . enjoy the game, and i'll chat with you a few days after
mosley
(12:05 PM)
With the way free agency is, you have guys on the Saints who have played in big games for other teams. Do you think Darren Sharper's going to get nervous about playing on the big stage? I really don't think Super Bowl experience is that huge of a deal. There are plenty of quarterbacks who will give Brees some tips if he's concerned about getting through the week.
George (texas)
do you think Brees's passing probs in champ game were due to the fact that it was the champ game? He wasn't nearly as accurate with his throws and wasn't throwing the tight spirral all the time like he usually does
mosley
(12:07 PM)
No, I don't think it had anything to do with how big the game was. I just think he was a little shaky. And I'm sure his internal clock was a little quicker than usual because he watched film of the Vikings' DEs overwhelming the Cowboys. He just looked a little jumpy. But he made some big throws when he had to.
Ryan (IN)
Will the fact that the Colts going to, and winning, a Super Bowl recently help them mentally prepare and give them an edge over the Saints?
mosley
(12:09 PM)
I'm sure there's a comfort level with some of the players. Wayne will be able to talk to young guys like Collie and Garcon about what they need to be doing during the week. But as I've said, the Saints have enough veterans on the team not to be overly worried about the big stage. Harper, Sharper, Fujita. All those guys have been around.
J. Coleman (Boston)
Who needs to step up for the saints in order for them to win?
mosley
(12:11 PM)
If this thing turns into a shootout, I'd take the Colts. That's why it's important for players such as Tracy Porter to and Jabari Greer to have excellent games. You can't get caught trying to make a huge play or Manning will make you pay. Sharper and Harper have to be better than ever at staying back and reading their keys. Sharper makes a lot of plays, but he also gives up a lot.
Wyatt (Pittsburgh)
clearly it doesnt matter now based on this past weekend, but do you think the Saints or Vikes would have been a better matchup for Indy?
mosley
(12:12 PM)
The Vikings were the best team on the field Sunday night, but it clearly doesn't matter now. But yes, I think the Vikings would be a tougher matchup for the Colts.
Caleb (Hattiesburg)
The Saints D is much better against the pass then they are against the run. The reason the Vikings had so much success throwing was because they always had the big run threat with Peterson/Harvin/Taylor. Don't you think against a team that is known to throw a lot more, the Saints D will know what to expect and be able to adjust to that.
mosley
(12:14 PM)
It's a fair point. The Colts are the worst running team in the league. But Indy can use some of those screens as a fill-in for the running game. Manning's so good that he really doesn't need a running game.
Alex (NY via NO)
Whats up Mosley, sorry your NFC Beast couldn't make it... Shouldn't the Colts worry that the media says Saints had a bad offensive game, yet they scored 31 points (and Vikings D is better and tougher than Indy D)?
mosley
(12:15 PM)
I think the Colts have a lot of respect for the Saints' offense. But let's keep in mind that the Saints benefited greatly from some back-breaking mistakes by the Vikes.
Quinn (AL)
Do you think there will be any emotional carry-over from the NFC Championship game that will help/hinder the Saints in the Super Bowl?
mosley
(12:15 PM)
With the week off, I don't think there's a huge carryover effect.
Brian (Austin, Texas)
How big of a factor was home field advantage in the NFC championship game to you?
mosley
(12:16 PM)
Not as much as the five turnover factor for the Vikes.
Donald (New Orleans)
OK, Len picked the Colts. Who is your pick and why?
mosley
(12:18 PM)
I think the Colts will win the game because I don't see the Saints being able to slow down Peyton Manning and his talented receivers. You can do some damage in the middle of the field. If the Colts give Manning enough time, he's capable of picking this defense apart. And I do think the Colts have some great karma since they've won a Super Bowl in Miami in recent years.
Andrew (FL)
Mosley, sir, jumping off of DJ Gallo's Page 2 piece, how much coverage will Brett Favre's (non-)retirement get and will it overshadow some of the Super Bowl team stories?
mosley
(12:20 PM)
I don't think it will overshadow any of the Super Bowl coverage. This is such an annual storyline that a lot of readers sort of have Favre fatigue. I think some of those folks will simply ignore this annual story. And most of us won't believe him even if he says he's walking away.
john (naptown)
mosley hope you are doing good....with 2:00 minutes left and down by 5 who would you want to lead your team down the field and the wind at you back
mosley
(12:20 PM)
1. Robert Griffin2. Peyton Manning
Simon (Harrisburg, PA)
how will payton legacy change if he would win his second championship?
mosley
(12:22 PM)
It just adds to a legacy that already has him destined for the Hall of Fame. He's the best quarterback of his era. Even though Tom Brady has more Super Bowls. I believe we'll look back and say that Manning was a better quarterback than Brady.
AL (MD)
Do you think Peyton needs a second ring to truly be in the conversation as the best ever?
mosley
(12:22 PM)
It wouldn't hurt, Al.
Mark (Indy)
If you were Caldwell, would you use same routine and same hotel? My thought is familiarity may be too comfortable. Then again, I'm in here chatting and Caldwell's Colts are 16-2.
mosley
(12:23 PM)
Those hotels are planned out years in advance. Caldwell can't show up and start demanding changes now that he's in the Super Bowl. I think all that familiarity stuff is overrated. As long as Peyton has room service and some of those $5.00 bottled waters, he'll be fine.
Truefan (FootballNation)
I heard the ball in the superbowl is different, is this true?? If so, how will it affect the QBs??
mosley
(12:24 PM)
I didn't know that this story had been leaked. Yes, they're using a Nerf football this year.
Quinn (AL)
How important is the turnover battle for the Saints? Is it not enough to just break even, or do they need to win that battle?
mosley
(12:25 PM)
Well, they had five takeaways -- and had to beat the Vikes in OT in the Superdome. So I think it's safe to say that winning the turnover battle would be a good thing.
Jack (Butte, MT)
With the game being outdoors, do you think either "dome" team will be fazed more than the other?
mosley
(12:27 PM)
The last Miami Super Bowl was played in a driving rainstorm -- and it didn't seem to affect Peyton Manning. And by the way, I'm so glad we're going outside for this game.
brian towns (New Orleans)
Every week it seems like the saints have another hero in the game. Do you think there could be in the superbowl and if so who? Lance Moore??? and do you think the Saints will be contenders in the years comming
mosley
(12:29 PM)
If the Saints can hold onto Gregg Williams as DC, the window will remain open. I think Robert Meachem could have a huge game for the Saints in this game. For some reason, that's the way I'm leaning.
George (CT)
why do most teams and analyst still refer to the colts D as a finesse team? Does fast mean finesse? I have seen some pretty aggressive hits this year from that very good tackling group!
mosley
(12:31 PM)
I hear what your saying, George. I think guys like Gary Brackett bring a great deal of toughness. But the Colts don't beat you up like the Jets and Ravens do. I think that's where the finesse thing comes from. You guys have been great. I'm supposed to step aside now.
Brian (New Orleans)
Why doesn't Brees get seem to get as much respect as other elite QB's? All of the talk has been what will 2 rings do for Manning's legacy, but what will a ring do for Brees?
Matt Williamson
(12:33 PM)
If he gets that ring, he will then be in that conversation. I do think Brees is respected a great deal around the league and is clearly one of the best players at his position-but his body of work just isn't there (yet) with Favre, Warner, Peyton and Brady. Roethlisberger is in that conversation as well. But in all honesty, the only two QBs who I put ahead of Brees right now is Brady and Payton.
Nick B (Thibodaux, LA)
Hail Matt, what are your thoughts on Mike Bell - his absence against the Vikings and potential impact against the Colts?
Matt Williamson
(12:34 PM)
He's their hammer. Great in short yardage. Brings a physical edge to their O in general. Runs like he has a lot to prove-which I guess he does considering his career path. Could see him getting half a dozen carries.
Chad (Las Vegas)
Can any team really play the 'no respect' card at this point?
Matt Williamson
(12:35 PM)
No. I think that is a tough card to pull off in general. But these teams were both undefeated for a long stretch of the season. Come on.
Steven (Louisiana)
Do you think Saints D gets pressure on Manning? Does he take as many hits as Favre did?
Matt Williamson
(12:36 PM)
No, but he will get hit from time to time. Manning, like Favre, is a tough guy who will take a hit if it means delivering the football on time. But he is also good at crumbling before taking a massive shot as well. I do think they will come after him and I think NOrls trusts their secondary much more than many fans realize.
Brian (Austin)
Do you think this game comes down to a turnover at the very end?
Matt Williamson
(12:37 PM)
It certainly could. Funny you brought that up actually, as after my half hour here, I am going to proof read the write up of the game for Scouts Inc. Right before I started chatting, I more or less wrote a very similar sentence to what you just said for the report. These teams are pretty similar and I have a hard time seeing either getting blown out. Mistakes could tell the tale...as it did in the NFC Championship.
Chad (Las Vegas)
Will Indy's lack of a running game hurt them as Gregg Williams is a darn good DC and can pounce on this?
Matt Williamson
(12:39 PM)
Rex Ryan is a darn good defensive mind as well, but it didn't matter. In fact, the Colts have run across quite a few very good defensive minds, and to me, they are still unbeaten. I also contend that their running game is more effective than the numbers would indicate. Last week was a perfect example. I also think the Colts have evolved so well with their short passing game that it also acts as an extension to their run attack. I also am not sold on the Saints' run D.
DANTE (mass)
DO THE SAINTS PLAY A 3-4 OR A 4-3 AND DOES IT MATTER TO MANNING
Matt Williamson
(12:40 PM)
They are versatile and have the ability to show a lot of different looks, but they are predominantly a 4-3 team. Does it matter to Manning? With two weeks to study the tape, I really don't think so.
Worker B (New Orleans)
Why isn't the Saints defense getting more credit for forcing 4 of Minnesota's 5 turnovers?
Matt Williamson
(12:40 PM)
Good point. The Saints D-when healthy this year-has consistently been exceptional at creating turnovers. That isn't an accident.
George (CT)
Indy has slowed down or shut down the best runners all year. Will the same happen here
Matt Williamson
(12:42 PM)
I don't think the running game will win or lose this game for either team, but I am inclined to call this phase of this game a draw. I love how the Colts penetrate, get off blocks, flow to the football and get to the ball carrier with a lot of bodies. But, I also love the guard play for the Saints and think NOrls will be stronger and more physical upfront in the run game.
Kevin (Gulfport)
Do you think the field will make a difference for these 2 dome teams? Please come back Favre.
Matt Williamson
(12:43 PM)
I hope it isn't a wet/slow track. But just being outdoors will not be a factor if the weather holds up.
George (CT)
does the Saints D deserve credit for adrian P being sloppy and a chronic fumbler
Matt Williamson
(12:44 PM)
Peterson certainly has his fumbling issues. I recognize that. But, like I said, it isn't an accident that the Saints have consistently gotten their hands on the football this year on D.
Bird (MD)
would you put Drew Brees in the same convo with Brett Favre?
Matt Williamson
(12:44 PM)
I think Brees is a better QB than Favre today. Not by a ton, but if I had one for one game or one season, I would pick Brees. Obviously Favre has had a better career though.
Jake (Seattle)
Who will have more impact in the superbowl, reggie wayne or dallas clark?
Matt Williamson
(12:46 PM)
That isn't easy. Jabari Greer is an exceptional CB who no one talks about, but I think he will stay on the D's left side and do battle with Garcon one on one. That should allow the Saints to put a lot of attention to Wayne's side of the field. But Dallas Clark is just such a wild card. I like how the Saints' LBs and Safeties defend the pass, but Clark just causes so many matchup problems. Give me Wayne, but it is close.
Quinn (AL)
How many points will win this game?
Matt Williamson
(12:47 PM)
I am picking Indy to win it 30-21. So, I guess my answer is 22.
Chad (Las Vegas)
You have the NO in the SB and Mardi Gras the following Tuesday. When New Orleans wins will that whole city just take 10 days off to party?
Matt Williamson
(12:48 PM)
Win or lose, they should take 10 days off!
Chad (Las Vegas)
Do you honestly think the Indy D can hold N.O. to 21?
Matt Williamson
(12:49 PM)
I love both offenses, don't get me wrong, but I could also see a real feeling out process early in this game. Also, the guys will be nervous. Not expecting the first quarter to be filled with fireworks.
Dan (DC)
How is a guy who holds the record for most INTs and has shown a consistent nack for making huge mistakes in huge games even in the convo for best of all time I mean come on Favre has one superbowl victory and so does Dilfer farve is just a head of Blanda for most INTs is his carasma more a factor in his career outlook than his actual play.
Matt Williamson
(12:49 PM)
I respect #4, but he isn't in my conversation of best of all time. Not even in the top 5.
Matt (Austin)
What will the Colts do with 4 healthy, capable wide receivers next season? Who goes to the bench when Gonzo comes back?
Matt Williamson
(12:51 PM)
Obviously an extremely nice problem to have and don't discount the possibility that they could have another injury before opening day next year. This is a pretty static group in terms of doing what they do on O, but I would have to think that we see a few more empty packages with those four and D Clark. But in the end, probably rotate those three (other than Wayne of course).
Bradley (Baton Rouge)
How important will Jonathon Vilma be to the Saint's defense against the Colts?
Matt Williamson
(12:52 PM)
Vilma will be very important from a mental standpoint. Getting everyone organized on a massive stage under very bright lights. No room for mental errors in this game vs. Manning. Also, with Manning changing plays/protections at the LOS, a bright MLB can make that harder. Example: Manning and Ray Lewis have had some good mental battles before the ball is snapped.
Dustin (Indy)
The Colts D is quick sideline to sideline. My question is how can they prevent Bush from having a huge game?
Matt Williamson
(12:54 PM)
How many times has Bush put together two big games in a row? How many touches do you expect him to get? 8 or so? I like Bush and I really like him in this O-as he causes a ton of matchup problems, but he wouldn't worry nearly as much lined up in a traditional RB spot.
Manu (Waikiki, HI)
Who would serve as a better role model for young athlete, Manning or Brees?
Matt Williamson
(12:55 PM)
I don't know either man personally, but they both sure seem pretty top notch to me. Brees' involvement with the New Orleans community and the Hurricane efforts is superb. Not sure you can go wrong with either.
Brad (Boston, MA)
Circle one: Special teams will be a non-factor/underrated item no one's talking about/critical to the winning team's success.
Matt Williamson
(12:55 PM)
It is important for sure and I give the Saints the overall special teams edge. Not a huge edge though.
Nick (Jackson MS)
You say Bush won't have 2 big games in a row. Ok, I hope you're not calling last week a big game. He will be a factor next week
Matt Williamson
(12:57 PM)
I hear ya. Two games ago he was a stud. Last week, he was horrible. That was more or less my point. He is an extremely inconsistent player all throughout his career. Part of that is because Sean Payton uses different guys predominantly based on who they are playing/matchups, but overall, I don't trust Bush to blow up. He is capable.
Quinn (AL)
Which running back will have the biggest impact on Super Bowl Sunday?
Matt Williamson
(12:58 PM)
I lean towards P Thomas. Do it all type who can act as a good safety valve over the heads of Freeney and Mathis. Plus, he can hit it up in there behind his big OL.
Greg ((TX))
Reggie Wayne top 3 reciever in the league. agree?
Matt Williamson
(12:58 PM)
I would put Fitz and Andre J ahead of him for sure, but then, I would say he is #3 right now. Before the season started, I thought Moss was superior. I don't any more.
Tim (Saginaw, MI)
Will Indy's front four be able to pressure Brees enough?
Matt Williamson
(12:59 PM)
I really like the Colts DEs over the Saints' OTs in the passing game. Bushrod-with a lot of help-did a very nice job with J Allen last week, but he is still a liability and Freeney is more dangerous than Allen.
Matt Williamson
(1:00 PM)
Okay everyone, my half hour is up. This was a blast. Paul will be taking over.
Austin Neal (Cincinnati)
Manning is unstoppable...but his team is somewhat mediocre. Saints offense is a force but they make too many mistakes. What is better: Having Manning as your Qb or having the Saints offense?
Paul Kuharsky
(1:01 PM)
Don't buy your premise. Colts aren't mediocre.
Thomas (Indianapolis)
My question is, do you think that the colts special teams, particularly in the kickoff/punting game, will make a difference? Pat Mcafee has had a fantastic season and I envision the saints having to drive long fields all day.
Paul Kuharsky
(1:02 PM)
Odds are if it makes a big difference it will hurt more than it will help. McAfee's good, Stover is reliable. But they get little from return games and can be shaky on coverage.
tim martin (hartford)
will next yr be uncapped? and what does that mean to the 4 teams that were left over the weekend
Paul Kuharsky
(1:02 PM)
The final eight teams are restricted in an uncapped year. Can't sign outside free agents until they lose them.
mark (indianapolis)
Paul,Has any superbowl host city ever had a home team play in the big game? Indianapolis does host the 2012 game, and will still be strong.
Paul Kuharsky
(1:03 PM)
No one's played a home Super Bowl game, no.
Ralph (Miami, FL)
will Colts dominate the AFC South for the next... forever?
Paul Kuharsky
(1:03 PM)
They lost the division last year, so... no.
Nate (Indy)
Will the Indy defense be likely to start the game in nickel on early downs?
Paul Kuharsky
(1:06 PM)
They obviously have linebackers who can cover, so it depends on how they view the third WR and/or Shockey. And if Powers is out, Jennings is less attractive as a third than Lacey.
jbaxter (orlando)
any word about freeney being hurt after Sundays game?
Paul Kuharsky
(1:06 PM)
Sprained ankle. Polian said on his radio show he expects Freeney will be OK for game.
Thomas (Indianapolis)
Who on the Indy D, aside from the DEs, do you think will give the high powered NO offense the most problems?
Paul Kuharsky
(1:07 PM)
Session has been damn good and getting better. I'd expect he'll be heard from.
Matt (Jackson, MS)
Greg Williams will expose the inexperience and lower talent levels of the Colt O-line. How can't they? Manning is a statue in the pocket!
Paul Kuharsky
(1:07 PM)
And it's killed them all season, hasn't it?
Chad (Las Vegas)
Manning is probably the best student of the game ever at QB. Will he have any mental block playing his hometown and daddies team in this game?
Paul Kuharsky
(1:07 PM)
Why would he?
Steve (South Bend, IN)
How long do we have Peyton Manning do you think???
Paul Kuharsky
(1:08 PM)
I would think six, seven more years.
David (Canada)
Can we all just agree that the Pro Bowl is no longer relevant or meaningful? David Garrard is a Pro Bowl quarterback for a conference with Peyton Manning, Tom Brady, Phillip Rivers, Ben Rothlisberger (need I go on?)
Paul Kuharsky
(1:08 PM)
I sure can agree. An absolute joke.
CAL (MASS)
WHO IS THE HOME TEAM
Paul Kuharsky
(1:09 PM)
Colts are home team and are expected to wear blue jerseys.
john (toronto)
does Tennnessee go with Young to start or is it a so called open competion with Collins?
Paul Kuharsky
(1:09 PM)
It's Young.
Brent B (New Orleans )
Sir.. No one is giving the Saints a chance.. I have watched this team since I was 5 years old , I am 40 now.. this team is one of a kind. What the coaches and Drew have done with all the players here this year is amazing. I find it offensive that everyone is counting the Saints out .. I don't care what the stats say . you can not count on a mans heart and will and these boys have it.. lets just wait till it is all said and done.. then we will see who has the rite to say anything.
Paul Kuharsky
(1:10 PM)
Of course they have a chance. If they are as defensively disruptive as they were against the Vikes, they can cause some problems. And their offense is potent.
brad walsh (hartford, WI)
do you think the vikings loss was completely brett favre's fault?
Paul Kuharsky
(1:11 PM)
Of course not. He didn't do all that fumbling. Btu he did kill a great chance with that last throw.
Chad (Las Vegas)
Who does the extra week help more New Orleans or Indy?
Paul Kuharsky
(1:12 PM)
I don't think it favors one team more than the other.
1 Weird Tip for a Flat Stomach (2 "Tricks" to Stop Junk Food Cra
How would you fix the Pro Bowl?
Paul Kuharsky
(1:13 PM)
No game. Name the elected team, call those guys Pro Bowlers. Have a week in Hawaii capped with a skills competition on live TV -- Fastest Man, Strongest Man, Most Accurate QB, etc. Have a big banquet on TV at which MVP and all the awards are presented.
Jeff (Toronto)
How many more Superbowls does Peyton need to win to be considered the best QB ever?
Paul Kuharsky
(1:14 PM)
He wins this one, that gains a lot more traction.
Nate (Indy)
Is Jerraud Powers' status more serious than Polian let on during the week? Is it all smoke and mirrors until the night before the big game?
Paul Kuharsky
(1:15 PM)
If I knew, I'd have written it, I promise. Seems like they could be without him in Miami. He's the one big injury question we know about.
Mo (Los Angeles)
Coerrection, Kuharsky. The 1979 L.A. Rams played the Superbowl in Pasadena. Although it wasn't their home stadium it was their hometown.
Paul Kuharsky
(1:15 PM)
So noted.
Chad (Las Vegas)
Paul, because he is human and does have emotions. He grew up a Saints fan.
Paul Kuharsky
(1:16 PM)
And so he's going to look across the line of scrimmage in one of the two biggest games of his life and get distracted or emotional? Silliness.
Oz (Marquette, MI)
If both starting QBs got hurt, which team would have the advantage in the Superbowl?
Paul Kuharsky
(1:17 PM)
Saints. Mark Brunell is a way better alternative than Curtis Painter.
Brett S (New Jersey)
Considering how close the race for MVP was between Brees and Manning this year, will there be any sort of outcry against the award eventually going to Manning from Brees supporters if he leads the Saints to a victory in the SB?
Paul Kuharsky
(1:19 PM)
A) It wasn't really close when the votes were tallied.B) It's a regular season award.C) I have no idea how Brees supporters would rally for an outcry and what it could do or would mean?
opie (redding)
why do teams waste thier time rushing peyton off the edges they should send both DT at jeff saturday and both DE at the guards then fire blitz a LB up the middle. do you think the saints will sell out to get to peyton or play coverage
Paul Kuharsky
(1:19 PM)
If no one was working against the offensive tackles, don't you think they would scoot inside to help?
George (CT)
what was your pre-season SB prediction.
Paul Kuharsky
(1:21 PM)
New England over Atlanta. Nailed it. Had New Orleans in the Super Bowl last year. I was early.
Toyota (Moving Forward)
He's obviously done well to bring the Colts to the Super Bowl, but how would you grade out Coach Caldwell's 1st season?
Paul Kuharsky
(1:22 PM)
Fantastic. Outside of the decision to pull starters and give up on a perfect season, I can't find anything to complain about.
Tony (Kentucky)
Do you think this will be the first overtime superbowl?
Paul Kuharsky
(1:22 PM)
The first quadruple-overtime Super Bowl, absolutely.
Michael (Houston)
How do you answer to the sports fans that claim the Saints were "lucky" to win this game?
Paul Kuharsky
(1:23 PM)
The team that won the game, won the game.
Phil (st. louis)
over or under .5 players arrested from either the Colts or Saints in the next 1 weeks?
Paul Kuharsky
(1:24 PM)
Under. Zero, I'd bet.
Josh (Baltimore)
Will not having Bob Sanders hinder the Colts ability to get at Drew Brees?
Paul Kuharsky
(1:24 PM)
They haven't had Bob Sanders for 16 games this season and it hasn't really been a big issue.
SANDY (OHIO)
DO THE SAINTS TRY TO KILL THE CLOCK OR JUST PLAY THEIR GAME
Paul Kuharsky
(1:25 PM)
Play their game.
Luke (Atlanta)
Will there ever be a behind-the-scenes documentary of Peyton coaching up receivers on the sidelines or helping them develop in training camp? I would pay $100 for such a DVD before I could blink.
Paul Kuharsky
(1:25 PM)
Doubt it. He's pretty private.
dusty (indy)
why is the o-line of the colts considered sub-par?
Paul Kuharsky
(1:26 PM)
The team doesn't run well.
Chad (Las Vegas)
How different is Super Bowl week than Conf Cham week with all of the press conferences and media obligations that the players have?
Paul Kuharsky
(1:27 PM)
Very different. But both teams plan to completely install game plans this week while at home, then just revise, revist during the distraction-filled week.
Keith (SC)
I am a die hard Colts fan. I know that the Saints are a great team, and I also know that we have the abililty to beat them. Do you think Dwight Freeney and Robert Mathis will be able to continue what they have done all season?
Paul Kuharsky
(1:28 PM)
What they did against the Jets wasn't much and the Colts win pretty handily even so.
Mrs Graham (New York)
Isn't Tim Graham really the greatest ESPN blogger of all-time?
Paul Kuharsky
(1:28 PM)
Can we get some meatloaf?
Patrick (Austin, TX)
If the Saints win this Superbowl, do you think the media will continue to do what they always do; blame the loss on the other team not playing well? Will the Saints ever get respect by anyone outside of the fans?
Paul Kuharsky
(1:29 PM)
Don't worry about respect. It's a load of bull. Why do you care what other people think about your team? It takes time away from you enjoying the accomplishments.
John (Lexington, KY)
Would the sack-less game be attributed to more of a run-stuffing approach by the DEs or the solid performance of D'Brickashaw and Woody?
Paul Kuharsky
(1:29 PM)
Combo.
opie (redding)
peyton and moore coach the colts caldwells just along for the ride
Paul Kuharsky
(1:30 PM)
Yes, Believe that. Caldwell is just a figure head. Seriously?
Robert (Latrobe, PA)
Which question is more annoying to you: "Why doesn't my team get any respect?" or "What did you think of the refs costing (insert team here) the game?" I see those two all the time, and as a journalist I imagine you must be sick of it.
Paul Kuharsky
(1:30 PM)
The first is worse and more frequent.
Finley (Kitchen)
What's this white stuff blowing around outside? I'll bet they don't have it in Miami. By they way, when are WE going? Oh, I'm also out of water.
Paul Kuharsky
(1:31 PM)
No trip for you. You have obligations at home.
Paul Kuharsky
(1:32 PM)
Good 30 minutes there folks. Enjoyed it. Next man up!
Tim Graham
(1:32 PM)
Thanks, Paul ... Hello from Graham Central Station in Getzville, N.Y. As the AFC East guy, I don't cover either of the teams in the Super Bowl, but I did see the Colts and Saints several times each because they played the AFC East this season. Or we can talk about the Jets ...
The Page (Columbus, OH)
After the Patriots spygate scandal do you think if the Colts win the SB they will be considered the team of the decade?
Tim Graham
(1:33 PM)
I don't believe that. But maybe you give the Colts extra marks for winning Super Bowls with two coaches. I still think the Patriots winning four conference titles and three Super Bowls give them the edge.
Matt (IN)
Timmy please, I beg you: No 'why isn't my team getting any respect?!?!' questions. Thanks, you da man
Tim Graham
(1:34 PM)
You can count on that. I have no tolerance.
George (CT)
did you think the jets had anything but a minimal chance last week
Tim Graham
(1:35 PM)
I did pick the Colts to win a lopsided game, but not because they were far superior. I thought it would be a matter of Sanchez needing to come from a couple scores behind and THEN the game getting out of hand late. But after seeing what the Jets defense did to the Chargers, I thought it would be a competitive game.
Josh (Baltimore)
Do you think a notoriously slow start by the Colts prove to be fatal against the explosive offense of the Saints?
Tim Graham
(1:37 PM)
It certainly could be. The Saints might not have as complete of a defense as the Jets, but they have some terrific playmakers in the secondary. If the Colts get into a situation where they have to pass, a comeback could get tricky.
Mason (Simi Valley)
I usually hate "what-ifs," but had Nate Kaeding knocked down 2 of his field goals and the Chargers survived the Jets, do you think we would be seeing a Chargers/Saints superbowl?
Tim Graham
(1:38 PM)
Not based on what we saw the Colts do to the Jets' defense on Sunday. Manning would have ripped up anybody the way he was playing.
Kevin (Gulfport, MS)
You know mannig is great in the 2 minute drill but the Saints scored more points leading into the half than the Colt's this year. Do you think a score just before half could be the difference in the end? Or a turnover to seal the victory?
Tim Graham
(1:39 PM)
Two very astute thoughts, Kevin.
Rex Ryan (Jersey Shore)
LOSING IS THE NEW WINNING
Kevin (Patriot Nation)
If Manning gets hit like Favre did the Colts have no chance of winning. That being said, Manning would likely fall down for fear of getting touched before that happened like on the 2nd Jets sack Sunday. At least Favre stands in there like a man.
Tim Graham
(1:40 PM)
Favre lost like a man.
Brett S (New Jersey)
True or false: if Dante Culpepper was the Vikings QB this year, they would have won the Super Bowl.
Tim Graham
(1:40 PM)
I'm comfortable with saying "false."
Steven (Texas)
How can you give the Pats the edge as the team of the decade when the colts have more victories in the decade (most all time) and they didnt cheat to get any of those.
Tim Graham
(1:42 PM)
I don't know what's more interesting, your point or the fact you project total bewilderment that I could pick the team that went to and won more Super Bowls. Are you that dim that you can't understand my reasoning?
Phillip (Louisville)
Who wins the SB and why?
Tim Graham
(1:44 PM)
I'm going based off the performances I saw with my own eyes (I covered the Colts three times and the Saints three times this year). The Colts left a more dominant impression on me. I witnessed the Miami Dolphins almost beat the Saints, who got a gift touchdown call that should been a touchback with the Dolphins having the ball at the 20. That still stands out to me. So I'm going with the Colts in a shootout.
Tim Graham
(1:44 PM)
Not a scientific response, but that's my visceral pick.
Burwell (Addison, PA)
Can we stop with the Team of the Decade debate? I realize that it can be fun, but honestly, it always descends to Steven's level: juvenile (or dim-witted) homers who act completely aghast that anyone could ever possibly consider another team, despite their accomplishments. It's old, boring, and childish. Let's move on.
Tim Graham
(1:45 PM)
Yes, sir.
Ryan (San Diego)
Yea, we always hear about how Manning would rip up anyone. Oh except when he plays the Chargers. He didn't do that against their 31st ranked pass defense in the playoffs last year, he couldnt even get a first down to seal the game.
Tim Graham
(1:46 PM)
Yeah, I know, Ryan. He's terrible!
Rex Ryan (Jersey Shore)
Should I write "SIKE!" on the back of all of the AFC CHAMP JETS gear I made and sell them on EBAY?
Tim Graham
(1:46 PM)
I'd go with "PSYCHE," but that's just me.
Jose (Miami)
Are you kidding me? How can you use the Saints/Dolphins game to say you think the Colts are going to win when the Colts/Dolphins game was just as bad...?
Tim Graham
(1:47 PM)
I just explained how I could do that. And I used my keyboard.
Andy (Charlestown, IN)
I have to agree with steven from texas, Tim, your an AFC east blogger that is picking the team you always cover, and yes the Patriots cheated with spygate, the one time they didnt cheat they lost to the Giants
Tim Graham
(1:49 PM)
Right. I always pick the team I cover. Which is why I think Manning is better than Brady and I picked the Chargers to beat the Jets in the divisional round and the Colts to beat the Jets in the AFC title game. I always pick my teams.
tommy (new orleans)
i think questions should only be allowed from people who are from indy or new orleans !!!!! now answer my QUESTION !!!
Tim Graham
(1:49 PM)
I don't see a question in there, Tommy.
Nick B (Thibodaux, LA)
Does your keyboard have a sarcasm key?
Tim Graham
(1:50 PM)
All of them are sarcasm keys.
Ken (Florida)
Stop saying "Sir"
Tim Graham
(1:51 PM)
Yes, ma'am.
Philip (Tallahassee)
Peyton Manning, greatest QB ever? or greatest QB of all time?
Tim Graham
(1:51 PM)
Ever in my book.
Nolan (The big easy)
Tim how ya' doing, appreciate you being apart of the marathon, Who do you think will be the hero noone expected in this game?
Tim Graham
(1:53 PM)
Good question. For the Saints I will say Pierre Thomas. For the Colts, Pierre Garcon. For Quebec, Pierre Trudeau.
Ernest (Hawaii)
I understand Manning is phenomenal! But how do you say he is the greatest EVER when so many rules are different now, the whole game is different. If Unitas played now would he not be good? If Manning or Brady played the game 30 years ago, would they not be as good? Different game right?
Tim Graham
(1:55 PM)
It is a different game. You're absolutely right. But I'm going with Manning over Sammy Baugh.
Tim Graham
(1:55 PM)
Or Brian Sipe.
Tim Graham
(1:56 PM)
Or Greg Landry.
Sammy Baugh (Six Feet Under)
Why doesn't my punting get more respect?!?!
Chris (IN)
Hey tim, if people dont want to hear your opinions, why are they complaining, couldnt they just not read it?
Tim Graham
(1:56 PM)
Now, that's just crazy talk.
jeff n kenner (New Orleans)
Tim, Miami better be prepared. NO one travels better, and no one parties harder, than Saints fans. And please turn off the sarcasm function on your 'puter
Tim Graham
(1:57 PM)
After all those years of losing, you needed to find something to be good at.
Nolan (The big easy)
Stay or go: Kerry Rhodes, Leon Washington, Braylon edwards?
Tim Graham
(1:57 PM)
Go, stay, stay.
Jared (Seattle)
You have to make a distinction somewhere, times change. I think he is the best ever because the game for a QB is definitely more difficult now than it ever has been.
Brendan (Louisville, KY)
Sarcasm is the lowest form of wit. :(
Tim Graham
(1:58 PM)
I think emoticons are much lower.
Billy (Weston)
What's your opinion of the overtime rule? Think it needs chaning after see Favre never get a chance to redeem himself in OT on Sunday?
Tim Graham
(1:59 PM)
I'm a big proponent of the college rules.
Kevin (Gulfport, MS)
If the weather is bad who do you see having the advantage? I hope its not but the south has been getting rain a lot this year, so you have to think the potential is there.
Tim Graham
(2:00 PM)
The Saints probably have a slight advantage in the rain because of their ability to run.
Tim Graham
(2:01 PM)
OK, folks. My time is up. Enjoy Sinbad!
Kevin Seifert
(2:02 PM)
Hi everyone. Just got a friendly call from Tim Graham, which means I'm up. Let's get to it.
Randal (Saints fan in MN)
Big x factor in game will be Saints Rb's vs Colts Run Defense. Who wins this battle and do you think if the saints can effectively run the ball that will make the difference in the game?
Kevin Seifert
(2:03 PM)
I like the Colts there. I think Reggie Bush is really overrated and that when push comes to shove, the Saints will always fall back on Drew Brees.
Brendan (Louisville, KY)
Kevin you're not to be as sassy as Tim will you? :)
Kevin Seifert
(2:03 PM)
There is only one Tim Graham. I can only be Kevin Seifert.
ERROL (METAIRIE)
HI KEVIN, RUNNINGBACKS INCLUDED WHO HAS THE BETTER REVIEVING CORE???
Kevin Seifert
(2:04 PM)
I go with the Colts because of Dallas Clark.
Peter (Indianapolis)
last time these two teams played the Colts won 41-10...I know the Saints D is better today than they were then, but so are the Colts. Why shouldn't we expect similar results? Or should we?
Kevin Seifert
(2:06 PM)
To me, the big thing in that portion of the matchup will be whether the Saints defense can cause turnovers. They will absolutely give up yards. But can they harass Peyton Manning into mome mistakes?
Seth (Denver)
Kuharsky's suggestion for the Pro Bowl is to get rid of the game. Insert a skills competition for different positions and wrap everything up with an awards banquet. I'm on board. Are you?
Kevin Seifert
(2:08 PM)
As long as it's on ESPN's air, I'm all for it.
Lou (Boston)
Another playoff game, another late game blunder by Drama Queen Favre. Why has the ESPN Favre worship reached such ridiculous levels that the guy doesn't even get criticized for blowing the game? Those guys should be embarrassed.
Kevin Seifert
(2:09 PM)
We've been instructed to take mostly Super Bowl questions in this chat, but I will address this issue. I think you're taking a selective look at things. A number of writers have taken shots at him, including Jeff MacGreagor and Gregg Easterbrook. My honest personal opinion is that he made a terrible throw on 3rd and 15 but that blaming him for the entire loss is just too harsh. So you're assuming Ryan Longwell would have nailed a 56-yard field goal if the pass was incomplete?
Morty (Chicago, IL)
What are your feelings on the halftime show? I'm thinking 45% chance of a wardrobe malfunction.
Kevin Seifert
(2:10 PM)
With The Who? God, I hope not.
Seth (Denver)
Which team do you think would rather have a late lead and let their defense win it?
Kevin Seifert
(2:12 PM)
If the Saints have a lead, I'd be really interested to see how Gregg Williams plays it. Would he come after Peyton Manning, like he did with Brett Favre? Or would he sit back in coverage. My guess is he would come after Manning. It isn't often that you see Manning hit the way the Saints hit Favre last Sunday.
Lou (Boston)
He had plenty of room to run on that play. It wouldn't have been a 56 yarder. And please, did you hear Tom Jackson's comments after that game? Like I said, they should be embarrassed.
Kevin Seifert
(2:13 PM)
Remember, he was playing on a sore ankle and the clock was ticking.
Brad (Boston, MA)
It's pretty much a coin flip between these two teams. So, instead of hypothesizing about what it takes to win, what do you think it will take to lose? Poor coaching/clock management? Bad calls/luck? Or turnovers?
Kevin Seifert
(2:15 PM)
The coaching matchup is going to be an interesting one. At least from a national perspective, not many people know much about Jim Caldwell -- except that he pulled his starters in the regular season. As for Sean Payton, I've seen him make more than a few head-scratching decisions over the past few years.
Matt (Urbana)
Kevin, did you agree with Aikman's comments at the end of the game that Brees was throwing ducks? Injury or pressure getting to him?
Kevin Seifert
(2:16 PM)
Is that what he said? I thought the Vikings were getting to him late. Ray Edwards was there a couple times. Jared Allen had a strong inside rush. It's really hard to sack Brees. But he's shown that, like most quarterbacks, he can be pressured into making bad throws.
Craig (Braintree, MA)
Let me add that if a team does cheap shots on the QB in the super bowl, the DC gets booted from the game.
Kevin Seifert
(2:18 PM)
Is that the official rule? :) I do think it was clear the Saints were trying to knock Favre out of the game -- not just pressure him, but knock him out. I think the Colts and Manning should expect the same walk-the-line-of-the-rules approach in the Super Bowl.
Michael (Houston)
Do you think the players' super bowl experience and playoff experience is overrated? It's not like these players haven't played a "big" game in their lives before!
Kevin Seifert
(2:20 PM)
Right. What I think is most important about playoff football is who can take their play to another level. That's what's great about it: When you see really good players rise to the occasion and do something you've never seen them do before. Santonio Holmes comes to mind. So does James Harrison. That ability is more important than experience, in my mind.
thedictator (houston, tx)
though they wont get to peyton
Kevin Seifert
(2:21 PM)
They might not sack him, but remember, they didn't sack Favre either but still brutalized him.
Caleb (Gulfport, MS)
Kevin, was is it the infamous Southern humidity that caused all the Viking fumbles on Sunday? If not, what was it???
Kevin Seifert
(2:22 PM)
The Saints are great at stripping the ball, first of all. And second, I think Peterson especially was out of control. He just wasn't concentrating on the ball.
Ryan (IN)
Manning is 34 and 6'5" 230...Favre is 40, 6'1" 200...big difference.
Kevin Seifert
(2:23 PM)
Come on. Let's let Bobby McCray flatten Manning and see if he takes it any better.
Dwight (PA)
Kevin, should we be prepared for the heroworship of Peyton Manning to begin in earnest without Favre in the Super Bowl?
Kevin Seifert
(2:23 PM)
I think Brees will get his fair share of it. I could be mistaken, but I think he personally rebuilt all of New Orleans after Katrina.
Malcolm (Pittsburgh PA)
Saw clips of Colts fans waving white "Terrific Towels" during the Chamionship game -- a clear mock of the Steelers' Terrible Towel -- do you think Colts fans can come up with their own stuff for the SB??
Kevin Seifert
(2:24 PM)
Actually, the towel thing has kind of become a cliche around sports. Lots of teams distribute those now, in baseball and football.
Matt (Austin)
John Clayton, on Mike and Mike, just asaid the there is a chance Freeney doesn't play. If he's inactive, how much does that hurt the Colts chances of winning the game?
Kevin Seifert
(2:25 PM)
It would be every bit as impactful as you would expect for one of the best players on either team.
ERROL (METAIRIE)
WILL NO "DOMEFIELD" ADVANTAGE PAY OFF FOR EITHER TEAM??? IF SO WHICH???
Kevin Seifert
(2:26 PM)
The Saints had some pretty good road wins this season, so as much as they were aided by their home crowd this season, I don't see the contrary as a negative.
Mike (Ohio)
Not to dismiss Clayton, but Bill Polian said yesterday that Freeney has a low ankle sprain and should be fine. Not to mention that he did come back and finish the game against the Jets...
Kevin Seifert
(2:27 PM)
Most teams lie about injuries.
Kevin Seifert
(2:30 PM)
Ok, thanks. Mike Sando is coming right up!
Mike Sando
(2:30 PM)
I'm here, Kevin. Thanks for the clean handoff. I'll try not to pull a Beanie Wells and drop the thing.
Mike Sando
(2:30 PM)
Not that the Vikings had any trouble with turnovers either.
Dwight Freeney (IN)
No way I miss this game. I will be there and will make a big contribution to my teams SB victory.
Mike Sando
(2:32 PM)
It's tough to envision anyone missing a Super Bowl if there's any way for the guy to play. Freeney wasn't supposed to play against Seattle during the regular season. He played and I think one of the reasons was because the matchup favored him so much and he knew he could rack up some sacks. In this case, it's the Super Bowl. You play if there's any way to play.
mickey (new orleans)
How much will Reggie Bush's big-play ability affect the Colts' defense.
Mike Sando
(2:33 PM)
I'm of the opinion that Bush threatens defenses even when he isn't having big stat games. I think opposing teams account for him in ways they would not account for a less versatile back. He helps that offense even when he doesn't get the ball. He will affect the Colts, too.
Kevin (Gulfport, MS)
Bigger game Shockey or Clark and why? I think Shockey makes a huge difference in the running game for the Saints.
Mike Sando
(2:34 PM)
Dallas Clark is a bigger part of his receiving offense. All things equal, he should have better receiving numbers. With Shockey, it's just a matter of his ability to hold up physically.
Ricky (Indianapolis, IN)
Mike, quick question here. As a 49er fan in Indy, I do miss hearing some of the daily intricacies (big word of the day) in the Niners front office. Do you see Jed York running the team much like his uncle, more hands on and willing to do what it takes? Or do you see him as a penny pincher like his father and his current stance is just a front? Because I'll be honest, it excites me he seems to want to be a part of it all, somethig that has been missing.
Mike Sando
(2:35 PM)
Jed York is definitely more hands-on.
Stephen M Young II (Brazil)
Whose offense, at their best, is better. Colts or Saints?
Mike Sando
(2:38 PM)
The Saints right now. I think the Colts' offense has had to work harder for its points this season. Peyton Manning has had to eke out a lot of close games against average teams (49ers, Jaguars, etc.). That is one reason I thought Manning was the best choice for MVP. Brees' offense has more horsepower in terms of the offensive line.
Ian (Louisiana)
Do you think too much is being made of New Orleans' ability to create turnovers? I recall two turnovers that the Saints seemed to force, Favre's first INT and I believe it was Berrian's fumble knocked out by Vilma maybe? I don't see them creating many against the Indy offense, maybe an interception at best. Thoughts?
Mike Sando
(2:42 PM)
Turnovers can be a fickle friend. Teams that rely on them too heavily tend to set themselves up for disappointment. The Saints force turnovers in part because their offense puts up points, allowing their defense to play more aggressively against offenses that need to play catchup. The Colts should be able to score enough points to avoid that type of situation. However, Manning did toss 16 interceptions during the regular season, his highest total since 2002. Like I said, he has had to really work for his points and sometimes that has led to some picks.
Mark (Chicago)
Wow, Saints better O at their best? You really think Saints O would've moved the ball against the Jets like the Colts did? Didn't exactly move it against the Vikes in the second half.
Mike Sando
(2:44 PM)
That is a fair point. I was referring more to over the course of this season than about the last game specifically. You can make a case for the Colts using that performance against the Jets. They did rack up lots and lots of yards.
Brett (New Orleans)
Mike, do you find it interesting that in the last two years Manning has won the writers' MVP vote, but Brees has won the players/coach's/executives player of the year award. No offense to you, but I'll side with the guys actually on the field and people paid to evaluate talent for a living.
Mike Sando
(2:47 PM)
I didn't have an MVP vote, so no offense taken. Sometimes players take a look at the stat sheets and rank their peers accordingly. That is often how Pro Bowl voting goes, based on what players have told me about the process. In 2009, Brees had the better season statistically. The easy route would be to just look at the stats and give it to Brees. Both were worthy but I have no problem with Brees as the choice, either. I just look at Manning going undefeated every time he tried to win.
Mike (Costa Mesa)
Although the Cardinals lost seven games during the season, the only loss where I really felt they were never really in the game was the shellacking they took against Indianapolis. I don't think any team can beat the Colts when Manning gets protection, and consequently believe the Saints are in for a long day.
Mike Sando
(2:50 PM)
The Cardinals did lose seven games if you count playoffs. Tim Hightower lost a fumble in the red zone during the first quarter of that game against the Colts. That really turned the momentum. Once the Colts get out front, they are tough to beat because their pass-rushers can be formidable. Manning can be so efficient with his possessions. It keeps the pressure on the other team to avoid mistakes. The Saints' offensive line is better than the Cardinals' offensive line, but if New Orleans turns it over early, look out.
Anthony Powell (Boynton Beach, Florida)
Mike the Saints kind of remind me of that 1999 Saint Louis Rams that was a young and upstart team can they do what that team did and win it all because I think they can?
Mike Sando
(2:52 PM)
The young part doesn't hold up so well. New Orleans has the fifth-oldest 53-man roster in the league right now (not counting players on IR or players signed to future contracts). The Saints have had a veteran team for the last couple years. They have even had the oldest roster at times. But as long as you have the quarterback, lots of people in an organization can look smarter. Brees gives the Saints a chance to win it all and contend annually.
Ron (Indy)
Can you please remind everyone that the colts D feasts on spread offenses like the Cards and saints
Mike Sando
(2:54 PM)
The Saints use a lot of two-back personnel groups. They do not look like a spread offense even though they can function like one. Watch them play and you'll see a team that can line up in regular personnel and still make big plays.
Jeff (Lafayette, IN)
What do you think about Favre ending yet another season on a final interception? Is it a Favre curse, a bad decision or good defense that is the cause?
Mike Sando
(2:56 PM)
It's puzzling to see good quarterbacks roll to their right, then throw back toward the middle of the field for interceptions. Aaron Rodgers did the same thing early in the Packers' loss at Arizona in the wild-card round. It's just not smart, but aggressive quarterbacks cannot help themselves sometimes. It was a bad, bad decision.
Tony (Dallas, Tx)
How long will it take Manning to figure out the Saints' defense before he gets going in true Manning form?
joe (niagara falls)
2 minutes until South team practice!
Mike Sando
(2:59 PM)
My instincts tell me Manning should be ready to pick apart any defense after having so much time to prepare. However, he wasn't exactly sharp early in that Super Bowl game against the Bears, as I recall.
Pat Yasinskas
(2:59 PM)
Let's go ahead and start it now. Fire away.
Mike (Wakefield, MA)
The Saints need to forget about fearing being burned - they need to hit Manning like they did Favre and punch him in the face even if it costs them yardage and points, because nothing else has stopped Manning
Mike (Costa Mesa)
Mike: You wrote "Tim Hightower lost a fumble in the red zone during the first quarter of that game against the Colts."I believe he also lost a fumble in Cardinals territory early in the game against Minnesota that resulted in a 7-0 Vikings lead, and that turned out pretty well for Arizona.The difference in facing Manning to me was that he seemed to have the Cardinals completely figured out from the get-go. I really believe that the Colts could have scored 3-4 more touchdowns in that game and that the Cards couldn't have done anything to stop it. Even in other games where they were blown out (like against the Saints), it seemed to me that the loss was as much a result of bad play by Arizona as it was good play by New Orleans. Maybe it's just me, but when they played Indianapolis it became clear to me that they could not beat Manning no matter how well they played.
Pat Yasinskas
(3:00 PM)
Agree totally and I suspect that's what Gregg Williams will be preaching.
Andrew (Fort Wayne, IN)
Who needs to step up on the Saints D to make Peyton Manning struggle like he did at the beginning of the Jets game?
Pat Yasinskas
(3:01 PM)
Will Smith and Bobby McCray.
Mike Sando
(3:01 PM)
That could be true. I thought the Vikings would beat the Cardinals based on superior matchups. That game should have been somewhat similar, right? Jared Allen and that Vikings front was going to pressure Warner. Didn't really happen. You're right about Arizona being inconsistent, but Manning can be so much more efficient than Favre in his game management.
Jeremy (LATX)
Pat are some of my other questions out there? I am tired of typing my question.It is the question about the Refs for the superbowl............ what we can expect from them. Who the crew is?
Mike Sando
(3:01 PM)
My time is up.
Pat Yasinskas
(3:02 PM)
Don't know the crew yet. They usually announce it during Super Bowl week. But it will be guys who were judged to have had the best seasons.
Nate (Columbus)
11 years ago, on my ninth birthday, My childhood idol Brett Favre lost to the Denver Broncos. Now, in some act of great cosmic injustice the same thing has happened on my 21st. Here's my question: Should Brett come back for another year, or should he retire to the broadcasting booth?
Pat Yasinskas
(3:03 PM)
Won't even try to predict what Favre's going to do. The last two years have shown he'll do whatever he wants and when he wants.
Adrien C (Bogue Chitto, MS)
Pat, are you going to keep on with your postseason predictions for the big game?
Pat Yasinskas
(3:03 PM)
Absolutely. I'll do it Friday before the Super Bowl.
Randy (New Orleans)
Pat...word has it that a couple of the Saints had the flu for the game, do you know if that is true?
Pat Yasinskas
(3:04 PM)
I know Racheal Nichols reported Reggie Bush had the flu. That's all I know on that.
Ron (Indy)
Peyton and myself are meeting at the hotel lobby in Miami for a contintental breakfast next week....you coming?
Pat Yasinskas
(3:05 PM)
If you're buying, sure!!
Jane (NOLA)
Will the early travel for the 6 players from the Saints in the Pro Bowl be an issue? It feels like it might break up some of the team spirit.
Pat Yasinskas
(3:06 PM)
Nah, it's just something they have to do.
Nate (Columbus)
Sorry, I should clarify. I wasn't asking for a prediction. I was asking you what you think he should do.
Pat Yasinskas
(3:06 PM)
Personally, I'd like to see him retire. But that's just me.
Mark (ATL)
Does someone like Roddy White get his "Pro Bowl" incentive bonus even though he was an alternate? I mean this is getting a little ridiculous that someone like David Garrard would get a bonus even though he is the 7th alternate. Are contracts going to be structured differently regarding Pro Bowl incentive bonuses given the fact that it is getting "easier" to make the Pro Bowl?
Pat Yasinskas
(3:08 PM)
Depends on the way the contract is structured. As I understand it, most contracts require them to be elected to the initial Pro Bowl team to collect. But they still get their Pro Bowl shares if they're alternates.
Ray (New Orleans )
Pat, I have asked this question three time maybe you will answer it. First I do not feel the Saints are getting the respect that they have earned. Could you please tell me what it will take for our team to get that respect will be when we win the superbowl or will it just be said that the Colts did not play as good as they could
Pat Yasinskas
(3:09 PM)
Respect is a subjective thing. Don't see how people can't respect Saints at this point. But if they still feel they're not getting it, easy solution is go out and win the Super Bowl.
Travis (Texas)
what's your take on the Saints not capitalizing on the Vikings turnovers. The Vikes gave the ball away 5 times and the Saints still barely scraped out a victory in OT... I feel like if a team turns the ball over to the Colts 5 times the Colts would win by 20+ points.
Pat Yasinskas
(3:11 PM)
Thought Saints got overly cautious on their offensive play calling.
Christian (Natchitoches, LA)
Why did we just find out about Reggie Bush's $1 mill bonus if the Saints win the SUper Bowl? That seems like a ridiculous clause to put in someone's contract.
Pat Yasinskas
(3:12 PM)
Actually, that's fairly common in the big contracts. Julius Peppers' original deal had like $11 or $12 million in there for Pro Bowl bonuses.
Kodi (Louisiana)
Everyone continously says the Colts will win and Favre made a mistake, like the Saints don't belong. Lets keep in mind the Saints offense "sputtered" and still got 31 points. Give these guys credit......they find a way to win and they will for the SB.
Pat Yasinskas
(3:13 PM)
Yep, bottom line is Saints are in the Super Bowl.
Ian (Louisiana)
Thoughts as to WHY the Saints got so overly cautious on that offensive play calling? It was torture to watch at times.
Pat Yasinskas
(3:13 PM)
That answer can only come from Sean Payton.
J.B. (Dunmore, PA)
Pat: Something that was kind of lost in the Saints win was the job done by the special teams, particularly the kickers and kickoff return men. Do you think that could have ultimately made the difference in the game (and yeah I know some will say it was Favre's INT but humor me please)?
Pat Yasinskas
(3:15 PM)
Morstead had an awesome game. Roby's a good return guy and Hartley made the kick to put them in the Super Bowl. There, that enough praise for special teams?
Ryan (Wiggins, MS)
Do bonuses and incentives, included in the contracts, affect the cap for the particular team?
Pat Yasinskas
(3:16 PM)
Yes, they count toward the next year.
Jeff (Charleston, SC)
Hey Pat. Do you not find it ridiculous how lucky the Saints have gotten all year long (MIA, WAS, MIN, ATL) to name a few? I'm not saying anyone is being paid or anything, but more of a "divine" force? Thoughts?
Pat Yasinskas
(3:16 PM)
Sometimes you create your own luck.
Tom (Indiana)
Besides media Tuesday, what do teams have to do different during superbowl week
Pat Yasinskas
(3:17 PM)
Practice. And besides the Tuesday stuff, they have to do media sessions at their hotels on Wednesday and Thursday. Coaches also have to do it Friday.
Lyle (New Orleans)
You regularly see Drew Brees' name thrown in there with Brady and Manning, but usually mentioned last of the three. Manning has been called the greatest QB to play the game as of late. Statistically over the past 4 seasons since Brees joined the Saints he has the same number of TDs, more yards, a higher completion percentage and a higher QB rating than Manning, has been sacked less, is averaging more yards per completion than Manning all with the same number of divisional championships . Will getting a ring for Brees this season earn him the right to be talked about as one of the best to ever play this game, considering Manning has 3 more years experience than Brees?
Pat Yasinskas
(3:18 PM)
Getting a ring is all that separates Brees from any of those guys.
Shane (Los Angeles, CA)
PY: I hope you will post this comment. Let's call the Favre drama what it is: "The Favre Annual Retirement Waffle So I Don't Have to Go to Training Camp." When you look at Favre, coming off a career year that ended as disastardly as it did vs the Giants in 07, and then look at the Vikings (solid O-line, Great Defense, Great RB, and up-and-coming talented receiving/TE corps), what QB wouldnt come back? Take it the bank: Favre will be back.
Pat Yasinskas
(3:18 PM)
Shane's got a good way with words.
Brad (Boston, MA)
@Jeff in Charleston: Luck's not going away. Ask the Jets. Know that more talented teams need less luck to succeed. Yeah, the Saints have been lucky, but how many teams would've been able to put up 13 wins even with the breaks that the Saints got?
Pat Yasinskas
(3:19 PM)
Brad's got a way with words.
Kevin (Louisiana)
Hey what about respectfully respecting non-respective teams Aretha Franklin respects Otis Redding and respectfully making my head hurt... Please ignore any of the respecting crybabies... please respectfully with sugar on top..
Pat Yasinskas
(3:20 PM)
I'll go with you on that one.
Aaron (Elkview,WV)
Do the Colts "been there done that" really have an advantage because they have been there.
Pat Yasinskas
(3:20 PM)
It definitely doesn't hurt the Colts.
Debbie (New Orleans)
FYI - Hartley stated to the local media that he could not sleep the night before the game and that he called his father at around 2:30 in the morning and told his dad he had a feeling he was going to kick a game winning field goal from 42 yards on the right hash -- he was only two yards wrong!!!
Pat Yasinskas
(3:21 PM)
Wasn't just the local media -- he said that to everybody. Great story.
Archie (New Orleans)
Shouldn't I try to convince Peyton to let the Saints and N.O. have this one?
Pat Yasinskas
(3:22 PM)
Your neighbors would appreciate that.
Pat Yasinskas
(3:22 PM)
Aaron in VA Beach: That might be the funniest comment I've ever seen. Wish I could share it.
jon (nola)
Pat, you said the pressbox was"swaying" the other night in the dome. Was that one of the best games that you have ever been to?
Pat Yasinskas
(3:23 PM)
Without a doubt. I've been doing this for a long time and am kind of jaded, but that one definitely got the heart pumping.
Michael (Houston)
Why do you think the Saints brought Deuce back?
Pat Yasinskas
(3:24 PM)
Motivation and p.r. Nothing wrong with either.
J.B. (Dunmore, PA)
Fans can pick on the Saints' conservative play calling all they want but the only turnover they committed came on a muffed punt and when you are working on a short field, what do you really need to open up the playbook for?
Pat Yasinskas
(3:25 PM)
True, just thought it was out of character for Sean Payton.
Kevin (Louisiana)
Any numbers on Peyton versus Gregg Williams defenses?
Pat Yasinskas
(3:26 PM)
Not yet, but I'll ask our Stats & Info people if they can get that. Good idea.
Jeff (Charleston, SC)
Hey Pat. My Brother, a die-hard Saints fan, was one of the people who bet me that $100 and he just said, "Who Dat" via text from the Superdome.
Pat Yasinskas
(3:27 PM)
Think I might have missed your previous question, but, if this will earn you $100, I'm happy to answer.
Peyton (Indianapolis)
After I've won this game, am I considered the "Greatest of All Time"? If not, what ELSE do I have to do?
Pat Yasinskas
(3:27 PM)
Think you're already close, big guy.
Joe (Detroit)
Pat! espn HOF class of 2010.. what would peyton manning do if he had the Saint's Offense.. Throw more deep balls to henderson, meachem and colston???
Pat Yasinskas
(3:29 PM)
I don't think Sean Payton would let him. Brees is perfect for their system.
Greg Williams (New Orleans, LA)
Is there anything wrong with me placing a bounty on Peyton Mannings head?
Pat Yasinskas
(3:29 PM)
It would get you a big fine from the league.
Brees (New Orleans)
If I win this game, will I be considered in the same class as Manning?
Pat Yasinskas
(3:30 PM)
I think so, Drew. Get back to practice. All right, it's my turn to hand it off to the next guy. Thanks to all for coming and stop by the NFC South chat Friday at 1 p.m. ET. Thanks again.
Brett (Atlanta)
Saints were very tight against the Vikes. Pressure to win not only for themselves, but for an entire city and region got to them. Expect a much more typical performance from Drew and the boys on Super Sunday.
Bill Williamson
(3:33 PM)
Great point, Brett. I don't see the Saints being so tight in two games in a row.
Caleb (New Orleans)
with the saints having such an old roster, do you see them being a playoff team the next couple of years or is this the peak?
Bill Williamson
(3:34 PM)
They are young at soem key positions. And as long as Brees is there, they will be fine.
J.B. (Dunmore, PA)
Bill: Was it strange for you to watch the AFC title game and not see Rivers v Manning? When can the Chargers get over that last hurdle?
Bill Williamson
(3:35 PM)
Very strange. I watched it from a friend's house in California. I wasn't expecting that. Good times, though.
Ron Oldenburg (White Pigeon, MI)
HI Bill will you drum up an answer and tell me which will bring out more emotion in Archie Manning? Peyton winning another one or the saints who he bled with all of them years for finally winning it?
Bill Williamson
(3:37 PM)
It's all about his son. I don't think there is any question.Archie is a Colt and Giants fan these days. Now, if the Saints played the Jets, i'm sure Manning -- who still lives in New Orleans -- would be behind them. But come on, he can't go agaisnt his kid.
Renee (Houston)
I think it's very disrepectful of "most of the media" to focus on Favre stories and Tim Tebows Senior bowl practices instead of focusing on a great story of a franchise that 5 years post Katrina and never really winning anything going to its first S.B. and u know what they might just "win" . Total disrepect.
Bill Williamson
(3:38 PM)
Renee, I'm sure you will be seeing plenty of those stories in the next 12 days,.
Brett Favre (The Ground)
Will the refs help Peyton with his pads too?
Bill Williamson
(3:38 PM)
That was goofy, wasn't it.
Mike (San Francisco)
The Saints have hurt teams on D in two ways: getting to the QB and forcing turnovers. The Colts are absolutely ridiculous at preventing both. Why should we expect them to be the literally first team to get pressure on Manning and force turnovers?
Bill Williamson
(3:39 PM)
I don't think we should. New Orleans' best chance is to have its offense score as much as possible.
Nick B (Thibodaux, LA)
How do you think time of possession will affect the outcome of the SB?
Bill Williamson
(3:41 PM)
I think the game will come down to how has the ball last.
Travis (Texas)
Bill - who do you think has the better match-up - Manning vs Saints DB's or Brees vs Colts DB's?
Lyle (New Orleans)
Buddy Diliberto famously vowed to don a dress if the Saints ever made it to the Super Bowl. Bobby Hebert as since taken over to fulfill Buddy D's bet since he's passed on. Where would watching Bobby Hebert, shaved legs and all, do a post game interview with Sean Payton after the Saints win rank amongst the greatest sights you've ever seen in sports?!
Bill Williamson
(3:43 PM)
It wouldn't be low on the list, Lyle.
Brad (Utah)
Bill - would you rather be heading into the Super Bowl as the favorite or underdog? Obviously both add different pressures.
Bill Williamson
(3:44 PM)
Favorite beacuse that means you're probably the beter team.
Kevin (Louisiana)
Ever wonder if the Dolphin fans are extremely bitter this time of the year now that Saban effectively passed on Brees and now he is in the Super Bowl and Saban is riding high in the college ranks..
Bill Williamson
(3:44 PM)
I could understand that bitterness.
Joe ( Indy)
who's got a longer window? saints or colts?
Bill Williamson
(3:45 PM)
As long as Manning is playing the Colts' window is wide, wide open
Michael (Houston)
How much does the ability of the Saints defenders to ball-strip affect the psyche of opposing offenses? Do you think it can affect the Colts?
Bill Williamson
(3:47 PM)
I'm sure that will be a topic in Indy for the next 12 days. It's a big thing.
Brian (Austin)
The Saints are making their Super Bowl debut this year. Which team is next? Browns, Jaguars, Lions or Texans?
Bill Williamson
(3:48 PM)
Good question. I say the Texans. Not sure if it will be in the next year or two.
Steve (Boise, ID)
Is your name William Williamson?
Bill Williamson
(3:48 PM)
Yes sir.
Fred (Plymouth,PA)
But I'm sure Archie will be proud no matter what. Right?
Bill Williamson
(3:49 PM)
Yes, I'm sure he will be. He always says how much he loves the city of New Orleans.
Jared (Phoenix, AZ)
Hey Bill, have you heard whether LT is headed to Miami to cheer on his best friend, Drew Brees?
Bill Williamson
(3:50 PM)
He said last week that he would if Brees invited him.
N. Dunkerton (Mebane, NC)
What would you think if the NFL made the overtime rule that you had to be the first to score a touchdown, instead of just the first to score to win. It seems that just getting the ball first makes it a guaranteed win
Bill Williamson
(3:51 PM)
That's not a terrible idea.
Zack S (New Orleans)
The Saints look like the "Team of Destiny" season. I'm not superstitious but wouldn't you say the best player on the saints roster might be the New Orleans Voodoo (Not talking AFL).
Bill Williamson
(3:51 PM)
Maybe, because let's face it, the Saints should have lost that game.
Michael (Houston)
Archie already said he wants to see Peyton win it. He said "if you don't agree with me, you probably don't have kids".
Bill Williamson
(3:52 PM)
Can't argue with that logic.
Warin (Englewood, NJ)
Hey Bill, who do you most blame for the Vikings loss? Farve for the interception? Peterson's fumbles? Childress for the 12th man? Or is it the Saints fans themselves for creating such a dominating home field advantage?
Bill Williamson
(3:54 PM)
Peterson.
Bill Williamson
(3:54 PM)
Peterson.
Zack S (Weezyiana)
If Aarron Neville and Lil Wayne do a Super Bowl song for the Saints do you think it would be a hit?
Bill Williamson
(3:55 PM)
As long as it doesn't sound like Prince's Viking fight song ... brutal. And I'm a Prince guy.
Mason (Simi Valley)
I see the Superbowl, ultimately coming down to one thing -- which QB makes the most mistakes. Personally, I believe the Saints have quite a gifted set of RBs that can light it up, but I think the Colts will have prepared enough to make it inconsequential. In crunch time, Peyton has definitely proven himself on numerous occasions. I'd have to go with the veteran. Big game, everythign at stake, I think the Colts take it home. Your take?
Bill Williamson
(3:57 PM)
It might be a long wait with these two guys.
Randy (Indianapolis)
I'm a huge Colts fan, but I've also followed and have liked the Saints since I was a kid (Archie Manning era). That being said, I want my team to win, but if there was ONE team I could live with losing to, it woud be the Saints. Congratulations to their city and great fans, lets hope this SB is an EPIC ONE!!!
Bill Williamson
(3:58 PM)
Good for you, Randy ... Honestly, I think this will be a great game.
Money Mike (Philly)
Does anyone else feel like the Refs need to put the whistle away more during these crucial games? I'm almost ready to start complaining for replays on penalty's! The Leber PI in overtime of the Vikes game really stands out. The refs I feel like are having too much input on the final outcome. LET EM' PLAY!!
Bill Williamson
(3:59 PM)
Throw thsoe whistles away next Sunday.
J.B. (Dunmore, PA)
If the Super Bowl turns into a blowout, which team is more likely to be doing the blowing out?
Bill Williamson
(4:00 PM)
Can't see that happening ... Great time folks. AFC North blogger James Walker is next.
Christian (Baltimore)
James, who is the best candidate to take over as the QB coach for the Ravens now that Hue Jackson has left for Oakland?
James Walker
(4:03 PM)
Al Saunders is the in-house candidate that comes to mind. His background is in offense, although I don't believe he's ever been a quarterbacks coach.
Jamie (New Orleans)
Hi Mr. Walker, it's a calculated risk to blitz as much as the Saints, but you take the chance of late hits/personal fouls. Is this a good tradeoff, almost cost us against the Vikings. Thoughts?
James Walker
(4:04 PM)
With the style the Saints play, I think you have to be aggresive on defense. The Saints are a team built around getting a lead on offense and using that lead to take chances on defense. I wouldn't worry about the Vikings game so much. At this stage, every opponent is elite and will cause some problems.
Chris (Lafayette)
Favre wins game in OT after going down field after winning the coin toss....still the outrage over the OT rules????
James Walker
(4:06 PM)
Maybe, but we will never know. People tend to complain about overtime only when it hurts their team. I don't think Saints fans feel the Vikings should've had their chance with the ball to score.
Randy's New Friend (New Orleans)
New Orleans loves Manning and the Colts too. Still... we could definitely not live with losing to the Colts since we don't have a Super Bowl win, yet. Not really a question I know...
James Walker
(4:08 PM)
I understand. Losing a Super Bowl is one of the toughest feelings for teams and fans I think. It was a great season, but the feeling of failure still persists. And then there is the natural expectation to win the Super Bowl going into the following year. The point: If you get there, you better win it.
DawnthefoxyFawn (Fort Wayne, IN)
Do you think the Colts defense is getting the respect that should be handed out? I think their defense has been just as tough as their opponents
James Walker
(4:10 PM)
I saw the Colts' D close up against the Baltimore Ravens, and I was impressed. It's a unit based on speed and gets off its blocks really well. They will never get as much credit as their offense, but I think people are taking notice.
Ramon (Mexico City, Mexico)
Will Brees destroy the colts young inexperienced secondary?
James Walker
(4:12 PM)
We're going to see an offensive game. "Destroy" may be a little strong but both quarterbacks definitely have the advantage in these matchups. This is what the league wants: High scoring.
Fred (Denver)
The Steelers can only wonder what could have been right?
James Walker
(4:14 PM)
I was talking about that yesterday with someone. We both came to the conclusion that if Troy Polamalu was healthy, Pittsburgh would have won maybe 12 games instead of nine entering the playoffs. From there, who knows?
Jim (Cleveland)
Mr. Walker: First off I love your blog and check it every day. My question for you is what do u expect from the Browns in free agency this year? quiet or active? If active who do you see them targeting?
James Walker
(4:16 PM)
Thanks, Jim. We're going to keep the conversation mostly Super Bowl and Pro Bowl related today. But I'll sneak this one in there. You won't see a lot of "active" teams because of the tricky rules in an uncapped year. Mike Holmgren wants to build through the draft and they have 11 picks, which is a lot. So I think that will be the main focus, minus a few good signings.
Stinky (Naptown)
With Manning picking apart Ryan's blitzing D do you think Payton will have the Saints blitzing as much as normal? Seems blitzing Manning is often backfires.
James Walker
(4:18 PM)
It's really pick your poison with Peyton Manning, and that's why he's in the Super Bowl. You can sit back and let him pick you apart, or blitz and risk giving up the big plays. The right teams find the right balance, but you almost have to play a near-perfect game to stop the Colts defensively.
Cecil (Maui)
Do you think the saints will have some trickery for the colts the way the jets did?
James Walker
(4:20 PM)
With two weeks to prepare, that is always possible. Some teams like to perfect the things it does well over and over, while other like to add new packages to keep things fresh. It's hard to say at this point what angle the Saints will take.
Lyle (New Orleans)
Hey James. I've heard talk that this will be the least watched Super Bowl in recent memory and a lot of it credited towards the Saints handful of "undeserving wins" putting an "undeserving team" in the Super Bowl. I think the opposite, with a twist of Bad New Bears on it. How do you rank this match up compared to some of the more recent match ups of the 2000s?
James Walker
(4:23 PM)
I like this matchup, because it fits what the NFL is looking for, which is great quarterback play and lots of scoring. Usually, a defensive team will make it to the Super Bowl, whether it was the Pittsburgh Steelers or New York Giants or Chicago Bears. But if you look at all recent rule changes to help quarterbacks and the offense in general, the NFL ideally wants a game like the Saints and Colts because offensively it's more exciting.
tommy (new orleans)
IS IT IMPORTANT FOR SAINTS TO ESTABLISH A RUNNING GAME EARLY ON ?
James Walker
(4:25 PM)
That's a good question, because typically that's the wise thing to do. But the Saints aren't a run-first team. So I wouldn't say it's mandatory to establish the run. I don't feel that's the case for either team. The better quarterback will likely win this game, not the better running back.
Brad (Boston, MA)
There is absolutely no chance Polamalu makes a 3-win difference to the Steelers. I don't think there's been a single non-QB that's capable of creating that kind of a swing for a team, ever. I'd love to see a column from you on this, but this can't be possible.
James Walker
(4:28 PM)
I'm looking at the seven losses and the way the Steelers lost them. Many were blown fourth-quarter leads by the defense. I believe Troy could have made a difference by at least three games, but this is all hypothetical so there is no right or wrong answer. I won't make a column out of it, but maybe that can be a "Thought of the Day" post this week.
jason (nebraska)
what kind of defense gives manning the most trouble
James Walker
(4:32 PM)
It's more of a group effort on both sides of the ball. That's the greatness of Manning, because he impacts the way you play offensively and defensively. The Steelers were successful in 2005 by blitzing and taking possessions away while running the ball. They were really smart. The Jets did the same thing for nearly a half but couldn't keep it up. Like I said, you almost have to play the perfect game to win with defense. But the Saints will try to outscore them, which is probably the easier way.
shanard ((slc,ut))
james , do u think sean payton uses some wildcat with bush and pierre thomas near the goaline or period in the game to throw off the colts.
James Walker
(4:35 PM)
There could be some added wrinkles here and there, but don't expect a whole new team to show up. That's not how the Saints and Colts got here. They made it this far by perfecting what they do best. I would keep the ball in Drew Brees' hands as much as possible.
Jamie (New Orleans)
If the Saints don't deserve it, then no other team does either, period.
James Walker
(4:38 PM)
Both teams deserve to be in the Super Bowl. The Colts and Saints are both No. 1 seeds. How could anyone argue against that?
Guy (Los Angeles)
Super Bowl of the decade? I think so. Gonna be tough to put on a show better than the Pitt-Cards last year or Pats-NYG. Crossing my fingers for a nail-biter!!
James Walker
(4:40 PM)
Yes, the Super Bowls have been pretty good recently. Even the NFC Championship Game this year between the Saints and Vikings raised the bar high.
Mason (CA)
Interesting thought a co-worker brought up. If Manning and Brees were to swap teams, do you think people still see it as a 50/50 match-up or does one team have an edge. If it's 50/50, hard to deny the fact these guys are on an equal level and without-a-doubt the best player on either team.
James Walker
(4:44 PM)
Both offenses are built around each quarterback. So it's not as easy as people seem to think. Manning runs virtually a no-huddle and calls (and fake calls) a lot of his own plays at the line. Brees runs a more traditional but wide-open offense. It's a lot deeper than what I can explain in just one graph.
shanard ((slc,ut))
james superbowl next year i say cowboys since they are close VS colts or texans (with a healthy owen daniels) and a new RB,or chargers with a new RB to get them over the hump.
James Walker
(4:45 PM)
Waaaay too early to predict next year's Super Bowl. How about correctly predicting this one first?
jacob giordano (alexandria va)
this is a fact they have more playoff experience then any other team out there so theyll win
James Walker
(4:48 PM)
I don't know if playoff experience helps much, because both teams had to battle through the playoffs to get to this point. But I do think Super Bowl experience could play a role. The Colts were there recently and this is New Orleans' first. So handling the hype and the extra week will be important for the Saints. The Colts have been through this before.
Squall (Balamb Garden)
A Cowboys/Texans super bowl AT DALLAS? my goodness, the southern northern hemisphere would explode
James Walker
(4:50 PM)
Although I haven't researched this, I don't believe a hosting team has ever played in a Super Bowl. So the Cowboys have a lot of history going against them.
Adam (Simi Valley)
Mozzarella sticks or buffalo wings? Can't decide what to cook up for the SB party... whatever you pick James, I'll be cookin' up.
James Walker
(4:50 PM)
Buffalo wings.
rooke (cleveland)
does peyton manning arguably cement his status as a top 5 all time qb w/ another ring?
James Walker
(4:52 PM)
It depends on who you ask. Some believe Peyton Manning already is in the top 5. I don't really get into that stuff too much. Maybe ESPN.com will gather a panel to decide on that in the offseason.
Cooper (SW_LA)
Seems like Drew was a bit off the second half. Have you heard of any reason why?
James Walker
(4:54 PM)
Great opponent, Cooper. I'm surprise by the amount of Saints fans today who feel their team should've just rolled over the Vikings by three touchdowns. It was the NFC Championship Game!
creekside baseball # 10 pitcher (ga)
colts all day
James Walker
(4:55 PM)
But I think the Super Bowl is played at night.
noah (great britain)
Who Dat say dey gonna beat dem RAVENS in 2011 super bowl?get 2 starters back at corner and a big WR in the offseason and they are hole-free
James Walker
(4:57 PM)
The Ravens have a lot of big questions, Noah. What if Ed Reed retires? Baltimore is probably not a strong Super Bowl contender entering next season.
MARK (MINN)
SAINTS ALL NIGHT!!!!!!!!!!!!!!!!!!!!!!!!!!!!!!!!!!!!!
James Walker
(4:58 PM)
The game is played at night.
Justin (Cincinnati)
The problem with the NFL overtime system isn't the coin toss. That keeps things fair. The problem lies is with this "golden touchdown" system the NFL uses. This is one thing that NCAAF has gotten right.
James Walker
(5:00 PM)
Some people don't like seven overtimes, either. I'm just presenting the other side.
James Walker
(5:02 PM)
Everyone, this brings an end to our extended Super Bowl chat. On behalf of our ESPN.com staff, thanks so much for all the great questions.