Chat with Darnell Dockett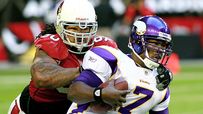 Dockett recorded seven sacks last season.
Welcome to SportsNation! On Friday, Arizona Cardinals defensive tackle Darnell Dockett stops by to chat about the NFL offseason.
Dockett just finished his sixth season in the NFL after entering the league as a third-round pick of the Cardinals in the 2004 draft. He finished the season with seven sacks, best among defensive tackles. Following the 2009 season, Dockett was chosen to start the 2010 Pro Bowl, his second selection to the NFL all-star game.
Send your questions now and join Dockett Friday at 2:30 p.m. ET!
More Special Guests: Previous chats | SportsNation
Buzzmaster
(2:11 PM)
Darnell Dockett will be here shortly to take your questions!
Buzzmaster
(2:31 PM)
Darnell is here!
Will (St. Louis)
How different do you think the team will be this year without Kurt around?
Darnell Dockett
(2:33 PM)
We'll be good. We'll come closer as a team. We won't depend on the guy to do so much. The responsibilities will be spread around the team. We'll all have to do more.
Kevin (Denver)
Darnell, how hard was it for the Cardinals to come back last season after being so close to winning the Super Bowl the year before?
Darnell Dockett
(2:34 PM)
It was tough. You always wonder, will you get back to that point again. It will be harder than the year before.
Steve (NH)
There has been a lot of talk recently about head injuries in the NFL. Is this something that the players talk about or do you not try to worry yourself about those kinds of things?
Darnell Dockett
(2:35 PM)
Head injuries is one of my last concerns in football, to be honest with you.
Leon (Dallas)
Have you and the guys tried to talk Kurt into pulling a Brett Favre and have him come out of retirement?
Darnell Dockett
(2:36 PM)
No, I don't think Kurt Warner searches for the attention like Brett Favre. I think Kurt will tell us ahead of time if he is going to play with us and not pull a circus act and tell us two weeks beofre the season. I think Kurt gives us more respect than that.
Gregory (RI)
Which team is your biggest competition this coming season for the division title?
Darnell Dockett
(2:36 PM)
Our biggest competition in the division is probably us. We're our own competition.
tolliver (Hamilton)
With new faces on defense do you expect to have smooth transitions or do you think that it may take time to allow the new aquisitions to settle in
Darnell Dockett
(2:36 PM)
It will take some time, but that's what training camp, OTAs and mini camp is for.
Evan (Washintgon D.C.)
Would you be willing to swap with the 6' 6, 350 pound piece of ego we currently have starting on the Redskins defensive line?
Darnell Dockett
(2:37 PM)
No. Too many egos and selfish players on that team.
Kyle (VA)
How closely do you monitor your weight during hte season and offseason?
Darnell Dockett
(2:38 PM)
I work hard enough that I don't ever have to worry about my weight or my diet. I work out every other day, for the most part.
Fred (Ohio)
Darnell, I'm hurting here in Ohio. LeBron left us for Miami. Two questions: what do you think about what LeBron did to us in Cleveland? Second, I'm looking for a new athlete to be my favorite and you look like a guy just crazy enough on the field to be that athlete. So tell me why we should be new friends.
Darnell Dockett
(2:39 PM)
At the end of hte day, it's LeBron's decision. Can't no one be mad at him for whatever decision he made. As a supporter of most athletes, I support him and wish him well. Me, personally, I wouldn't have went to the Miami Heat. I would have stayed home or played in the bright lights of the big city.
Darnell Dockett
(2:40 PM)
And second, I'm everything you want in an athlete. I play hard. I care about what people think about me. I know where I came from. I know where I'm going. And I love Oprah.
Vinnie (NYC)
What are your feelings about the Super Bowl being in a cold weather climate in NYC (NJ) in 2014?
Darnell Dockett
(2:41 PM)
That's going to actually suck. For both teams. And the environment. But heck, we can all go watch Amare Stoudemire play now.
Nick (NJ)
Witch QB Do you have most trouble trying to sack and which QB is the easiest to sack
Darnell Dockett
(2:42 PM)
The toughest QB to sack is Ben Roethlisberger.
Darnell Dockett
(2:42 PM)
The easiest QB to sack is Ben Roethlisberger if you can catch him in a bathroom stall.
Nick ((OH))
How likely is there to be a strike/lockout next year?
Darnell Dockett
(2:42 PM)
Most likely.
Darnell Dockett
(2:43 PM)
Any time there's greed and selfishness, something is never going to work out. It's always going to be an ongoing issue.
Dave (NYC)
Darnell, Antonio Pierce is just a few years older than you and he retired due to some nagging injuries. You are still very young, but do you ever think about what you would do if you were put in that kind of situation?
Darnell Dockett
(2:45 PM)
I wouldn't mind being a sports commentator. Having my own segment, working for ESPN, my own talk show. Part time trainer. Part time car mechanic. Part time Sprint cell phone salesman. Part time car washman. Grocery store baggage man. Football coach. Model. Actress. Stripper. And I even have dreams of being the next crocodile hunter.
kris (charlotte)
Darnell, that comment about roethlisberger in the bathroom stall was hillarious, do you think the NFL will fine you for that?
Darnell Dockett
(2:45 PM)
Why? What did I do?
Darnell Dockett
(2:45 PM)
I'm just going by what I read. That's all.
Vinnie (NYC)
Do you play fantasy football? Who would you take with the #1 pick this year?
Darnell Dockett
(2:46 PM)
Yes I play.
Austin (Indiana)
Will the departure of Anquan Boldin effect your offense?
Darnell Dockett
(2:46 PM)
You can't replace his toughness. I played my whole career with him from college to this point in the NFL. So, I don't think that we will easily overcome that situation. But at this point, we must move on.
EJ (AZ)
Any movement on the contract extension front>?
Darnell Dockett
(2:47 PM)
I'm waiting like Rip Van Winkle.
EJ (AZ)
What impact does a quality NT make in a 3-4 defense? How does it allow you as a DE to play?
Darnell Dockett
(2:48 PM)
It means a lot. It means that it takes more than one person to block him and create one on ones for other guys. Most successful defenses have good NTs. Good run stopping defenses have good NTs.
john (boulder, colorado)
Darnell, I respect your play style man. If you could play any other sport (besides sumo wrestling) which would you pick? p.s. that roethlisberger joke was classic.
Darnell Dockett
(2:49 PM)
Hockey.
Darnell Dockett
(2:49 PM)
Because they actually allow you to fight without getting fined.
Danny (Phoenix)
What are your offseason workouts looking like right now?
Darnell Dockett
(2:50 PM)
Just as intense as the hot dog eating contest on July 4.
brad (pa)
How long before it's two hand touch on the QB?
Darnell Dockett
(2:50 PM)
Just as fast as LeBron left Cleveland.
Josh S. (Philly)
Which offense in the nfc do you think will be the hardest to go up against this year?
Darnell Dockett
(2:51 PM)
Minnesota Vikings.
Darnell Dockett
(2:51 PM)
No, no. New Orleans Saints. That offense. Holy cow.
Jay (Sac)
Which teams do you get the most fired up to play? Which brings out the best Darnell?
Darnell Dockett
(2:51 PM)
49ers.
kris (charlotte)
Darnell, if you were commissioner, what would you do or what could you do about the forseable lockout?
Darnell Dockett
(2:52 PM)
It's bigger than me. I'm just algae in a big lake. I'm not even considered a small fish.
Davis (CT)
Toughest RB to take down?
Darnell Dockett
(2:53 PM)
Frank Gore.
Jack (Phoenix)
Coach seems pretty laid back/calm during the post game press conferences...whats he like behind the scenes? Doesnt ever seem to get pissed?!?!
Darnell Dockett
(2:54 PM)
Yeah. He's just as ticked as everyone else when we lose. When we win, everyone's laid back.
Darnell Dockett
(2:56 PM)
Please don't judge me. I love you all. One day Jim Rome will let me on his show. Until then, I'm going to play basketball in Connecticut on ESPN. My crush for Oprah Winfrey still exists. We are now in the process of going through relationship counseling. I look forward to having a successful season trying to win our third straight NFC West title.