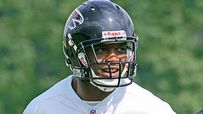 In his 11th year in the NFL, Abraham was the 13th overall pick in the 2000 draft.
Welcome to SportsNation! On Friday, Atlanta Falcons defensive end John Abraham stops by to chat about his team's fast start to the NFL season, as well as his latest charity work.
At 5-2, Abraham and his Falcons are in first in the NFC South and tied for the best record in the NFC. Abraham's six sacks leads the team's defense and is eighth in the NFL.
This season, Abraham is donating on a per-sack basis to the Touchdown vs. Shutdown program, which gives low-income youth more positive after-school options with athletic programs, dance classes, tutors, etc.
Send your questions now and join Abraham Friday at 1 p.m. ET!
More Special Guests: Previous chats | SportsNation
Buzzmaster
(12:57 PM)
John is here!
Rich (Jersey Shore)
At 5-2 this and one of the better records in the NFC, what has been the difference this year on defense?
John Abraham
(12:58 PM)
I think it's more experience than what it was before. The guys have been on defense 3-4 years. Also the addition of Robinson helps a lot.
Brad (Gadsden,Alabama)
John, Do you have any pre-game rituals?
John Abraham
(12:59 PM)
I used to, but not now. I guess I'm getting too old to have rituals. I just try to make sure I'm at the game. That's the only ritual I have.
Kevin (Boston)
How did you get involved with TD vs. Shutdown? Do you guys get competitive with each other?
John Abraham
(1:00 PM)
It was more of something with my agents. They felt that it would be something good for me to do for the community. I really haven't gone out as much as I wanted to, so they felt that it would be something good for me to get into. It's not really us competing, it's everyone working together to make it happen.
DJ (Cobbtown, Ga)
The you and the rest of the Falcons are looking like ya'll are shooting for a big year. But the need to jump out early and stay on top for the remainder of the game seems to be a problem. What do you think could help things get smoothed out because you can't always rely on last minute wins.
John Abraham
(1:01 PM)
I think our games have been pretty balanced this year. Our consistency has been good enough for us to win. Games aren't always going to be 30-10 in the first half. I think our best attribute is that we have the last second kick. We jumped out to a big lead against Cincinnati, we still needed to have that last kick to win. That helps us succeed.
Kyle (Augusta, GA)
John,You and your teamate Jonathan Babineaux are playing lights out and I think you guys are the best DT / DE tandem in the NFC south. Do you think that you guys will be in the pro bowl together this year?
John Abraham
(1:02 PM)
I'm hoping that we can play up to that caliber and I think we have so far. My thing is to just for us to keep playing and let people see how we play. Last year, he led all DTs in sacks. He should be No. 1 on the list to make the Pro Bowl this year.
Mads (Denmark)
Hi John,,, I am your biggest fan in Denmark and you are my true favorite at Falcons. You and Babs seems to have a good chemistry. How do you rate the d line in the NFL?
John Abraham
(1:03 PM)
I think we have a good combination of players that can rush the passer and play the run well. I think that's why I don't have to play every play, like I did earlier in my career. We have enough diversity where we can play in any kind of pressure or coverage. That helps me because I can come out and rest.
Francis T. (Brooklyn NY)
Yo Predator what's good man !!! I've been a die hard Falcons fan for years and appreciate the pressure you put on QB's on Sundays. My question is how has the progress been with the 3rd year players such as Brent Grimes, Curtis Lofton, and Thomas Decoud? Lets get double digit sacks !!!!
John Abraham
(1:05 PM)
I think all of the guys have pretty much grown up. Watching them for 3-4 years, they've matured and become the players they could be. Prior, it was an understanding for them that you might not stay in the league very long. But now they realize the importance of everything and playing hard and improving. They've all been the keys to us being 5-2 this year.
Steve (DC)
I had to give props to your beard. Lots of fans comment on it?
John Abraham
(1:06 PM)
A lot of fans do. They're not used to me having facial hair. I'm growing it because of my mom being diagnosed with cancer before the season. I appreciate it. It means a lot to me and my family.
Chris Fiegler (Latham, NY)
What do you think of the NFL Rule of Suspensions for flagrantly helmet to helmet hits?
John Abraham
(1:07 PM)
If it is a legit hit, I can see a suspension being needed. It shouldn't be determined just because it's a hard hit. If it's legit helmet to helmet, then that's OK. I've seen a couple of my teammates getting fined. I don't want it to get out of hand.
Norris Thomas (Bishopville, SC)
What's the toughest offense line have you faced
John Abraham
(1:08 PM)
I would say Philly. They had a good gameplan to go up against us. They came out with a good gameplan.
Jeff (Idaho)
From a player's perspective, what do the Falcons need to do to elevate their game from good to great?
John Abraham
(1:09 PM)
I think we need to keep doing what we're doing. I don't think we really falter in too many places. I think the one thing is that we need to come to play. When we played Pittsburgh, we played like a Super Bowl caliber team. I don't really think we're that far away from being that kind of team.
Keith (Texas)
I see the new thing you do when you get sacks these days, whats that mean?
John Abraham
(1:10 PM)
I got it from an old vet. He was a sniper. He told me that whenever they went out, they had a sign to point to his eyes and then how many people there were out there. It's working, I'm going to keep doing it.
Seth S (ATL)
What do you expect to see from TB's offensive line next week and do you believe Roddy will stay on top for my fantasy team? =p
John Abraham
(1:10 PM)
I think they'll be the same team they've been. They'll be a power running team and get their team going by running the ball. I hope they don't try to put too much on the QB's back. They'll rely on the running game.
jim fernandes (london, ontario Canada)
Who was your favourite NFL player growing up?
John Abraham
(1:11 PM)
The same with people my age, Walter Payton and Jerry Rice. Every kid idolizes the offense more than the defense. Everyone wants to be an offensive player before a defensive player.
Dennis Edwards (Charleston, SC)
why the number 55? is there a story for it
John Abraham
(1:12 PM)
Not really. I just wanted to look cool. When I was in college, my coach wanted all of his linemen to have numbers in the 90s. I've always wanted a lower number. I had a chance to get a lower number when I came to Atlanta. I took 55. I thought it was an abnormal number for a DL.
Gwen Mills (Atlanta)
What is your personal opinion on adding more games to the season?
John Abraham
(1:13 PM)
Like we were talking about with the helmet to helmet issue. If you're trying to keep the players healthy and safe, I don't know how you can add games. I think the 16 game schedule is going good. Even though they're saying that they'd get rid of preseason games, I've been playing a while now and 16 games is a lot.
Drew (Atlanta, GA)
What'd you think of Samuel Jackson's Rise Up commercial? Did any of the Falcons' players get to meet him?
John Abraham
(1:14 PM)
No, we didn't get to meet him. I wanted to though. Watching the commercial was funny to me and really exciting. It would have meant a lot to meet him. He's one of my favorite actors.
David (Atlanta)
I saw your nasty bloody eye from your tweets. Did that affect your play at all during those weeks?
John Abraham
(1:15 PM)
It just made me mad. It didn't effect my play, just made me mad. As for my vision and everything else, it was fine. Just made me mad that my eye was messed up.
Sumit (Chicago)
First of all, I wanted to say that proving most of media wrong about your performance. As a Falcons Fan I never lost a confidence in your abilities. I just wanted to know your opinion on "Spoon" and "Dunta" addition on this team. Go Falcons
John Abraham
(1:16 PM)
Dunta, coming from South Carolina, I'm already on his side. I'm glad we did some good things in the offseason. I don't think we were as good as we could have been last year because of the injuries. That added up to us not having a good year. If we can be consistent and healthy, we have the players to win.
John Abraham
(1:17 PM)
Thanks everyone for following me. We're going to try to make this season as good as possible. Hit me up on Twitter: @johnabraham55.