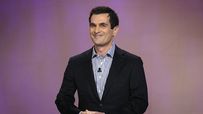 Burrell has appeared in "Blackhawk Down," "National Treasure: Book of Secrets" and "The Incredible Hulk."
Welcome to SportsNation! On Friday, actor Ty Burrell stops by to chat about his Oregon Ducks (he's a big fan), Penn State Nittany Lions (he's a grad) and hit TV show, ABC's "Modern Family" (he's Phil Dunphy).
In just its first season, "Modern Family" won three Emmy Awards: Outstanding Comedy Series, Outstanding Supporting Actor in Comedy Series (Eric Stonestreet who plays Cameron) and Outstanding Writing for a Comedy Series. Burrell was also nominated in the Outstanding Supporting Actor in Comedy Series category.
Burrell has a total of 27 movie and TV show credits to his name, including Modern Family, which airs Wednesday nights at 9 p.m. ET on ABC.
Send your questions now and join Burrell Friday at 2 p.m. ET!
More Special Guests: Previous chats | SportsNation
Buzzmaster
(1:46 PM)
Actor Ty Burrell will be here at the top of the hour to take your questions! You probably know him as Phil Dunphy from his hit TV show "Modern Family," which airs on ABC on Wednesday nights!
Buzzmaster
(1:50 PM)
Phil....er, Ty should be here soon. I can hear him down the hallway finishing something up.
Buzzmaster
(1:58 PM)
Ty is here!
Nathan E. (Washington, D.C.)
Are there any sports rivalries between you and your co-stars on Modern Family?
Ty Burrell
(2:00 PM)
Not really, because the only other sports fan on the show is Eric (Cam) and he's a Kansas State alum. So, we don't have any actual games. He's a Chiefs fan too. I get to kind of strut around with my Oregon dominance at the moment. I hope it lasts.
Mat Hill (Portland)
Who's idea was it to insert the Rose Bowl line, "Penn State crushed us, but the parade was pretty cool" into the script this season?
Ty Burrell
(2:00 PM)
Assuming this isn't my cousin Matt. It wasn't my idea, it was Bill Wrubel, a writer on the show, who knew that I went to Oregon and Penn State and decided to insert that into the script. What I think is interesting about that is that it's now implied that Phil went to Oregon.
Mike Mayberry (Hurricane, WV)
How do you differ from your character Phil Dunphy?
Ty Burrell
(2:01 PM)
I'm, believe it or not, I'm even less productive and an even less effective communicator.
Cole (Portland)
Prediction for tomorrows game between Oregon-Washington? 'Im going with 70-10.
Ty Burrell
(2:02 PM)
I'm going to say 21-20, because I am so superstitious that I don't want to jinx the Ducks.
Harry (Toms River, NJ)
Ty, Im big fan of Modern Family and your character Phil. Did anyone inspired you when developed Phil Dunphy as a character?Also what is it like working with Julie Bowen (Claire)?
Ty Burrell
(2:03 PM)
There are a few people that inspired Phil Dunphy who will remain nameless. They are people that I love a lot, even though they're goofy some times. It's amazing with Julie. She's an awesome, awesome teammate.
Kevin (New Jersey)
What do you think of "Ducks" dance moves? Do you have moves like that?
Ty Burrell
(2:04 PM)
I think you're referring to the YouTube video. If you would refer to Breakin' 2: Electric Boogaloo, you can see my moves too.
Jeff (Florida)
I have a question for you Mr. Herman Capshaw , Paul Donatelli , or is it Alan Messinger?? Which is your favorite Law and Order series?
Ty Burrell
(2:04 PM)
My favorite Law and Order series is Law and Order zesty ranch.
Tony (Wilmington, NC)
My wife couldn't contain her laughter while watching the recent MF episode when the Dunphy family tries to cut out electronics. Her conclusions that I'm a younger Phil were only confirmed when his biggest concern was setting his fantasy football lineup. Anyway, in real life, do you play fantasy football? If so, who is a sleeper RB/WR you like this week?
Ty Burrell
(2:06 PM)
My buddy Dal is sitting here and would punch me in the neck if I would actually say that I play fantasy football. He's been trying to get me to play for years. I sadly do not. But I'm a big Steven Jackson fan.
Jason (Atlanta)
Absolutely love your show. Do you have a favorite Phil Dunphy moment? He's got so many, but the one that always comes to mind is the "No one ever heard of being sfathered to death" line, or possibly the moment when he's getting ready to sneak all the food into the NBA game.
Ty Burrell
(2:07 PM)
I don't know if I do have a favorite moment. I like the on going saga with the step. It will be interesting to see how it goes. Judging by the last episode, it's starting to get kind of personal. I'm looking forward to seeing how that develops.
Devon (State College, PA)
How early did you know that Modern Family was going to be such a mega-hit?
Ty Burrell
(2:08 PM)
To be honest, it's kind of still sinking in to all of us. I don't think that anybody really realized that it was going to be this big. There were no expectations. I don't think it's hit us just yet.
Cole (Portland)
Have you, or will you get a chance to catch the Ducks in person this year?
Ty Burrell
(2:09 PM)
I saw the Oregon-USC game. That was amazing. I am definitely hoping to catch another one, fingers crossed. That would be the national title game.
Nick Webb (Terre Haute, IN)
Ty - What's better, the insanely perfect writing on Modern Family or that insanely perfect Ducks offense? Think it through, Ty. Who pays your bills....
Ty Burrell
(2:10 PM)
That is a great question. I'm going to take your advice and go with the insanely perfect writing on Modern Family.
Matt (IN)
Ty do you ever grill? What do you prefer, charcoal or gas?
Ty Burrell
(2:10 PM)
Both. I most recently charcoal. I'm cooking my first Thanksgiving turkey this year and I'm contemplating ruining it with charcoal. Wish me luck.
Joe (Austin)
Do you have any movie appearances coming up or does Modern Family take up most of your time?
Ty Burrell
(2:11 PM)
I have a couple of movies that I shot before Modern Family. Morning Glory, which is coming out this week, being one of them. Then I have a movie coming out in the future called Butter.
Jeff (Clearwater)
Who is the funniest person off camera on Modern Family? Also, the question we all want to know Sophia or Julie?
Ty Burrell
(2:12 PM)
Jesse Tyler Ferguson. He is effortlessly funny, even though on screen he doesn't get to do it that much, because he plays someone so uptight.
Troy (Portland)
Can you possibly slip an Oregon Duck t-shirt or hat into the show? Gotta give the Ducks as much exposure as possible, right?!?
Ty Burrell
(2:13 PM)
Do we? Seems like we're getting quite a bit of exposure. I never thought we would do any better than the Independence Bowl, so I'm doing pretty good.
Scott PSU '01 (NYC)
Ty,As a Penn State Alum, what are your thoughts on the team this year, particularly the impact youth has had on the team, and do you see them getting back to a BCS Bowl anytime soon? Will Joe Pa be there for it?Huge fan of the show!Thanks,
Ty Burrell
(2:13 PM)
I hope Joe Pa is there as long as he wants to be. I think it was a really smart move to let Boulden work out the kinks, even though it meant taking a few loses. I tihnk they're building for a decent run over the next few years.
Troy (Portland)
Is Eric Stonestreet one of the most talented guys you've ever seen or what?? He's hilarious!
Ty Burrell
(2:14 PM)
I completely agree. He's also the only other sports fan on the show, so we're good buddies.
Joe (Austin)
How do you keep your attention with all those talented and attractive females around? Great job on the show!
Ty Burrell
(2:15 PM)
The most distracting thing about the females on our show is how funny they are.
Ryan (Massachusetts)
How good do you think LaMichael James will do in the NFL?
Ty Burrell
(2:16 PM)
I think he's going to do really well. I think teams are more willing to share the load at RB now a days and he's a perfect back to split reps with a power back or be an unbelievable third down back. The most surprising thing for him is how well he moves the pile for being 185 pounds. I think he'll surprise some people.
Ty Burrell
(2:16 PM)
Thanks so much for taking the time. I hope you got a glimpse into my empty brain.