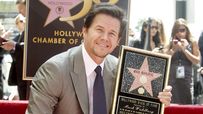 Mark is the youngest of nine Wahlberg children.
Welcome to SportsNation! On Friday, actor Mark Wahlberg stops by to chat about his latest project "The Fighter" in which he stars with Christian Bale. The movie hits theaters Friday, Dec. 17.
Based on a true story, "The Fighter" tells the story of an unlikely boxing hero "Irish" Micky Ward, played by Wahlberg. Bale plays Dicky Eklund, Ward's half-brother and once promising fighter, who has become overshadowed by Ward. The two need to find a way to to come apart as opponents before coming together as brothers in a scrappy fight to win a long-shot championship and strengthen the bonds of their family.
Wahlberg has 30 acting credits to his career, including "The Departed," "The Perfect Storm" and "Boogie Nights." Besides producing "The Fighter" he also is executive producer of the hit HBO series "Entourage."
Send your questions now and join Wahlberg Friday at 12:30 p.m. ET!
More Special Guests: Previous chats | SportsNation
Buzzmaster
(12:13 PM)
Actually, everybody, Mark's running early, so we're going to get started in about five minutes!
Buzzmaster
(12:18 PM)
We've got Mark!
Tim (Pittsburgh,PA)
Mark, did you feel a sense of pride being able to portray a person like Mickey Ward in your new film?
Mark Wahlberg
(12:19 PM)
Of course. Mickey is one of my all time sports heros.
Loren (nyc)
Obviously Micky Ward is one of you r favorite fighters, but outside of him who are some of you r favorite past and present boxers?
Mark Wahlberg
(12:19 PM)
Manny Pacquiao. Floyd Mayweather. Marvin Hagler. And Marciano. And Mike Tyson.
Kevin (Chicago)
Mark, now that you've made a movie about boxing, will you try to get into the Boxing Hall of Fame?
Mark Wahlberg
(12:20 PM)
No, we have to get Micky into the Hall of Fame.
Evan (SLC)
I enjoyed the movie at a promotional screening, but be honest, you weren't Micky Ward's actual weight (147), right?
Mark Wahlberg
(12:21 PM)
Yeah. No, I got down to about 160 something. Normally I walk around at 185-190. We just cast fighters that were the same size as me.
John H (Augusta GA)
Hi Mark , love your acting. As a boxing fan what fight do you hope is made next year? In the story of Micky Ward does it feel incomplete without Arturo Gatti in it being thats what most remember about Mick Ward?
Mark Wahlberg
(12:21 PM)
Yeah, Floyd Mayweather-Manny Pacquiao.
Rich (Point Pleasant, N.J.)
Hi, enjoyed all movies especially The Departed, The Perfect Storm, Invincible, Four Brothers & The Italian Job. Was it difficult trying to shoot the boxing sceens to make them look real
Mark Wahlberg
(12:22 PM)
No, because we went in there and really fought. We hired real fighters.
Eric (St johns Michigan)
Did you ever get ko'd while training for the movie?
Mark Wahlberg
(12:22 PM)
I got hit very hard, but I never got knocked out. But I got about 15-20 knockouts under my belt.
Dave F (Jacksonville FL)
With being as busy as you are, do you plan on many more Entourage cameo appearances. Best Show on TV by the way. I wish you continued success.
Mark Wahlberg
(12:23 PM)
Possibly. I might do something in this final season and something in the movie. If they ask me, I'm there for sure.
Kevin (Toms River, NJ)
Mark, How long and what kind of training did you have to do for the Fighter? Do you ever think you will take a shot in the boxing ring?.....oh and Perfect Storm is my favorite movie
Mark Wahlberg
(12:24 PM)
All totalled, we trained 4.5 years for the movie. It kept falling apart and we had to look like real boxers. Running, sparring, jump rope. I built a gym in my backyard. Micky and Dicky actually lived in my house for a while while we trained.
Richard (Houston)
I wonder how important it is to you that boxing fans like the movie. Because we usually don't. Our icons and their stories are often twisted beyond recognition by the narrative requirements of Hollywood. You're a fight fan. Is this one for us? or for the masses?
Mark Wahlberg
(12:25 PM)
The most important thing was that it was authentic and real. We weren't going to be told how to do it. If we took any dramatic liberties, it was very minimal stuff. It was all about making it real.
Adam R (Albany)
Mark, out of 'Invincible' and 'The Fighter', which sports figure were you more proud of portraying on-screen?
Mark Wahlberg
(12:26 PM)
Well, both, but obviously Micky has been a hero of mine for some time. But he and Vince also have a lot in common. Both guys I respect personally and professionally.
SteveFitz (Chicago, IL)
Mark, what's the tranistion been like from basically being a street kid, to music, to now being a more prominent actor in the industry? Who do you credit for all your success?
Mark Wahlberg
(12:27 PM)
I work hard and never give up and never take no for an answer.
Brian F (San Diego)
Who wins in a game of hoops....You or your bro?
Mark Wahlberg
(12:27 PM)
Me.
Steiny (NYC)
What has been your favorite movie you've acted in? The Departed, Fear, Shooter, Italian Job?
Mark Wahlberg
(12:27 PM)
Yeah, I've made a lot of movies that I've been proud of, but none have been more personal than The Fighter.
Tim (Pittsburgh,PA)
Who wins, you or Mickey Ward in your primes?
Mark Wahlberg
(12:28 PM)
You know what, I have a lot of size advantage on Micky. We actually got in the ring quite a few times. It was nice to get in there against someone like that. But he's a fighter no one wants to fight because he takes 100 punches to get his one good one in.
D (Boston)
Celtics getting #18 this year right?
Mark Wahlberg
(12:29 PM)
I agree completely. Just too stacked in the paint.
Mark Wahlberg
(12:29 PM)
I don't think the Heat are going to be an issue.
Jared (Sugarland, Tx) [via mobile]
Mark- Huge fan of your work. You have now been in three movies that in sports to certain degree (I count Basketball Diaries). Which sport do you enjoy playing the most in spare time and also which have you grown to have the most for after playing the roles? Keep up the great work!!
Mark Wahlberg
(12:29 PM)
Golf. But I've been in four, Basketball Diaries, Invincable, The Fighter and Four Brothers.
Dave (LV)
Besides your own, what is your favorite sports related movie?
Mark Wahlberg
(12:30 PM)
There are so many. So many in so many different sports. Boxing, football, basketball. So many.
Eddie (Brooklyn)
The underdog boxing film is an increasingly well-tread genre now. What does "The Fighter" bring to the table that audiences haven't seen before?
Mark Wahlberg
(12:31 PM)
It's really a story about the brothers and the family dynamic. The women in the film, the manager/promoter mother. The sisters are stronger and tougher than the guys. This is the first out of all of them that has real boxing.
Riad (London)
Saw you hanging out with Mayweather and Pacman. How do you compare both as humn bieng and on th eboxing level. Txs
Mark Wahlberg
(12:32 PM)
They're both the best to do it. Period. That's why everyone wants to see them fight. Two of the best of all time. They both have legit arguments to that.
matt (canada)
did you ever box as an amateur or even train, or did you take it up as an adult?
Mark Wahlberg
(12:32 PM)
I certainly fought a lot as a kid, but most of the time I wasn't wearing any gloves. I was close to doing a couple of other boxing roles. I've always been a big fan of the sport.
Elvis (California)
Mark- i know you'll always been in good shape, but did you make changes in your training to train as a boxer? And what do you think about the boxers training?
Mark Wahlberg
(12:33 PM)
Of course, training to look good and training to be a boxer are two different things. We wanted it to look like the read deal.
Roger (Chicago)
Is the Entourage movie real? By the way.. say hi to your mother for me.
Mark Wahlberg
(12:33 PM)
Yes. We're shooting the final season and then we're going to do the movie.
Brian (Framingham)
Do you really think you could take Pacquiao?
Mark Wahlberg
(12:34 PM)
He's as fast as they come, but if I hit him with a left hand, he's going to go to sleep for a little while.
Mark Wahlberg
(12:34 PM)
Thank you for the time. I appreciate it. Enjoy The Fighter. It's the best movie I've done.