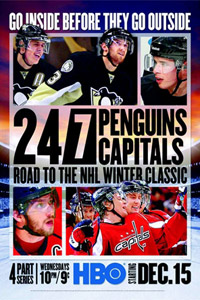 Welcome to SportsNation! On Tuesday, we'll be joined by Washington Capitals head coach Bruce Boudreau to chat about the upcoming Winter Classic
Leading into the Classic, HBO will air a four-part series 24/7: Road to the NHL Winter Classic, beginning Wednesday at 10 p.m. ET/PT.
After taking over the Caps weeks into the 2007-08 season, Boudreau has won three straight Southeast Division titles, including an NHL-high 121 points last year for the team's first President's Trophy.
After being a third round draft pick in 1976, Boudreau bounced between the NHL and minors during his 16-year career, having spent with with the Toronto Maple Leafs and Chicago Blackhawks.
Send your questions now and join Boudreau at 2 p.m. ET!
More Special Guests: Previous chats | SportsNation
Buzzmaster
(1:55 PM)
Washington Capitals' Bruce Boudreau will be here at the top of the hour to take your questions!
Buzzmaster
(2:05 PM)
I just talked to the Caps. We're two minutes from coach Boudreau!
Kevin (NYC)
Were you as surprised as I was to see Ovie fighting the other night?
Bruce Boudreau
(2:08 PM)
Yes. I was surprised but when he saw the guy coming at him, he thought there was no recourse. He saw him coming at him and he decided to be the aggressor and not let someone jump him.
Greg (NJ)
Will you do anything differently to prepare your team for playing outside?
Bruce Boudreau
(2:09 PM)
Quite frankly, we probably will rely on other people that have played outside and we'll practice outside a couple of times. I might watch the other Winter Classics to see if there was a different style of the teams that were playing. But I don't know any other way to prepare.
Brad (Gadsden,Alabama)
Bruce, Do you have any pre-game rituals?
Bruce Boudreau
(2:10 PM)
If we're winning, I leave for the rink at the same time, prepare the same way. I've grown where I change suits now, but I used to wear the same suit when we won or the same tie. Or I pretty well have the same routine. I will change little things when we lose.
Sven (Canada)
BB, you got annoyed with all the cameras around the team for the filming of the HBO show, yet?
Bruce Boudreau
(2:11 PM)
It certainly doesn't leave you with much privacy. There are times when you want to say things to the players when you wish it were more private. But we've learned to live with it.
Paulie (Boston)
Are you ever able to let the hockey fan part of you out when watching Ovechkin score an unbelievable goal or are you too focused on the game?
Bruce Boudreau
(2:12 PM)
The fan in me absolutely loves it when he scores. But you talk about routines or changing things, I've gotten very accustomed when we score to keeping things inside. I used to jump up and down and high five, but then the other team comes back and scores, so it's bad luck for me now.
Wilson (LA)
What's been the most frustrating part of these last couple of weeks?
Bruce Boudreau
(2:13 PM)
Our inability to score when we've had golden chances to score. No. 2, would be, and this happens to every team all the time, it seems that every bad call goes against you.
Kyle (VA)
If you had Crosby on your team how would you try to use him?
Bruce Boudreau
(2:14 PM)
Well, I would think we would use him the same way we use Nick Backstrom. Crosby is now more of a goal scorer than Nick, but use him in a similar way, the No. 1 line, the No. 1 PP. You use great players a lot and I would use him a lot.
Peter (RI)
Were you excited or not when you found out the Caps would be taking part in this season's Winter Classic?
Bruce Boudreau
(2:14 PM)
I think I was really excited, like every other person involved with the Caps. It's a great thing to be a part of and show your children and grandchildren.
Brendan (Laurel, MD)
What is your favorite of the many commericials you have done in the DC area?
Bruce Boudreau
(2:15 PM)
I have enjoyed doing the one where my wife was involved.
joe (chicago)
being that you coach one of the best in the league. What ignites a hot streak like one the Sid the Kid is having now?
Bruce Boudreau
(2:16 PM)
I have to believe that it's feeling good about yourself and feeling that everything you touch is going to magically happen. I've seen it happen in baseball, with a hitter that you can't throw by him. The thing that you do know is that eventually it slows down a bit.
Willie (SJ)
As a fan it seems like Ovechkin can get pretty excited on the ice. As a coach, do you ever have to talk with him to try and calm him down?
Bruce Boudreau
(2:17 PM)
No. My thought on that is the more he's excited, it reminds me of The Hulk. The madder he gets the stronger he gets. The more excited Alex gets the better he gets. It's when he's sullen you worry about him.
Peter (LA (via DC))
Coach, how do we turn things around after this slump?
Bruce Boudreau
(2:18 PM)
Well, we know we've had success doing what we do. We've tweaked a couple of things, but believing in yourself and outworking the opposition and getting great goaltending to get that win is the key.
Kevin
does your path in the minor leagues as a coach give you more satisifaction at getting to the NHL level?
Bruce Boudreau
(2:18 PM)
Yes. It goes to show that if it works somewhere else, it can work at the highest levels too.
BD (DC)
Coach, How do you see the D-pairings going with Schultz out?
Bruce Boudreau
(2:20 PM)
We've been trying to find the right chemistry for Scott Hannan to put him in the best situation to succeed. He'll probably play with Green or Carlson. The other four guys we'll mix and match to see what's the best. In the end when Schultz is back, you'd think that Hannan will be a very good shut down defenseman.
Ken (VA)
Are you still comfortable with the Flash/Hannan trade, and see anymore moves on the horizon? There are rumors about a possible veteran goalie. Nabokov?
Bruce Boudreau
(2:21 PM)
We're always striving to get better, but I don't see any more moves any time soon. We hated to let Flash go, but we knew he wasn't a natural centerman. We needed a shut down defenseman. When they offered a guy like Scott who has been through the wars, we knew he would be great for us.
Mike (DC)
Being a DC native, it's nice to have a winning team in the area the past few years, and I couldn't be happier that Ted Leonsis has taken over the Wizards. What's it like to work for Ted?
Bruce Boudreau
(2:22 PM)
Ted's always been very supportive and an understanding owner. He wants to do what's right for the team. That's the way he treats his employees. It's been great.
Bruce Boudreau
(2:23 PM)
I appreciate all the questions. They were good questions. Keep supporting Caps hockey.