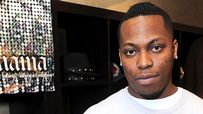 Bell is also an avid skateboarder and motocross driver.
On Tuesday, snowboarder Steve Bell stops by to chat as part of ESPN.com's tribute to Black History Month.
Bell first broke on to the snowboard scene in 2005 while filming with Finga on Da Trigga Productions. Stevie has appeared in Forum team videos for the past couple of seasons with some killer segments. In 2009, Bell landed the cover of Transworld Snowboarding's Photo Annual, an accomplishment not to be taken lightly.
Known as "The Kid," Bell has a fun and loose style of riding that would put most people to shame. With his outgoing and energetic personality added to his skill on the board, Stevie has what it takes to usher his career to the next level.
Send your questions now and join Bell Tuesday at 2:30 p.m. ET!
More Special Guests: Previous chats | SportsNation
Buzzmaster
(2:25 PM)
Stevie Bell will be here in a few minutes!
Buzzmaster
(2:26 PM)
He's here!
Joe (Oregon)
Hey Stevie how did you get into snowboarding? Where are you from?
Stevie Bell
(2:27 PM)
I got into snowboarding because I had some friends when I was younger who I played football with. They always told me that I should come snowboarding with them in the winter. I finally went with them and the first time I hated it. Hated it. I was a skater first and I thought that this is like skateboarding. I like this sport.
Dave (Brooklyn)
Stevie -- What would it mean to the African-American community to see you, or other black riders, be competitive in broad-appeal contests like the Winter X Games or Winter Olympics? Thanks, and come ride Mt. Creek in New Jersey!
Stevie Bell
(2:28 PM)
It's huge to stand out from the crowd and do something that hasn't been done. I hope I can inspire more people to do it. It's the main reason that I do this, to inspire others.
Kale (Long Island)
I love snowboarding. What's your favorite trick?
Stevie Bell
(2:28 PM)
That's a hard question right there. I would have to say my favorite is probably switchback seven.
OJ (Chicago)
If there's one thing you couldn't live without what would it be?
Stevie Bell
(2:29 PM)
Another hard question. If there's one thing that I couldn't live without in the world....oh man. I couldn't live without my iPod. I love my music. If I didn't have that, I would just drop.
Stevie Bell
(2:29 PM)
I also don't think I could live without my skateboards.
Hank (NC)
What type of stereotypes do you face in the snowboarding/extreme sports field?
Stevie Bell
(2:31 PM)
I think quite a bit when I first started. But when I got older and better, people accepted it. Now people show me some love. It's great. Now when you go to mountains, you see more Asians, blacks, Mexicans. You see more color in the sport. I'm not saying it's because of me, but it's good to see.
Christy (LA)
Have you competed in XGames? Where can we see you?
Stevie Bell
(2:32 PM)
I've done a lot of local competitions in Utah. I haven't done the XGames yet. I'm thinking about doing the XGames next year or in the future. There are two sides to the snowboarding world: making movies and the competition side. I grew up in the making movies side. But I'm thinking about trying out the competition side.
Chris Fiegler (Latham,NY)
How do you like Competing with Shaun White in Snowboarding or have you ever competed with Shaun White?
Stevie Bell
(2:33 PM)
It's actually cool having him in the sport. A lot of people hate on him, but I look to him for inspiration. He's one of my good friends. We chill from time to time. I skate with him from time to time. He's the best for the sport. He's bascially made the sport somewhat mainstream.
Brad (Gadsden,Alabama)
Stevie, Who is your favorite sports teams?
Stevie Bell
(2:34 PM)
I love football, so I'm a Cowboys fan. I love basketball, and I'm a Lakers fan. I like watching soccer. Skateboarding I follow more than anything.
chris w. (washington dc)
I've never been snowboarding before but it looks fun. is it better to start out skiing first? or just dive right in? lol
Stevie Bell
(2:35 PM)
I would say if you're going to go snowboarding, I would dive right in. I don't think skiing has anything to do with snowboarding. I would take a year and see if you'll like it. Take some lessons to help out. Once you get into it, you'll love it. It's fun to do. There's so much freedom to it.
Pete (RI)
What's your inspriation?
Stevie Bell
(2:36 PM)
My biggest inspiration is the fact that I love to do it. I love snowboarding. I love hanging out with my friends. The other reason is I love my fans. They push me to do more, work harder. That's my main reason for doing it.
Rob (NY)
So do you think Melo would fit on the Lakers?
Stevie Bell
(2:37 PM)
Oh man, that's a hard one. I think he would fit, but I think it would take a few seasons to fit in as we would expect him to. I don't think he'd fit in right away. But we can make it happen. It's the Lakers. As long as the egos with him and Kobe work, it will be fine.
Kevin (Chicago)
If you weren't snowboarding, what woudl you be doing?
Stevie Bell
(2:38 PM)
I think I'd probably just be in college. Before snowboarding, I was in college. And probably trying to make it in skateboarding. I didn't like college, but I would definitely try to make it happen.
Paul (LA)
how cool was it to be "discovered" on a video?
Stevie Bell
(2:39 PM)
It was real cool. It was a dream come true. I was in college and working at the same time, filming my first video. To be noticed over so many talented kids out there, it made me feel so honored. It was the greatest thing to happen in my life.
Danny (LA)
With you breaking a color barrier of sorts in snowboarding, what does this month of BHM mean to you?
Stevie Bell
(2:40 PM)
It means a lot to me. This represents not only people that broke color barriers in sports or movies, but our culture as a whole. We have a whole month to celebrate. I give my thanks to everyone that's come before us and paved the way for us.
Jason West (Jersey)
Would you wear Lamar and Khloe's unisex perfume???
Stevie Bell
(2:41 PM)
I would wear his jersey and I would give my girl his wife's perfume. Does that work?
Stevie Bell
(2:42 PM)
Stay tuned, we have a new video coming out in Sept. Check out StevieBell.com. We're always updating the blog. I hope you have a great year. Thanks!