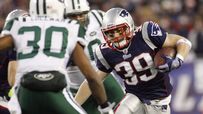 Woodhead faces Aaron Rodgers in the Madden Cover Vote quarterfinals.
Welcome to SportsNation! On Tuesday, New England Patriots running back Danny Woodhead stops by to chat about the Madden NFL 12 Cover Vote bracket in which SportsNation will decide who will grace the cover of the new video game! Go to ESPN.com/MaddenVote to choose your cover athlete!
Woodhead defeated Buffalo's Steve Johnson in the first round and the Giants' Hakeem Nicks in the second round to reach the quarterfinals, where he'll face off with Green Bay's Aaron Rodgers.
Woodhead has gone from Division II star to undrafted in the NFL to being waived several times before catching on with the Patriots last season. He led the Patriots in yards per rush (5.6) and was second in rushing yards (547) and TDs (5).
Send your questions now and join Woodhead Tuesday at 1 p.m. ET!
For exclusive Madden Cover Vote content, follow SportsNation on Facebook!
Buzzmaster
(1:03 PM)
Hang tight folks! Danny will be here any minute!
Danny Woodhead
(1:05 PM)
Hello everyone!
Maddie (Boston)
Does the number of questions you get about your size annoy you? Because I get annoyed for you. Regardless of how tall you are, you're a great football player.
Danny Woodhead
(1:06 PM)
Sometimes it can be annoying because I do get them so often. But I've been able to tune it out.
Kevin Deng (Norwood, MA)
What kind of Madden Cover pose would you want?
Danny Woodhead
(1:07 PM)
I don't know what kind of post. Maybe you guys should vote for that, too?
Josh (San Diego)
Who put the biggest hit on you this past season?
Danny Woodhead
(1:08 PM)
I really don't remember. Unless there is just one really really big hit you don't notice it. There wasn't one that really made me go "what's going on?!"
Mark (CA)
Who is scrappier: You or Welker?
Danny Woodhead
(1:09 PM)
I had this question earlier and I didn't know how to answer it then either. Wes is considered scrappy and so am I guess. You guys can decide!
Andrew Valliere (Warwick, Rhode Island)
when the jets cut you from the squad, how long did it take for the Patriots or other clubs to contact you?
Danny Woodhead
(1:09 PM)
I can't remember exactly but it was about 2-3 days. Anytime you aren't on a team you are sweating it out.
Allisa (Enfield, CT)
What are some similarities and differences between the way Bill Belichick and Rex Ryan prepare their respective teams for their next game?
Danny Woodhead
(1:10 PM)
No real big differences. In the NFL everyone is preparing and honestly there isn't much difference. They do most of the real preparation on their own.
Noah Reddington (New Hampshire)
Whats it like being around Tom Brady's hair?
Danny Woodhead
(1:11 PM)
It's pretty good. A pretty good time for sure.
Ben (Grafton, MA)
Hey Danny, do you think you'd like to be with New England for the long haul? We love you here
Danny Woodhead
(1:11 PM)
I love being a Patriot. Who knows, I'd like to be with the Patriots as long as they allow me.
Dave (San Francisco)
Hi Danny, I was wondering what was your single favorite play or moment, that involved you, from last year?
Danny Woodhead
(1:12 PM)
I don't think I had a favorite play or moment in particular. Just being on the team and being a part of it was an awesome experience.
Andy (New Orleans)
Hey Danny, I was just wondering if you are working out with anybody else from the Patriots. Also the Modell's video is awesome.
Danny Woodhead
(1:13 PM)
I keep in close contact with all the guys. We all talk about working out. I ask them what they are doing but we are all in different places right now.
EduardoSpark (Mexico City)
What do you think about the curse? I mean you're a great player but do you believe in it? DO you think being on the cover would affect you?
Danny Woodhead
(1:14 PM)
I really don't think much about it at all. I know people say there is a curse but that is something that has just happened once in a while.
Tom (NH)
When you were a kid, who was your favorite athlete?
Danny Woodhead
(1:15 PM)
My favorite football player was Barry Sanders but Jordan was probably my favorite athlete overall. I grew up in the midwest so Jordan was right there it seemed.
Mark (Canada)
Huge Fan Danny, GO Pats. When did you know you could play at a high level and be an impact player in the NFL?
Danny Woodhead
(1:16 PM)
I felt it the first day I was in OTAs with the Jets.
zach (NY)
Danny, did you eat all of your vegetables growing up?
Danny Woodhead
(1:16 PM)
I ate some vegetables but not all, like most kids. Not sure what you grew up like, but I know I always found my way to the candy.
TeaMoe (San Diego, CA)
You're in the running for the madden cover, have you voted for yourself yet?
Danny Woodhead
(1:18 PM)
I have not voted for myself. I can't do that. I appreciate your votes though.
Andrew (Georgia)
Who do you root for in the MLB?
Danny Woodhead
(1:19 PM)
I don't watch a lot of baseball.
Danny Woodhead
(1:19 PM)
I follow the College World Series, though. That's about the extent of my baseball watching.
Tommy (Rochester, New Hampshire)
You have a chance to be on the Madden 12 cover, how often do you get a chance to sit down and play some Madden?
Danny Woodhead
(1:20 PM)
During the season I don't play much at all. We're just really busy. But in the offseason I play a decent amount.
Eric (Derby Connecticut)
Did you watch the Championship game last night?
Danny Woodhead
(1:21 PM)
I caught just the tail end of it. I only watched the last couple minutes so not really sure how it went. I know UConn won. Folks are going pretty crazy here in Connecticut.
JP (Chadron, Nebraska)
Danny, have you filmed any ESPN commercials yet?
Danny Woodhead
(1:22 PM)
I have not been in one yet. They need to let me know soon. I want to be in one!
Alden (Atlanta)
What goals do you have for this upcoming year, wanna one up CJ and go for 2750 total yars?
Danny Woodhead
(1:23 PM)
I don't really set individual goals. Obviously I just want to help the team. I don't worry about my individual numbers.
John (Miami, FL)
Danny, do you have a strict diet during the season? Or do you eat whatever you want. How about off season
Danny Woodhead
(1:24 PM)
It's not like I don't eat red meat or anything like that. It's not STRICT but I don't eat just anything.
Jeff (Enfield NH)
What is ir REALLY! like playing for coach Belichick no fluffy stuff..
Danny Woodhead
(1:24 PM)
It's great. I get to play for one of the greatest coaches in the NFL. That's it.
Michael Saver (Boston, MA)
If there's no football next season will you get a job at Modell's?
Danny Woodhead
(1:25 PM)
I don't know if sales is what I would go into. But at least I do have some experience.
George (Boston, MA)
Danny can you speak a bit about the Pats mindset going into the playoffs last year? Obviously some credit goes to the Jets, but where do you think the Pats went wrong? I honestly felt watching you guys that you could only be beat when several pistons weren't firing.
Danny Woodhead
(1:27 PM)
I'm not sure how to answer that. It's just the NFL. A team that isn't expected to win can win and the team that isn't can. I think we were predicted to win but you just never know.
Mark (Canada)
Whats your mindset of the NFL lockout?
Danny Woodhead
(1:28 PM)
What I'm thinking about is trying to stay professional and keep my body in shape so whenever the call does come, I'll be ready. I just want to keep working out and make sure I'm ready.
Scott (Northglenn, CO)
Do the guys on the team have a nickname for you?
Danny Woodhead
(1:29 PM)
Woody mostly. Sometimes just wood. I've been called Woody my whole life .. it was my Dad's nickname .. so I'm cool with it.
Danny Woodhead
(1:29 PM)
Thanks for the questions! Make sure to cast your vote for me on the Madden Cover Vote! ESPN.com/maddenvote!