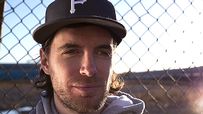 Girl Talk's latest, "All Day," was released last November.
Welcome to SportsNation! On Thursday, May 5, music mashup master Girl Talk, AKA Gregg Gillis, will stop by to take your questions on music and sports.
Gillis, a native of Pittsburgh, has redefined the art of music sampling to create complex ''pop collages'' that pack hundreds of song fragments into one LP. Bits of Lady Gaga, Elton John, Notorious B.I.G. and countless others are blended together by Gillis to create new soundscapes that have jumped off the computer and into over-the-top live shows at festivals including Bonnaroo, Lollapalooza and Coachella.
A rabid sports fan, Gillis is often seen sporting his Pittsburgh Pirates hat and considers hearing his music played at Heinz Field during a Steelers game one of the biggest accomplishments of his life. However, he names basketball as his favorite sport.
Send your questions now and join Girl Talk on Thursday, May 5 at 4 p.m. ET!
More: Download ''All Day'' for free | Catch Girl Talk live | Follow @therealgirltalk
Carlos Mang Ponce (santa cruz, ca)
have you ever broken a stage? I saw you live on the Uc Berkeley campus and the little portable stage we all were dancing on was bouncing to the beat...felt like it was gonna give way but didn't. Your awesome blossom extra awesome dude.
Gregg Gillis
(4:05 PM)
i've broken some stages. we try to make sure everything is cool with the support now. but back a few years ago, it was little more raw and things got broke
Blair (Denver CO)
With the release of RIP Remix Manifesto (excellent doc by the way!), have your "legal troubles" or "concerns" for that matter grown from large record labels, corporate America, or anything along those lines?
Gregg Gillis
(4:06 PM)
No problems thus far! I've actually had a handful of people from major labels and managers of major label artists reach out to me within the past year to offer me source material (acapellas, instrumentals, etc.). So it's been the opposite of a problem.
Jon (Pittsburgh)
When are you coming back to the burgh!?!
Gregg Gillis
(4:08 PM)
I'm here now! Hopefuly another show by the end of the year. I always like to make sure I have enough new material, and I like the production aspect and the venue to be distinct each time. So that's typically why it's once a year.
Brynee (Delaware)
Between your first two albums (Secret Diary and Unstoppable) and Nightripper, I'd say you grew and changed your style a lot. Why was this? What happened in between the two from that made you change from computer-dying sounds to actual mashups?
Gregg Gillis
(4:10 PM)
I think I just grew comfortable with the idea of making accessible music. For the first couple albums, I was more focused on experimental electronic music. Around 2004, I started to play some more parties and started to come up with material that actually had people dance at my shows. I think that opened my eyes to the potentials of music that didn't sound like a computer dying.
Pete (Las Vegas)
Caught your show in March at the Cosmopolitan, great time...Who you going for in the NBA playoffs?
Gregg Gillis
(4:11 PM)
I want to see it be Bulls and Thunder in the finals. I think the Bulls deserve a championship this year. Derrick Rose is stone cold.
Hanna (Scotland, UK)
Which of your upcoming shows are you looking forward to the most? (I'm stoked for Lollapalooza myself...)
Gregg Gillis
(4:12 PM)
I went to Lollapalooza when I was young. It was a life-changing experience. I met Pittsburgh legend Manny Theiner there. I had one of my favorite all-time shows at Lollapalooza 2008. So yeah, I'm pysched to go back!
Carmen (Portland, OR)
What are the major programs you use to make your amazing albums?
Gregg Gillis
(4:14 PM)
I use Audiomulch to perform live. I use Adobe Audition to cut things up. This is a recent demo of how I perform live: http://www.rollingstone.com/culture/blogs/rolling-stone-video-blog/girl-talk-takes-rolling-stone-on-a-tour-of-his-computer-20110412
Gerry (Boston)
I wanna make New Year's Eve plans. Where you gonna be?
Gregg Gillis
(4:14 PM)
No plans yet. I have an idea, maybe something closer to home, but nothing set.
Tim Williams (Central Pa)
What do you think of other artists doing the same type of mashups as you? (ala e-603, Milkman, Super Mash Bros, etc)
Gregg Gillis
(4:16 PM)
I think it's important to carve your own sound while doing this style of thing. So sometimes I hear artists that I think are using samples in unique ways, and sometimes, it seems like they are trying to replicate something that's already been done. When I first started doing computer music, I was trying to sound exactly like Kid 606, and it grew from there. So when I hear some people who are influenced by what I do, I think that's great, and I'm hoping they can take it somewhere new.
Pope (Arlington, Texas)
I use your mash-up on my iPod for work-out music. I love the intensity and diversity -- it's great entertainment and somehow motivating. I understand that you do different mash-ups at your live shows and was wondering if I might get those on my iPod someday; that is, could you easily record and post your concert mash-ups?
Gregg Gillis
(4:19 PM)
I don't ever record/release my live shows. Mainly because I typically experiment with potential future album material there. Its part of my work process. So I'm excited for people to hear the final product.
don (akron)
What first influenced you to start making mashups the way you do? You seem to be the first person that went through songs so quickly in your sets, I'm wondering why you didn't stick to just mashing 2 songs for their entirety as per traditional mashups. I didn't like it at first because I would get into the song(s) that are being mashed and they would change, but it grew on me and I learned to adapt quickly and get my ass into the next song :)
Gregg Gillis
(4:22 PM)
Early influences were Operation Re-Information, Public Enemy, Bel Biv Devoe John Oswald, Evolution Control Committee, Negativland, Beastie Boys, Kid 606. I also grew up listening to detail-oriented electronic music like Squarepusher. I always loved that sound of things being so cut-up but at the same time, cohesive. So that was a major influence into my work. I like to keep it detailed. I want to walk the line between there being so much going on that it's difficult to listen to and just party music. I feel like the traditional 2 song mash up has been done thoroughly in the past, I wanted to take it somewhere else.
Chris Harpo (England)
UK TOUR PLZ
Gregg Gillis
(4:23 PM)
OK
Chris Fiegler (Latham,NY)
What is your Favorite NBA Team?
Gregg
(4:24 PM)
I've been riding for the Cavaliers since Mark Price days.
Johnny T (San Diego, CA)
Take us through a typical day in the life of being Greg?
Gregg
(4:26 PM)
There's two different types of days. On tour and home. On tour, every day is different. At home, I typically wake up around 2 PM. I'll eat some cereal. Most days I have a handful of interviews in the afternoon. Then I'll throw on a CD and catch up on emails and general internet activity. My girlfriend will get home from work at 5 PM ish, then we'll figure out what to do for food. We'll go out to eat maybe 3 nights a week. Then, at like 7 PM ish, I'll go to my attic studio and work on music til 5 AM. Then I'll watch Sportscenter or Family Matters for 30 minutes and go to sleep.
Joey T. (Boulder CO)
Does your mom call you Girl Talk?
Gregg
(4:27 PM)
I think she has maybe once or twice. It wasn't right.
Sally (St. Louis)
Will your most recent album All Day ever be released on CD?
Gregg
(4:28 PM)
I love CD's. I buy CD's every week. I want to release it eventually.
Aliza (Towson (MD))
Come to my birthday party?
Gregg
(4:28 PM)
Tweet me an address @therealgirltalk
Emelie, Greenville, SC [via mobile]
How often are you sued? Have you had to change anything as a result?
Gregg
(4:28 PM)
Nope
NdC (Mexico)
When are you coming to Mexico?
Gregg
(4:29 PM)
I would like to make it back. I played Mexico City with NERD and some other people about a year ago.
Thaddeus (Denver)
How much longer do you see yourself making albums and touring? Is there anything in particular you would like to do other than make people dance?
Gregg
(4:31 PM)
I think I'll be making music forever. I will stop touring at some point. I am still excited by the new live material I'm developing, which relates to the last few albums. I'm going to continue to tour as long as I feel the live material is still fresh. At some point, I'd love to get off the road and start making rap beats.
Kieran (Long Island, New York)
What are your favorite sports teams and what artist in partcular do you enjoy sampling the most? I'm also Looking forward to seeing you play at Governors Island.
Gregg
(4:32 PM)
STEELERSI sample Ludacris a lot. He flow is very punctual. It works well with what I try to do.
Scot Kinney (Fort Myers Beach, Fl)
I think someone needs to put together a network show called "American DJ" or something like that. Any thoughts??
Gregg
(4:33 PM)
America's Best Laptop Crew
tim (cincinnati)
any chance 'feed the animals' and 'all day' will see a vinyl release?
Gregg
(4:33 PM)
Nothing planned right now. But I am a big fan of physical releases, so yes, ideally.
Aaron RAmirez (Tyler, TX)
Hi Gregg, I noticed that at the beginning of one of your shows a couple years ago you said that, "we are the same dude." What kind of philosophy/religions are you into?
Gregg
(4:35 PM)
I don't follow any religion. I've never studied philosophy so I don't how to specifically label myself there. To be extremely vague, I keep it pretty positive.
Jason (Orlando)
Are you enjoying the notoriety or is it starting to get annoying?
Gregg
(4:38 PM)
I think it comes with the turf. If you're going to put yourself out there, then you have to be willing to handle the attention. The main annoying thing is reading negative criticism by people who haven't taken the time to look into what I'm doing. It's all good if you don't like what I'm doing, but oftentimes, I read or hear things that are just straight up inaccurate. It happens to anyone with any level of success in music or art. It's frustrating, but again, it comes with the turf.
John (DC)
I know you gave up your lucrative engineering career to do this. Since your stuff is free on the internet, do you make enough from your tours to sip cris or do you live at home?
Gregg
(4:39 PM)
I'm living better now, coogie sweater now.
Chris (Madison, WI)
What jobs did you have before your awesome mashup artistry took over your life and became your career?
Gregg
(4:42 PM)
I worked at Shop N Save, Phar-Mor, K-Mart, Giant Eagle, and I had a biomedical engineering job for 3 years.
john (cinci)
I want to send you my music, how do I do that?
Gregg
(4:42 PM)
Post it online and post the link to me @therealgirltalk
jeff (cleveland)
loved the huge electronic screen on stage
Gregg
(4:43 PM)
I've been trying to up my live production game recently!
Jesse (charlotte)
Caught your Moog Fest show and loved that you had a special Halloween mash up for the show, any thoughts of using Tubular Bells in a song?
Gregg
(4:45 PM)
http://www.youtube.com/watch?v=f7JkH54j_O8&feature=player_embedded
Luke Triceratops (St. Louis MO)
what is an easy way to do mash ups? my friend and i are dj wanna-be's and can remix, but we wanna do mash ups
Gregg
(4:46 PM)
I'm not really sure what the easiest way is to make a mashup. My method is kind of convoluted to be honest. Most people use Ableton or Fruity Loops or something? I don't know. I use Adobe Audition and Audiomulch.
Jonny (Knox)
Does your work ever interfere with relationships or homelife?
Gregg
(4:48 PM)
Definitely. This is beyond full-time. I'll be on the road over half of the year. I've been touring non-stop for about 4 years now. So it's difficult to have normalcy.
Bryson (St. Pete, FL)
Being a Pittsburgh sports fan, are still hanging with the Pirates? A lot of pain there...and got my tix for the Jannus show here in St. Pete...can't wait!
Gregg
(4:49 PM)
Yeah man, it's been a major drought. This month will give us a real look into whether a .500 season would be feasible. They've played well against decent teams. They're young. The pitching isn't as horrible as it was supposed be. This could our year! .500!
Tom (Windsor Ontario Canada)
I loved that you used "Tom Sawyer" during your last live show. Do you plan using more Rush songs in the future?
Gregg
(4:50 PM)
Rush rules. I've cut up a handful of their songs that I've never used live or on record. So yes, I would like to use more. They have many excellent instrumental segments to use. Sometimes the non-traditional time signatures make it difficult though.
Ryan (Upper Michigan)
Will you come to Michigan Tech University's Winter Carnival next February? It would be a blast!
Gregg
(4:50 PM)
O K !
Greg (With one "G")
You are so money and I hope that you know it.
Gregg
(4:50 PM)
Thank you. You are money for saying so.
Daniel (Baltimore)
Can you watch my youtube video I did covering tracks off All Day? http://www.youtube.com/watch?v=sXUDV7H73M8&lc=zmi8L8bUpcvLygBBZfOsdycVDXZSDHfSLNDYU43PC1c
Gregg
(4:50 PM)
Yes!
Lou (North Hollywood, CA)
Have you ever actually played the Girl Talk board game?
Gregg
(4:50 PM)
Yes! Fake zits all day
Ryan (Upper Michigan)
What's your favorite movie?
Gregg
(4:51 PM)
Terminator 2
Lisa (Rancho Penasquitos)
You appear to lose your own body weight in fluids each night (i.e. Saran Wrap). Conditioning/nutrition must be critical (...well except for Sugar Corn Pops)!
Gregg
(4:52 PM)
Yeah, it's become pretty physically demanding. My body hurts every morning. I just need to stretch well and drink some Bud Light, then I'm all good.
Mo (Chicago)
Do you ever feel like your hi-jacking a bunch of great songs, putting them together and then only ending up with a good song? In other words, do you feel pressure to live up to what each song you use originally was?
Gregg
(4:54 PM)
I think that with any band, you're going to be influenced by your favorite musicians. You're never going to make music you like more than theirs. But you just do your best to make something you think is worthwhile. So I'm not trying to improve or make anything better than what I sample, I just want to use it as source material to make something new.
Mike Fischer (Cincinnati)
dorito's or cheeto's? was the super bowl cool?
Gregg
(4:55 PM)
hahaa! fisher! I love Dorito's and Cheeto's, but if I have to pick, I will go with Dorito's nacho cheese flavor. The super bowl was amazing, except for that part with the hugely depressing loss. it was magical other than that part
Matt (Indianapolis, IN)
Can we expect any new music from you any time soon?
Gregg
(4:55 PM)
I work on new material every day. A lot of it is featured in my live shows. I don't know when I'll start working on a new album.
John (VA)
Do you have a favorite venue/city to play in?
Gregg
(4:56 PM)
Hometown shows in Pittsburgh are the best. Outside of that, Chicago has always been great for me. The Fox Theater in Oakland is one of the best venues I've been to. Norva in VA is amazing.
Andy (Oxford, UK)
What's the most interesting experience you had while meeting a fan?
Gregg
(4:57 PM)
A young girl crying at Austin City Limits was pretty weird
Claire (Austin, TX)
Can't wait to see you at Whitewater in June. Can we come on stage?
Troy (Milwaukee)
What are the chances you'll name your next album 'Gettin Weird' for me?
Gregg
(4:57 PM)
The next one is called Candyman
Bethany (Sewickley)
When can we expect a new album?! And when are you playing in Pittsburgh again? Ive seen you twice..once at Elon in NC and in Pittsburgh and the Pittsburgh show was by far the best concert I've ever been to!
Gregg
(4:58 PM)
Pittsburgh maybe by the end of the year? If not then, then first half of 2012!
Thaddeus (Denver)
What are the best and worst things about being Girl Talk?
Gregg
(4:59 PM)
The best thing is the free beer. The worst thing is the calf pain.
Kyle (Maryland)
What's your favorite movie?
Itsyaboy (KC,MO)
Who in the Kanrocksas fest are you most looking forward to meeting? Its a random/awesome lineup.Lets kick it when youre here for the show!
Gregg
(5:01 PM)
I need to hang out with D12
Craig Elooo!! (Cleveland, OH)
I thought I read somewhere that you went to Case Western, would you consider playing a gig for your alma mater?
Gregg
(5:01 PM)
I went there and played there in the spring of 2008!
david (rochester, ny)
Thoughts on Odd future (ofwgkta) and their DIY approach to the music industry? They have so much swag and I would love to hear them in a future mix of yours.
Gregg
(5:05 PM)
I'm a fan. They do it all, videos, art, music, etc. I haven't seen so much hype on a crew in a long time. I'm excited to see where it goes. I see many parallels with what they're doing and some of the angry screw-the-world music of the early 90's, with both grunge and ganster rap. These things always move in cycles. I think we're due for another grunge-style era in pop.
Scot (Fort Myers Beach, Fl)
Your girl friend is coming home soon. Do you have the house clean for her? Haha
Gregg
(5:05 PM)
A mess, but we did just get a bunch of free cases of Fuze. So those are all over the living room.
Gregg
(5:06 PM)
OK I'M OUT. GOOD NIGHT! LIVE LONG ENJOY YOUR DAY. GOOD MORNING! CANDYMAN CANDYMAN CANDYMAN