Chat with Jordan Jefferson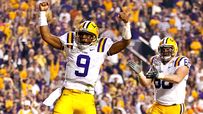 Jefferson could become the first LSU QB to start four bowl games.
Welcome to SportsNation! On Thursday, we'll have LSU quarterback Jordan Jefferson stopping by to chat about the 2011 season and the EA Sports NCAA Football Traditions vote.
The Traditions vote includes our bracket of 16 of the best college football traditions, where SportsNation's vote determines which one advances. Each Tuesday, we'll open a new round of voting. The winning school will receive hundreds of copies of EA's "NCAA Football '12" on the day of the game's release (July 12), couresty of SportsNation and EA Sports!
Jefferson enters the 2011 poised to start for the third straight season, during which time he has compiled a 19-6 record. In 2010, Jefferson threw for over 1,400 yards and ran for another 450 yards, while leading the Tigers to an 11-2 record and a No. 8 national ranking.
Send your questions now and join Jefferson Thursday at 1 p.m. ET!
More Special Guests: Previous chats | SportsNation
Buzzmaster
(12:53 PM)
Hey everyone. I just saw Jordan. He came into the room here before going off to go tape a segment for the Scott Van Pelt Show. He'll be here at the top of the hour to chat!
Buzzmaster
(1:02 PM)
Jordan is here!
Christian (Houston Tx)
How do you maintain your confidence after winning the Cotton Bowl and having a great Spring practice into the fall?
Jordan Jefferson
(1:03 PM)
I maintained it by giving 110% in practice daily. Being very enthused with the summer workouts. My approach going into the season has to be full of confidence.
Kevin (Dallas)
How do you think the traditions of LSU football (like Mike the Tiger) stack up against other SEC schools?
Jordan Jefferson
(1:04 PM)
Mike the Tiger is probably treated better than some humans in this world. So, Mike the Tiger is a very traditional mascot that we love and I feel I would not want to be anything else besides a Tiger.
Eric (Miami)
Is the strength of this years schedule a distraction or motivation?
Jordan Jefferson
(1:05 PM)
It's more of a motivation. You come to a SEC school for a reason. The main reason is being competitive. The SEC schools are such a threat to the BCS standings, it's always competition every game.
Renee (South Carolina)
How do you handle the extreme pressure of playing for LSU fans? They expect near-perfect performance and of course, whatever it takes for you to get them a WIN.
Jordan Jefferson
(1:06 PM)
I've been playing sports for 13 years. You learn to handle the pressure at a young age. I've been a guy that a team has relied on to score the last point or the last touchdown. So, I've built that platform of handling pressure at a young age. I don't really notice it when I'm in the game.
Don (Albuquerque, NM)
What was it like playing at JerryWorld, and how do you compare that to Tiger Stadium?
Jordan Jefferson
(1:07 PM)
JerryWorld is something that's very unique from a lot of stadiums. I definitely had a lot of great experiences playing there. I look forward to being there again when we play Oregon. But Tiger Stadium is by far one of the best to play in. Having 93,000 fans rooting you on and defending the home field. It's a great experience.
Andrew Lefaive (Houston, Tx)
Which parts of your game do you expect to have improved on since last season?
Jordan Jefferson
(1:08 PM)
The main thing is consistency. I plan on having great games every game. I think my teammates will help me out by being consistent as well. My team needs me the most and they have a lot of confidence in me to have good games.
Nick (MN)
Is there any concern about LSU's defense since Patrick Peterson is no longer there?
Jordan Jefferson
(1:09 PM)
Patrick Peterson was a great player for us, one of the best CBs to ever come to LSU. We will miss Patrick, but we also have a lot of players that will step in and play a similar role as Patrick played.
Jaden (Draper, UT)
Big battle with Oregon week 1, best of luck, Jordan. Who do you guys view as the bigger threat, D. Thomas or L. James? I personally cant wait to watch the battle between you two QB's. Thanks!
Jordan Jefferson
(1:09 PM)
I think both of them are threats, but the most threat will probably be James because of his athleticism and his dominance with the ball in his hands. But Thomas is also a main threat that our defense will focus on.
Matthew (Los Angeles, CA)
What was it like playing against Alabama in '09 and Auburn in '10?
Jordan Jefferson
(1:10 PM)
Those two games are, out of the year, the most physical games you're going to play in, but it's also exciting as well. You don't usually play great teams like that every year. Sometimes you'll play teams like that every once in a while. Just being able to have the chance to play those teams each year is a great feeling.
chanse (biloxi, ms)
What's ur expectations for us this year sir? Realistically? Differances from this yrs offense than last year? Differances in your poise and leadership? Geaux tigers!!!
Jordan Jefferson
(1:12 PM)
Our expectations are always set high, we strive to win a national championship. With the talent we have on this team, we have the opportunity to be in the national championship game at the end of the year. We are very motivated and very enthused about going into the season.
David (DC)
What is your favorite Tiger tradition?
Jordan Jefferson
(1:13 PM)
My favorite Tiger tradition is singing the alma mater after a victory. Winning a game as an LSU football player is one of the greatest things, because you have so many fans cheering you. It's such a great thing singing that song after a tough physical game.
Richard (Dallas, TX)
Jordan, what has been your greatest memory at LSU so far?
Jordan Jefferson
(1:14 PM)
My greatest LSU memory is beating Alabama last year, Florida. I can remember at times stepping on to the field my freshman year and being nervous. I can remember just playing my game on the field.
Nathan (LSU)
Hey Jordan, who do you feel is the biggest road block for you to win the SEC and a National Championship?
Jordan Jefferson
(1:14 PM)
Every team on our schedule is a road block. Our schedule is so tough. We have some tough road games that can prevent us from being in the national championship game. Our approach to every game needs to be very critical.
John (DeRidder,La.)
What portion of your game has improved the most this offseason? Have you spent quality time with your receivers other than the normal spring workouts? What influence has Steve Kraigthorpe had on your game?
Jordan Jefferson
(1:15 PM)
Kraigthorpe will definitely have a major impact on the offense. His approach to our offense will be very aggressive. I feel like we'll have a different look from last year. I've been watching a lot more film, building chemistry with our offensive players and defensive players from last year.
Brad (Kentwood, La)
What single factor makes you the most excited about this year for LSU?
Jordan Jefferson
(1:16 PM)
What gets me excited is all of the big games we have on our schedule. The tough road games we have is very exciting. Being a part of LSU football team that has so much potential of being a great football team.
Eric (South Bend)
Which SEC stadium do you find hardest to play in?
Jordan Jefferson
(1:17 PM)
I think the Swamp is the hardest. The Florida fans are very aggressive. The Gator Clap is so loud, because everyone is doing it.
Stephen (Houston, TX)
Jordan, Does it affect you and your team mates when people question Coach Miles's decisions?
Jordan Jefferson
(1:18 PM)
It definitely effects and somewhat hurts when other people ask outside questions, because we understand his thought process and may be the only ones to understand. We have faith in our coach and we trust and respect his decisions.
Jordan Jefferson
(1:19 PM)
Be expecting a great season from this year's LSU football team. The players are really working hard to become better than great. We will do what we can to meet the LSU fans high expectations that are set for this year.