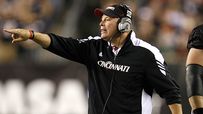 Jones owns a 31-21 record as a head coach.
Welcome to SportsNation! On Friday, we'll have Cincinnati's head football coach Butch Jones stopping by to chat about the upcoming season.
Jones enters his second season at Cincinnati, following three years leading Central Michigan. While Cincinnati finished 4-8 last season, the Bearcats led the Big East in scoring offense (27.1 ppg), total offense (417.3 ypg), passing offense (260.7 ypg) and touchdown passes (27).
Send your questions now and join Jones Friday at 4 p.m. ET!
More Special Guests: Previous chats | SportsNation
Buzzmaster
(3:57 PM)
Cincinnati head football coach Butch Jones will be here at the top of the hour to take your questions!
Buzzmaster
(4:01 PM)
Coach is here!
Buzzmaster
(4:01 PM)
Coach is here!
D Lewis (Tampa Fla.)
With all the hype on W. Va and Pitt this season as predicted confrence champs, are you comfortable flying under the radar as a non contender this season?
Butch Jones
(4:03 PM)
The great thing about being in the Big East Conference is every year every team has the capabilities of becoming conference champions. Usually the teams that are champs at the end of the year are teams that can persevere, stay relatively injury free and have good team chemistry. They're able to play with some consistency, and obviously that lends itself to playing winning football.
Alex (Cincy)
With virtually the same defense as last year. What have you worked on most with them?
Butch Jones
(4:04 PM)
The biggest thing is being able to handle adversity and overcome challenges. That's a byproduct of your mental conditioning. We must become a better tackling team. One of the biggest emphasis we've put in training camp is third down and getting off the field.
joey petric (mcmicken computer lab)
Butch... will concerting from the quarter academic system to semesters at UC help boost early season attendance since students will be on campus before the season starts instead of 2 weeks after on the quarter system
Butch Jones
(4:06 PM)
Yes, I think feel that going to a semester system will lend itself to increased fan attendance, especially in the student body. The ability to have our students on campus before the season starts will be very beneficial. We're looking forward to that. I would like to ask for your help to get as many of your fellow students back for our game at the Nip.
Eric (Clifton)
Your program is the only to return a starting QB, RB, WR, and coaching staff - Do you think this stability in Clifton gives Cincy an advantage over teams like WVU, Pitt, and UConn who are going through what you did last year?
Butch Jones
(4:07 PM)
Change is very difficult and we do have great stability here, with all of the factors you just indicated. You win with consistency, continuity and familiarity. We do have some talented players coming back, but the biggest impact you have on your team is the role players. Everyone knows about your "star" players but your role players are the ones that have the biggest impact on your season.
joey petric (mcmicken computer lab)
Has the new facilities helped the team practice or improve recruiting
Butch Jones
(4:09 PM)
It has helped immensely. First, from a recruiting aspect, you can walk a prospective student-athlete and sell them on year round development. We take great pride in developing them to their fullest potential. The other big advantage is that we're able to practice our skill set in the winter months in inclement weather. We've already noticed a big improvement in our players skilled development because we can work out on a day to day basis.
Micah (Cincinnati)
Coaches know that a lot of games are won in the trenches. Cincinnati struggled with it's line play, both offense and defense, last season. Should we expect great improvement in that area?
Butch Jones
(4:10 PM)
We worked extremely hard in developing in those two areas. The development in those two areas are much different than other positions because of the physicality, the size and the mental part of those positions, not just the game by game basis, but through an entire season. We feel we've made great strides on both sides of the ball, however, we feel we need to recruit and create depth on both interior lines. You're right, you win games up front.
Luke (UC Class of '01) (South Carolina)
Coach - many recruits list the "family atmosphere" and "warm feeling" they get with your staff. What's your secret and how much does the new practice facility also factor in? Keep up the good work.
Butch Jones
(4:11 PM)
We're in a people oriented business. Recruiting is based on relationships. We're very fortunate here to have a coaching staff that genuinely cares about the student athlete, not just from a football perspective, but off the field as well.
Butch Jones
(4:12 PM)
The facilities and the ability to work on our teams in the winter months are critical. Especially with young players, each and every day are critical in the development process and now we have a facility that lends itself to that.
Matt (North Cincy) [via mobile]
Describe this year's team in one word.
Butch Jones
(4:14 PM)
Good question....This year's team has improved greatly in a number of areas. We're much more mature as a football team. One of our points of emphasis has been in the mental conditioning area, in terms of becoming a more physical and mentally tough football team. Our mental focus and energy have improved greatly. Our attention to detail and holding ourselves accountable to the standard to which we want to play has also improved. Our players are extremely focused. We have to strive to finish plays, persevere and staying focused on what we need to do to play winning football.
Brent Wyrick (Dallas)
what is your thinking re: Pead returning kicks?
Butch Jones
(4:16 PM)
Everything in the kicking is centered on field position. The punt return can be a game changing play. The last two years at Central Michigan, we finished No. 1 and 2 in the country in punt return average. In 2010, UC was in the top three in the country as well with Mardy Gilyard. Isaiah has worked really hard to improve his return skills. Starting the season, DJ will handle our return duties, however, there may be times when Isaiah is back there returning kicks. He can be a game changer at times back there from the punt return position.
Chewy (Huntington WV)
What defensive position has the most depth and could surprise the rest of the country mainly the Big east in 2011?
Butch Jones
(4:17 PM)
Most depth on defense right now would be our defensive line. We have some older players that have played a lot of football for us in terms of Derek, John, Giordano. We're continuing to improve on that depth with Cameron and Jordan. We're also very encouraged by the progress that Walter has made in being a full time DE as well as Brandon.
Josh (Clifton)
Coach, could you give us an idea of how things are shaping up at the receiver position? who is in the mix? and has Shaq Washingtons ankle healed up alright
Butch Jones
(4:20 PM)
DJ Woods had one of the best training camps of any player in our program. He's worked extremely hard in the offseason and added the weight he needed to help his durability. After this, we become inexperienced. However, Anthony will benefit from the playing time he received last year. Kenbrell continues to progress and we expect big things out of him. OJ will have more of a role on offense than he's had in the past. We will also play 2 or 3 true freshmen at that position as well.
joey petric (mcmicken computer lab)
Any plans to retire mardy gilyards number
Butch Jones
(4:22 PM)
Mardy made many many contributions to the football program at UC. He created a standard of play at the WR position. As we all know, he had the ability to change the game in a hurry, whether it was a screen pass, a deep ball, a kick return or a punt return. There is much criteria that goes into the retirement of a number and that usually occurs a number of years down the road and is up to a committee and an administration.
Butch Jones
(4:23 PM)
I appreciate everyone's support and loyalty toward UC football. We are all anxiously looking forward to next Saturday night against Austin Peay.