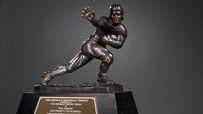 Welcome to SportsNation! On Tuesday, ESPN Stats & Information's Ryan McCrystal stops by to take questions on his Heisman Predictor.
Currently, the predictor has Trent Richardson from Alabama in first place, followed by Andrew Luck, Stanford; Robert Griffin, Baylor; and Case Keenum, Houston. McCrystal's system has correctly picked eight of the last nine Heisman winners.
Send your questions now and join McCrystal Tuesday at 1 p.m. ET!
More Heisman: Heisman Predictor | Heisman Watch
Ryan McCrystal
(1:00 PM)
Hey everyone, thanks for stopping by. We've got a wild Heisman race on our hands, so let's dive right into the questions...
Jacob Zander (Reno)
Whose candidacy depends the most on their performances the next upcoming games?
Ryan McCrystal
(1:04 PM)
Definitely Robert Griffin because his candidacy is tied to his stats. He needs to keep up his pace over his final two games and put some distance between himself and Luck in the statistical categories (mainly total touchdowns)
Ryan McCrystal
(1:05 PM)
Luck and Richardson don't need to do much other than win this weekend, and then hope for some help. Neither Bama nor Stanford controls their own destiny in their conference race, so neither is guaranteed another game after this weekend.
Andrew (Houston)
Do you think Heisman voters look to the next level or truly at whom has performed the best during their season?
Ryan McCrystal
(1:08 PM)
Typically I think they focus solely on what happens on the field. We've seen plenty of Heisman winners in recent years with very little chance of NFL success (Jason White for example). But I do think it's a factor with Luck this season. It may not consciously factor into their vote, but it has been a factor in terms of how much attention he's received in the media - which indirectly impacts the voting.
Aaron (Oakland)
Why does Case Keenum get no respect? If he played in the SEC or Big 12, he'd be in first.
Ryan McCrystal
(1:10 PM)
If he posted these numbers in the SEC or Big 12, you're absolutely right. But no one believes he would... He's a great college quarterback, and I'm certain he would be successful in the SEC. But it's tough to imagine him replicating these numbers against an SEC schedule, or even a Big East or ACC schedule for that matter.
Ryan McCrystal
(1:10 PM)
Keenum will factor into the Heisman race though. He's a very safe bet to finish in the top 10, and probably the top 5.
John (Austin)
Ryan, what's the single biggest factor that will affect the race from this point of the season on? Realistically, can RG3 make up the ground needed?
Ryan McCrystal
(1:14 PM)
The race is so close it's almost impossible to narrow it down to one factor... Griffin is absolutely in the mix, however. If Bama and Stanford are left out of their conference title game, that gives him a significant advantage. His stats are hard to argue with, and the fact that he's doing it for a traditional college football doormat counts for a little something extra.
Jim (KA)
Who was the Heisman winner you didn't get right?
Ryan McCrystal
(1:16 PM)
In 2009 Mark Ingram won in a very close vote. Our formula had Colt McCoy as the winner. That year was somewhat similar to this season in that we had multiple candidates with a strong case but no one really stood out as an obvious choice.
John (Austin)
If Luck doesn't win will people say "_____" won the Heisman or will people remember Luck lost the Heisman? It was his to win all year, right?
Ryan McCrystal
(1:18 PM)
That's a great question. I think most people will still remember the winner. The fact that Luck is here with a chance to win, after all the expectations that have been heaped upon him, is impressive enough. The Heisman winner is very rarely the person tabbed as the clear-cut favorite before the season.
David (TITLETOWN extends to Madison)
Shouldn't Montee Ball or Russell Wilson getting more consideration. Given the fact that Ball has 30 TDs and Wilson is leading the nation in pass efficiency?
Ryan McCrystal
(1:22 PM)
That's a fair question. If not for two hail marys (vs MSU and OSU) I think its safe to say both would be in contention. However, team success means a lot to Heisman voters. Richardson and Luck lost to LSU and Oregon, respectively. Ball and Wilson lost to a 6-5 Ohio State team. That hurts a lot.
Paul (San Francisco)
Thanks for the chat. To what extent, if any, does the quality of the supporting cast factor in when considering a candidate?
Ryan McCrystal
(1:25 PM)
Typically it plays a minor role, but I do think it factors in this season. I believe both Luck and Griffin benefit from the perception that they're winning without much of a support cast - even if it isn't entirely true. We just don't see Heisman candidates from Stanford and Baylor very often, so there's a certain novelty to it. This probably isn't a variable that any voter will use as a deciding factor, but it's something they'll consider in such a close race like this.
Scott (ATL)
It seems like the voters aren't very fond of Collin Klein, why is that?
Ryan McCrystal
(1:29 PM)
Players like Klein have a very steep hill to climb, even when they have a legitimate case as I believe he does. With nearly 1,000 Heisman voters there's a wide range of college football knowledge among them. As a result, the edge always goes to the players who enter the season as household names. And even when a player does come from no where, he typically plays for a traditional power or a national title contenders (such as Ingram in '09 or Newton last year).
Scott (ATL)
Realistically, is it possible for a player from a team with 2 or 3 losses to win?
Ryan McCrystal
(1:30 PM)
It hasn't happened often in recent years, but it definitely could this season. Griffin has the stats and the 'Heisman moment' against Oklahoma to make it happen.
Scott (ATL)
How many people do you think The Heisman will invite to NYC this year?
Ryan McCrystal
(1:33 PM)
As I explained in this weeks Heisman Predictor article, I think we have three clear front runners (Luck, Griffin, Richardson). And since there are only three spots on the ballot it will be difficult for anyone else to earn an invitation. For someone else to enter the mix, maybe Case Keenum or Matt Barkley, Griffin probably has to falter down the stretch.
Ryan McCrystal
(1:34 PM)
This year's voting has the potential to look a lot like it did in 2008 when Bradford, McCoy and Tebow appeared on nearly every ballot and were the only three finalists.
Chris (Los Angeles)
Where is the love for Matt Barkley? He did what no one else, including Andrew Luck, has been able to do in Eugene for years (not to mention an outstanding regular season)
Ryan McCrystal
(1:38 PM)
Barkley's a tough candidate to figure out. Normally he'd be in the mix, but USC has been out of the spotlight this year due to the fact that they're not eligible for postseason play. I think this hurts him two ways... First, some voters may intentionally penalize him for the fact that USC is ineligible. Second, he can't play in the Pac-12 title game would which have been his chance to make a run... I wouldn't rule him out as a possible finalist, however.
Scott (Georgia)
Looking forward to next season, who is your preseason top 5 canidates?
Ryan McCrystal
(1:40 PM)
Tough to say right now, but anyone who finishes among the top 10 in the Heisman voting and returns for the following season is always a front runner. They get a 10 point bonus in the Predictor formula to account for the fact that they enter the year as a 'household name' and receive more attention early in the season. A few possible candidates: Barkley, Collin Klein and David Wilson from Virginia Tech.
Bryan (Springdale, AR)
A good, rationale explanation for why Tyler Wilson is not on the Heisman ballot and I will leave you alone!
Ryan McCrystal
(1:41 PM)
I can't give you a good reason as to why he doesn't deserve to be in consideration, but I can explain why isn't...
Ryan McCrystal
(1:43 PM)
Arkansas' biggest game of the year came all the way back in September (a loss vs Bama) before the Razorbacks were considered title contenders. As a result, no one really started paying attention to Wilson as a possible candidate until the past week or two. If he leads ARK to an upset of LSU he has a chance to finish in the top 10, but it's too little too late to win.
Scott (Georgia)
Every Heisman winner has their "moment" that stands out throughout the season, have any of the canidates really had that moment yet?
Ryan McCrystal
(1:44 PM)
Griffin absolutely had one against Oklahoma, but other than him? No.
Ryan McCrystal
(1:46 PM)
The Predictor accounts for these 'moments' by awarding points for performances against top-10 teams. The Heisman winner almost always has 5-10 points in this category. This year, however, Richardson has 0, Luck has -2, and Griffin has 8. Without those points, Griffin isn't even in the conversation.
Tommy (the big easy)
Heres an idea for the heisman how bout give it to the best player this year not whose the bigger name or what team has the best record just the best player?
Ryan McCrystal
(1:48 PM)
I agree this is a problem sometimes, but I have to say the Heisman voters are probably going to get it right this year. You can make a very strong case that Luck, Richardson or Griffin is truly the "most outstanding" player in college football.
Joe (Atlanta)
Will Aaron Murray be in contention next year?
Ryan McCrystal
(1:49 PM)
Murray's 2012 Heisman campaign starts in two weeks in the SEC Championship game...
John (Dallas)
So if Griffin wins the Heisman should he be thanking Stoops for the timeout call?
Ryan McCrystal
(1:52 PM)
Who knows what would've happened if not for the timeout... but if you believe that won the game for Baylor, then absolutely. Without that win over Oklahoma, Griffin is not a viable contender.
Matt (Madison, WI)
Can you explain how Richardson is "more outstanding" than Ball this year? More carries, less yards, less touchdowns, fewer receptions, and fewer receiving yards!
Ryan McCrystal
(1:55 PM)
Ball has a strong case, I absolutely agree. But you also have to factor in level of competition, performance in meaningful games, etc. I won't say that Richardson is definitively better than Ball, or the other way around. But I do know the voters care about team success, and Richardson has Ball beat easily in that category.
Ryan McCrystal
(1:55 PM)
If you think that's an unfair tiebreaker, well, a lot of people would probably agree with you. But history tells is it's the tiebreaker used most often by the voters.
Scott (Georgia)
I know this is far in advance, but would you say Collin Klein and Sammy Watkins should be leading the pack for next year's Heisman race?
Ryan McCrystal
(1:58 PM)
Klein will definitely enter the season as a contender. As for Watkins, that's a tough call. He's an elite player, but receivers have a very steep hill to climb to become a legitimate contender. And playing in the ACC - a conference typically ignored by Heisman voters - doesn't help.
Ryan McCrystal
(1:59 PM)
Well that's all we have time for today. Thanks for all the questions. Have a happy Thanksgiving and enjoy another great weekend of college football!