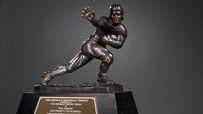 Welcome to SportsNation! On Friday, ESPN Stats & Information's Ryan McCrystal stops by to take questions on his Heisman Predictor.
Currently, the predictor has Trent Richardson from Alabama in first place, followed by Robert Griffin, Baylor; Andrew Luck, Stanford; and Case Keenum, Houston. McCrystal's system has correctly picked eight of the last nine Heisman winners.
Send your questions now and join McCrystal Friday at 1 p.m. ET!
More Heisman: Heisman Predictor | Heisman Watch
Ryan McCrystal
(1:02 PM)
Hey everyone, thanks for stopping by. With one week to go the Heisman race is still wide open, so let's get to your questions...
Steve E (Milwaukee)
Why is Trent Richardson getting more attention than Montee Ball? Ball has had a significantly better season against equally tough defenses. 30+ touchdowns doesn't get you in the talk for a Heisman??
Ryan McCrystal
(1:05 PM)
Statistically speaking, there's no question that Ball is having a better season. However, the strongest argument against Ball is that he plays in a balanced offense featuring a Heisman candidate at quarterback (Russell Wilson), while Richardson essentially is the Crimson Tide offense.
Ryan McCrystal
(1:07 PM)
Historically, a running back doesn't really have a shot at winning the Heisman if his quarterback is also a candidate (2005 being a rare exception, mainly because Leinart already won the previous year).
Ryan Sippel (Ripon,Wisconsin)
What does Montee Ball need to do this weekend to get into the Heisman race?
Ryan McCrystal
(1:11 PM)
If you're asking what he has to do in order to win, the answer is nothing. He can't win. That said, another dominant performance (150+ yards, 3 touchdowns) in a victory could potentially earn him enough votes to get invited to NYC for the ceremony.
Andrew (Tuscaloosa, AL)
Is there any statistical or other support for the voters who are still putting Luck ahead of Griffin on their ballots? A lot of people have criticized voting for Luck, saying such a vote is purely based on preseason hype. Can you articulate any arguments in Luck's favor?
Ryan McCrystal
(1:15 PM)
Statistical? No. You can't argue that Luck's stats are more impressive than Griffin's. But the Heisman isn't given to the player with the best numbers (and if it was, Griffin would trail Keenum and Ball). Voters who put Luck No.1 won't do so necessarily because of his stats, or because of any "Heisman moment." It will be because they simply believe he is the "most outstanding" player in college football.
Chris (c)
Which 5 players get the NY invite?
Ryan McCrystal
(1:16 PM)
This is a common misconception... there aren't always 5 players invited to the ceremony. Who gets invited depends on how the voting breaks down. This year I believe Luck, Richardson and Griffin will be a vast majority of the ballots, creating a wide gap between 3rd and 4th place. As a result, I think they'll be the only players invited.
Ryan McCrystal
(1:17 PM)
If they invite more, Montee Ball, Case Keenum or Matt Barkley would be next up.
Riley (Norfolk, VA)
What kind of game does RGIII need to win the Heisman?
Ryan McCrystal
(1:18 PM)
In terms of the Heisman Predictor formula, he needs at least 1 TD in a win over Texas, or at least 4 TDs in a loss to overtake Richardson for the lead.
Jared (San Diego)
Chandler Harnish is on pace to break the 3000/1500 mark passing/rushing. He's also got 20+ passing TD's and 10 rushing TD's . . . and only 4 INT's. On top of the stats, he's also got all of the intangible characteristics that are supposed to go along with the Heisman, so why doesn't he ever even get mentioned in the discussion? A lot less can be said about previous winners than about Harnish.
Ryan McCrystal
(1:21 PM)
Harnish is having a phenomenal season, there is no doubt about that. And I suspect he'll receive a few 2nd and 3rd place votes from writers that cover the MAC. However, it's tough to compare those stats with what Luck is doing against the Pac-12 or Griffin against the Big 12. After all, Harnish threw 2 picks in a loss to Central Michigan... that's not Heisman worthy.
Kris (WI)
Don't understand how Montee Ball doesn't get an invite.
Ryan McCrystal
(1:24 PM)
If the ballot asked for five candidates from each voter, he'd be a shoo in. But each voter can only put three names on his/her ballot, and a significant percentage are going with some combination of Luck-Richardson-Griffin. As a result, he probably finished 4th or 5th, but well behind 3rd place in terms of percentage of votes.
Justin (Camp Buehring, Kuwait (deployed))
Matt Barkley anyone?
Ryan McCrystal
(1:26 PM)
Barkley is an interesting candidate, if not for USC's postseason ban he'd almost definitely be in the mix. He'd be preparing to play Oregon in the Pac-12 Championship this weekend, and would have one last game to state his case.
JeremyB666 (Kewadin, MI)
What about Case Keenum? Houston is ranked 9th and he is having an amazing year? If Houston remain undeafted and Case plays well is he the front runner?!
Ryan McCrystal
(1:28 PM)
Base case scenario for Keenum is to finish 4th. He's hurt somewhat by the fact that Robert Griffin plays in his region. Local voters who would otherwise consider giving him a 1st-place vote will be more inclined to give it to Griffin instead. He's a top-six lock, but unlikely to crack the top three.
Bryan (Atlanta)
Ryan: "Voters who put Luck No.1 won't do so necessarily because of his stats, or because of any "Heisman moment." It will be because they simply believe he is the "most outstanding" player in college football."....If it were the case of voting on the most outstanding player in college football there would be a lot of ballots with SEC defensive players every year.
Ryan McCrystal
(1:31 PM)
Assuming voters knew how to recognize an outstanding defensive player, yes. But they don't. There are nearly 1,000 voters, many of whom won't watch more than one or two games each weekend. Quarterbacks and running backs win because they touch the ball the most and because casual football fans are able to evaluate their performance. Most voters couldn't name more than a handful of SEC defensive players, let alone tell you who is the best.
JeremyB666 (Kewadin, MI)
Denard Robinson?! Probably not. Wishfun thinking from a Michigan fan!
Ryan McCrystal
(1:33 PM)
No chance of winning, but I won't be surprised if he finished somewhere in the bottom of the top 10. I've already seen one official ballot on which he received a 3rd-place vote.
TR (Dothan, AL)
Is there a way to quantify the quality of defenses faced for a Heisman hopeful. For example, the quality of run defenses Richardson has faced vs. the quality of pass defenses faced by Luck and RGIII?
Ryan McCrystal
(1:36 PM)
Brad Edwards wrote a great article earlier this week breaking down each candidate's performance based on the quality of the defense. It actually makes a strong argument for Montee Ball.
Max (Alabama)
How much do you see the state of Alabama have two straight Heisman trophy winners affecting voters ballots?
Ryan McCrystal
(1:37 PM)
Richardson certainly benefits from the fact that Alabama is a traditional power, but Ingram/Newton won't factor into the thought process at all.
Jon (Dallas)
Questions about Griffin: 1) Does he have to have an incredible game (4 passing tds, 300 yards in the air, 100 yards on the ground) to win the Heisman? 2) Does the fact that he plays for Baylor help/hurt his chances?
Ryan McCrystal
(1:39 PM)
1) A dominant game certainly can't hurt, but as long as he doesn't threw 2+ picks in a loss I don't think it will matter too much. Most voters will be watching other games this weekend anyway.
Ryan McCrystal
(1:41 PM)
2) This is an interesting question, I think it works both ways. On one hand, Baylor doesn't play in the national spotlight so most voters have only seen him play once or maybe twice. But on the other hand, he benefits from the perception that he's carrying this traditional doormat to the brink of contention.
Toby (Houston)
So if Griffin has a bad game, does that help Keenum?
Ryan McCrystal
(1:42 PM)
Absolutely. If Griffin throws 3 picks and Baylor loses by 3 touchdowns, anyone who was considering giving a 3rd place vote to Griffin will probably knock him off their ballot. That would open the door for Keenum, Ball and Barkley to earn a few more votes. I still think Griffin would probably finish in the top three in that scenario, but the vote would be closer.
Justin (Camp Buehring, Kuwait deployed US Servicemember)
Ryan,It was my understanding that the voting would be done before the bowl games are played so how does the list not include Matt Barkley?
Ryan McCrystal
(1:46 PM)
USC is also banned from the Pac-12 Championship Game, which they would have qualified for and would be playing Oregon this weekend. On top of that, because USC isn't bowl eligible, they aren't ranked in the BCS, so they haven't been involved in any discussions of top teams. This hurts Barkley because most voters don't think of USC as one of the elite teams this year, even though they are ranked 9th in the AP.
Trey (Long Beach)
Robert Woods? No room for the best WR in the country on the Heisman ballot this year? Maybe in 2012 perhaps??
Ryan McCrystal
(1:47 PM)
If a receiver sneaks onto some ballots it will be Justin Blackmon, who finished 5th last year. But Woods could certainly make a run in 2012.
Bobby (Oklahoma)
What percent of ballots do you think have already been sent in?
Ryan McCrystal
(1:48 PM)
Less than 10%, maybe even less than 5%. I've only heard of two writers who have turned in their ballots so far. Both were 1st-place votes for Luck.
al (blacksburg,va)
do you think david wilson gets any 1st or 2nd place votes?
Ryan McCrystal
(1:50 PM)
Probably a handful from writers who cover the ACC. He has an outside shot to finish in the lower half of the top-10. A big game against Clemson would certainly help.
Joey (Charleston, SC)
Do you think Tyrann Mathieu's 1 game suspension is the only reason he's not being mentioned more? I mean, we all know its near impossible for a Defensive guy to win it anyways, but he really is the most exciting player to watch in college football.
Ryan McCrystal
(1:53 PM)
Actually, I thought his suspension would have a bigger impact that it has. I think there are still a decent number of voters who are strongly considering him. If he has a big game against Georgia, I think a top-five finish is very possible. He's currently ranked 5th in the Heisman predictor with 113 points, which is an exceptionally high number for a defensive player and a strong indication that he will finish fairly high in the voting.
Joey (Charleston, SC)
Who do you have as front runners for next year?
Ryan McCrystal
(1:56 PM)
Anyone that finishes in the top-10 this year is automatically a front runner for 2012. Trent Richardson has hinted that he may return, which would make him the obvious favorite. Griffin, Barkley and Ball could also return. Tajh Boyd, Collin Klein are two others to consider.
James Nix: (Elmira New York) [via mobile]
Why is it that most Heisman winners go into the NFL the following year?
Ryan McCrystal
(1:58 PM)
Three of the last four winners have actually returned (Ingram, Bradford, Tebow). And if Richardson or Griffin win this year, I wouldn't be shocked to see them come back for another year.
Ryan McCrystal
(2:00 PM)
Thanks all the questions! Enjoy the final weekend of college football and be sure to check out the Heisman Predictor column next Tuesday to see who we're expecting to take home the hardware.