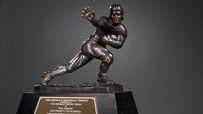 Welcome to SportsNation! On Friday, ESPN Stats & Information's Ryan McCrystal stops by to take questions on his Heisman Predictor.
In the final computation of the season, the predictor has Robert Griffin III, quarterback at Baylor winning the Heisman, with Trent Richardson from Alabama finishing second, followed by Andrew Luck of Stanford. McCrystal's system has correctly picked eight of the last nine Heisman winners.
Send your questions now and join McCrystal Friday at 1 p.m. ET!
More Heisman: Heisman Predictor | Heisman Watch
Ryan McCrystal
(1:01 PM)
Thanks for joining us for the final Heisman chat before the ceremony tomorrow night... in case you missed it, the Heisman Predictor has Robert Griffin winning, followed by Trent Richardson and Andrew Luck... now let's get to your questions
Tyler (ATL)
Ryan Why hasn't Montee Ball gotten any heisman love at all? He plays for a a contender and has better numbers than Trent Richardson.
Ryan McCrystal
(1:04 PM)
This is a tough question to answer Tyler. In terms of stats, Ball definitely has the resume that voters typically like. However, I believe there are two perceptions working against him... 1) He isn't the most valuable player on this team. There are a decent number of voters - many from the Midwest - who chose to include Russell Wilson instead of Ball on their ballots... 2) Wisconsin coaches padded his stats by feeding him the ball every time they got near the goal line. I'm not saying this is true, but there are definitely some voters who are skeptical of those video game-like numbers.
Disgruntled (West Coast)
It appears the voters counted the NCAA's heavy-handed sanctions on USC against the current players. How they heck is Barkley not in the running?
Ryan McCrystal
(1:06 PM)
I don't think many voters consciously held it against Barkley. However, it was definitely a factor. If not for the sanctions, USC would have played Oregon last weekend. And if Barkley had another big game and led them to victory, I believe he would have finished in the top five - knocking out either Ball or Mathieu.
Justin Tyson (Bossier City, La)
With Mathieu the first lsu heisman finalist since charles alexander in 1977 is it possible in an attempt to pad his stats that Mathieu could see some offense plays next year ala charles woodson??? The honey badger is a tremendous athlete and has some offensive background from hs. If anything his mere presence alone would make opposing def coordinators adjust there schemes.Just food for thought
Ryan McCrystal
(1:09 PM)
That's an interesting question. I don't know if they'll do it, but if he does play offense he'll have an outside shot at winning next year... his Heisman Predictor score this year was remarkably high for a defensive player. If he could add some offensive numbers he may find himself in the mix
Mack (Maryland)
Is this going to be one of the closest votes ever?
Ryan McCrystal
(1:13 PM)
Probably not. The Predictor has Griffin winning by the second smallest margin of the past nine years, but his 9-point lead of second place is still relatively strong. I imagine he's margin of victory will rank in the middle of the pack compared to past years.
Danny Boy (Chi-Town)
Who are the favorites for next year?
Ryan McCrystal
(1:16 PM)
It all depends on which underclassmen return. If Griffin and Richardson come back for another year, they're the obvious favorites - with the edge going to Richardson since we'll probably never see another repeat winner. But other fringe candidates could return as contenders such as Matt Barkley, LaMichael James and Collin Klein.
Bimbo (Portland)
Why isn't LaMichael James getting more love??
Ryan McCrystal
(1:18 PM)
Well for starters he missed two games. That essentially eliminated him. On top of that, I believe he was actually hurt by his preseason expectations. You could argue he had a better Heisman resume in 2010, so it's tough to justify giving the award to someone who didn't even have their best year.
David (Badgertown)
Everyone is saying montee ball should win the Heisman. is that going to happen?
Ryan McCrystal
(1:21 PM)
Well since you're in "Badgertown" I'm guessing your definition of "everyone" is somewhat narrow... and no, he's not going to win. Realistically, he's battling Tyrann Mathieu for 4th place. Griffin, Luck and Richardson have the top three spots locked up.
Levi (boston)
riddle me this... how does a player with three losses win the Heisman?
Ryan McCrystal
(1:26 PM)
It's tough to win with three losses but, as crazy as it sounds, I think Griffin benefits from playing for Baylor in this situation... if a team like Oklahoma or Ohio State finishes 9-3, all anyone sees are the three losses. But when Baylor goes 9-3, it's a historic season... so voters see a player who not only posted some ridiculous numbers, but also resurrected a program.
Jacob (New Orleans)
Do you guys pay attention to the independent stats resource, StiffArmTrophy.com? I want to believe that my boy Trent has a good chance of winning, but they have been right the past 9 years running and they have Griffin winning.
Ryan McCrystal
(1:29 PM)
Yes, Kari Chisholm does an excellent job tallying voters and predicting the winner. his projection (which was made official yesterday) seems to be in line with what the Heisman Predictor says - Griffin wins by a fairly comfortable margin.
Jon (Norwalk, Ct)
Hi Ryan, I'm a Badger fan and I will say that I think Russell was the MVP of the team. I don't think they would have won the Big Ten without him, but I think they could have survived without Ball because of their line and back up RB's. Do you think that fact that Wisconsin has had so much success plugging RB's into this system has made people/voters less appreciative of Ball's season?
Ryan McCrystal
(1:30 PM)
That's definitely possible. I think the perception has been that Ball benefits from Wisconsin's excellent offensive line and from the fact that, for the first time in awhile, they have a legitimate threat at quarterback.
Ryan (Phoenix)
Is it possible that the vote could slip away from RGIII of Baylor if some of the ballots came in early (i.e., before the UT game)? Perhaps the voters replying to pollsters conducting straw polls are embarrassed to admit they didn't select him as their #1?
Ryan McCrystal
(1:33 PM)
Definitely possible that we haven't heard from some who turned in their ballot early - mainly because I assume anyone who mailed in a ballot early rather than vote online at the last minute also doesn't have twitter or a frequently updated blog... however, based on what we've seen the last few years only a very small percentage of ballots are turned in too soon. It probably won't influence the outcome.
Jacob (New Orleans)
Well the other part of the reason I ask is because in 2009 the Heisman Predictor on espn.com predicted Colt McCoy to win, yet he finished 3rd. And Levi from Boston should remember that Tim Tebow won when Florida had 3 losses in the regular season (and then a 4th in the bowl game against Michigan).
Ryan McCrystal
(1:36 PM)
You're absolutely right, the Predictor is not perfect. In our defense, however, Mark Ingram's victory was the closest in the history of the award. .. typically, the Predictor will yield results similar to other voter polls. But even when it's wrong it's useful. By analyzing a variety of variables we're able to determine what factors voters are most concerned with.
Nate (Los Angeles)
LSU doesn't win the Oregon game or perhaps the Georgia game without Tyrann Mathieu. I realize that Baylor also doesn't go 9-3 without Griffin and Stanford 11-1 without Luck, but I can't help see the similarities to Charles Woodson in that Woodson seemingly single-handidly pulled out several victories for Michigan despite being primarily a defensive player. Your thoughts?
Ryan McCrystal
(1:40 PM)
I agree that he's been extremely valuable. But to say that they wouldn't have beat Georgia (a game which they won 42-10) without him, is probably taking it too far... I think Mathieu and LSU fans should be satisfied with the fact that he finished in the top five. That's an incredibly rare feat for a defensive player and something that should not be shrugged off. Even if he doesn't win, the invitation to NYC is a high honor.
raul (rio grande city TExas)
Do u See Jaxon Shippley winning a Heisman before he leaves for the NFL?
Ryan McCrystal
(1:42 PM)
Not a chance... He may have an excellent career, but it is extremely unlikely that we'll see a receiver win the Heisman in the near future. I might even go so far as to say we'll see a defensive player win before the next receiver. It's a quarterback-driven award, and if a receiver puts up Heisman-worthy numbers it probably means his quarterback did too.
Cedric (Clayton, CA)
I don't think Mathieu wins the Heisman, but I bet he could force the winner to fumble it and then recover the trophy!
Ryan (Phoenix)
Another RGIII question: Suppose he decides to play for Baylor another year rather than go pro and (1) posts better stats than his peers, (2) breaks new records, and (3) leads Baylor to a BCS game (assuming a loss to a team like Oklahoma State)...chances still slim for a Heisman repeat if the stength-of-schedule is still there? Help us understand the unobtainable Heisman repeat.
Ryan McCrystal
(1:47 PM)
In order to win next year, Griffin probably would need to lead Baylor to the National Championship Game. He's already being rewarded for resurrecting the program, but now he's established them as a quality team. After a 9-3 season, there will be expectations in 2012. Another 9-3 season won't cut it... Tim Tebow is a great example. He won the award in 2007, led Florida to the NCG in 2008, and still only finished 3rd in the voting.
Joey (Charleston, SC)
If Mathieu doesn't "sit out" the Auburn game, would he be closer to the #1 spot?
Ryan McCrystal
(1:49 PM)
Potentially. I know of at least one voter to left Mathieu off for their ballot for that very reason. But I'm guessing for every voter that left him off, there's at least one voter that didn't even know he was suspended. So in the end, it didn't make a huge difference.
Bobby (WI)
Everyone says because of our line Montee Ball wont win the Heisman, yet look who's lineman got the award last night! Alabama's can you explain?
Ryan McCrystal
(1:50 PM)
I think it has more to do with Russell Wilson... Take Ball off Wisconsin and they're still a formidable offense and possibly still the Big Ten champs. Take Richardson away from Alabama and they're not playing in the NCG.
Mark (Indiana)
Do you feel like voters are holding it against Richardson since his team made it to the NCG? We all saw what a back up did at Baylor when he came in. He threw up great stats. It takes 5 or more people to usually tackle Richardson. The guy is a stud.
Ryan McCrystal
(1:52 PM)
Exactly the opposite. Voters are rewarding him for making to the NCG. Team success plays a huge role in the Heisman voting. Almost every year we see at least one player who is headed to the NCG in NYC for the ceremony. If you flipped Ball and Richardson's teams, I strongly suspect they'd flip-flop in the voting results as well.
George (Birmingham)
As a loyal Tide fan, I can say that I don't mind Richardson losing out to Griffin, who took this season by storm. I think What Richardson needed was a little better game against LSU and a win in that game
Ryan McCrystal
(1:54 PM)
Nice to hear from a fan with some perspective... and I can say with confidence that if Richardson had a big game in a victory over LSU, and Bama ran then ran the table, he would have won the Heisman - probably by a very comfortable margin.
Kevin (Madison, WI)
You say Alabama wouldn't be in NCG without Richardson, but yet who else would have Alabama lost to on that cupcake schedule of theirs? They won because of their defense!
Ryan McCrystal
(1:57 PM)
I feel the need to point out that Montee Ball and Wisconsin lost to a team that went 6-6... so to say Bama played a 'cupcake schedule' probably isn't fair.
David Stern (New York)
If Andrew Luck wins the Heisman, I am going to block it.
Bryan (Alexander City,Al)
How can RG3 get so much attention when he play against weak defense's almost all year long.Trent played against some good D's this year plus shared carries with Lacy.I really wished voter's would at all the stats a little deeper.
Ryan McCrystal
(1:59 PM)
This is a tough argument to make... are Big 12 defenses bad, or are the offense they play just that good? Are SEC defenses that great, or are the offenses they play just that bad? ... it's just too tough to say which causes the other.
Shu (The ATL)
Why has the Heisman become the best player on the best team? Why should the team's record matter if it's an individual award?
Ryan McCrystal
(2:02 PM)
That's a great question Shu, and I don't really have an answer. All I can say is when we analyzed the historical results, team success stood out as one of the most obvious deciding factors. I do, however, think voters are slowly moving toward a more fair assessment. If Griffin wins, that will make two winners in the last five years with at least 3 losses. And we've also had two defensive finalists in the last three years. Perhaps the trends are changing...
Ryan McCrystal
(2:03 PM)
Well thanks for all your questions this season. Be sure to tune in to the Heisman Ceremony tomorrow night to (probably) watch a Baylor Bear hoist the trophy for the first time.