Chat with Austin and Ty Dillon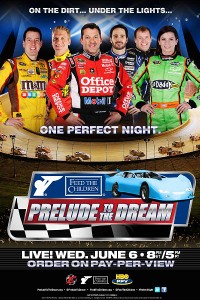 Welcome to SportsNation! On Wednesday, we'll have NASCAR brothers, and grandsons of Richard Childress, Austin and Ty Dillon stopping by to chat about the upcoming Prelude to the Dream children's charity race.
On June 6, HBO PPV will host coverage of the event starting at 8 p.m. ET/5 p.m. PT on Tony Stewart's dirt track at Eldora Speedway in Rossburg, Ohio. This year's race will benefit the Feed The Children charity.
Fans can stay up-to-date on all of the latest news on the Prelude race on Twitter: @PreludeToDream and Facebook.
Austin moved up to the Nationwide Series in 2012, following his championship season in the Craftsman Truck Series in 2011. The 2012 season is Ty's first running full-time in the Truck Series.
Send your questions now and join the Dillons Wednesday at 3 p.m. ET!
More Special Guests: Previous chats | SportsNation
Buzzmaster
(2:58 PM)
Austin and Ty Dillon will be here at the top of the hour to take your questions!
Derrick (Chicago)
Guys, how often do you get to race on dirt these days?
Ty Dillon
(3:00 PM)
Actually, quite a bit. The track schedule is such that I can take my dirt cars out. I've been busy with some other obligations. We've ran this year maybe 15 races on dirt this year. We've been fortunate enough to do that.
Susan (Hazel Green, WI)
Ty, what does it feel like to follow your brother's footsteps into the Truck Series after he won the championship last year?
Ty Dillon
(3:01 PM)
It's been really good. I have all of the equipment and trucks that won the championship last year. It's been going well so far. I'm looking forward to the rest of the year. We have a lot of speed and confidence on our side.
Mark (Mobile,AL)
Is there another racer in your family with the last name od Dillon so all three could win the SC,NW, and CWT championships in the same year?
Ty Dillon
(3:02 PM)
There are no more brothers in our family. We have some younger cousins who are racing, but not right now.
Jeff (RI)
How excited are you both to get in on the prelude race?
Ty Dillon
(3:03 PM)
I'm super excited. It's giong to be a great race. I've watched every year so far. I've proven that I'm a good enough driver to be out there. I'm looking forward to be out there next Wednesday with some of the drivers I look up to. Couldn't be more excited.
aroznowski (USA)
In ten years, which brothers will be the best: Busch or Dillon?
Ty Dillon
(3:03 PM)
The Dillon Brothers. That's easy.
James Piccarreto (Rochester, NY)
What do you guys like to do when you're not racing?
Ty Dillon
(3:04 PM)
I'm a big hunter. I love the outdoors. I love hunting and fishing. Dirt racing. A lot of my time is spent racing.
George (Tampa, FL)
How much do you guys enjoy getting out onto the dirt tracks when you can? And how special was it to get all those wins in a modified during speedweeks with your family there to watch?
Ty Dillon
(3:04 PM)
Speedweeks are a lot of fun. I ended up winning the championship that week. Every time we're in a dirt car, I take it serious. We wouldn't be doing it just to be tooling around.
Taylor (Ann Arbor, MI)
Who is going to finish better at Dover this weekend?
Ty Dillon
(3:05 PM)
Hopefully, I do! I'm going to give it all I have. I'm going to put everything into it to see what I got. I'm going to set my goals high and try to win the race.
Bob (MD)
what kind of influence has your grandfather had on your career so far?
Ty Dillon
(3:06 PM)
He's had a huge influence. He's one of the legends of our sport. He's also a friend. He has more than just a racing influence.
Eric
Do you feel like it's a good move to start in the lower ranks?
Ty Dillon
(3:07 PM)
Yeah, it's always been an idea of our family to do it right. We've always tried to do everything at a higher level. We want to know that we can do everything to win at each level.
Burt (TN) [via mobile]
Are you guys looking forward to being in the same series so you can compete against each other?
Ty Dillon
(3:08 PM)
Yeah, definitely. It's going to be a lot of fun. It will be great for our family. Hopefully it will be coming soon. We're competing, but we also want to see each other do well.
aroznowski (USA)
Which will happen first: Austin winning his first NNS race or Ty winning his first NCWTS race?
Ty Dillon
(3:08 PM)
Hopefully, I win my first truck race. Hopefully, this weekend. It would be a lot of fun.
Chase (Washington DC)
What are your thoughts on bringing a couple different tire compunds to races like they do in open wheel races? Would that tighten up races a little bit more?
Ty Dillon
(3:09 PM)
You never know. A lot of times people think change is a good thing. I don't know about having two different tire compounds. It could make races worse. That would also be more expensive for the teams. But I do think there can be some things you can do to make the races different with the tires.
Metott (Mims, FL)
What was it like racing most of your life and now being in Nascar?
Ty Dillon
(3:10 PM)
It's pretty special. To see yourself set a goal that you want to be at and get there. To be one of the top competitors in the sport is a blessing come true.
James (Rochester, NY)
What is the biggest challenge for you about racing in the Nationwide series this weekend?
Ty Dillon
(3:11 PM)
Just learning the new car. I know the Truck Series, so getting used to the race car. But I'm going to put all into it and see what happens.
aroznowski (USA)
Ty, do you feel any pressure driving the #3 that Austin won a championship with last season?
Ty Dillon
(3:11 PM)
Just pressure to go out and perform, because I know we have great equipment. There is a little bit of pressure, but it builds confidence to go out there and see what I can do.
Jake
Do you ahve an advantage, because you're less removed from your dirt days?
Ty Dillon
(3:12 PM)
I don't know. We are racing against some of the best that's ever been in racing. We do run dirt quite a bit. There are the best racers out there, so I don't know if I have an advantage or not.
Chris Fiegler (Latham,NY)
When do you think that you will be in Sprint Cup Full Time?
Ty Dillon
(3:13 PM)
I don't have any timetable. I'm just focused on winning the races and competing for championships and let my grandfather handle all of that.
Ty Dillon
(3:14 PM)
Thanks for believing in me and being a fan. It means a lot to me. Perhaps I can meet some of you at the track. Hopefully we'll go out and get a good finish this weekend in my first Nationwide race.
Buzzmaster
(3:36 PM)
Austin is here!
Benjamin (Priceville,AL)
Austin, how would it feel to get your 1st Nationwide win the in the famous number 3 car?
Austin Dillon
(3:37 PM)
It would be amazing. So much history with the number. Working really hard. I've got the same team from the Truck Series. There is no feeling like winning. To get back to victory lane would be awesome.
Kyle (Cordova Illinois )
Austin you've been in the camping world series and the nationwide. What is the most important thing you learned that might help you in The Sprint Cup?
Austin Dillon
(3:38 PM)
I think the biggest thing is hard work. I feel like over the past two years I've learned how much it takes to win races and fight for a championship. Looking at notes, taking notes, staying on a path to help you win races. Dot every I and cross every T. When you get to the track be prepared.
jesse (iowa)
austin, whats your views on the cup regulars that run in the nationwide series? in my mind theyre stealing wins from the young guys like yourself
Austin Dillon
(3:38 PM)
I love it. I think it creates great competition for our series. When a guy like me or any of the young guys can beat a Cup guy, it means a lot. It proves that we're very competitive and are working hard.
E (Kentucky)
Track u hate?
Austin Dillon
(3:39 PM)
I've learned that you can't have a track you hate, because when you go there you already have a mindset that you don't want to be there. Some tracks are tough, but I go to races looking forward to working hard. I haven't been to all of the tracks yet, so I might acquire a taste for one I don't like.
Saul (San Diego)
Got any Superstitious routines before, during and after a race?
Austin Dillon
(3:40 PM)
Not really. I don't have any. I wear the same boots to the track every week. Cowboy boots. Lucky boots. They've worked pretty well so far this year. I'll wear them until my luck changes and I'll get another pair.
Chris Fiegler (Latham,NY)
What is your Favorite NASCAR Driver Growing Up?
Austin Dillon
(3:41 PM)
I really enjoyed watching Dale Jr. I liked the way he acted. Also, Kevin Harvick.
Saul (San Diego)
What goes through your mind as you approach the green flag to start a race?
Austin Dillon
(3:41 PM)
Making sure you hit your shifts and gain all of the ground you can gain. Mostly just looking ahead and you hit the first shift and start the day off well.
AndrewJohn329 (not octo's computer)
Hey guys, what's it like to be on the same track as superstars like Rowdy and Kurt? Have you learned from racing against The Busch Brothers?
Austin Dillon
(3:42 PM)
It's awesome. You've looked up to all of those top drivers for so long. It's tough some times because you're racing hard and you respect them so much, but you have to go out there and do your job.
brian
have you spent much timeo n the dirt in preparation?
Austin Dillon
(3:43 PM)
I haven't. I haven't been able to. I ran a Lucas race earlier this year. I've been busy, with the Nationwide Schedule we race every week. I'm trying to get one test before going back to Eldora. It will be tough.
Tony (Napa)
Austin - what would you rather have? A Daytona 500 victory or a Cup Championship?
Austin Dillon
(3:44 PM)
We've debated this over the weekend. I'm a guy that believes in championships. You can't take that away. But a 500 win would be great. It's so crazy, because it was so special when Dale Earnhardt won the 500 after his 7 championships. I'll take them both.
Ryan
do you ahve dirt experience?
Austin Dillon
(3:45 PM)
Oh yeah, I love dirt racing. Preparing for it, I look at some of the notes we have from running on Eldora. It seems like it changes every year. My driving style suits a faster track, a wetter track. If we can get those conditions we'll be just fine.
Andy (FL)
what's it been like having your grandfather on your side?
Austin Dillon
(3:46 PM)
It's been great having him on my side. I just try to learn what I can from him and what he knows.
James (Rochester, NY)
What will be the biggest challenge for you guys this weekend because it'll be the first time you two will be racing in the nationwide series?
Austin Dillon
(3:47 PM)
The biggest challenge, for him, will be running both races, other than that we'll go at it and have fun.
Justin
how competitive were you two growing up?
Austin Dillon
(3:47 PM)
We're still competitive. It doesn't matter what it is. We fight to this day over sports and games. We're super competitive. It continues to this day.
Joey Chapman (Kentucky)
Favorite track?
Austin Dillon
(3:48 PM)
I enjoy a lot of tracks. Michigan is one of my favorites. I got my first win at Iowa. Any place I've won and I like speedway racing as well.
Mike (FL)
does your family/friends tease you about your commericials?
Austin Dillon
(3:49 PM)
I have some really good friends that called me up after seeing the commercials and say they enjoyed it.
Austin Dillon
(3:50 PM)
Thanks for following me. Follow me on Twitter: @AustinDillon3 to keep on my day-to-day life.