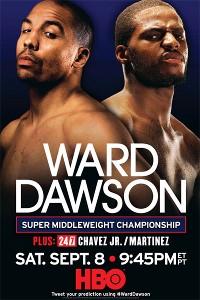 Welcome to SportsNation! On Tuesday, we're going inside the boxing ring when Chad Dawson stops by to chat about his WBC super middleweight title fight this weekend.
Dawson (31-1, 17 KO) takes on Andre Ward (25-0, 13 KO) for Ward's WBC super middleweight belt. The fight takes place in Oracle Arena in Oakland, Calif. Saturday at 9:45 p.m. ET/PT on HBO.
Dawson, @OfficialBadChad, already the WBC light heavyweight champion, last fought in April, defeating Bernard Hopkins via decision. ESPN's Dan Rafael ranks Dawson as the No. 11 pound-for-pound boxer in the world. Ward ranks No. 5.
Send your questions now and join Dawson Tuesday at 3 p.m. ET!
More Special Guests: Previous chats | SportsNation
Buzzmaster
(2:58 PM)
Chad is here!
Tony (New Haven)
Do you think Andre Ward will be a tougher challenge than Bernard Hopkins was earlier this year in April?
Chad Dawson
(2:59 PM)
I believe it will be a tougher challenge because Andre Ward is a lot younger. I'm expecting to win the fight. He has a similar style to Bernard. I'm expecting to win.
chris (stamford,ct)
chad i know your capable of stopping him if your mind is right. how much are you prepared for this fight mentally?
Chad Dawson
(3:00 PM)
Mentally, I'm very focused. It'a a big fight. I'm always prepared for big fights. I'm on track. The weight is good. I'm looking to make history. I need to bring my A game and I will.
Bryon (Chicago)
I'd really like to see you avenge the Pascal loss. Do you think you had him hurt in the 11th round before you were cut?
Chad Dawson
(3:01 PM)
Yeah, I know I had him hurt. He was weakening. I know I was going to stop him. The head butt happened and we weren't able to continue, but I know I was going to stop him.
alex mares (rancho cucamonga)
coming to this match for the super middleweight championship what are your plans coming to this match and how confident you ar coming with this match.good luck go get him
Chad Dawson
(3:01 PM)
My main gameplan is to be myself. Use my size advantage, use my reach. Let my hands go.
Chad Dawson
(3:02 PM)
I'm very, very, very confident. I'm overly confident in that I know what I can do in the ring. I've watched Andre for years. I've been looking for this fight. I want to make history and pick up another title.
Greg (VA)
what's it been like coming down in weight?
Chad Dawson
(3:03 PM)
It's been fun, moving down 7 pounds. Watching my body change. I think everybody will be surprised in how muscular I am. I just have to shed a few more pounds and I'll be ready for Saturday night.
Joel (New York City)
I'm glad this fight is taking place wit out a doubt. I hope your training went well and I hope you do serious damage on saturday and hope your stay mentally strong throughout your fight. Are you in Oakland now setting in and getting ready?
Chad Dawson
(3:04 PM)
Yeah, I just arrived in Oakland, literally about an hour ago. The plan the rest of the week is to stay relaxed and maintain my weight.
Quinn (Pittsburgh)
Will you let Ward come to you? In previous fights you have been successful at keeping your opponent at bay with your effective jab and reach advantage. However, Ward is a whole new animal who can come inside easily and place his shots with precision. Are we going to see a different Chad Dawson or are you going to try and keep Ward at bay with the reach?
Chad Dawson
(3:04 PM)
Yeah, in all honesty, I don't think he's planning on coming forward. After I hit him with a couple of shots, he'll be backing up. Whatever he decides to do, we have a good gameplan set to win the fight convincingly.
Quinn (Pittsburgh)
Chad, win or lose, super-middleweight is a much stronger division that LH right now with names like Froch, Dirrell, and Kessler. Would you consider staying in the super-middleweight division or is it simply too much for you to take that much weight off?
Chad Dawson
(3:05 PM)
Yeah, definitely. But all of the guys that are there will be moving up soon, including Andre Ward. I'll have a chance to fight at either weight.
hood (bronx ny)
When you beat andre ward, who will you be fighting next? i think a fight between you and kelly pavlik could be good
Chad Dawson
(3:06 PM)
Oh man...I'm just looking for the big fights. Whoever HBO brings to the table, I'll fight anybody. I have a record of fighting whoever, even in someone's backyard, I'll do it.
joshpaulcloud (Indy)
Champ,Andre says he's ready for your bigger body, height, and reach? What do you think he means? How do you expect him to get inside?
Chad Dawson
(3:07 PM)
He's nervous. I think he's nervous. Guys say things. I think he's nervous about my size and reach. I'm going out there to use my size advantage and do everything I can to knock him out.
Joe (New Jersey )
Would a move to Heavyweight be something you consider in the future?
Chad Dawson
(3:08 PM)
No. It's always a dream. Guys always want to go up to heavyweight, especially guys at 175 and north of that. But I don't think I'd ever get up to heavyweight. I got the weight off real easy for this fight.
Joel (Nyc )
I'm really glad to hear your feeling yourself and are very confident for this fight. Honestly my gut feeling tells me your going to be even better overall at 168. Hows life been the last couple of weeks?
Chad Dawson
(3:09 PM)
That's a good question. I feel great at 168. I do feel that I'll be better at 168. I'll be faster, leaner. Walking around at the weight, I feel good, faster. I got my hand speed. People will be surprised.
Gus (Richmond, CA)
Chad i want to thank you and Ward for doing what Pacquiao and Mayweather are afraid to do.
Chad Dawson
(3:10 PM)
I don't really know what to make about them not fighting. I don't think the fight will ever happen. It will be a great fight for boxing and the people to see, but I don't think it happens.
Mike Dino (Bitburg, Germany)
Chad, What is your prediction for the fight? Do you think you could stop Ward?
Chad Dawson
(3:10 PM)
I don't have any predictions for a round. But I'll be pressing him and pressing him unti I get to him. Hopefully we can do it by the 10th round.
Julian (Albany,Ny)
Do you feel andre ward is willing to mix it up to win? By his interviews he would happy to make it a very ugly fight in order to win
Chad Dawson
(3:11 PM)
If he wants to mix it up and bang, it will be a short night for him. I know I'm a stronger guy. I'm the harder puncher. If we do have to go blow for blow, I'm coming out on top.
Quinn (Pittsburgh)
Who is your pick for Chavez Jr.-Martinez?
Chad Dawson
(3:11 PM)
I'm going Martinez. I think he's the better all around fighter.
Clay (Charlotte)
Champ, what's your fight day routine? Any thing you always do or eat before a fight?
Chad Dawson
(3:12 PM)
My fight day routine is a lot of rest and relaxing. Meditating, going over the fight in my head. The main thing is just relaxing and staying calm.
Mike Dino (Bitburg, Germany)
Assuming you win (which I think will happen), do you see yourself on par with the top three P4P fighters on the planet or above them?
Chad Dawson
(3:13 PM)
Yes I do see myself on par. After I win this fight, I hope it launches me into the top 2 or 3 in the pound for pound.
Chad Dawson
(3:13 PM)
I appreciate all of the questions and everyone being interested in the fight. Be sure to watch on Saturday night.