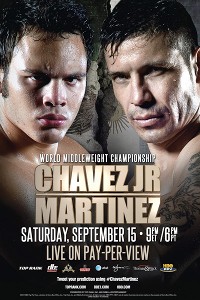 Welcome to SportsNation! On Friday, boxing trainer Freddie Roach will stop by to chat about Saturday's Julio Cesar Chavez Jr.-Sergio Martinez championship fight.
Chavez, Roach's student, (46-0-1, 32 KO) takes on Martinez (49-2-2, 28 KO) for Chavez' WBC middleweight belt, the fourth title defense for Chavez. The fight will be live from the Thomas & Mack Center in Las Vegas Saturday at 9 p.m. ET/6 p.m. PT on HBO PPV.
Roach, a Massachusetts native, won the trainer of the year award in 2003, 2006, 2008 and 2009. As a professional boxer, Roach went 39-15 before retiring in 1986.
Send your questions and join Roach Friday at noon ET!
More Special Guests: Previous chats | SportsNation
Buzzmaster
(11:57 AM)
Fight fans! We'll have Freddie Roach here in a few minutes to take your questions on this weekend's big Julio Cesar Chavez Jr.-Sergio Martinez fight!
Buzzmaster
(12:08 PM)
We've got Freddie!
Greg (DC)
What's the Martinez's biggest strength that Julio has to worry about?
Freddie Roach
(12:09 PM)
His biggest asset is his speed. It's tough to deal with. He does have a good left hand with that speed. Power and speed are very dangerous. We have to make sure we don't follow him. We have to cut the ring off.
Anuar (Mexico)
I think, Julio is able to beat Sergio, but I trully think he has to keep his mind clear and focued on the strategy. We know, he gets carried by his temper. You think he is smart and mature enough to actually listen to his corner?
Freddie Roach
(12:09 PM)
Yeah, he's got the gameplan down. We're working on it with his sparring partners. Should be no problem.
Stuart (Englewood)
How do you manage between both Chavez and Manny? Do you prefer one over other?
Freddie Roach
(12:10 PM)
Luckily the fights are separated. Manny won't do his training until after Julio's fight. Sometimes its hard to deal with two such large egos.
Aaron (Cincinnati)
What do you think of Martinez sparring so little in training camp? How many rounds do your fighters typically do?
Freddie Roach
(12:11 PM)
Well, typically my guys will 100-150 rounds. We cut back on this one also. Julio wanted to be fresh for the fight. We did cut back and work more on conditioning his legs.
Jeff (Austin)
Sergio seems to have a very large speed advantage in this fight. Do you agree, and is this a change for you, since lately, with Khan and Pacquiao, you've been working with perhaps the quickest fighters in their divisions?
Freddie Roach
(12:11 PM)
There are adjustments we have to make, but we have that covered.
Nick (Corona) [via mobile]
What is the key for Julio Cesar Chavez Jr. to win on Saturday night?
Freddie Roach
(12:12 PM)
Not follow Martinez and get behind him. Recognize when he wants to rest and make him work when he does. He can't fight 12 full rounds at 37.
Tom (Omaha)
What does Julio have to do to attack Martinez's body without taking too many punches?
Freddie Roach
(12:13 PM)
I think we want to be very physical in this fight and beat him up everywhere. Arms, it doesn't matter where. Make it a physical fight and let him know we're in a fight.
John NJ [via mobile]
Freddie, I'm wondering why Pacman is getting involved with Marquez for a fourth time when everyone yearns for a Bradley rematch. 99% of the world knows Pac won the first time, so why is a rematch not the first order of business?
Freddie Roach
(12:13 PM)
I thought Bradley would be the choice because we want to avenge that loss. But we do owe Marquez a rematch. It's here and we'll deal with that the best we can.
luis (houston)
how has jr looked in training camp are you guys clicking right on time, because i read that this week was very critical and everything had to click
Freddie Roach
(12:14 PM)
Yeah, he's looking very good. His weight is only a pound away. He's 100% ready to go.
Peter (NYC)
24/7 made it seem Julio was less reluctant to train,preferring to do it in the living room? Was this the case all camp?
Freddie Roach
(12:15 PM)
He's a little bit late at times. And sometimes he'd call me up and say he wanted to work at the house, like the episode you saw on HBO. It's a little unusual when we worked, where we worked, but we did get the work in.
Araceli (La Quinta, CA)
There's been alot of talk between the two fighters. Is Julio feeling the pressure and handling it because it has been heard that he has not been training at his best?
Freddie Roach
(12:15 PM)
Martinez has been talking for the first time and he'll pay for it.
mike (mi)
why does chavez jr look so skinny. is he drained?
Freddie Roach
(12:16 PM)
Well, to make 160, he is skinny. We're one pound away from that at this point. Last training camp, we were 12 pounds away, we're in better shape now.
Freddie Roach
(12:17 PM)
I'd like to see him go to 168 and fight Kelly Pavlik, and if we have success there, maybe Andre Ward. But one step at a time.
Greg (Queens)
Julio talks a lot about his chin. Do you agree that he has a good chin? They say the best chin is one that doesn't get it. I expect it to be severely dented come Saturday. Thoughts?
Freddie Roach
(12:17 PM)
He's got a great chin, but I want him to keep that a secret.
Steve (CA)
do you think the Mexican holiday will help the support?
Freddie Roach
(12:18 PM)
Yeah, there will be a Mexican audience. I just walked through the hotel lobby and they were yelling to me. They're already starting to come in.
Bernard (Denver, CO)
Obviously Martinez has big speed edge, but can Chavez's body blows slow the speed enough for the later rounds?
Freddie Roach
(12:18 PM)
Yes I do. He may have an advantage, but we have a size and strength advantage and we have to impose that on him.
Ron (Baltimore)
Speaking of Ward, what did you think of his performance against Dawson?
Freddie Roach
(12:19 PM)
Great performance, might be the best fighter in the world today.
JAY MARTINEZ (Dallas TX)
how do you feel Chavez sr and you giving help to chavez jr you think chavez goes with your rules or his fathers in the ring?
Freddie Roach
(12:20 PM)
If his father wants Julio to do something, he comes to me and we discuss it. If I like it we go with it. If I don't, I tell him why. We have a good relationship. It's been great having him just for the support alone.
Sal Rangel (El Paso, TX)
Are you worried that Chavez has never fought an elite top 5 P4P fighter? If so, do you think Chavez's chin will hold up to a punch he doesn't see coming?
Freddie Roach
(12:20 PM)
Our last five fights have been against pretty tough guys. Five fights ago, I would say he wouldn't be ready for Martinez. But after these last five fights, I'd say we're ready willing and able.
Chris (Detroit, MI)
Not everyone wants to see a Bradley rematch. People know the judges got it wrong.
Freddie Roach
(12:21 PM)
Yeah, it's a difficult fight to sell. He doesn't have a huge PPV audience. That's why we're not fighting him right away. Hopefully Mayweather will be next.
Sam Suska (Pittsburgh)
How do you feel about training your fighters at high altitudes?
Freddie Roach
(12:22 PM)
Well, the science of high altitude training is very complicated. If you just train at altitude and then come down to sea level, you lose your advantage in about 24 hours. It is effective, but it's more mental than anything. If you train at altitude, you have to train at sea level the same day.
Mike (Los Angeles)
Freddie, How will Chavez adjust if he cannot handle Martinez's speed, inside out fighting?
Freddie Roach
(12:23 PM)
His speed is mostly his foot speed. If he wants to run, it will be difficult for him to wint he fight. He'll have to stop and fight at sometime. When he does fight, that's when we'll engage with him. We do have our bases covered. We had three sparring partners, one runner, one engaged and one who did both, we're ready for him.
Chepo (Seattle)
Do you think Jr is understimating Sergio's power?
Freddie Roach
(12:24 PM)
No, we've seen him knockout some good fighters. We know he has power and we have to respect that. We watched a lot of tape. We know he can punch.
Freddie Roach
(12:25 PM)
Thanks for the support. It's going to be a great holiday tomorrow! Then we'll start getting Pacquiao ready for his next fight.