V Week Chat: Eric LeGrand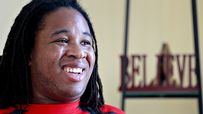 LeGrand won the Jimmy V Award at the 2012 ESPYs.
Welcome to SportsNation! On Friday, former Rutgers fotoball player Eric LeGrand, who was paralyzed in Oct. 2010 in an on-the-field injury, stops by to help celebrate Jimmy V Week here at ESPN.
In the 19 years since The V Foundation for Cancer Research was founded by ESPN and Jim Valvano, the foundation has raised more than $100 million. For more information, or to donate to the V Foundation, call 1-800-4-JimmyV or go here.
While doctors told LeGrand that he would never come off a ventilator nor walk again, he has come off the breathing aid. His book "Believe: My Faith and the Tackle That Changed My Life" tells his story of finding purpose in pain and facing setbacks with strength. His Facebook page and Twitter account, @EricLeGrand52, keep fans informed of his rehab.
Send your questions now and join LeGrand Friday at 11:30 a.m. ET!
MORE Jimmy V Week: Jimmy V Week | V Foundation | Donate Now | SportsNation index