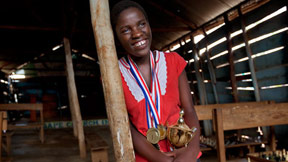 At 9, Mutesi learned chess, through the Sports Outreach Institute.
Welcome to SportsNation! On Friday, chess prodigy Phiona Mutesi stops by to chat about her journey from the slums of Katwe, Uganda to becoming a Woman Candidate Master in chess. The book "The Queen of Katwe" by Tim Crothers tells her story in depth.
Mutesi is believed to be 16, but no official birth records exist in Katwe where about half of teenaged girls are mothers and also where her father died from AIDS when she was around 3 years old.
Through chess, Mutesi has won three Uganda women's junior championships, one national championship and made two appearances at the Chess Olympiads, where the world's greatest players compete. Her first Olympiad experience was chronicled by Crothers in his ESPN The Magazine story, which was the catalyst for the book.
Send your questions now and join Mutesi Friday at 10 a.m. ET!
More Special Guests: Previous chats | SportsNation
Buzzmaster
(9:52 AM)
Hellooooooooo! Phiona will be joining us momentarily! Keep your questions coming!
John C. (Florida)
Was is it about the game of chess that you like so much?
Phiona Mutesi
(9:53 AM)
Chess is a game that gives me a platform to think about what to do next. In my lifetime, where I grew up, on a daily basis you have to think about so many things and have so many challenges every moment.
Emme Turner (Norman, OK)
Do you get nervous at all playing in front of a crowd?
Phiona Mutesi
(9:54 AM)
At the beginning I used to get nervous but I'm getting used to it now.
Jason Sparks (Orlando, FL)
What has been your favorite part of your visit to the U.S.?
Phiona Mutesi
(9:55 AM)
The most exciting thing is hearing about the White House! I was happy to get to see that. But almost every moment has been exciting.
Jackson H. (Provo, Utah)
What was it like the first time you beat your coach? Is that when you knew you were REALLY good?
Phiona Mutesi
(9:57 AM)
I felt so so happy when I challenged him the first time! I told my brother but he said he gave me the win! But I told him I really won! My brother insisted that he just wanted to encourage me.
Mary Saltair (Florida)
Did you try any other sports through the Sports Outreach Institute before you started concentrating on chess?
Phiona Mutesi
(9:58 AM)
No, I've only been playing chess because that was the only game I was introduced to.
Mark (Ohio)
Is chess a common game in Uganda? How did you learn to play?
Phiona Mutesi
(9:59 AM)
It's not a very common game there. A few people play, but most of those are coming from well off families who have been exposed to the outside world. Or people in very good schools. It is believed to be a game of the rich.
Ivan (Orlando, FL)
How good of a player is your brother? Can you beat him?
Phiona Mutesi
(10:00 AM)
He's still playing and playing very good right now. Whenever we get to play together, I win most of the games, but he does win a game sometimes.
Linda (Oklahoma)
Your story is so inspirational. Do you have a weakness? What are you concentrating on with your game to get better?
Phiona Mutesi
(10:01 AM)
I have some weaknesses because I haven't had access to books and computers. My openings are a big challenge. I get trapped sometimes. If I survive the opening, I can plan the rest of the game.
Will (Dallas)
With all of your success in chess, do the people in Uganda recognize who you are?
Phiona Mutesi
(10:02 AM)
I actually don't travel in Uganda or move around much. The only people who kind of know me are the people who know about the chess program.
Erick (LA)
When you first started playing chess, did you ever think that a game could bring you all over the world?
Phiona Mutesi
(10:03 AM)
I didn't have any idea. All I had in my mind was to get something to eat.
victor (monroe,louisiana)
How did you get started in chess?
Phiona Mutesi
(10:05 AM)
We were on the street at that time so I had to fight my brother for food. We were starving. My first time it was not a big deal going there. Coach welcomed me and assigned a girl to pressure me into playing the game.
Ryan (San Diego)
Do you think you will ever move out of Katwe or Uganda?
Phiona Mutesi
(10:06 AM)
I personally would like to be in a different place, but I also don't want to move away from the people I know, especially my mom.
Tracey (Texas)
How much time did you spend with Tim to help him write his book?
Phiona Mutesi
(10:08 AM)
I don't know how long it took, but I know it took a while to do that! Hearing that someone was going to write about me, I didn't understand it. I'm nothing and didn't expect anyone to want to write about me. I had never heard about people writing about other people. That was all new to me.
Peter (RI)
How will you explain your travels to the USA to your family back in Uganda?
Phiona Mutesi
(10:08 AM)
Luckily we got to take a lot of pictures! It will help to explain to them everything I have been able to see.
Larry (Denver)
Where do you go to find good competition in chess? Do you have to travel to far places?
Phiona Mutesi
(10:10 AM)
In Uganda we don't have good competition. The best opportunities are when you can travel to international tournaments. At first the travel was very hard for me. I felt unsafe. But right now I'm so fine with it.
Kelly (FL)
What did your brother say or do when you first beat him?
Phiona Mutesi
(10:12 AM)
I took some good time before I played him the first time. The day we played for the first time, he won. He told me I was still very young in chess. I said I was growing and would one day beat him. So I took some more time before I played him again. I remember that day was a Sunday when I played him again and I won the game! He kind of said to me he had just given me the win. I told him... no no no! You told me one day I would win and I just won! We had an argument about that. Mother intervened and told us to stop arguing!
Terry (Miami)
Do you still live with your family in Katwe?
Phiona Mutesi
(10:14 AM)
Yes, I still stay with my family in Katwe. I stay with another family because I'm in boarding school. I go back to the my family for the holidays.
Tim H. (Pittsburgh)
What other interests do you have outside of chess?
Phiona Mutesi
(10:14 AM)
I'm pursuing education. I enjoy because I value the opportunity to learn.
Nick (MI)
Is there anybody that you would say been a role model for you in the past?
Phiona Mutesi
(10:16 AM)
In chess I heard about Kasparov and really admire him. Then in my life, I admire my coach Robert Katende and how he does things.
Gilbert Z. (Bay Area, CA)
Given your extraordinarily unique background compared to most of your opponents, do you believe it is an advantage, disadvantage, or not a factor when playing in a match?
Phiona Mutesi
(10:18 AM)
I'm sure it does help. When I'm in a game, I try to think about the challenges in my life and how I have overcome them. When someone poses a very strong move, I think hard about how I can defend it. It very much relates to my life because I have been facing challenges a lot and having to figure out how to overcome them.
Nick (Mi)
Do you have any intention of eventually coming to America for college?
Phiona Mutesi
(10:19 AM)
I have never thought about that. I don't know how that can be possible.
Evan (Boston)
What motivates you to get better in chess?
Phiona Mutesi
(10:21 AM)
What motivates me is the kind of life I am having right now compared to the life I was living before. I remember before the chess program, life was very very hard. When I got into playing chess, my life has gotten better and better.
Phiona Mutesi
(10:22 AM)
Thanks for the questions! I'll be on SportsCenter in about an hour! Thanks!
Buzzmaster
(10:26 AM)
Thanks, Phiona! Yes, watch SportsCenter around 11:30 for a special piece on Phiona and a live interview!