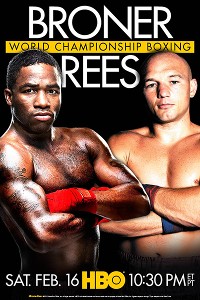 Welcome to SportsNation! On Thursday, we're going inside the boxing ring when Gavin Rees stops by to chat about his WBC lightweight title fight this weekend.
Rees (37-1-1, 18 KO) takes on Adrien Broner (25-0, 21 KO) in Broner's first lightweight title defense. Boardwalk Hall in Atlantic City, N.J. will host the fight Saturday that airs on HBO's World Championship Boxing at 10:30 p.m. ET/PT.
Rees, @gavtherock, is a former WBA light welterweight champion, before asserting himself as a lightweight contender. He won both of his fights in 2012 via TKO. ESPN UK's Steve Bruce says Rees won't be a pushover in the ring.
Send your questions now and join Rees Thursday at 3 p.m. ET!
More Special Guests: Broner chat, 3 ET | Previous chats | SportsNation
Buzzmaster
(3:10 PM)
Hang on folks, Gavin should be here in a few minutes.
Gareth (Warrington UK)
How much are you looking forward to the experience of the boardwalk?
Gavin Rees
(3:21 PM)
It's a big occasion in my career. Live and in America. I'm going to make a statement on Saturday night.
Peter (Boston)
Broner seems overly confident for this fight....how can you break him?
Gavin Rees
(3:21 PM)
I'm going to go with my normal tatics. I think a lot of his opponents are scared before the fight even begins. I'm not. I think it will be a war and a great fight.
Greg (DC)
What is the biggest difference for you between lightweight and light welterweight?
Gavin Rees
(3:22 PM)
It's a massive difference. I was never really a light welterweight. I feel really strong in the ring. It's the biggest difference, the strength and power.
Ryan (LA)
Adrien likes to run his mouth, what do you think of how much talking he does leading up to a fight?
Gavin Rees
(3:23 PM)
It's way too much. Disrespectful. There is no need of it. There is no need to speak like that. Shake hands after the fight like it should be done.
Kyle (Vegas)
How hard is it fighting so far from home?
Gavin Rees
(3:23 PM)
To be honest, I've been away for 4.5 weeks for a great camp in New York City. Everything has gone perfect. The biggest thing is missing my three girls at home, my girlfriend. The weight's been good. I can't fault it, really.
Darin (Silver Spring, MD)
Are you going to try and outbox Broner, or are you going to come in a look for the knockout?
Gavin Rees
(3:24 PM)
There will be a bit of boxing. You don't go in looking to knock anybody out. You use your tatics and if it comes, it comes. If I get him on the chin, there will be a knockout for sure.
Bogo Smith (Oscar Shores, Florida)
Being from Wales, do you consider retired champion Joe Calzaghe as a hero in the sport? Have you ever shared a pint with the man?
Gavin Rees
(3:25 PM)
Yeah, of course. He's a legend back in Wales, if not all over the world. We've had plenty of drinks together. We still talk now and then a little bit.
Allen (Dallas)
how much tape did you watch of Broner's fights?
Gavin Rees
(3:26 PM)
Only a little bit. I think a lot of his opponents have been scared and have walked forward with no punches. He just picked them off. I'm going in with a plan. We're confident in taking the belt off of him.
Kelly (Shaw, Arizona)
When did you first believe that you could be a world champion?
Gavin Rees
(3:26 PM)
I've been world champion before at a weight I wasn't really comfortable with. We rebuilt from the bottom at the new weight. My title is due at any time.
Pico (Santa Cruz, NM)
Forget about Broner's belt, after you beat him will you take his brush?
Gavin Rees
(3:27 PM)
I don't need the brush. He can keep that.
Haku (King, NY)
Hi Gavin. Thank you for taking a chance at making Broner eat his words. Do you think Adrien has specific weaknesses that you can exploit, brah?
Gavin Rees
(3:27 PM)
Yeah, he has plenty. He likes to fight on the back foot. He has plenty of weaknesses. We have a plan we just have to make sure it will work.
rockdrigo b-hop (argentina)
Not a favorite, however sure you note yourself, how will you connect to Broner?? his defense is excellent
Gavin Rees
(3:28 PM)
I wasn't a favorite when I became a world champion. You have to win fights. At the end of the day it's just me and him.
Jeff (RI)
Gavin, it seems Broner is not paying you any respect...what do you think of that?
Gavin Rees
(3:28 PM)
It's disrespectful. He didn't watch any videos. He likes to act like a big one. He makes himself look like a fool.
Carlisterio (Amazon, NE)
Hi Gavin. What is your favorite hobby when the day is done and the heads have rolled?
Gavin Rees
(3:29 PM)
Just relaxing in the hotel. After you've been training in the morning, relaxing in the afternoon and training again at night. Watching some TV at the end of the day.
Quinn (Pittsburgh)
Are you upset that some Brits are trashing you on Twitter? We do that all the time with our guys, but you Brits seem to have very strong support for your fighters. Does it hurt you?
Gavin Rees
(3:30 PM)
No. Some people don't like fighters. You have supporters from all over.
Joydeep (Philippines)
How do you find all this talk about Broner being the future of boxing? has it been a distraction at all?
Gavin Rees
(3:31 PM)
No, I think it gives me a great goal. When I beat him, I'll be at the top of the tree. After I beat him, I'll be No. 1. Maybe a unification fight. Who knows where it goes.
Calcium (Bronx, NY)
Hey Rees, you think you would consider working the body on Broner?
Gavin Rees
(3:31 PM)
Yeah, of course. I throw loads of body shots anyway. You have to look for gaps in his guard. Work the body, try to slow him down and my plan is to take him out.
Steve
what round for the KO?
Gavin Rees
(3:32 PM)
I'm not going to predict a KO. If it comes, it comes. Whichever way the victory comes, I'll be happy.
Alice (Westbridge, MA)
I don't mean to be disrespectful, but that arrogant fool Adrien Broner has something coming to him. If you beat him, will you continue your career in the US? I reckon you will be a hero.
Gavin Rees
(3:33 PM)
Hopefully, yes. I hope that this opens a lot of doors. Maybe a unification fight. I'll go anywhere in the world. I am not scared to travel. Whoever my promoter puts in front of me I will fight.
Derrick (Chicago)
How do you think you'll like fighting in the USA?
Gavin Rees
(3:34 PM)
The crowd will be on his side, being here in America. But I won a title in Paris and the crowd was against me then. I'm expecting a great environment. In the ring, it's me and him. The crowd won't help him win. I'm happy with the situation.
Gavin Rees
(3:34 PM)
Tune in Saturday night. We have a great fight lined up. Tune in for an exciting fight.
Buzzmaster
(3:34 PM)
Thanks for chatting Gavin.