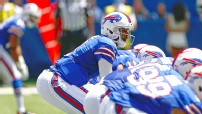 EJ Manuel will start for the Bills in Week 1. How will he fare?
Welcome to SportsNation! This it it. The preseason is almost over, and Thursday night, the games start counting. To celebrate, join the ESPN.com fantasy crew on Wednesday for seven hours of fantasy football banter. Stay all day or catch your favorite analyst at the following times.
Wednesday's chat schedule: (all times ET)
11am: Eric Karabell
Noon: Tristan H. Cockcroft
1pm: AJ Mass
2pm: Christopher Harris
3pm: Matthew Berry
4pm: Stephania Bell
4:30pm: KC Joyner
5:30pm: Ken Daube
Send your questions now and join the chat Wednesday starting at 11 a.m. ET!
More Special Guests: Previous chats | SportsNation
Eric Karabell
(11:02 AM)
Hello to all and welcome to what should be an informative and hopefully entertaining day of ESPN fantasy football chats! I'm lucky enough to start off our chat marathon on this fine Wednesday but there's much more to come, with Tristan Cockcroft, Matthew Berry, Christopher Harris, Stephania Bell and more! So I've got an hour here to answer as much as possible, and then will hand off... I'm going to try to avoid the simple "play RBx or RBy questions" because our rankings have that... but here we go! Thanks for showing up!
Ryan Phelps (Minnesota)
Do I start Pierre Garcon over Eddie Lacy this week for my flex?
Eric Karabell
(11:03 AM)
Flex rankings are published on Thursdays, so not to give much away but ... in general knowing how weak running back is this season if a top-25 RB and top-25 WR are the considerations, I'm going RB. Like here.
Donald (DC)
Jeff Fisher is so coy. What role is Tavon Austin going to actually play in the Rams' offense? Is he a week 1 starter, or do you wait-and-see and start Cecil Shorts instead?
Eric Karabell
(11:04 AM)
All coaches are like this. They never want to give anything away. I went with the veteran fella with the clearer situation... but check the ranks, my colleagues might feel otherwise!
Scott Turner (Jackson Hole, WY)
I'm in a unique league that is able to start two QB's. With our draft later this evening, How early should I be drafting two QB's when I know that the running backs are fewer and far between?
Eric Karabell
(11:06 AM)
In that case I do like to get one top-notch QB earlier than I would normally do so, though probably in round 2. Then I would be comfortable with a QB in the 12-16 range as my second choice, a safe guy like Eli or Ben or Dalton. If my top QB was Brees or Rodgers then I might take more risk with the second guy, but not Terrelle Pryor-risk... more like Tannehill or Bradford risk.
Mark (Chicago)
Who will emerge as a better flex RB option this season in a standard scoring league Shane Vareen or Montee Ball?
Eric Karabell
(11:06 AM)
I think it's still Ball. Big goal line and yardage upside if he plays. And he should play. Just not a great play in Week 1... would still use him over Vereen though.
Alex (GR, Michigan)
PPR League...which 2 WRs should I start? Wes Welker, Reggie Wayne, Victor Cruz and/or Antonio Brown?
Eric Karabell
(11:07 AM)
I know all the reasons to go Welker in PPR... I'd prob go with Cruz and Welker there. Barely over Wayne.
Jim (DC)
Greg Jennings or Ryan Matthews in a PPR?
Eric Karabell
(11:08 AM)
Yikes. In PPR it's probably Mathews, though I bet the Chargers throw to Danny Woodhead quite a bit. But in Week 1, it's a time for new beginnings, so here's Ryan Mathews... so many of us are not fans, so watch him explode this season for 1,500 yards...
Woody (CO)
Am I crazy to put A. Bradshaw in at flex week 1?
Eric Karabell
(11:09 AM)
I don't think so. He's healthy enough to play this week. It's Week 2 and beyond that all bets are off with him... but he is usually productive. And wow, the Week 1 matchup really cannot be any better. Here come the Raiders!
Ellis Wells III (Lafayette, La )
Darly Richardson or Gio bernard has a better season??
Eric Karabell
(11:10 AM)
I really want to say Richardson, because he has the starting job and I think he keeps it. Bernard is terrific, but I don't see Green-Ellis going away. Bernard should catch many passes, but is he really going to do much more than say Shane Vereen? So I will say D-Rich keeps the Rams job and runs with it...
James Mooney (Denver)
Is T.Y. Hilton the real thing even with DHB in Indy?
Eric Karabell
(11:10 AM)
I really am not worried about T.Y. because of Heyward-Bey. Not one bit.
TJ (Summerville)
Are you OK with using Carson Palmer this week in a 2-QB league?
Eric Karabell
(11:11 AM)
Absolutely. I have him as my No. 21 QB, so that's close to 20, right? Expect turnovers, but many yards as well.
Bilal Til I Fall (Florida)
Own Ivory as 4th RB, do I drop Blackmon(5th WR) for Bilal now that he is the "starter"? Just to be safe?
Eric Karabell
(11:12 AM)
I don't see any reason to own Bilal Powell. Handcuffing is overrated in fantasy football when you're dealing with underwhelming players. Keep Blackmon, better upside there if you can be patient. He's not playing this month because he was a bad boy.
Dave (NYC)
Would you start RGIII against Philly over Cam Newton against the stingy Seahawks defense?
Eric Karabell
(11:13 AM)
Love Griffin against what should be a terrible Eagles D, so yeah, I ranked him better. Don't much care about preseason ranks once the season starts. And I don't buy for a minute that the Redskins changed the playbook and Griffin won't be running plenty. That's who he is.
Leila (Georgia)
Need two Steve Smith, Steve Johnson, or Kenbrell Thompkins?
Eric Karabell
(11:14 AM)
I found myself taking Kenbrell in a bunch of leagues, so I guess I bought in. But it's a bit tough to trust him right away. I have Kenbrell and Stevie ranked 30/31 so I can go either way, but I would play Smith.
OP (Chicago)
When it comes to D/ST, would you rather have a safer option like the Pats or something with more upside like the Browns?
Eric Karabell
(11:15 AM)
I generally go safe. And this week the Pats face a rookie QB. Pretty safe.
Zak (Binghamton, NY)
Is Knowshon Moreno worth a roster spot in a 10 man league?
Eric Karabell
(11:15 AM)
I think he is for now, though this should be Montee's job relatively soon. Just far more talented than the other guys.
Fernando (Charleston)
Who is a better RB candidate to finish in the top 10 RBs this year...Ryan Mathews or Deangelo Williams?
Eric Karabell
(11:16 AM)
Love the question! Both have potential, but I'd say Mathews. I think he's less shot than DeAngelo! Plus, DeAngelo can't score the touchdowns because of Cam Newton and Tolbert. Mathews didn't score last season but we know he is capable of a lot more.
Pat ((KS))
What kind of year do you think Knile Davis will have?
Eric Karabell
(11:17 AM)
As a Jamaal Charles owner I hope he has a quiet year! I think Charles is healthy, and if so, Davis probably doesn't get many chances. And he probably played himself out of the sure-fire handcuff role there, though he's in the mix.
Eric (Bristol)
Is Alex Smith serviceable for the year as long as the rest of my squad is solid? Or should I look to move from an area of strength to upgrade my qb? 6 pts per passing TD
Eric Karabell
(11:19 AM)
I'd recommend an upgrade, but depends on the cost. Serviceable is a decent word there... if he avoids turnovers, like in 2011, Smith can be ok. But at 6 pts per TD, he's not likely to throw 20 touchdowns...so even a Palmer or Rivers is an upgrade.
Eric Karabell
(11:19 AM)
REMEMBER, if I cannot get to your question in my hour (until noon ET) there are SIX more hours of chats scheduled with more people that know what they're doing! So be patient!
Josh (NJ)
Do I start Cecil or Mike Wallace? I am curious because Cecil still has Gabbert as his QB so its a tough decision
Eric Karabell
(11:21 AM)
Well, Shorts did just fine last season with Gabbert around, so I wouldn't overrate things. It's not like Wallace has Joe Montana throwing to him. I ranked Shorts a bit better, but go either way. And when I say things like "go either way" it's because it really is close. I shouldn't be making decisions on your team - none of us should - but we give advice and info and help you make informed decisions...
Mike (Boston, MA)
Is Roy Helu worth rostering in a 10-team non-ppr league?
Eric Karabell
(11:22 AM)
Borderline for me. I do not expect Alfred Morris to either get hurt or struggle, so even if you own Helu now, chances are good you'll be dumping him for other needs at some point in a shallow league.
Brandon (DFW)
This trade was just vetoed, what say you about it? PPRFoster for Mcfadden and Ivory.
Eric Karabell
(11:23 AM)
If I owned Foster I'd want a lot more in return. Is it fair? Well, I don't play in leagues with veto systems because there's always someone vetoing simply because they're biased or mad that they didn't come up with the trade! And that's not a fair trade unless you think Ivory and McFadden will be awesome, or Foster is really, really hurt. I think we know how I feel about those things!
Sam (NY)
Very thin league and PPR, so have tons of talent on roster. Deciding on RB2 btwn David Wilson & Reggie Bush and whether to use one of those two as FLEX or go with Danny Amendola. Thoughts?
Eric Karabell
(11:24 AM)
Wow. Just can't see sitting Bush or Amendola in a PPR while they're healthy. Wilson probably not a big receiver out of the backfield...
Phil (New Buffalo)
Who would you start - Cutler or Roethlisberger?
Eric Karabell
(11:24 AM)
Not a big Cutler fan. Never buy into the talk of a renewed season with him. He's fine, but makes mistakes. Roethlisberger has enough weapons to succeed.
Kevin (DC)
I'm in a bind already with my RBs consisting of Reggie Bush, Ryan Mathews, and Rashard Mendenhall. Any FA's worth picking up for depth or should I just pray and stay put?
Eric Karabell
(11:25 AM)
Assuming D-Richardson is owned... Ben Tate. I'd be patient. Bush should be very good, and ... well, let's leave it at that. Mathews should be a flex option most weeks.
Jonathan (Florida)
Do you think Greg Olsen is worth playing this week against a good Seahawks defense?
Eric Karabell
(11:25 AM)
Don't get too caught up in the matchups with tight ends... He's the tight end you drafted, I doubt there's anything better on free agency... so go with it.
Simon (Segal)
My league has .5 PPR. Should I go with Ryan Mathews or Stevie Johnson for my flex?
Eric Karabell
(11:26 AM)
I'd go RB there. Johnson has a rookie QB. And we jest, but Mathews does have talent.
Mike [via mobile]
Would you trade jimmy graham, Matt Forte and TY Hilton for Doug Martin and AJ Green? .75 PPR
Eric Karabell
(11:27 AM)
I'd probably make that deal, yes. But Graham in a PPR is more valuable than standard, and so is Forte. Hilton isn't a great factor in that format. But in PPR one could make the case Martin is ahead of Peterson...though I will not!
Dana (Boston)
Would you drop A Brown (NYG) for Woodhead, Reece or Dunbar? My RB depth is hurting...
Eric Karabell
(11:28 AM)
If Andre was out only a month, then no. But now it appears it will be nine weeks! So I'd go for Dunbar, who I really like. He'll miss a few weeks, but we know DeMarco Murray isn't playing all 16 games...
Marcus (Texas)
I have Brandon Myers and Antonio Gates but I don?t know which one is a better option?
Eric Karabell
(11:29 AM)
I'd use Myers and dump Gates for RB depth. You don't need a pair of non top-10 tight ends, really. Except for one week. And I kinda like Myers.
Chad (Memphis)
How do you feel about Bowe this year, now that he has Alex Smith and Andy Reed?
Eric Karabell
(11:29 AM)
I seem to be on an island on this one, but I think Bowe has a top-20 WR season. He has the ability, but certainly the motivation might not be there with his contract settled...
David (PA)
Randal Cobb or Danny Amendola ....No PPR
Eric Karabell
(11:30 AM)
Cobb is in my top 10 WRs. Amendola is my No. 20 WR in standard formats. So there.
Jonas Brother (Texas)
If you've got Gronkowski with only waiver-wire TE's in the midst of his injuries, would you trade Justin Blackmon for Zach Sudfeld?
Eric Karabell
(11:31 AM)
I'd try to avoid that, personally. Blackmon will miss 4 weeks, but he should be playable in deeper formats after that. Sudfeld has major upside with Brady, but ... what about when Gronk plays? I'd try to fake it until Gronk returns.
Ricky (DMV)
Eric, any chance I can snag an autograph from the Jonas Brother who just posted from Texas?
Eric Karabell
(11:32 AM)
I don't think I can help with that one, sorry.
MattyICE (The ATL)
Do I need to worry about my 37 year old TE falling off a cliff this year or will he continue to be the great TE he has for 16 years?
Eric Karabell
(11:32 AM)
I really have no concerns about Tony Gonzalez.
Gary (Oregon)
Is Terrelle Pryor worth starting this week in a two qb league?
Eric Karabell
(11:33 AM)
It's somewhat of a stretch, ya know. I did not rank Pryor in my top 25 QBs.
zane (kalamazoo)
where are you on the D. Thompkins train? is he worth starting in a standard league? Maybe over a homerun hitter like james jones or chris givens
Eric Karabell
(11:34 AM)
You mean Kenbrell? I'd start over Givens and Jones this week, yes. But the Packers also have a tough opponent this week (Stephania's 49ers on the road), so if it was a normal defense I'd use Jones. This is a rookie, after all.
The Panda (Arkansas)
With Cam going against a stingy defense should I start Vick over him? Or am I crazy?
Eric Karabell
(11:34 AM)
That's a bit much. Trusting Vick, ever, is a bit much.
Tom (Nashville)
I feel like this could turn into an every week dilemma. Which TE should I start? Rudolph, Finley, or Sudfeld.
Eric Karabell
(11:35 AM)
The best way to solve this is to dump at least one of them for depth elsewhere. I'd part with Finley. This week I rank Sudsy the best.
Timbo (the office)
Jordan Cameron or Julius Thomas? I get that Julius has Peyton, but he's also got a lot more people to share the ball with, especially while Gordon is suspended.
Eric Karabell
(11:36 AM)
I agree, but Cameron is also not 100 percent healthy. But I'd go with him this week.
Kevin (CT)
Do you change your draft strategy in larger leagues (14 teams or above)? Better to grab an elite QB in the middle of rounds 2 or 3?
Eric Karabell
(11:37 AM)
I alter a bit, in that I see 12 legit starting QBs for a 10-teamer, so if it's deeper I'll make a move on Ryan or Stafford earlier. But elite, probably not.
Chris (Chicago)
What are your thoughts of Redman? Worth dropping a handcuff to pick him up?
Eric Karabell
(11:38 AM)
As long as the handcuff isn't Ben Tate, sure. There's no guarantee that Redman loses the job to Le'Veon Bell in Week 2 or even in September. And any starting RB is worth a look in case they perform better than expected and keep the job.
Frankur (Atlanta)
Start the season with Wallace and Tavon Austin with Josh Gordon waiting in the wings? Or trade Sproles for Boldin?
Eric Karabell
(11:39 AM)
I'd keep Sproles. Big fan. That said, perhaps you could use an upgrade, but Boldin isn't it. Sproles is worth more than that.
Jason Byrnes (Chitown)
Sidney Rice of Deangelo Williams at my flex? Standard
Eric Karabell
(11:40 AM)
Not touting DeAngelo as great, but I cannot see why so many people like Sid Rice so much. I'd use DeAngelo there pretty much all weeks.
Kyle (Washington)
Is Josh Gordon a top-20 WR once he gets back from his suspension?
Eric Karabell
(11:40 AM)
Well, that escalated quickly. Really jumped up a notch. Top-20 is asking a lot.
Andrew (Colorado)
I have Cam Newton and Steve Smith on my team. I know that smith is their only option in carolina, but i was thinking of benching him for james jones. Thoughts?
Eric Karabell
(11:41 AM)
Seems like overthinking to me. Smith is considerably better in our rankings so why would your QB affect that? Plus, Jones against San Fran...yikes.
Dan (NY)
How closely have you been following your eagles this preseason? In the newfangled offense, do you think there will be enough carries for both Mccoy and B Brown to be relevant?
Eric Karabell
(11:42 AM)
I do not see Bryce Brown having a large role because he cannot hold on to the football. McCoy will likely be borderline abused this season, which of course is a good thing for fantasy in non-keeper leagues!
Anthony (Chicago)
Thoughts on same NFL teammates on same fantasy team, i.e. Romo (my QB) and Dez (try to trade for him?)?
Eric Karabell
(11:43 AM)
Trade for Dez Bryant because he's a top-3 WR this season, not because Romo is his QB. But I do have several QB-WR combos in my leagues. Doesn't worry me. It's QB-RB or WR-WR that worries me.
Justin (New York)
How much is an elite Defense like the Texans or Bears worth for trade bait?
Eric Karabell
(11:44 AM)
To me, very little. I draft defenses in round 15 of standard formats. But throw it out there and see if you can get a RB3.
tyrion lannister [via mobile]
what running back will vulture the most goal line tds from the starter this season?
Eric Karabell
(11:46 AM)
Well, it's no longer Andre Brown! Probably M.Bush, S.Greene or ... QB Cam Newton!
Jason (Michigan)
should I keep submitting the same question?
Eric Karabell
(11:46 AM)
It really does not help. Thousands of questions already... wow!
Timmy (Lynn, MA)
What do you expect out of Vincent Brown this year?
Eric Karabell
(11:47 AM)
I expect he will start and pique people's interest but overall disappoint with around 50 receptions and fewer than 5 scores. Touted him all summer but now he's become a bit too popular.
Robert (Palo Alto)
Trying to figure out where to maybe target LeVeon Bell in my draft tonight. When would you take a chance on him in a 14 team league?
Eric Karabell
(11:48 AM)
I'd say after your have 3 running backs at least, but round 6 in that deep a league, definitely.
Todd (Philly)
Are you sitting Arian Foster this week or do you expect the "limited touches" to be just talk...
Eric Karabell
(11:48 AM)
I'm sitting him if I have two top-10 RBs, yes. This week. But ultimately he should see enough touches to be a RB2. I would not use Ben Tate over Foster.
Fernando (Charleston)
How happy is Tristan H. Cockcroft really?
Eric Karabell
(11:49 AM)
Happier than Dikembe Mutombo blocking a shot. The H stands for Happy.
Neil (Iowa) [via mobile]
Brent Celek or Julius Thomas for Gronks short term replacement?
Eric Karabell
(11:50 AM)
I'd go with Thomas. Celek has more competition in Philly... and it's not a great offense. Sorry.
pkent2483 [via mobile]
Morris or MJD for Dez a good trade?
Eric Karabell
(11:51 AM)
I suppose if you need a WR, but I rank both RBs ahead of him.
Dusty (Ohio)
So everyone in my league decided to take 2 QB's even though we only start 1. Having the last pick in each round i missed both runs. It left me with terrible options....Dalton, Palmer, Flacco etc...who's your pick. The rest of my lineup is stacked.
Eric Karabell
(11:52 AM)
Any are reasonable, but I'd go Dalton. And in a few weeks you should be able to make a decent trade to upgrade. Just don't overpay.
Jeff (OH)
Better WR flier -- DHB, Corrderel Petterson, Quinton Patton, Mahammed Sanu?
Eric Karabell
(11:53 AM)
Good one! I'd say Patton, actually. Has a chance to start and do something there. Sanu is starting this week, too.
Fran (Cincy)
It seems like each fantasy sites' group of experts cluster their rankings around each other. So they seem close to each other, but can differ greatly from the experts of other sites. Is this a result of the site's projections? What role does the ESPN computer generate projections play in your rankings?
Eric Karabell
(11:54 AM)
For me personally, no role at all. I can't answer for my colleagues though.
Karl (Jacksonville)
Jared Cook or Brandon Meyers?
Eric Karabell
(11:54 AM)
Cook for sure. One of my sleepers. I'm all in. Wait until you see where I ranked him this week!
Brandon (Ohio)
do you buy Antonio Gates' new diet and being in the best shape of his career for a bounce back year?
Eric Karabell
(11:55 AM)
Not really, but I have Gates as potential top-10 TE anyway. Most of those guys are the same after the top 4...
Jay (Georgia)
Any belief that James Starks sees any touches in the upcoming weeks or should I drop him for an injured Dunbar?
Eric Karabell
(11:56 AM)
I think Starks will see touches, but Dunbar has more upside and thus I'd prefer to stash him just in case. We've seen Starks underperform as a starter... Dunbar might be used like a Sproles.
Joe (NJ)
Who do you think gets more carries Week 1, Foster or Tate. And if Tate gets 15 carries, should I start him over Ivory?
Eric Karabell
(11:57 AM)
I think Foster gets more touches on Monday night. But Tate will be involved... as for the Jets, I'm avoiding in Week 1. And most weeks.
Tim (ATL)
generally speaking, what value do you pace in handcuff RBs? is that roster spot usually best spent on someone who has a chance to play due to their talent and not to another's injury potential?
Eric Karabell
(11:58 AM)
Yes. I mean, owning Michael Bush just isn't exciting, or filled with upside. But Christine Michael is!
Andrew (Redondo beach)
I have cam newton going against my own defense (Seattle). Do I pick up another defense for this week or just roll with it?
Eric Karabell
(11:59 AM)
That's overthinking. Roll with it.
Ellis Wells III (Lafayette, La)
Ryan Broyles breaks out?
Eric Karabell
(12:00 PM)
Well, everyone seems to think so you know that means he's unlikely to. But own him just in case.
Dan (NY)
It seems like every year we are hearing that various teams are attempting to "use him like Sproles" ... Dexter McCluster, Jaquizz Rodgers, now Dunbar ... maybe there is only one Darren Sproles?
Eric Karabell
(12:01 PM)
You're right. Only one Sproles. But if a team really wants to involve a guy more it's still a good sign and we should pay attention. And we know Murray is not durable in Dallas.
Eric Karabell
(12:03 PM)
Well, my hour is apparently up, so I do thank you for the thousands of questions and hope my answers were helpful! We couldn't do this without your interest and support! But now it's time for my good friend and excellent fantasy mind Tristan H. Cockcroft to step in and answer questions... be nice to him! Adios!
Tristan H. Cockcroft
(12:04 PM)
Good afternoon and happy lunch hour! I'm taking the handoff and will take your questions for the next hour (or so). Let's get started!
Tristan H. Cockcroft
(12:05 PM)
Again, as was true with Eric, I'm likely to avoid basic RB-vs.-RB (or other same-position) questions, as we'll have rankings up for Week 1 that can answer those. Flex-play questions, trades, pickups, just general player thoughts, it's all good.
Matthew (London)
Tristan! Welcome to the party.... Trade question: 2 QB league, have Brady, Luck, Bradford... should I trade Luck+Ivory for Big Ben Forte? Non PPR
Tristan H. Cockcroft
(12:06 PM)
London, eh? How was lunch?I'd make that deal considering the structure of your roster; it's an upgrade at RB for sure and that's the point here, for a team that's fine at QB with a Brady-Bradford combo. Heck, I'd argue you could get away with just Brady, and fill the bye week off waivers. One thing I'd ask: can you just cut Roethlisberger out of the deal and get an even better player? Try that first, otherwise it gets my OK.
Matt (Boston)
Lamar Miller or Pierre Garcon as a flex in a standard league? Who has the higher floor/higher cieling this week?
Tristan H. Cockcroft
(12:08 PM)
Generally speaking, when the players are of similar value, I'm going the RB. In this case, though, I love the Garcon matchup against the Eagles. Coin-flip call here, but my gut says Garcon.
C (Cwood)
How do you think Tate and Vereen will be used this week?
Tristan H. Cockcroft
(12:10 PM)
I ranked Ben Tate under the assumption that he'll cut into Arian Foster's workload more this week than any of the upcoming (barring obvious potential Foster absences that is). Still, I'd give it a 60-40 or maybe even 70-30 split favoring Forte. Tate cracked my top 30 RBs this week.As for Shane Vereen, I think he'll get those Danny Woodhead touches added to his tally this week, and I don't feel any different about him than I would most weeks, beyond that a "backup" warrants a look in a Bills matchup. Vereen also made my top 30; had Tate 27th, Vereen 30th, in my initial run.
TD Vulture (ChiTown)
Hi Tristan: What's your outlook on Tolbert for the year? Draftable?
Tristan H. Cockcroft
(12:14 PM)
He's a sneaky TD-only league selection for a couple reasons: One, that Jonathan Stewart should miss a significant chunk of the season, and that neither DeAngelo Williams nor Kenjon Barner is an obvious goal-line guy. And two, that if the Panthers decide to lighten Cam Newton's goal-line chores, the scraps would go to Tolbert. (I'll admit that I'm not on board with this second one; I have Newton scoring 7-8 TDs and leading the team in rushing scores.)Draftable as a very late pick even in standard, mostly because of Stewart's absence.
john (CT)
would you accept trade of andre johnson for steven jackson?
Tristan H. Cockcroft
(12:15 PM)
What side do you get? I have Jackson ranked higher. I'm game from a needs angle, but I'm only taking the WR if I'm in serious need of one. Otherwise, my advice is let a couple weeks of season to play out to see where you really are.
paul (georgia)
giovanni benard or desean jackson for my week 1 flex?
Tristan H. Cockcroft
(12:16 PM)
I made my Bernard opinion clear in the preseason (though it's still a good question that prompts me to re-post it): October and beyond is the purpose of having drafted him. I need concrete evidence that he's being used heavily before he's getting my OK. So it's Jackson here.
Ben (Palo Alto)
No one will answer my freakin question. Jordy Nelson or Eric decker in ppt?
Tristan H. Cockcroft
(12:18 PM)
We get a lot of questions. Patience, patience! If I could answer them all, believe me I would.I'm putting aside PPR here just to say that I'm anti-Nelson this week -- though I did have him 23rd to Decker's 27th in our standard-setting ranks -- as I don't think he's an instant start in his first game back from injury. Add the PPR and I'm not taking the guy with a snaps/target concern; I think Decker has greater odds at least for Week 1.
Tristan H. Cockcroft
(12:19 PM)
To be clear: No. 23 rank for Nelson = WR3. Still worth the discussion, but it's not a glowingly good rank.
Brett Reeder (AL)
Is Zach Zudfeld going to be Aaron Hernandez clone?
Tristan H. Cockcroft
(12:20 PM)
Sudfeld, just for your DB-searching information, but no, I'm not calling him a "clone," because the dude isn't going to play as many snaps initially nor does he have as good hands. He's a sleeper. Sleepers -- especially those slated for a limited snap count as hinted this week -- don't belong in my top 10 tight ends until they show me something.
Clarke (Chicago)
More fantasy points this year...Josh Gordon or Chris Givens?
Tristan H. Cockcroft
(12:21 PM)
I have Givens, and it's not as close as you might think. I see breakout potential; borderline shot at top-20 wide receiver status. Point being you get him as more a WR3/4, but he could pay WR2.
Joey (Louisiana)
Should I be worried about T.Y. Hilton being the number 3 WR?
Tristan H. Cockcroft
(12:22 PM)
I only consider that bothersome from a snaps/targets perspective, as I expect the Colts to lighten Andrew Luck's load slightly. That said, Hilton has underrated big-play skills and I can't see him being overshadowed by Darrius Heyward-Bey this year. Be patient. You invested because of potential more than role; requires patience.
Pick me Pick me (In Class)
If you owned both Rice and Bush in a PPR and could only roster 1 handcuff who would it be: Pierce or Bell?
Tristan H. Cockcroft
(12:24 PM)
I'd take Bernard Pierce first, much as I like Joique Bell as a PPR Reggie Bush handcuff.
David Jay (Philadelphia)
In an online draft. In the fourth round I accidentally picked Roddy White when I meant to "click" on Julio Jones. 10 team standard scoring league. Was this a big disaster?
Tristan H. Cockcroft
(12:24 PM)
No. I've got them both top-10 values.
Justin (MS)
Need a TE WW backup in standard league in case Graham ever gets hurt. Who's better long term in your opinion? Gates. F. Davis, Cameron, Cook, J. Thomas
Tristan H. Cockcroft
(12:24 PM)
I've got Jared Cook ranked first among these tight ends, then Antonio Gates, then Jordan Cameron.
Greg (Michigan)
Should owners be worried about a significant decline in touches for Wes Welker due to all the weapons in Denver
Tristan H. Cockcroft
(12:26 PM)
Significant, no. A decline, yes. Personnel too deep for me to say Welker can manage more than 90 percent of his targets/catches during his Patriots days, but his per-catch rates might be awfully similar.
David (Chicago)
Who gets more points? Dwayne Bowe or Marques Colston?
Tristan H. Cockcroft
(12:26 PM)
Colston. I think Bowe is monstrously overrated, though.
Jace Florida [via mobile]
I have Owen Daniels but cook is available should I drop the sure thing for the high upside thanks
Tristan H. Cockcroft
(12:27 PM)
I've been shooting for the moon with Jared Cook all year in my drafts. I understand if you're wary after Cook's many disappointing years, but his circumstances in St. Louis are conducive to his finally breaking through.
Mic (SD)
Giovani Bernard For Kendall Wright, Shonn Greene, Eli Manning. My starting qb is Palmer
Tristan H. Cockcroft
(12:28 PM)
I'd prefer you try to squeeze a better QB, and just limit the deal to Bernard-for-QB, if you can. Failing that, you've got a need; I think you'll need to take this trade.
Jay (Texas)
Week 1 Def: STL, CLE, or IND?
Tristan H. Cockcroft
(12:29 PM)
I went Rams first, but I'm fine with those who prefer either of the other two. I ranked them Rams, Browns, Colts, and all of them were in the back end of my top 10.
Bill (Washington)
Better roster stash? Pead or Dunbar?
Tristan H. Cockcroft
(12:29 PM)
I actually think it's Lance Dunbar. My primary question about him during the preseason was his injury; I do think he stands a greater chance at a larger role of the two initially. And that's pretty important once you get past the draft.
Shelby (Louisiana)
Should I give Gore and Cobb to get Steven Jackson and Greg Jennings? I'm trying to get Wayne instead but he is one of those uncooperative types.
Tristan H. Cockcroft
(12:31 PM)
Without it being Reggie Wayne instead of Greg Jennings, there is absolutely no chance I take that deal. It's a possibly huge downgrade at WR, for a small upgrade at RB. And even if Wayne's coming back, I've got concerns, but at least I consider that fair value.
Adam (Seattle)
16 team league - who to start at flex: Fred Jackson, Bryce Brown, Markus Wheaton, Broyles, or Q. Patton?
Tristan H. Cockcroft
(12:32 PM)
Is it PPR? It'd make it much more clearly one of the receivers if so. It's close between Bryce Brown and Ryan Broyles otherwise, but I'm going Broyles. That's a good matchup for him and the Lions' passing game against the poor Vikings secondary.
Ryan (My Office)
Is the Cardinals D/ST being underrated? It seems like they have a lot of playmakers to score ST touchdowns and rack up INTs, and the improved offense should help keep them off the field a bit more than last year.
Tristan H. Cockcroft
(12:35 PM)
They're risk/reward, for largely the reasons you describe. You're shooting for picks and scores, which means you shouldn't trust it every week; pick on the poor offensive opponents, especially ones that turn the football over frequently.That said, I consider such defenses overrated; they tend to catch your eye with that big-play potential but they're very, very frustrating to own. They weren't in my top 10 and shouldn't have been.
Joe (Chicago)
Should I trade away Reggie Wayne for Chris Johnson in a .5 PPR league?
Tristan H. Cockcroft
(12:36 PM)
Yes. I still say that Wayne will have a difficult time repeating his target/catch rates of 2012, especially if the Colts lighten their passing load with Ahmad Bradshaw on board. He was one of my overrated picks of 2013.
Ralph (VT)
I have a draft tonight (standard scoring, snake) and we have an OP position and a flex position so it allows me to start 2QBs if I want. Most of the guys in the league start a QB at this OP position. Thoughts on draft strategy?
Tristan H. Cockcroft
(12:37 PM)
Any OP-league is effectively a 2-QB league, period. Quarterbacks drive fantasy scoring; the entire purpose of the OP is to ensure that a team won't go a week without an active No. 2 QB.Go heavy on QBs; I think you should address the position fully by the end of Round 5, but that's just my experience in the format.
Jeff (STL)
V. Brown or Jordan Cameron for a WR/TE spot?
Tristan H. Cockcroft
(12:37 PM)
Cameron. Much more favorable matchup, for one.
Darnell Jefferson (The Program)
Who would rather own as a last roster spot RB flier/stash--Knowshon Moreno OR Christine Michael? Thanks THC!
Tristan H. Cockcroft
(12:39 PM)
Michael is straight handcuff material, that's it. I see zero chance of meaningful fantasy value without an injury to Marshawn Lynch. So take that for what it's worth; you might have use for a Lynch handcuff. Otherwise, I might speculate with Moreno.
Eric (arizona)
Should I bench Bronco's D this week and pick up the Buc's D to play against NYJ?
Tristan H. Cockcroft
(12:40 PM)
I would! Bucs are my No. 2 defense and our projections support the argument. But I've always endorsed the stream-defense strategy.
Ray Kim (TO)
Would you own Knile Davis in a 16team league?
Tristan H. Cockcroft
(12:41 PM)
Sure, but again, he's handcuff material. Anyone rostering a player like Davis, or Christine Michael, is banking on only one thing: Starter gets hurt, they get promoted to starting. It can be difficult to lock up your bench spots like that, but in a 16-teamer, it's not so much so.
Zack (CT)
Thoughts on Lacy this year? Just traded Shorts and Ball for him.
Tristan H. Cockcroft
(12:42 PM)
I'm pro-Lacy, though I do think that's a high price. Montee Ball also has TD potential; that's a lot of my pro-Lacy argument. You might not be upgrading as much as you think.
Mike (New Jersey)
I know you would prefer not to get these type of questions, but which two should I start of Welker, Colston and Garcon against the Eagles? Thanks!
Tristan H. Cockcroft
(12:44 PM)
The reason I shy from these questions is that we put much effort into the weekly rankings, and if it's a standard-league question with players at the same position, the rankings can answer that question. It lets me get to more topics that aren't covered by things like ranks.In this case, I'll tell you that I've got them Garcon, Welker, Colston, but all 13-16 at the position. So it's a coin flip, and I have no issue with going Colston (16) over Welker (15) if you want.
Hunter Center (ATL)
Sproles or Antonio Brown in the flex this week in standard scoring?
Tristan H. Cockcroft
(12:45 PM)
I have to admit that I'm a little troubled by Sproles' so-so history against the Falcons, but it's still a great matchup. In standard, for me, it's still the RB. But it's close.
Corey (Cornfields of Iowa)
FLEX IT: Pick one to roll with this week: McFadden, Bradshaw or Antonio Brown
Tristan H. Cockcroft
(12:46 PM)
Ahmad Bradshaw, but that's only because I think the Raiders' run D stinks.
Kevin (Woodbridge)
Trade question: someone isn't using drew brees as a starter and wants to trade: does it make sense to trade brees/j. Cameron for Bradford/Graham?
Tristan H. Cockcroft
(12:46 PM)
That sounds about right.
Ed (NY)
How do you feel about Andrew Luck this year?
Tristan H. Cockcroft
(12:47 PM)
Great year, but the raw fantasy point total might be pretty spot-on to his 2012. I think the Colts throw less, run more, but Luck's development results in better per-attempt stats.
Fernando (Charleston)
What is your strategy when drafting a kicker?
Tristan H. Cockcroft
(12:49 PM)
Final pick of the draft regardless of league format, and I'm taking the guys on the best offenses. I don't spend a lot of time analyzing it. Frankly, I do not understand why they're included in fantasy scoring if people now understand how fluky they are.
Dana (Boston)
What Stl WR are you starting to begin season? Return YDs count...
Tristan H. Cockcroft
(12:50 PM)
Well, see, that changes things. I've been going Chris Givens across the board this preseason, but that's in standard and especially PPR scoring. If you're getting yards on returns, I'm going Tavon Austin.
Jeff (Dallas)
I can't find the weekly rankings? Where are they published?
Tristan H. Cockcroft
(12:50 PM)
They will be up shortly. You can find them on the main fantasy or the fantasy football page.
Hot Rod (Chicago )
Really a Kicker draft strategy question got through?
Tristan H. Cockcroft
(12:51 PM)
Three people in my auction last Friday went $2 on kickers. Apparently not everyone has grasped the proper strategy yet.
Mean Gene (WWF)
Would you start both K.Thompkins and Amendola this week?
Tristan H. Cockcroft
(12:52 PM)
I'd consider it, but I've got Danny Amendola higher. I rate Thompkins a lower-end WR3 this week, but much of that is because I think Ridley/Vereen are going to do quite a bit of the damage.
Quinn (Washington)
On a scale of 1 to 10 (10 being high), how important is stashing Tate as a handcuff for Foster?
Tristan H. Cockcroft
(12:53 PM)
One, but I'd also say one for any handcuff candidate. Again, overrated.Also, one thing to bear in mind: Third-stringer Cierre Wood opened some eyes behind Foster and Tate this preseason. It wouldn't shock me if Wood got a decent chunk of work should anything happen to Foster (not to say he'd necessarily start).
Stevie Franchise (Hou)
You mentioned that Christine Michael is only handcuff material, only useful is Lynch goes down. Isn?t there speculative value in holding him (or Tate, Pierce, etc.) even if you DON?T own the starter? In a scenario that the starter goes down you have a startable RB at the price of your last roster spot. Obviously it?s a ?lotto? ticket stash as who knows what (if any) RB goes down this year.
Tristan H. Cockcroft
(12:54 PM)
Certainly. That was the point. The deeper the league, the more valuable the stash. But you're stashing, plain and simple.
Daniel (Salinas)
who has most points at end of season (standard) Ryan Mathews Cecil Shorts or Chris Givens? they will likely be fighting for my flex spot on a weekly basis.
Tristan H. Cockcroft
(12:55 PM)
I think it's going to be Givens. Actually, I might not be shocked to see it go Givens-Shorts-Mathews. But I'm anti-Mathews, what with Danny Woodhead potentially threatening his passing-down work.
Craig (NYC)
Foster has very recent injury history, Tate is a top 10 back if he starts, yet you rate it a 1? Every other fantasy writer completely disagrees with this. Are you just trying to be different?
Tristan H. Cockcroft
(12:57 PM)
Again, handcuffs are overrated. The question was how important it was to get Tate, and my opinion is, it's not. The goal is to roster as much value as you possibly can; it's not to say "hey, let's draft team backfields!" If Tate falls to the proper spot, great, take him. If he's overdrafted -- as he so commonly is -- that's fine, I'll take a higher-ceiling RB with greater odds at carries, thank you very much.
Sean (Connecticut )
Who do you like long term throughout the season, not just looking at Week 1. I have D Bowe as #1, but do you like the upside guys like Kenbrell, T.Y. Hilton, Josh Gordon more than established guys like Mike Williams, Miles Austin. Have options, but feel like i'm going to be in a tough spot week to week.
Tristan H. Cockcroft
(12:59 PM)
I'm going to pick on Austin here; if Dez Bryant's breakout was legit, I don't see much upside for Austin this season. Frankly, he doesn't have much any way you slice it, as his skills were in decline in recent years besides.I'd shop Bowe if I were you. Many see top-20 wide receiver value; I do not. I think he's a poor fit for Alex Smith, and he's massively unpredictable besides. I'd go Hilton, Bowe, Thompkins, Gordon, Williams.
Sam (Texas)
Wouldn't it be a better idea to instead of taking up a roster spot on a back up RB that you have no idea if he plays to instead roster someone like Harvin or Crabtree? Since there is a better chance at them making a difference on your team even if it is late.
Tristan H. Cockcroft
(1:01 PM)
I think Harvin and Crabtree at least warrant a look late, but understand the difficulty of managing your roster to the date they're expected to return. You'll have to survive the Weeks 4-11 byes and you've got a limited number of roster spots with which to work. I can really only make the case in a larger (12-plus-team) league.
Tristan H. Cockcroft
(1:02 PM)
Ok, time for me to wrap up my part, but here to take the handoff is the great, and always underrated, AJ Mass! Take care everyone, and best of luck to you in Week 1...
AJ Mass
(1:03 PM)
Good afternoon gang! It's a marathon, so THIRD cup of coffee is required. Let's keep this ball rolling...
Vince (Hoboken)
Should I go with RG3 or go with Vick in week 1? Little worried about RG3 rust.
AJ Mass
(1:04 PM)
It's a valid concern. I'm not worried about either getting hurt, at least not more than the other - both have proven to have their issues.. so I'm going to go with the one who at least has played so far.
Adam (Lexington KY)
Lance Moore or K. Thompkins(Pats) ?
AJ Mass
(1:06 PM)
For these questions, I'm going to assume we're talking just Week 1, unless you tell me otherwise. In this case, I'm in Moore's camp either way. Saints are going to score and spread the ball around. Moore's always in the mix, and we simply don't know with the rookie WRs. I'm very hesitant to start newbies at that position.
Beau (Minneapolis)
How effective do you see Sudfeld being when Gronk returns?
AJ Mass
(1:07 PM)
I don't think it has anything to do with Gronk returning, in the sense that Aaron Hernandez was always able to post decent numbers with Gronk around. He'll be as effective then as he will be now, given his relative lack of experience.
Noah (Washington, DC)
Who should I start week one: Stevie Johnson or Wes Welker?
AJ Mass
(1:08 PM)
Six of one, half of the other, if not for the fact that Welker's got Peyton throwing the ball. But you can't discard that fact.
Shannon (Chicago)
Would you carry a backup QB in an 8 team league?
AJ Mass
(1:09 PM)
Roster size plays into this answer a bit, but if I have room to keep a top ten QB, even if only to prevent my opponents from having him? Yes. To stash a Gabbert-level guy "just to have one"? No.
Kyle (West Virginia)
Need some help choosing between two relatively unproven (in the NFL) guys. I've got to choose between Tavon Austin and Lamar Miller for my FLEX spot this weekend. Help!
AJ Mass
(1:11 PM)
When in doubt, go with the touches. Starting RBs, in general, are better bets to score simply because they'll get more chances to break one.
Derek (Denver)
I only have room for one on my roster.. Redman (just named starter) or Bernard??
AJ Mass
(1:13 PM)
He may have been named starter, but that carries little weight in that particular situation. It's not like Ike "won" the job so much as he's the most familiar option of what's left. And don't get me started on the Steelers O-line. I'll go with Gio, who is going to be a big factor in Cincy's offense.
Matt (New York)
For some reason, Saints players were undervalued at my auction, and I ended up with Brees, Sproles, and Colston. Keep them since they are all good, or do I need to diversify to protect from weeks when the Saints go against a strong defense?
AJ Mass
(1:14 PM)
I personally would not want more than two guys from the same team in my lineup, but I'm not trading unless there's an upgrade. You can play defense, by simply not letting other owners use a guy, even if you don't play them yourself.
Jug (NYC)
Regarding your response to the Sudfeld question: do you imply that Sudfeld won't have much value?
AJ Mass
(1:17 PM)
Not at all. I'm just saying that the return of Gronk isn't going to be a factor. He may have "more" value as the only TE, but in that offense, the No. 2 TE doesn't become a non-starter.
Nicholas (So Cal)
Should I start the Colts or Ravens D/ST this week?
AJ Mass
(1:17 PM)
If I have both, I start the Colts.
Byron (DC)
Hakeem Nicks looked bad in the preseason despite getting a lot of pass thrown to him, and with his injury history and still nursing a groin pull, I am concerned. Where do you think he finishes the season in yards, receptions and TDs?
AJ Mass
(1:19 PM)
Let me put it this way... you should not watch the preseason. It only makes you covet guys like Christine Michael when you shouldn't even be looking their way until the very last few picks. Nicks was a top 30 guy before the preseason started. I have no difference of opinion now.
Mark (Detroit)
Any chance Le'veon Bell or Montee Ball can break top 15 RB's this year?
AJ Mass
(1:20 PM)
Bell, due to the injury, has little chance. Ball, due to the team he's on, has little chance.
Matt (NJ)
Bucs D or Rams D this week?
AJ Mass
(1:20 PM)
Tampa Bay all day.
David (Hawaii)
should i start Luck or Vick? worried about a soph slump, or a resurgance from vick.
AJ Mass
(1:22 PM)
Let me ask you this: who did you draft first? If the answer is Luck, then you start Luck. If the answer is Vick, you start Vick. None of us KNOW for sure what teams have good/bad defenses before the games start. So in Week 1, the sit/start decisions should be very easy.
Matt (Texas)
I have a twinge of buyer's remorse after drafting Russell Wilson over Matthew Stafford.Overall, what do you think about him this year? Should I be concerned?
AJ Mass
(1:24 PM)
The only concern is the fact that he and Kaepernick are in the same division. It comes down to the question of whether or not teams figure out these types of QBs and chances are the teams that will figure them out first are the teams that see them the most: AZ and STL.
Jug (NYC)
Danny Woodhead cropped up on the waiver wire. I feel like grabbing him in a 0.5PPR in the hope of lots of dump-offs by a running-for-his-life Philip Rivers. Thoughts?
AJ Mass
(1:24 PM)
Both Woodhead and Marcel Reece are faboo RBs to own in PPR.
Matt (PA)
Is Lacy "unstartable" this week since he's going against SF?
AJ Mass
(1:26 PM)
I don't think I'd put it that way at all. He's not an RB1, but I can see him in the discussion for your RB2, depending on the other options.
Jake (NC)
do you trust DeSean Jackson or Mike Wallace more in week 1?
AJ Mass
(1:27 PM)
While DeSean is healthy, I think I lean slightly in his direction.
Sean (Mighty Midwest)
who is "safer" sproles or richardson
AJ Mass
(1:28 PM)
Trent > Sproles > Daryl
Robert (Nashville)
Better start this week Luck or Eli Manning?
AJ Mass
(1:29 PM)
I'll go with Andrew.
Phil (Ar)
Think Gio Bernard will take over the law firms job anytime soon?
AJ Mass
(1:30 PM)
No. I think this is a case where the sum of the parts is greater than the whole.
Will (Bel-Air)
I've got Pittsburgh's D, but I'm tempted to grab the Bucs going against NYJ. Do I play this matchup and risk losing the Steelers to someone else on the waivers?
AJ Mass
(1:31 PM)
It's a long season. Act like it.
Justin (Lost)
3/4 Ppr league. Petigrew or cook?
AJ Mass
(1:32 PM)
Pettigrew for me
Tom (Chicago)
Can you please give your opinion on taking players' bye weeks into consideration when drafting?
AJ Mass
(1:33 PM)
It makes sense to pay attention to that for your No. 2 QB, and a backup D or TE, should you take them. But there's also something to be said for stocking up on tons of Week 8 or Week 9 byes and then not having to worry about it other than that one week.
Brian (NJ)
Is V JAX an WR1 this year?
AJ Mass
(1:34 PM)
Not quite, but not far off.
Adam (Flint)
What player will be picked up by the NYG to replace A. Brown?
AJ Mass
(1:35 PM)
In terms of fantasy, I hardly think it matters. Brown was a guy you *might* have started at flex in a bye week. Nothing more than that.
David (Fla.)
Best week 1 defense--Bears or bengals?
AJ Mass
(1:36 PM)
Cincy
Clark (Toronto)
Who do you like better as backup QB? EJ Manuel or Big Ben?
AJ Mass
(1:37 PM)
Big Ben. Don't be fooled by the shiny new toys.
Aj (Chicago)
Sometimes Kickers can win you weeks; do you have any strategy for kickers? Do you always go with the one on the best offense? Or like Hartley, does he just not kick enough field goals?
AJ Mass
(1:38 PM)
Close your eyes. Pick a name out of the hat. Unless you have bonus points for long FG, where GZ or Sea Bass have some value, it matters not a whit. Patriots score 42, kicker gets 6 points. Browns score 9, kicker gets 9.
Max (Philadelphia)
How fast does spaceships go?
AJ Mass
(1:39 PM)
I don't know, but I do know parsecs is a distance, Han.
Matt (arizona)
Torrey Smith or Bradshaw for my flex?
AJ Mass
(1:40 PM)
Slight edge to Torrey.
Luis (Chicago)
Golden Tate or Ty Hilton for week 1?
AJ Mass
(1:41 PM)
I like TY a lot, but I'll go with Tate on a flier.
Clay (Irvine)
MJD vs KC or Forte vs Cin?
AJ Mass
(1:42 PM)
MJD for me.
Jason (CO)
Will FAAB ever overtake Waivers as the standard? Always trying to play with FAAB but not enough players willing to try it - they think it's too complicated.
AJ Mass
(1:43 PM)
It comes down to preference, I think. Personally, I do prefer once-a-week waivers, but it's not because I don't understand FAAB. I just want to give teams lower in standings the edge.
Bobby California [via mobile]
is It A Bad Call To Start Foster As RB And Tate As A flex
AJ Mass
(1:45 PM)
Generally speaking, you don't want to be taking too many slices from the same pie. That said, if the choice is Tate or someone like LaRod Stephens-Howling...
please (answer)
Reggie bush or Danny Amendola at the flex? week 1. standard league
AJ Mass
(1:47 PM)
I'm going Amendola, simply because I'm of the mind that Belichick really wants to establish him as the new Wes Welker.
Jeremy (DC)
I've got the Ravens D but concerned by this week's matchup on road. Only droppable players I have are Woodhead or Redman (RBs 6 & 7). Do I drop one in my PPR league for a DST like Min, Cle, Mia, or Ind? I'm leaning towards rolling with the Ravens.
AJ Mass
(1:49 PM)
Again, it's Week 1. Thing long term here. Yes, Denver is a solid offense, but they may be rusty. They may make mistakes. If you drafted a D for the whole season, don't bail because the Week 1 matchup looks scary on paper.
Mark Shell (Harrisburg, PA)
Do Chris Ivory owners have to worry since Bilal Powell is getting the start this week for the Jets? Will this last?
AJ Mass
(1:51 PM)
Powell has been the No. 1 guy on the depth chart all preseason. That and a nickel will get you five pennies. It's not about who starts, but who will end up getting more carries - and I still think Ivory will be very much involved Week 1 and beyond.
Josh (Seattle)
UPSIDE**WR FLIER** Ruben Randle, Deandre Hopkins, Markus Wheaton, Alshon Jeffrey, Mohammed Sanu,
AJ Mass
(1:52 PM)
I've been going with Hopkins when given the choice.
Andy (Tampa)
Is there any match up you would consider sitting Cam Newton against? I don't have a great back up. It would be a waiver pick up like Jay Cutler.
AJ Mass
(1:55 PM)
If you don't have a great backup, then the answer is no. It's not "Do I start Cam?" - it's "Do I start Cam or the other option?" If that option is Cutler-esque, it will rarely be not Cam.
Chris (sc)
Greg Olsen against Seahawks or Jermaine Gresham against Bears in a standard league this week?
AJ Mass
(1:56 PM)
I'll go Olsen.
Ron [via mobile]
Better year Romo or Stafford?
AJ Mass
(1:56 PM)
Stafford
Keller (NC)
Who ends up winning the Rams RB job and/or ends with the most fantasy points?
AJ Mass
(1:57 PM)
I still think it may be Pead. I don't think it will be D-Rich.
Meow (Cat)
How much faith should I put into "projected stats" on ESPN? If I go strictly from your guys' rankings, my projected total points go down by 12. Example: I'm benching DeSean Jackson (proj. 13) and Torrey Smith (12) to play Roddy White (8) based on your rankings. Of course I also think Roddy will have the better game, but what are the projects based on and when should I trust them?
AJ Mass
(1:59 PM)
Projections are based on complicated mathematical formulas... and generally speaking, the yardage numbers typically turn out to be fairly close. The issue is always the TD factor. We can only project players to get a TD - or not. And with that difference accounting for 6 points, you can get a lot of unwanted variance.
Bill (Milwaukee)
Does Carson Palmer have top 12 upside this year with Fitz catching the ball?
AJ Mass
(2:02 PM)
I'm skeptical. But Palmer does have that 4,000 yard capability... a lot would have to go right, though.
Phil (St.Louis)
Ive never seen so many questions about the Rams! If you're starting Rams players in your league then you are probaly gonna lose.
AJ Mass
(2:02 PM)
Last time I checked, their points counted the same as other teams...
Pete (Erie)
So it turns out drafted a pair of teammates at WR. Vincent Jackson and Mike Williams. Is it ever okay to start them both?
AJ Mass
(2:04 PM)
Of course it is. Would you ever start Julio and Roddy? It's not like one doing well precludes the other from doing so, too. It's just a very high-risk move for most combinations.
AJ Mass
(2:05 PM)
We'll be making way for the next chatter shortly... before I check out, let me wish all of you the best of luck for the upcoming season...
Richard (Wisco)
Eli-vs-Dallas or Peyton-vs-Baltimore this week?
AJ Mass
(2:06 PM)
Manning. Definitely... (But I like Peyton better Week 1).
JET (ATL)
Flex choice,,,,,,,Ingram or decker?
AJ Mass
(2:07 PM)
Ingram for me.
AJ Mass
(2:08 PM)
Without any further ado... the lovely and talented Chris Harris...
Adam (Portland, OR)
With so much uncertainty in Carolina's backfield, what kind of season do you predict for Kenjon Barner?
Christopher Harris
(2:09 PM)
Hi, Adam. Probably not a fantasy-relevant one. It's going to take continued absence and good luck for him to get enough work, plus he himself is banged up at the moment. But I'm aboard keeping tabs on him. Certainly a fun and explosive little player.
Steve (PA)
Hey! Loving the Underground podcast. Ben Tate, Emmanuel Sanders and Eddie Lacy. Which two do I start in flex spots? PPR
Christopher Harris
(2:10 PM)
Thanks, Steve. I probably play it safe, and go Sanders and Lacy. Tate certainly could get a nice Week 1 workload, but he could also get frozen out and I wouldn't be shocked.....
Maggie (Chicago)
Much appreciated Mr. Mass.Mr. Harris,Brady or Ryan for the season?
Christopher Harris
(2:10 PM)
Hi, Maggie. Brady for me. He was my No. 3 QB coming into the season.....
Patrick (Austin, Texas)
At flex this week I am considering benching Jordy Nelson for Darryl Richardson...12-team PPR. Am I nuts?
Christopher Harris
(2:11 PM)
Hi, Patrick. No, you're not nuts. I think it's debatable. It's fair to be concerned that the Niners will be a difficult challenge for the entire Packers offense. And one thing you can be sure of this week is Richardson as the starter in Week 1. I might go with Nelson, but I think it's a viable Q.
Pat (KS)
KC's tight ends, any worth drafting?
Christopher Harris
(2:12 PM)
Hi, Pat. That would be a no. I can certainly see Fasano contributing occasionally. But not regularly enough to be fantasy relevant. Kelce has struggled so far...
Jeremy (Flex Decision Nightmares)
Help me Mr. Harris, you're my only hope.Better week 1 FLEX play: Colston or Ivory?
Christopher Harris
(2:12 PM)
Hi, Jeremy. I'd play Colston. No question Ivory could score a TD, and I think he's a way better player than Powell. But if you have a quality option like Colston, why even get involved with the potential Jets mess?
John (Jersey)
Have Tate. Should I trade him to the Foster owner for Gordon or aim a little higher?
Christopher Harris
(2:13 PM)
Hi, John. Personally, unless you're really desperate, I'd wait. He could wind up being worth a darn sight more than that, and soon.
vic (no cal)
I DON'T GET IT? Matthew Stafford was the #3 ranked QB last season at draft time. He goes out and throws for 5,000 yards, the teams gets more talent around him this season, and yet he's a bench QB in some 10-team leagues. Are people missing the boat on Stafford this season?
Christopher Harris
(2:14 PM)
Hi, Vic. I don't think missing the boat, as much as: there are a lot of really nice QB options. This is why waiting on QB is such a sound strategy. I'm perfectly happy if Stafford is my QB. Let's be honest: He didn't play well for stretches last year. But the numbers should be there. Their short-passing game basically *is* their running game.
rj (mi)
Hey chris just got done listening to the pod, great job! Do I start Kenbrell Thompkins, Gio Bernard, Shane Vereen or Tavon Austin week 1 PPR flex?
Christopher Harris
(2:16 PM)
Thanks, RJ. In a PPR, I think I'd go Vereen.
Christopher Harris
(2:18 PM)
For those asking single-position questions, incidentally, you can find my opinions here: http://espn.go.com/fantasy/football/story/_/page/13ranksWeek1QB/fantasy-football-week-1-quarterback-rankings
Took Christine (Crazy?)
Chris, make me feel better about agreeing with you in the Underground and Free agent finds. Is Michael the best of these three?Joique Bell, Woodhead, Michael
Christopher Harris
(2:20 PM)
As a sleeper, as a guy who could come off your bench and dominate, I think Michael is the player. Woodhead's upside feels awfully low, as does Bell's. This week, of course, I'd have to rank him third. But the one I'd want to roster with the chance of him blowing up would be Michael.
Bryan (New England)
Hey Chris, would you recommend Foster, DeSean Jackson or Daryl Richardson as the flex play in PPR? Foster has me worried about his week one work load.
Christopher Harris
(2:21 PM)
Hi, Bryan. Yeah, Foster is causing ulcers. We're going to talk about him prominently in tomorrow's edition of the Fantasy Underground podcast. (Subscribe now on iTunes!) Of these guys, though, I think I probably play him. And make sure the antacid tablets are close by.
The mustachioed one! (Parts unknown)
[love the Fantasy Underground!] Chris, as a fellow Foster owner... how worried should I be that I missed out on Tate? I'm considering trading Foster and Wallce for Rice and Pierce, just because it's a deep league and RB replacement is stark. =(
Christopher Harris
(2:21 PM)
Yeah, listen, I understand, because as you know: Foster owner here. I don't think I'd do the deal in this case. Is there a possibility of trading something for Tate? I'd rather go that route....
Drew (Chicago)
What handcuff to the injure prone starters do you see having more relevance this season; Bell (Det), Dunbar, or Reece? Does your order change in a .5 PPR league?
Christopher Harris
(2:24 PM)
As a handcuff, Reece doesn't interest me at all. I just don't think he'd thrive, plus Rashad Jennings is there. I think I'd have to say Bell. Dunbar is interesting, though -- wish he was fully healthy for Week 1.
Andrew (California)
Chris, do you prefer streaming defenses on a weekly basis or drafting a great defense and starting them all season long?
Christopher Harris
(2:25 PM)
Hi, Andrew. I don't have a preference, really -- I'm okay going either way. I'll say this, though: I rarely wind up taking an "elite" defense (aka, a defense we *think* is elite, because they haven't disappointed us yet) as high as you typically need to...so I'm more likely to pursue the second strategy on average....
Nick (Troy, Ohio)
Get THE BIG CLEAR by Christopher Harris...Great read! Still miss the handlebar 'stache!!! Hahaha
Christopher Harris
(2:25 PM)
Thanks, Nick. Join the club. Mustache-wise, I mean.
Mike [via mobile]
Welker or Lamar Miller for my flex in a PPR league
Christopher Harris
(2:26 PM)
Hi, Mike. It's gotta be Welker for me. Not buying his ankle problems. He doesn't miss games, and is a PPR monster. Well, I *hope* he's still a PPR monster.
BD (Online)
If you owned Tate what would you look to get for him?
Christopher Harris
(2:27 PM)
Hi, BD. Again, I'd probably just hang tight. If things break right for you, you could be the cat who ate the canary. Or some other animal metaphor.
Tony puglisi [via mobile]
Who do you start as a flex player this week, Torrey smith or Darren McFadden
Christopher Harris
(2:28 PM)
Hi, Tony. As much as DMC gives me the heebie-jeebies, in this case I probably roll with him. The Colts D doesn't scare me. (The Raiders O, on the other hand....)
Scott (FL)
If you owned both Rice and Bush in a PPR and could only roster 1 handcuff who would it be: Pierce or Bell?
Christopher Harris
(2:29 PM)
Hi, Scott. I think I'd actually say Bell. I wish I could say both, though. They're both really important....
Jason (CO)
Why so high on Hakeen Nicks in you ranks (compared to other rankers)?
Christopher Harris
(2:30 PM)
Hi, Jason. Good question. I was surprised to see how low the others had Nicks...it seems to me that he's typically outside the top 20 WRs for the season because of concerns he'll get hurt. But for as long as he's *not* hurt (and reportedly he's not right now), it seems to me that you'd really want to get him in there. Plus I like the DAL matchup. I guess I'm buying him this week....
Big fan (NJ)
I was offered shane vereen and kenbrell thompkins for eddie lacy as a trade in a ppr league. Should I accept?
Christopher Harris
(2:31 PM)
No, I probably wouldn't give up Lacy in that arrangement. I'm worried he's in for a tough first game -- that Niners run D is vicious. But in general, I think you're going to be really happy with him.
Curtis (Houston)
Love the Underground Chris, keep it up. What are the chances that Amendola stays healthy 13 games and has a monster (standard) season? Fingers crossed, his my WR2.
Christopher Harris
(2:32 PM)
Thanks, Curtis. I appreciate it. I can't tell you anything you don't know -- but I'm buying Amendola. He was a flag player of mine. To some extend, I think he'll get lucky where he's been unlucky. But it's risky, no question.
Greg (Tampa)
Why so low on Romo this week? He has a history of putting up big numbers against the NY football Giants.
Christopher Harris
(2:34 PM)
Hi, Greg. Yeah, I mean, I don't feel like I'm low on him -- I ranked him almost exactly where I ranked him for the entire season. The only person who jumped ahead of him is Luck, and he's got the Raiders. Otherwise, I can't find anyone who I ranked above him for the season who I'd bench for him in Week 1. I know Cam's matchup against the Seahawks looks awful, but I'm supposed to bench a top-5 QB for Romo, who *can* stink at a moment's notice? The larger point is probably that few fantasy owners *have* two guys in the top 12. But yeah, I'd feel really dumb if I benched Newton for Romo, and then Cam ran for 3 TDs.
Aaron (Tampa)
Best use of bench spot in a keeper league, Stills or Patton?
Christopher Harris
(2:35 PM)
Hi, Aaron. I'm going to say Patton. Stills will *probably* contribute more, but it'll probably be sporadic. Meanwhile, there's a real chance that Patton could become SF's WR2 at some point. As a bench guy, I prefer Patton.
Roger (UNC)
I think I have a man-crush on Drew Brees. Just had to get that off my shoulders. I'm not crazy, I promise.
Christopher Harris
(2:36 PM)
Roger, I'm very glad you unburdened yourself.
dan (Charleston, SC)
How great must it be for Christine Michaels laughing at all his elementary classmates for making fun of him, and now they are drafting him?
Christopher Harris
(2:37 PM)
Yeah, Dan, I'm sure he's happy -- let's just hope he stays healthy and doesn't get on his coaches' wrong side. There's a reason he fell in the draft...he's been a problem child in the past.....
Jenny (Ft Worth)
How soon do you think Rob Gronkowski will be back, and from that point, where will he rank in terms of tight ends? I'm thinking Week 4 and top 3?
Christopher Harris
(2:38 PM)
Hi, Jenny. I'm going to be un-shocked if he's back Week 2, and I think Week 3 sounds like the over/under. And I have him at No. 2 among TEs overall, just because there's still a little more risk than Graham. But I will be ready to push him to No. 1 right quick.
Joe (Bloomington)
How many players can you put on you matchup proof list? I know the QB'a are there, but what about the other positions?
Christopher Harris
(2:39 PM)
Hi, Joe. Well, I can't run through every player during this chat, but at this exact moment, there's no conceivable way I'd think about benching any of the top 20 RBs or WRs, even if the matchup supposedly looked scary. Let's remember that everything changes so much in the NFL from year to year. The idea that we know exactly what to expect from matchups is goofy. It's proven every single year.
Chris (Myrtle Beach)
Darren McFadden fell to us in the 7th round. in a ppr league, would you start him at the flex over Antonio Brown, Jordy Nelson, or Ben tate for week1?
Christopher Harris
(2:41 PM)
Hi, Chris. I like the pick very much. I still might sit him for a week, though...just to see what's what with that potentially bad Raiders O. I'd probably use Antonio Brown in a PPR and hope for an 8-catch game.... But I do like the DMC pick that late.
Zach (ID)
Did James Jones hit his ceiling last year or can he build upon last year?
Christopher Harris
(2:41 PM)
Hi, Zach. Yeah, no, I think it's pretty safe to guess his TDs are coming down. He has room for growth yardage-wise, but overall the fantasy points are probably coming down....
KH (NC)
Who has a better chance to end up in the top 10 at their position? Dwayne Bowe or Montee Ball
Christopher Harris
(2:43 PM)
Hi, KH. I'll guess Ball. It's just tough for me to see Alex Smith ever producing a top 10 fantasy WR. Ball probably won't do it either, but if he lucks into a lot of TD-rich situations, and gets you double-digit TDs, it's possible.....
AJ (Chicago)
TALK ABOUT KAEPERNICK!
Christopher Harris
(2:45 PM)
It just so happens, AJ, I'm about to break down some FILM on Kaepernick that's going to be posted to ESPN.com tomorrow. First time we've ever had the chance to do this. Really excited. Look for: "Fantasy Underground: Film Room."
Alfred (CA)
First time on chat! Who do you think will do better week1. Romo or Vick? All the rankings say Romo but there's just something about Vick in Chip Kelly's offense!
Christopher Harris
(2:46 PM)
Hi, Alfred. Yeah, I mean, of course there's a chance Vick and Kelly make beautiful music right away. But since you have a nice other option, why take the chance? Give Vick a week. Maybe he'll prove he needs to be your starter every game. But until he does, roll with Romo.
Christopher Harris
(2:47 PM)
And the larger point, again, for all of you who are asking single-position questions (and there are dozens): Here are my ranks: http://espn.go.com/fantasy/football/story/_/page/13ranksWeek1QB/fantasy-football-week-1-quarterback-rankings
Fernando (Charleston)
I know Aaron Rodgers and 49ers D are tops at their respective positions...but should I be worried on starting them both on my team this week?
Christopher Harris
(2:47 PM)
Hi, Fernando. You're allowed to worry. But you're probably not allowed to bench either. Just hope for the best.....
Alex (Waukesha, WI)
The point projections have Vick ahead of Kaepernick but the rankings have it the other way around. Who do I start?!
Christopher Harris
(2:48 PM)
Hi, Alex. The point projections are done by someone else -- I'm involved with the ranks. So in my inimitably self-serving way, I'm going to say follow the ranks. :-)
Dolph (St. Louis)
I just scooped up Benny Cunningham. Is it possible he becomes a factor in the Rams backfield?
Christopher Harris
(2:49 PM)
Hi, Dolph. It's really unclear what the Rams are planning behind Daryl Richardson this week. Given the way the RBs looked from what I saw in the preseason, Cunningham would be my favorite to get a few looks. He certainly seemed ahead of Zac Stacy. But for the season -- I tend to think his best case is being part of a maddening platoon....
Mike (Earth)
Hey Chris, How do you project Givani Bernard this year? I have him in all of my leagues and am hoping for big things!
Christopher Harris
(2:50 PM)
Hi, Mike. Bernard was my No. 1 option in a rookie dynasty draft this summer, so I certainly like his career prospects very much. It's also heartening that Cincy tried him on the goal line a bit in the preseason. But BJGE probably isn't going anywhere. I think you rostered the right Bengals back. I'm not sure he gives you startable numbers early in the year, though....
Alex (Worcester, MA)
What do you think about Jonathan Franklin? Is he even worth a roster spot at this point?
Christopher Harris
(2:53 PM)
Hi, Alex. Outside a deep dynasty league, I don't think Franklin is rosterable at this point. I guess it's possible the John-Kuhn-as-third-down-back stuff is being way overrated. Maybe Franklin will get involved later. But for the moment, it sounds like the Pack isn't enamored of him. I think he can be cut.
Jr (RGV)
Hey Chris, don't have any questions, just wanted to say that I'm a huge fan of the underground and the work you guys put into it. Thanks for that.
Christopher Harris
(2:53 PM)
Thanks, Jr. It's much appreciated, believe me.
Justin (Tennessee) [via mobile]
So ive got Vick as my back-up qb but I was thinking of picking up shaub on the waivers. What do you think?
Christopher Harris
(2:54 PM)
Hi, Justin. If this is a Vick-or-Schaub question, for me it's Vick by a wide margin. Unless Houston's offense changes a bunch this year, it's run-oriented and doesn't give Schaub much to do in the red zone. I prefer Vick, even with his injuries.
Nick (Chicago)
Stepfan Taylor worth a roster spot?
Christopher Harris
(2:55 PM)
Hi Nick. I mean, I read the reports about how a radio host thinks he's Mendenhall's goal-line caddie, but I find it pretty tough to believe. If Mendy has one area where he's been above-average in his career, it's been inside an opponent's 5. I think outside a very deep league (VERY deep), I don't think Taylor needs to be owned.
jacques (honduras)
is roy helu worth anything more than a morris handcuff in a 12 team ppr knowing that morris cant catch a cold and helu was hurt last season
Christopher Harris
(2:56 PM)
Hi, Jacques. He definitely should be owned in your league. The Morris owner should be most interested in owning him as a handcuff, because it's going to be tough to start him. But as a bye-week fill in, he certainly *could* give you a 7-catch game that would help you. Again: ownable.
chris (nc)
is lance dunbar the back to own if(when) murray goes down? He seems a little undersized to just take over.
Christopher Harris
(2:58 PM)
Yeah, Chris, while I do think Dunbar would be the lead if Murray gets hurt, I think you're right: we'd probably be looking at some kind of combo job in that backfield, with Randle and maybe Tanner working in.
Milan (Denver)
Thoughts on Miles Austin? Seems to be low on everyone's list.
Christopher Harris
(2:58 PM)
Hi, Milan. Yeah, there's certainly a scenario where Austin can be Mike Williams to Dez Bryant's Vincent Jackson...he could make enough plays per week to get on the fantasy radar pretty regularly. Obviously, we all feel burned by his health problems over the years, and he's had some bone-headed moments recently. But I agree -- there could be value there.
Christopher Harris
(3:00 PM)
Okay everyone. Thanks for coming to my portion of the marathon. Without further ado -- here's Matthew Berry. Go get 'em, Matthew!
Randy (CT)
Hey Matt, you still crush on Hathaway? How's this for a risk/reward type trade...Lacy & DJax for Sjax? Silly proposition?
Matthew Berry
(3:02 PM)
Not as much on Anne. She sorta got weird / crazy with all the acceptance speeches for Les Miz, you know? Loved her in Batman, tho. I remain a fan tho my unrequited love moves on.... Not a bad offer on the trade. Depends on your WR depth & size of league. If D Jax wouldn't start for you, I'd def do the deal.
Matthew (Last Attempt)
MJD or Dwane Bowe at FLEX??? I can't decide....
Matthew Berry
(3:03 PM)
MJD
I bought your book (And Draft the way you tell me)
So please help me in a deep league at FLEX this week: Redman, Powell, Thompkins, or E Sanders?
Matthew Berry
(3:05 PM)
Hahaha. A book reference is always nice. Wish I had better news about your flex options. Sanders is the safe play, Thompkins the one with more upside. Until we see how Redman is used (along with Felix and LSH) ... can't trust him
Go Long (NJ)
Jordan Cameron or Golden Tate as a flex option??
Matthew Berry
(3:07 PM)
Love Cameron this week. I actually think the CAR D is gonna surprise some people. Also, with no Gordon, I expect Cameron to get a lot of looks as MIA focuses on T Rich. Tate the safer play but I prefer Cameron.
Tyler (The 06010)
Matthew, love the book! Have you backed off your Cordarelle Patterson love? I notice he's not ranked in your top 50 this week.
Matthew Berry
(3:08 PM)
Not really. Love his talent - tough in week 1 with everyone available. Patterson is not starting yet - he will - be he won't be in two WR sets to begin with and I believe in DET's d. But by end of the year, Patterson will be a factor
Kyle (Cleveland)
Any early season trade targets? Gronk?
Matthew Berry
(3:10 PM)
Gronk is an obvious one. Rodgers has a really tough early sked. SF, WSH, CIN, BYE. Could see him being outside top 4 or 5 at QB when he hits bye week...
Will (Austin)
Having A. Foster, should I trade Eddie Lacy or Montee Ball for Ben Tate?
Matthew Berry
(3:13 PM)
If I could trade Ball for Tate, I would. Wouldn't do it for Lacy but I'd be willing to risk Ball (part of that expected RBBC) to make sure I had a top 10 RB the resat of the way. If Ball got the job all to himself, he's probably a top 15 back or so... depends on your RB depth. I assume Ball is at best your RB 4. Assuming that, yeah, I do that deal.
Ollie (Chicago)
The Man the Myth the Legend.....Oh wait it's Matthew Berry. THe talented Mr. Roto, What is your take on the RB situation in NY (Jets)? Grabbed Foster, Brees and Cobb first three picks and ended up with Ivory as my RB2.
Matthew Berry
(3:15 PM)
Well, you need Powell. Just announced as the starter. Ideally you're avoiding this week - don't like match-up with TB and we're not surew how that'll play out. Powell is a flex type RB / low end #2 at best but ultimately I expect Ivorty to overtake him.
Greg (Vermont)
Why do u hate Mike Wallace so much? And anyway hes playing against the Browns which sounds like a good day for him. Come on TMR!
Matthew Berry
(3:16 PM)
Read my Love / Hate tomorrow and you'll see why. He's struggled vs Joe Haden and new team, etc... don't see that changing on Sun
Brian (Austin)
Why did you like Vick as the best guy in all fantasy football two years ago but now you have him as 15th best qb when he has an improved line and an offensive mastermind at coach?
Matthew Berry
(3:21 PM)
Rabked him 13th in pre-season and this week - entirely about his health (only one 16 game season) plus this year there is so much depth at QB when in 2011 there wasn't. Coming off the 2010 season, where he had FP per game than Brady during his 50 TD season, I thought the reward was worth the risk in a ten team league where replacement options are plentiful
Guest (Toronto)
0.5 ppr flex pick 2: Vereen, D Williams, Nelson
Matthew Berry
(3:21 PM)
Benching DAW vs SEA
Finkle is Einhorn (South Florida)
New York Times bestselling author Matthew Berry,Vick or Luck for week 1?
Matthew Berry
(3:22 PM)
Your answer can be found here:http://games.espn.go.com/frontpage/football
Matthew Berry
(3:22 PM)
Or here:http://espn.go.com/fantasy/football/story/_/page/13ranksWeek1QB/fantasy-football-week-1-quarterback-rankings
Austin (FL)
My heart says Brady, but projections say Kaepernick. Who gets the start at QB?
Matthew Berry
(3:23 PM)
I'm not benching Brady vs BUF. Think GB will be a little more prepped for CK than they were in last year's playoffs
Sean (San Francisco)
Give: DeSean Jackson. Get: David Wilson. Context: PPR. Verdict?
Matthew Berry
(3:24 PM)
Love getting Wilson there. D Jax not a great PPR play
Pedro(Ma) [via mobile]
Hey Matt, how do you feel about Giovanni Bernard?
Matthew Berry
(3:24 PM)
Like him a lot as a flex RB with upside. The fact that he got multiple goal line carries (and converted) in pre-season is encouraging.
Michael (NYC)
Better PPR Flex play - Montee Ball or Emanuel Sanders
Matthew Berry
(3:24 PM)
Sanders
Stephen (Los Angeles)
Why you hate TB D week 1? You really think they are not going to feast on the Jets?
Matthew Berry
(3:25 PM)
Uh, I have them ranked as a top 10 defense this week
You are the reason I still play fantasy and I want your job [via
Since your benching DAW vs Seattle, would mike Wallace be a better flex play this week?
Matthew Berry
(3:25 PM)
NO on Wallace. Prefer DeAngelo to Wallace
Jason (CO)
You'll probably answer this in this week's Love/Hate... but why so high on Romo vs. other rankers?
Matthew Berry
(3:27 PM)
You are correct. I will answer that there. ;)
Aaron (Texas)
I took Russell Wilson over RG3 in my draft. I'm not confident with it. Make me feel better or worse.
Matthew Berry
(3:30 PM)
I had RW ranked higher than RG3. LOVE RG3 as my real life QB but worried that designed runs will not be as prevalent this year. RW was 2nd best fantasy QB starting in week 12 last year, once they installed zone read
Josh (TX)
Trade Lamar Miller + Steve Johnson for David Wilson? Or is that too much value for Wilson?
Matthew Berry
(3:31 PM)
Love Wilson, but also love Miller. Many are down on Stevie J - I think he's a solid WR 3 - 3 straight 1000 yard seasons. Seems like a little much to me.
Ross (New York)
Daryl Richardson or Wes Welker as my flex for week 1? (.5 PPR)
Matthew Berry
(3:33 PM)
Tempted by Welker, but prefer Richardson here. Welker may struggle a little vs Webb.
Mike (MN) [via mobile]
Chip Kelly is an offensive mastermind the same way Spurrier was. Gotta wait and see first.
Matthew Berry
(3:34 PM)
Hearing about how Chip Kelly is approaching things vs how Spurrier did (very loosey goosey under Spurrier) ... I'm more bullish on Kelly's propects but I agree, we need to see it.
James (NJ)
I havent read your book. I can't read. PPR Flex. R Mathews, K Thompkons, or C Givens???
Matthew Berry
(3:35 PM)
Fair. Honestly, I'd go Thompkins. By the far the biggest gamble but worried Givens will draw Peterson and not crazy about Mathews vs HOU
Kevin (South Hill, VA)
Love your book- especially the stripper joint draft miscue- start ball over bradshaw as rb2 and sudfeld over cameron at te? Thanks!
Matthew Berry
(3:38 PM)
Nice. Yes on Sudfeld and I'd go Bradshaw vs OAK. We just don't know what DEN RB situation will look like and while AB won't get a full load vs OAK, he'll get enough
Max (06010-FantasyLife)
I read your book and can say I am responsible for 4 other members of my family buying it.PPR - Vereen or Boldin? Is Vereen going to catch a lot of passes this year?
Matthew Berry
(3:39 PM)
Yes on Vereen catching lots of passes - but Boldin will be a possesion guy. Close, but I'd probably go Boldin this week. Thanks for the support
Jeff (CO)
How do you think Rashard Mendenhall will do this year?
Matthew Berry
(3:40 PM)
He'll be better than people think - a solid flex play - but can't see him lasting all 16 games. Stepfan Taylor is an interesting guy in deeper leagues - he's the current handcuff
Kimberly (Orange County, Cali)
Who has better upside this year as a TE2? Tyler Eifert or Julius Thomas?
Matthew Berry
(3:41 PM)
Thomas has more upside but suspect Eifert will be usuable first. They love Eifert there and are going to use Gresham to mostly block.
Migalooch (Sicily)
Flex questions...Lacy or Torrey Smith in a PPR league format?
Matthew Berry
(3:43 PM)
I'm going Smith. No Champ expected in this game, Flacco won't see a ton of pressure with no Von Miller... Gimme Torrey vs the guy playing SF
Andy (New jersey)
Apparently the key to getting your question is to mention your book.... Matt Berry's Book! Yay! But seriously, Thompkins or Richardson in the flex? It's ppr btw... Also the book was great, honestly.
Matthew Berry
(3:44 PM)
Ha! Go Richardson
Rob (NY)
PPR Flex...Lacy, Nicks or Tavon?
Matthew Berry
(3:45 PM)
I'd go Nicks since it's PPR. Think DAL-NYG is a shoot-out
Mike (TX)
49er defense a risky play this week?
Matthew Berry
(3:45 PM)
Risky? No. A great play this week? Not really.
Josh (Seattle)
Youre ignoring my Kai Forbath question...you pick him as your sleeper kicker...then you didnt even rank him this week? Explain please!
Matthew Berry
(3:46 PM)
My explantion is that you can't read. Ranked him 7th. http://espn.go.com/fantasy/football/story/_/page/13ranksWeek1K/fantasy-football-week-1-kicker-rankings
Scoop (Deep South)
Wow. Sudfeld ranked fifth overall. Does that say more about his potential or the overall weakness of the TE position?
Matthew Berry
(3:46 PM)
More his upside vs BUF with no Gronk
Justin (Texas)
Is Arian Foster a good start week 1 or should I leave him on the bench due to his injuries?
Matthew Berry
(3:49 PM)
I have him as a top 10 play. Foster doesn't need a ton of carries to be worth starting. My guess is he gets 15-18 touches
Brad (Delaware)
Good lord, so many Thompkins and Richardson questions...
Matthew Berry
(3:50 PM)
UNfortunately, I'm getting a lot of questions that can just be answered by looking at my rankings (MJD or D Wilson type questions)
Jacob (Charlotte)
Matthew best defense for 2013--Bengals or Bears?
Matthew Berry
(3:52 PM)
Bengals
Chris (DC)
NOT A RANKINGS QUESTION! Hey Matthew, love your stuff! Vick's my only QB, love his upside but am scared of injury. Should I trade AP for Martin + RGIII?
Matthew Berry
(3:55 PM)
No. I agree with the thought - would not want him as my only QB - but hey, at this point, he's your guy. RG3 doesn't help the injury concern and I'm not giving up AP even though you're getting Martin. Would look to wire or see how you fare with Vick initially.
Tim (RE the Manifesto)
DRAFT TONIGHT! In 6pt passing TD league (auction draft), are you still going RB RB or would you spend a good bit on a top tier QB?
Matthew Berry
(3:56 PM)
I'd still wait on QB a bit. I just did a 10 tm / 6 pt TD pass league...I went Peyton in the 4th.
Pete (LA)
who should i pick up stepfan taylor or ryan williams
Matthew Berry
(3:56 PM)
Taylor
John (NY) [via mobile]
Mendenhall or gio bernard in the flex? PPR....loved your book by the way
Matthew Berry
(3:58 PM)
Thanks - I go Gio in a PPR - don't love either this week however
farve dollar footlong (AL)
Eddie lacy, daryl richardson, cecil shorts, in a ppr flex?
Matthew Berry
(3:59 PM)
Shorts
Doug (KY)
Would you start Freeman or Rivers as your second QB in a 2 QB league?
Matthew Berry
(3:59 PM)
The one who isn't Phillip Rivers
Please (I need help)
Randall Cobb or Chris Johnson at FLEX?
Matthew Berry
(3:59 PM)
Johnson
CHRIS (LONG BEACH NY)
Hi, I play in a team that has been around for about 5 years. This year we took a vote to become ppr. Our commissioner said that he was making 'extensive changes' i believed the change to ppr was an extensive change. turns out he made changes to qb scoring, added return yard and completely revamped defensive scoring changes. he posted the changes in june when no one checks the league and without a vote. I along w 85% of the league draft not knowing of the additional changes. how unethical is this commissioner?
Matthew Berry
(4:02 PM)
Not sure it's that unethical. Maybe more a poor communicator. I mean - they were posted - it's not his fault you guys didn't check the rules before drafting. If he was totally on the up and up, he shoul dhave sent an email with the rules changes as well... so it's a little sketchy but I think you guys are at fault as well.
Matthew Berry
(4:02 PM)
That's all my time - thanks for stopping by - reminder to sign up and play fantasy for free here on ESPN.com - you can ALWAYS do one more league.... Stephania Bell is up next. Be nice and ask her not to draft your players.
Stephania Bell
(4:04 PM)
Thank you Matthew for asking everyone to be nice. I suppose it's also fair to ask me not to draft your players for fear of the curse. Let it be said that my drafts are now complete.
JAKE (MIDDLEOFNOWHERE)
I have Foster as my go to back, and that scares me. I have Montee Ball, Eddie Lacy and Shane Vereen behind him. Which one of these guys is going to give me the best chance at a solid RB2 through this season????
Stephania Bell
(4:06 PM)
I wouldn't be excessively nervous about Foster (watch him make me eat my words). I give Lacy the RB2 slot. CLEAR starter and lead back. Yes, he has some injury history but he has played in the presence of pain throughout AL career.
Dave (NY)
STEPHANIA BELL IS NOT A CONE!!!! That being said, Gronk practicing in pads would lead you to think he'll be into games in week __ .
Stephania Bell
(4:07 PM)
Dave: You are correct. I'm still leaning towards Week 4 but UNDERSTAND this is a fluid situation. Could change anytime if he proves he is conditioned enough. Obviously with him doing blocking drills they're satisfied the arm is healing.
Dr. Mann (Dallas, TX)
Stephania, how can we get more info on the extent of the injuries of these players? Example: David Wilson suffered a broken leg is not enough info. I don't need it to be a narrative RAD report saying "the outer cortex of the bone appears to be lucent with etc etc etc." It would just be nice if you said "fractured fibular head" or "Colles fracture" to help out the docs that are playing FFB!
Stephania Bell
(4:08 PM)
Dr. Mann: Well, not everyone is a doc so try to give the info that will (hopefully) help everyone understand the injury a little more than what's offered in reports. That said, most teams aren't offering much detail...so when we get it, we share it.
Noah (IL)
I know you have MJD listed higher in your rankings than David Wilson for this week, but who do you think has the higher upside? Both are solid plays.
Stephania Bell
(4:08 PM)
Noah: MJD. Proven talent.
Indonesia (Texas)
I'm torn between Cecil Shorts, which relies on Gabbert to produce, or Emmanuel Sanders. Standard scoring...
Stephania Bell
(4:09 PM)
Indonesia:" I'd be worried about Shorts this week a little more b/c Gabbert still having issues with his thumb. Leaning towards Sanders (but not always).
Alex (tx) [via mobile]
I've got McFadden and Matthews. Who has the better shot of staying healthy?
Stephania Bell
(4:10 PM)
Really? You are taking your chances. I actually think Mathews.
Bill S. (06010)
Should I be worried about your 49ers Defense this week...I also have Aaron Rodgers on my team. Should I pick up Cleveland D/ST instead?
Stephania Bell
(4:11 PM)
Bill: No. Sacks will happen.
Bernard (NYC)
Hi Stephania, I hurt my lisfranc and it didn't feel right for 2-3 years (no surgery and not in nfl lol). How realistic is it for MJD or Leveon Bell (with his maybe, maybe-not lisfranc) to be as good as they were in the past? Thanks
Stephania Bell
(4:12 PM)
Bernard: Sorry to hear that. But there are so many variants. All depends on proper (and relatively speedy) diagnosis and management. MJD I've seen. Looks great. Think he's past it. Bell seems to be making good progress. Definitely full recovery potential, as long as he doesn't push it too hard too soon.
Spencer (Denver, CO)
Any concern over Garcon's injury from last year? I have a choice between him and Torrey Smith?
Stephania Bell
(4:14 PM)
Spencer: He says he's 100% but the possibility remains that it could crop up again. No huge worry (in other words, not much greater than the risk of suffering a new injury).
Chris (Boston)
Would you go with Darren Sproles or David Wilson in a PPR this week?
Stephania Bell
(4:14 PM)
Chris: PPR, Sproles.
William (Philly)
Chances Vick stays healthy all 16?
Stephania Bell
(4:16 PM)
William: he hasn't done it yet so don't expect it now. I drafted him (even worse) in a 16-team league. I fully expect I will need to replace him at some point ALTHOUGH part of the reason I was willing to take him was I liked what I saw (quicker release, sliding) in the preseason.
Riaz (OH)
Stephania, Is Ed Dicksons hammy healthy for tommorows game after reports he would sit out week one? Im a Gronk owner who may have to start him
Stephania Bell
(4:17 PM)
Riaz: Full participant in practice Monday and Tuesday. Looks right now like they expect him to play. Not the same pass catcher as Pitta though so keep that in mind.
Tanner (Syracuse, NY)
Who's the better pickup off waivers, Knowshon Moreno, Christine Michael, or Justin Blackmon?
Stephania Bell
(4:18 PM)
Tanner: Depends what you're looking for. Moreno may (MAY) contribute immediately as they flex their backs. Blackmon suspended. Michael to me has the best upside, has looked amazing in preseason but probably won't see much action for a while (unless Lynch gets hurt).
Nathan (ND)
I've got Finley in right now but I'm thinking of swapping him out for Bennett. Thoughts?
Stephania Bell
(4:20 PM)
Nathan: Not sure I would. All the reports are that Finley has had this amazing camp/preseason. Better shape, better attitude, maybe the lower expectations help. When Cobb, Nelson have been sidelined in preseason he's getting more targets in practice, seems to be in better sync with Rodgers.
Jeff (Rocklin)
Please help a newbie: take Foster with my 1st round pick and try to get Tate later or skip him altogether?
Stephania Bell
(4:20 PM)
Jeff: Unless you have first overall pick (which should take AP), I love Foster in first round but absolutely grab Ben Tate.
TJ (Wisconsin)
McFadden or DeSean for Flex
Stephania Bell
(4:21 PM)
TJ: DeSean
Christian, MS [via mobile]
Should I start Hakeem Nicks or Emmanuel Sanders as a flex? Or someone like knoshawn, Shane vareen or Tavon Austin?
Stephania Bell
(4:22 PM)
Nicks. Big play upside. Off injury report. Cruz banged up.
Robert (Texas)
For those of us in ppr leagues, what rankings or projections should us loyal to ESPN use? Thanks and have a great day.
Stephania Bell
(4:24 PM)
There is a PPR cheat sheet if you're still drafting. Go to Draft Kit to Cheat Sheet Central. If setting lineup, use the PPR cheat sheet and compare to rankings.
Josh (Miami)
Not that it will ever be answered, but would you use Darryl Richardson or Ryan Matthews in the flex week 1?
Stephania Bell
(4:26 PM)
Josh: I see you. There are 28,000 posts so far (which is great!) But you'll understand if we can't get to every single one. And I take Richardson.
DJ (Utah)
Any concerns with starting Cruz or should I go Hilton for week 1?
Stephania Bell
(4:28 PM)
DJ: I actually wouldn't make that call just yet. I want to see how Cruz does through the remainder of the week in practice. He's done some hard cuts and said the heel felt OK but I want to see what consecutive practices look like and get a better feel late in the week. If I think he's going to start, I take him over Hilton. But I still like Nicks for the big plays for the Giants this week.
Pete (LA)
Hello, How soon do you expect Heath Miller to return and also how effective do you expect him to be?
Stephania Bell
(4:32 PM)
Pete: THere's no date set for his return. All we can say is that the decision not to keep him on PUP tells you that they think he'll be back within six weeks. PRobably will be eased back into game action though coming off multi-ligament knee injury.
Craig (NYC)
Percy Harvin just tweeted saying he's hoping for a week 7 return, is that in any way possible?
Stephania Bell
(4:33 PM)
Craig: Anything is possible but given that 4 months post-surgery would be the early side based on the type of surgery he had and who did it, it's hard to imagine that right now.
Doesanybody (Readthis?)
Welker, Cruz or Torrey in PPR League
Stephania Bell
(4:34 PM)
Apparently the answer is yes. And I would go with Welker.
Micah (Hawaii)
Do I start Andre Roberts or kenbrell thompkins? I'm in a ppr league
Stephania Bell
(4:36 PM)
Micah: I like Thompkins based on what we've seen between him and Brady in the preseason.
Stephania Bell
(4:36 PM)
And Steph in Dallas, thank you!
Joe (NJ)
Flex Decision in a .5 ppr league Week 1Demarco Murray, DeSean Jackson or Anquan Boldin
Stephania Bell
(4:37 PM)
Joe: Like Murray. They have set up more pass reception plays for him and he's the clear starting back for the Cowboys now.
Norman (NY)
Was offered MJD and James Jones for Andre Johnson and Daryl Richardson in a PPR league. Am I right to be skeptical of MJD following last years injury? If instead of MJD I get Steven Jackson should I accept?
Stephania Bell
(4:40 PM)
Norman: Can't say enough how much I like MJD this year. Included in PPR value. Johnson will probably be higher volume targets than Jones but I would probably make the trade.
Stephania Bell
(4:42 PM)
Thanks to all for the great questions. Keep 'em coming. I'm jumping out but KC Joyner will be joining you soon...
Pierre Becquey
(4:44 PM)
KC Joyner will be joining us in a bit. A few technical difficulties. I'll answer a few of your questions in the meantime.
Pierre Becquey
(4:45 PM)
Answer to your first question: Who are you? Glad you asked. I'm the editor for the fantasy sports section of ESPN.com. Let's get started.
Chris (L.A)
Do I need to be worried with Myers as my TE?
Pierre Becquey
(4:47 PM)
No, you do not. Myers is part of a large group of very similar tight ends, but he's got terrific upside. Eli Manning likes to target his Tight Ends, and Myers is a very good receiver. Short of landing an elite TE, Myers will be good for you more weeks than not.
Gerry (Bean Town)
Who would you rather own as a backup for McFadden...Rashad Jennings or Marcel Reece?
Pierre Becquey
(4:48 PM)
I'll answer this because anyone who owns McFadden needs to own his backup. I'll say Reece. Jennings was underwhelming when given his opportunity last season, and we know that, push comes to shove, Reece can still catch the ball and get you yards that way.
Rob (nj) [via mobile]
Better flex option for week 1 in a .5 ppr league, Vernon Davis or Kenbrell Thompkins?
Pierre Becquey
(4:51 PM)
I'll go with the unknown of Thompkins vs. Buffal over the next-to-zero production Davis had with Kaepernick to finish of the '12 regular season. Maybe they found some chemistry in the playoffs, or maybe it was a fluke. But I do know that the Patriots will move the ball on the Bills a lot better than the Niners on the Packers. Let alone the time-of-possession element, which will surely favor the Patriots.
Jack (CA)
Hi. I drafted Demeryius Thomas and Eric Decker in a 3WR no ppr league. Should I trade Decker? I have an offer for TY Hilton. Thanks
Pierre Becquey
(4:52 PM)
I'd diversify that portfolio, yes. T.Y. is a downgrade, but if you can't do better, I have to remind you that you trade to win your league, not to win the trade. Do explore other trades first. T.Y. has great upside, though.
JD (FL)
Would you trade Lacy and Colston for Forte if you had Fitz and Julio at WR?
Pierre Becquey
(4:54 PM)
Absolutely. In almost any case, if i can strengthen my overall starting lineup at the expense of my bench, I do it. You can always pick up another receiver with upside.
Mike (Houston, TX)
Pryor or Manuel in a league that requires starting 2 QB's?
Pierre Becquey
(4:55 PM)
I'd go EJ. He was drafted to be a starter by a team that believes in him. Pryor is unconvincingly winning a starting job over poor Matt Flynn. Absent any hard evidence, trust the pedigree.
Pierre Becquey
(4:57 PM)
Thanks for your patience everyone. KC Joyner will now take your questions!
Tim (Houston, Texas)
Which two would you rather have in a 14 team league where you have to play 3 WRs. Cordarrelle Patterson, Kenny Stills, or Quinton Patton?
KC Joyner
(4:59 PM)
Patterson and Patton because they both have better upsides than Stills.
Andrew (PA)
Antonio Brown or Lamar Miller at flex this week?
KC Joyner
(5:01 PM)
Miller. RBs over WRs in general and Miller, a green rated RB beats a yellow rated WRs.
JEff (Wilow Glen, CA)
12 Team PPR flex...Miles Austin or Ryan Matthews? Thanks!
KC Joyner
(5:02 PM)
Austin is do to face Corey Webster and that matchup is a lot better than the Matthews matchup.
Milan (Denver)
Bigger WR upside? Blackman or Little?
KC Joyner
(5:03 PM)
For the season it will be Blackmon because his talent and so because Little has the toughest schedule of any WR in the NFL.
Devin (Tampa)
Your thoughts on Le'Veon Bell's fantasy outlook when he returns?Thanks!
KC Joyner
(5:04 PM)
He's a yellow rated back that might move to a green if health and O-line improve.
Bill (Detroit)
I have RG3, Alfred Morris, and Pierre Garcon all starting... Do I need to diversify?
KC Joyner
(5:05 PM)
Yes, diversify Garcon. He's going to be really hit or miss this year.
Eric (MN)
Should I trade Chris Ivory & Sidney Rice for David Wilson? thoughts....
KC Joyner
(5:06 PM)
It's trading two yellow-rated player for one green-rated RB and that's a good deal.
Bryson (H)
Would you trade Matt Ryan and Giovani Bernard for Matthew Stafford and Trent Richardson?
KC Joyner
(5:08 PM)
Richardson and Stafford are both green-rated players and that's the side you want to be on on this field.
BD (Pasadena)
Better lottery ticket: Felix Jones or Stepfan Taylor?
KC Joyner
(5:08 PM)
Taylor, at least be might stay healthy.
Minh (Bui)
I drafted Demaryius in the 2nd and Wes Welker in the 4th. Was that a major gaf on my part or could it actually work out
KC Joyner
(5:10 PM)
Getting WRs that early this year is generally ill-advised. Unless this is a PPR, you should take RBs in those early rounds.
Dave (Canada)
dynasty ppr. What do you think of trading away G Tate, TY Hilton, and 3rd round pick for Amendola and 7th round pick?
KC Joyner
(5:11 PM)
It's not advised to trade two vertical WRs for one dink-n-dunk WR.
Lewis (Baltimore)
Reggie Wayne or Marques Colston to start as WR2?
KC Joyner
(5:12 PM)
The are both due to play against rookie DBs. Wayne is likely to see my passes so he get the nod.
Jordan in Florida [via mobile]
Do I start Romo or Wilson this week?
KC Joyner
(5:14 PM)
Romo has the more favorable matchup point total so he gets the nod.
Pat (Philadephia, PA)
Should I wear an Eagles jersery to dinner? (DeSean Jackson #10)
KC Joyner
(5:15 PM)
Yes, you'll be celebrating DeSean's achievement but not the Eagles.
jacques (honduras)
whats britts ceiling if he remains healthy?
KC Joyner
(5:16 PM)
That's a big if. I think his ceiling is low and green-rated but that's in a nearly perfect world. Locker is going to hold him back.
Justin (Minnesota)
Do I start Julius Thomas or go pick up Brandon Meyers?
KC Joyner
(5:17 PM)
Meyers big time. I'm thinking he could be a top 5 tight end this year.
Konnor (Believeland)
Thoughts on David Wilson this season?
KC Joyner
(5:18 PM)
He only has two unfavorable run defense matchups this season and will get a chance to be the bell cow. He's midrange green-rated RB with a high end green-rated potential.
Cam (San Diego)
KC! How do you feel about Steve Smith against Seahawks D?
KC Joyner
(5:20 PM)
He's do to fave Brandon Browner who is Seattle's best CB. Would aim to start someone else if at all possible.
Trey (Fort Worth)
Will Reggie Bush reach the 100 recepttions mark?
KC Joyner
(5:21 PM)
In a word ... no. It would take 130 targets to get there and the Lions just don't have that many targets to give him.
Sean (WI )
Standard Flex: Sproles or D. Rich?
KC Joyner
(5:22 PM)
D Rich but barley. Like Sproles matchup more but you have to go with the bell cow.
Mr. Completely (????)
Care to explain the color codes that come up in your responses? How many color codes do you use and how big is each group?
KC Joyner
(5:23 PM)
Sure. Blue = elite. Green = top-flight starter. Yellow = flex/backup candidate. Red = sit.
Antonio (San Diego)
Will MJD still have a fantasy seasons like 5 years ago
KC Joyner
(5:24 PM)
Not unless he can play QB. He'll have a very good year but the Jags pass woes will cap his upside.
KC Joyner
(5:25 PM)
Thanks for all the great questions. You can follow TFS material on Twitter @KCJoynerTFS.
Ryan (Philly)
Is Montee Ball going to be a dependable rb for my number 2 slot in a ppr league or should I try to shop him around?
Ken Daube
(5:38 PM)
I have little faith in Ball. His pass protections skills aren't developed enough yet to trust him protecting Peyton Manning. I'd shop him.
Chris (VA)
Have Vick as my QB and Carson Palmer on my bench. Is it worth dropping Palmer for Eli Manning? Or does Palmer's upside make him worth keeping?
Ken Daube
(5:39 PM)
I see Palmer's upside as very close to Manning's floor. I'd grab Eli.
Mike G (SoCal)
How much is the upgrade from Josh Freeman to Matt Ryan worth in a 14-Team league? Worth trading away Cecil Shorts (have Wayne, Welker, M. Williams, and E. Sanders), right?!
Ken Daube
(5:40 PM)
That's a tremendous upgrade. Having Freeman as my starting QB would scare me. I want security at QB and Ryan is a much better option.
Heather (Tahoe)
Do I trade Mendy and Bowe for Andre Johnson? I have Forte, Spiller and David Wilson already.
Ken Daube
(5:42 PM)
I'd like the AJ side of that deal. Mendy is a borderline RB2 in a 12 team league and your other three options are much better. I always make the trade that makes my starting lineup better.
Canny (Boulder)
Lacy or Welker at flex? cant decide
Ken Daube
(5:43 PM)
I'd go with Welker. I think Wes' floor this week is 6 catches for 60 yards. Not sure Lacy can grind that out against San Francisco.
Steven (Desperateville)
Pick 2 in .5 PPR: Ball, Lacy, Ivory, G Bernard, E. Sanders, or K. Thompkins?
Ken Daube
(5:44 PM)
Tough choices right there. I'd probably roll with Bernard and Thompkins, but I wouldn't feel especially confident with any of those options.
Phil (Kansas)
Whos got more upside this season: Gordon, Givens, or Blackmon?
Ken Daube
(5:46 PM)
I like Blackmon. Most people grabbed him as WR3 or 4 on their rosters. He has top 15 talent and you wouldn't need to start him until as a bye-week sub until after he's served his suspension anyway.
gil (ca) [via mobile]
Better Flex Play. A.Bradshaw or D.Amendola?
Ken Daube
(5:47 PM)
Amendola. Brady's best option in the passing game until Gronkowski gets back.
Ryan [via mobile]
Wilson or newton this week?
Ken Daube
(5:48 PM)
I'd start Cam every week. If Russell Wilson was my backup for Cam, I'd be looking to trade him for an improvement elsewhere.
Ryan (Torrance)
knowshon or pierre thomas for week 1 and the season?I'm convinced my questions don't even get seen in these chats....I mean 1 question in the past few years should have been answered.
Ken Daube
(5:49 PM)
Well, then this answer should surprise you.... I like Moreno for Week 1 and Thomas for the season.
Nate (Quebec)
Trade Julio Jones away for Lamar Miller and Owen Daniels? (Isaiah Pead is my best RB at this point.
Ken Daube
(5:50 PM)
Even with Pead as your best RB, I wouldn't make that move. Julio should return a better RB. However, I don't like Lamar, so that skews my analysis.
Zack (ATX) Pick me!!! [via mobile]
Don't ask me how but I have Spiller, Martin, Wilson and Sproles. PPR Ridiculous right? But my WR position took a hit. Amendola, Thompkins, Britt, Sanders, and Tate. 2RB 2Flex 2WR. Should I trade? What WR's should I rely on the most if I shouldn't trade?
Ken Daube
(5:51 PM)
You need a better WR. I think Britt has a bounce-back year, but I need something stronger in my lineup.
Chris (Oklahoma)
One last try!!! Draft TONIGHT! 12 team 2 QB League and 12 pick. Do I go RB-RB or does this change to a RB-QB selection?
Ken Daube
(5:52 PM)
I'd want a QB/RB combo in the first two rounds and my second RB in the third, unless something crazy happens during the draft.
Ben (Minny)
Been trying for hours! NEED HELP. Trade question.... Give: RGIII, L miller, and Wallace, get Brees, Julio Jones, and Hayward bey....what do you think?
Ken Daube
(5:53 PM)
As long as Miller isn't an every week starter, I'd make that trade. Heyward-Bey might be useful this year.
Bob (Florida)
Who do you like more: Jordan Cameron or Zac Sudfeld?
Ken Daube
(5:53 PM)
Latest info I saw on Sudfeld is that he may only get about 35 snaps this week. Because of that, I'd lean Cameron.
Clark (jacksonville)
Richardson or Vereen as flex?
Ken Daube
(5:54 PM)
Trent over Vereen over Darryl. Helps to have first names sometimes...
Fantasy Rookie (Lexington)
I have two RB?s to start. I have four of them with Foster, Gore, Lacy, and Williams. With Foster not ?carrying a full workload? this week, should I replace him with Eddie Lacey? And should I use a flex on one of these. Thanks!
Ken Daube
(5:55 PM)
Even if Foster gets 60% of the carries, he's a must start. No need to get cute. Flex depends on other options.
Collin (California)
Shane Vereen or Stevie Johnson at Flex in a full point ppr league?
Ken Daube
(5:56 PM)
Stevie Johnson, even with a rookie QB.
Evan (California)
Who to start in my flex spot? Giovani Bernard, Anquan Boldin, Torrey Smith, or Desean Jackson? Non-PPR league.
Ken Daube
(5:57 PM)
Torrey Smith and it's not close in my opinion.
Mark (Akron)
Miles Austin or Mike Wallace or D. Richardson for Gronk in PPR all flex league would you do any of these deals?
Ken Daube
(5:58 PM)
If I have the ability to trade any of them for Gronkowski, I do it in a second. I'm a high risk/reward player and see Gronkowski as severely undervalued.
Max (Ann Arbor, MI) [via mobile]
Would you start Matt Ryan against New Orleans or Andrew Luck against Oakland in week 1?
Ken Daube
(5:59 PM)
I'd go against the NO defense until they prove they are an NFL caliber defense again.
Edgar (SAN DIEGO )
Hello Mr. Duabe, I need some help this week. MY 3 RB's are Steven Ridley, Ahmad Bradshaw, and Daryl Richardson. My 2 recievers are Rodey White, and Victor cruz. On my bench I have Dywane Bowe....SO my question to you is WHO SHOULD I START AS MY 2 RUNNING BACKS, AND SHOULD I GO DWAYNE BOWE IN FLEX OR AHMAD/RICHARDSON??????? -don't leave me hanging like mathew, I think you are smarter!
Ken Daube
(6:00 PM)
Rule of thumb: Always spell the host's last name correctly. Ridley, Richardson and Bowe.
Nick (Middle East)
what do you advise as a strategy change when it comes to a 10 man draft vs. a 14 man?
Ken Daube
(6:01 PM)
In a 10 team league, I never draft a backup at QB, TE, PK or DT. In a 14 team league, I look for 3 QBs and a backup TE.
Mike(florida) [via mobile]
Who to start at rb and flex between lacy,mcfadden,t.Austin?
Ken Daube
(6:01 PM)
Nice job including a first initial for Austin this time, ;-) I'd go with McFadden and Tavon.
John (Austin TX)
I have Cam in 3 of 4 of my leages this year. How do you think he will do?
Ken Daube
(6:02 PM)
I have him in my top 5 QBs right now. A-Rod, Brees, Manning, Cam, Peyton (with Brady just missing)
Ken Daube
(6:03 PM)
So obviously that was a typo. Stafford at 4. It's aggressive, but I believe.
Spencer (Chicago)
Pick 2 PPR: Nelson, Boldin, Sudfelt, Bernard
Ken Daube
(6:04 PM)
Boldin and Bernard.
Will (OR)
Cruz or D. Richardson at flex?
Ken Daube
(6:04 PM)
Cruz - not worried about his heel.
Jack (PA)
I need your help Ken!!! Should i start the Browns or the Dolphins Defense this week?
Ken Daube
(6:05 PM)
I like the Browns D better. Miami still needs to show they have improved as much as everyone projects that they have.
Last Minute (Draft Help please)
10 team, 2 QB, 1/2 PPR, 6 pt per passing touchdown. Is AP number 1 still? Am I crazy for thinking Rogers at 1?
Ken Daube
(6:06 PM)
In that format, I could understand taking a QB #1 overall. Still wouldn't do it, but mathematically it's viable.
Ken Daube
(6:06 PM)
In that format, I could understand taking a QB #1 overall. Still wouldn't do it, but mathematically it's viable.
Taylor (Oregon)
Why won't it let me play Reggie Bush at WR?
Ken Daube
(6:06 PM)
Because he qualifies only as a RB in our game.
Matt (SF) [via mobile]
Best flex option week 1, Hilton, bowe, Lamar miller?
Ken Daube
(6:07 PM)
Dwayne Bowe and it's not close.
Ben (Phoenix)
Thanks for helping us out, Should I drop Fred Jackson for someone like Michael or Moreno or even pettigrew or fred davis (2rb 3wr or te and a flex)
Ken Daube
(6:08 PM)
I love Christine Michael this year. Lynch's contract isn't team friendly next year and Michael has the skills to step right in. I'd rather Michael over Fred Jackson.
Chris (CA)
JUST NEED A LITTLE HELP!!!.....I have R.Rice, D. Wilson, D. Sproles, B. Tate, and F. Jackson as my RBs. Should I drop F. Jackson to pick up D.Hopkins or A. Jeffery as my 5th receiver? By the way I have A.J. Green, Demayrius Thomas, G.Jennings, Michael Floyd as my other receivers and its a standard scoring 10 team league.
Ken Daube
(6:10 PM)
I'd take the flier on Hopkins over Fred Jackson.
john (MS)
Standard Scoring, Week #1 Flex: Deangelo Williams or Montee Ball?
Ken Daube
(6:10 PM)
DeAngelo Williams.
Horace (Connecticut)
PPR Nelson or Bernard
Ken Daube
(6:11 PM)
That's close, but I'd probably roll with Jordy. One more question.....
Tim (Bossie)
Facing my boss and I need the win. Choose 2 WRs (non-PPR league): E. Decker, E. Sanders, or M. Wallace??
Ken Daube
(6:12 PM)
Decker and Wallace would get the start for me, but Wallace and Sanders are really close in my book.
Ken Daube
(6:13 PM)
Hey all, thanks for the chat. Feel free to follow me on twitter @KenDaubeESPNFF