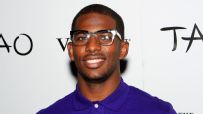 Welcome to SportsNation! On Friday, Los Angeles Clippers point guard Chris Paul chats about his community work and the role of athletes in improving the lives of children.
A member of the President's Council on Fitness, Sports & Nutrition, Paul was a guest of the Aspen Institute's Project Play, a series of moderated conversations on the opportunities to build active, healthy communities through sports. The project launched in April 2013, with partners including ESPN, the Robert Wood Johnson Foundation, Clinton Foundation, Nike and the Packard Foundation.
A six-time NBA All-Star and a two-time Olympic gold medalist, Paul began his philanthropic work prior to his NBA stardom. His foundation, established in 2005, focuses on impacting communities by using resources to enhance and promote education, health, sports and social responsibility for youth and families.
Send your questions now and join Paul on Friday at 4 p.m. ET!
More Chris Paul: Project Play | CP3 Foundation | @CP3
Buzzmaster
(3:43 PM)
Hey everyone, Chris is early, so we're going to get this chat started in about 10 minutes!
Buzzmaster
(3:50 PM)
Chris Paul is here!
Tommy (Houston)
How do you think having an active lifestyle when you were a kid helped you turn into the NBA player you are now?
Chris Paul
(3:52 PM)
I think having an active lifestyle when I was a child kept me out of trouble. I was always playing football or basketball or running through the neighborhood with my friends. It just kept me active and on the go and didn't give me too much time to think about anything else.
David (LA)
Chris, what do you think was most valuable that came out of your discussion with Project Play?
Chris Paul
(3:53 PM)
I think it's how committed everyone has to be to really make an impact with kids and an active lifestyle. A lot of times people just want to tell kids to go play. A lot of times adults play a role, because kids will immitate what us adults do.
Jeff (DC)
When you were a kid, how powerful would it have been to have seen a pro athlete like yourself involved with the community.
Chris Paul
(3:54 PM)
It would have been huge, I think. My parents provided for me as a kid as best they could. I'm grateful for it. But I also understand that I don't have to give back to the community, but I enjoy doing it. There are so many people that helped me get to where I am.
Jeffry (Philly)
You're on the President's Fitness Council, you have your CP3 Foundation, you're working with Project Play, you're the President of the NBPA.....what makes you want to be so involved?
Chris Paul
(3:55 PM)
That's a great question. I didn't realize there were that many. I don't know. For me it's always trying to make an impact and do more and help out. My family comes first and foremost for me, but I want to help. All of these things that I'm involved in, somehow, someway effect my family.
Andrea (Washington DC)
Chris how did you view famous/pro athletes growing up? Were any of them heros to you because of what they did "off the court" and if so did that influence your ambitions to give back thru your foundation?
Chris Paul
(3:56 PM)
Michael Jordan was my hero growing up. It was strictly because of what he did on the court. I was too young to even understand that things go on off the court. So I think my biggest role models for giving back to the community were my parents and my late grandfather.
Larry (Boston)
What do you do in these last few weeks before training camp starts? How do you get yourself ready for the season?
Chris Paul
(3:57 PM)
With me, even with all of the different activities that I have done this summer, the thing that doesn't ever get lost in the shuffle is the training. I get my training in and then make sure I spend as much time as I can with my wife and kids.
Jessie (Silver Spring MD)
What's your favorite way to "give back" -- is it through donations, through appearances, by getting other athletes to participate?
Chris Paul
(3:58 PM)
That's a great question. This is what I've always said with charitable giving. Monetary value is nice. But the most valuable thing I have is my time. Going to schools and just showing up and giving those kids your full attention for however long is probably the most valuable thing you can do, especially as a pro athlete.
Ryan (Dallas)
Do you think enough basketball players like yourself take a big enough role within the community with these type of issues?
Chris Paul
(3:59 PM)
I think everyone is different. Everyone is your own person. You're not required to do these things. It has to be something you're passionate about and want to do. I've really enjoyed everything I've done in the past and am excited about the future.
Deven (New York, NY)
What advice do you have for those that want to get involved in the community?
Chris Paul
(4:00 PM)
That's another great question. There are so many different ways to get involved. So many different foundations and non profits that are always looking for volunteers. What I said about time doesn't just apply to pro athletes. Time is the most valuable thing we all have. If you can find places to lend a helping hand, that will go a long way.
B Griffin (LA)
Are we taking over LA or what?
Chris Paul
(4:01 PM)
I don't know, but I do know that's not our priority.
Merle (Colorado)
Most kids only see the money when they look at professional sportsman like yourself. What do you say to them to allow them to see there is more than that to being a pro?
Chris Paul
(4:02 PM)
It's tough, because at the end of the day, everything that is shown, that's what's popular and that's what everyone enjoys seeing. But if you really got to know some of these athletes as people and what they do in their own time, you'd probably see a lot more than just being famous and the money.
Corey (Cary, NC)
What's the greatest part about being involved with fans and helping in various communities?
Chris Paul
(4:04 PM)
I think the best part of being interactive and involved with the fans is probably the kids. I have a son of my own and I know how he looks up to Blake Griffin, Durant, all of those guys. Whenever I approach a kid, I think about how my son approaches guys he looks up to.
Chris Paul
(4:04 PM)
The greatest part about helping are the smiles on peoples' faces. There's no greater feeling than helping someone and you see that smile on their face. That's what it's all about.
Andrew Z. (Struthers, OH)
How much pride do you take in being able to see that you've helped people in need?
Chris Paul
(4:05 PM)
That's the feeling that never gets old. The platform that we all have as professional athletes, that's why you get this opportunity.
Chris Paul
(4:05 PM)
It was something that you just can't take for granted.
Andrew Z. (Struthers, OH)
What's been the most memorable moment you've had from your charity work?
Chris Paul
(4:07 PM)
Yeah, one of the biggest things that I never forget is last year when we finally paid off the scholarship that's in my grandfather's name that sends two kids to Wake Forest every year. It's an endowed scholarship now that was a long time in coming.
DJ (Staples Center)
What expectations do you have for the Clips?
Chris Paul
(4:07 PM)
I'm excited. I'm excited. It probably sounds crazy, but I'm excited about the unexpected. We have a new staff, a lot of new faces on our team. I'm excited about the process.
Lauren D. (Washington DC)
Hi Chris, thanks for taking my question. You are an incredible role model for boys and young men in your personal and professional life. :) Are you doing anything specifically to help kids and adults with disabilites have opportunities to be active through sports or physical activity? Thank you!
Chris Paul
(4:09 PM)
I actually had an opportunity to work with the Special Olympics a few times in North Carolina through the Boys and Girls Club.
Andrew (SF)
CP3- thanks for chatting. I know you're very happy and settled in the community in LA, but can you talk about your ongoing involvements back in New Orleans?
Chris Paul
(4:10 PM)
First of all, I'm excited about the all-star game being back in New Orleans this year. I have my afterschool program, the CP3 After School Zone, where kids have a chance to live an active, healthy lifestyle. They do cooking classes, martial arts, theater, different things like that.
Chris Paul
(4:10 PM)
Before I was traded to L.A. I had an opportunity to refurbish five basketball courts in New Orleans.
Chris Paul
(4:11 PM)
I want to say thank you. You had some great questions. Go Clippers!