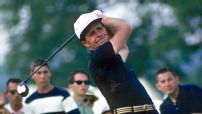 Player was elected into the World Golf Hall of Fame in 1974.
Welcome to SportsNation! On Friday, legendary golfer, and nine-time major winner, Gary Player stops by to chat.
Player, @garyplayer, ranks tied for fourth all-time on the majors wins list. His 24 PGA Tour wins rank tied for 25th all-time. He also ranks third on the Champions Tour with six senior majors and tied for 10th with 19 overall wins. He was the third golfer in history to win golf's career grand slam.
The South African's career spanned more than 20 years and was the first non-American to win The Masters in 1961, a tournament he won three times. In July, Player also became the oldest athlete to ever pose in ESPN The Magazine's Body Issue.
Send your questions now and join Player Friday at 2 p.m. ET!
More Special Guests: Previous chats | SportsNation
Buzzmaster
(1:52 PM)
Gary is here!
Greg (VA)
How much change in PGA Tour players' mindsets have you seen in regards to fitness since you first started on Tour?
Gary Player
(1:55 PM)
There was no traveling gymnasium when we started. I used to go down to the YMCA and stand in line to use their inferior equipment. Today there is a traveling gym on all tours. Obviously the guys today are fitter than when I played, but not neccesarily stronger.
Gary Player
(1:56 PM)
I'm delighted you're interested in fitness. You must do everything you can with every young person you meet to get them to exercise and eat a non-fat, low sugar diet.
Gary Player
(1:56 PM)
You owe it to America.
Jeff (DC)
Gary, were you always into fitness or is it an interest you've developed over time?
Gary Player
(1:58 PM)
Since I was 9 years of age, I have exercised profusely. My brother went to war from South Africa to fight with the American Fifth Division. Almost 70 years ago. I promised him I would exercise for the rest of my life, which I've done. You will not live a long time if you're not fit, unless you're a freak. So, you've got to eat well and exercise well, at least three times per week. Also, layoff high fats and sugars as best you can.
Nick (MN)
What were the reactions like from your friends/family about you being in ESPN The Magazine?
Gary Player
(1:59 PM)
They were shocked, until they heard how discreetly they do it and what an important role it would play in showing the world that a man who is almost 80 could be in good shape. That is my desire to fight obesity in the world.
Gary Player
(1:59 PM)
We heard so many Tweets and e-mails and phone calls from people all over the world saying that if I can look like this at 80 than they are going to start to get their families to not eat so much.
Jon (Maryland)
The relevancy of the Presidents Cup has been questioned following another relatively easy US win. Do you believe the President's Cup needs changes? If so what specifically would you change?
Gary Player
(2:01 PM)
People are always full of excuses. The Presidents Cup competitors just have to play better. The strange thing is that America continuously loses the Ryder Cup to Europe and yet, I feel, the Presidents Cup team would beat the Ryder Cup team. I wish such a match could be played. A lot of things, and most things, are in the mind.
Ryan (San Diego)
What's your daily fitness like?
Gary Player
(2:02 PM)
Traveling a lot, four times a week I do 1,200 situps, I run on the treadmill on level 16. I squat. I curl. I bench press lightly. Actually, I exercise my entire body. It's important. But eating is way more important. If you're a marathon runner and you eat junk, it's not going to clean your blood. But if you're a man who does no exercise and eats little and well, you'll have longevity.
Gary Player
(2:02 PM)
Ideally, you want to do both.
Will (TX)
did you ever think you'd be posing nude in a magazine at the age of 80?
Gary Player
(2:04 PM)
No. I didn't think I'd every do it. It was against my Christian principles. But the Bible says the body is a holy temple. By doing what I did, discreetly, showed the world that a man almost 80 can be in really good shape. It got the message across to tens of millions of people to stay away from obesity and exercise and eat little and eat well. So, it was one of the best things I've ever done. We got messages from people all over the world saying they'll exercise and change their habits of eating.
Peter (Boston)
Where do you currently keep all of your Masters trophies?
Gary Player
(2:05 PM)
They are in a museum in South Africa.
Buzzmaster
(2:07 PM)
Hang on...some folks wanted to stop in to say hi to Mr. Player.
Derrick (MD)
How long have you been helping the fight against childhood obesity?
Gary Player
(2:09 PM)
Well, I love America so much and it's important, America remains one of the leading countries in the world. And the obesity factor is dragging you down - cost wise with medical, economically - less productivity, less energy, and a shorter lifespan.
Gary Player
(2:09 PM)
We've got to increase exercise in schools. And teach children from a young age how to exercise, eat correctly and have a great education.
Gary Player
(2:10 PM)
Diabetes right now is an epidemic. In 50 years time there will be 100 million people with diabetes, unless we find a better cure than insulin. The cure is eating half of the amount of food we eat now and exercise. And not DIE-it, but LIVE-it. Less sugars and less fats.
Tiger Woods (FL)
From one legend to another. What advice do you have for me next season?
Gary Player
(2:13 PM)
There is one particular thing he's doing in his swing that I don't like. I've had enough experience, 60 years, to know that I'm right. I'm not a Johnny Come Lately. But I'm not going to be arrogant and tell the world's No. 1 player in public what I think it is.
Gary Player
(2:13 PM)
I have too much respect for him.
James (Atlanta)
What is the best nutrition advice that you have? What is the ideal meal? Are there in staples in your diet?
Gary Player
(2:14 PM)
Stay away from all of these kook diets. It's not DIE-it, but it's LIVE-it. It's simple. Eat half of the amount you eat now. Cut out the high fats. and the high sugars. And exercise 3-4 times per week.
Ford (SC)
What is you best advice for young golfers?
Gary Player
(2:15 PM)
A) Appreciate America. B) Work hard. C) To realize that everybody has problems. D) Take advantage of the opportunity you have.
Gary Player
(2:15 PM)
Don't dream about doing well, do it.
Gary Player
(2:16 PM)
Remember, the Chinese and Koreans are outworking us.
Erik (FL)
What did you first think when ESPN approached you to be in the Magazine's Body Issue?
Gary Player
(2:17 PM)
I had no interest in doing it. It was against my principles. Until told how discreetly they do it, and that I could get the main message of my life through to millions of people that you can be in shape at nearly 80 years of age and beat this dreaded disease called obesity.
Tittleback (Albany Or)
Does Gary Player sill have the horses? seem to remember he imported a bunch to SA. Thanks.
Gary Player
(2:18 PM)
Yes I do. It's a big busines. It's thoroughbred race horses. I love ranching as much as I love golf. My ranch is a paradise.
Gary Player
(2:18 PM)
I just wish I had some of the rain you get in Oregon.
Victor (Louisiana)
gary Do you think team usa will be good in the next ryder cup?
Gary Player
(2:19 PM)
I give them a great chance. A great chance. It's important that America start winning it again.
Gary Player
(2:19 PM)
Thanks very much for all of your interesting questions. Work hard for this great country, the USA. Thanks for the love I received from everybody.