Chat: Andre Ward, Edwin Rodriguez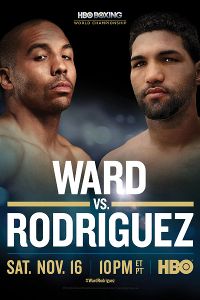 Welcome to SportsNation! On Wednesday, we're going inside the boxing ring when Andre Ward and Edwin Rodriguez stop by to chat about their title fight this weekend.
Ward (26-0, 14 KO) puts his WBA "super" super middleweight title on the line against Rodriguez (24-0, 16 KO) Saturday night. Citizens Business Bank Arena in Ontario, Calif. hosts the fight, which airs at 10 p.m. ET/PT on HBO World Championship Boxing.
Ward, @andreward, (chats at 2 p.m. ET), makes the sixth defense of his "super" title. A shoulder injury followed his last fight in Sept. 2012, a 10th-round TKO of Chad Dawson, which prevented him from fighting in the last 14 months.
Rodriguez, @labombaboxing, (2:30 p.m. ET), is getting his first title shot. He last fought in July, when he scored a first-round KO of Denis Grachev to win the Monte-Carlo Million Dollar Super Four Tournament.
Send your questions now and join the chat Wednesday at 2 p.m. ET!
More Special Guests: Previous chats | SportsNation
James Armstrong (Charleston, South Carolina )
How do feel going into this fight knowing its been 14 months since your last?
Andre Ward
(2:02 PM)
I'm excited. I'm thankful. I'm grateful. It wasn't easy battling back from injury. God blessed me to get me back. I'm amped up. I'm ready to put on a show.
John cox (San fransico)
How will andre deal with Edwin's power fast footwork,or smother him since he really winds up
Andre Ward
(2:03 PM)
It's not just one thing. I don't know how much power he has. He swings hard, but there's a difference between swinging hard and having power. How much does he have? Just because he throws hard punches, doesn't mean he has concussive power. Sometimes you step back and make him pay for throwing a wide shot. Sometimes you move in. There are many things you have to do at this level.
Thanseer (UK)
How would a fight with your idol RJJ in his prime go? Would you be able to beat him at his own game?
Andre Ward
(2:04 PM)
Oh man. That's a tough one. He's a beast. He was one of the best ever. He was my childhood hero. It would not be easy for either one of us. It would be a very difficult fight for me. Because of his speed. He did everything wrong, right. That was his strength.
Shamarko (Dorchester, MA )
How difficult is it for you to make 168? What's your "walking around" weight?
Andre Ward
(2:05 PM)
I don't really discuss my walking around weight. But as far as getting down to 168, we make it pretty easy. I was at 172 last week. No wet suits, so sauna. Just good clean living and hard work. My body adjusts. It knows what I want to do. I've been doing this for years. I've eaten this morning and yesterday twice. I plan on eating up until the weigh-in. It's not whatever I want, but I can eat and drink.
LUIS A (MASSACHUSETTS)
Andre- Do you feel Rodriguez is underestimating you due to your layoff? What type of problems could Edwin bring? God Bless Champ #1 FAN
Andre Ward
(2:06 PM)
I think in the back of his mind, he knows he's stepping up the competition and fighting a caliber he's never been at before. But I think they think it's a calculated risk with the layoff.
Joydeep (Philippines)
Good luck this weekend. Do you feel that you're the only one who can give Gennady Golovkin a stiff challenge?
Andre Ward
(2:07 PM)
It's tough to call. Golovkin is doing what he has to do right now. It's just a tough call. If I'm faced up against him, I'm going to go right at him in the ring. You have to think that. It's tough to say in this sport. It depends on who you're fighting.
James Armstrong (Charleston, South Carolina )
Has the shoulder injury affect the way you train?
Andre Ward
(2:07 PM)
Not at all. It's actually been refreshing having the shoulder fixed. It wasn't a new injury, it was an old injury. It just got to the point where it needed surgery. It's refreshing having the right hand fixed, since I haven't had the power in it the last few years.
Drew (Houston)
Andre, after accomplishing so much already in the sport of boxing, what is your ultimate goal that keeps you hungry?
Andre Ward
(2:08 PM)
I just want to be the best. I want to be the best while I'm in it. I'm not going to be in the sport and do it halfway. God has blessed me with the talent to do it at a high level. I don't want to look back and see that I took it lightly. I'm a max effort person. When I hang it up, I want to say I gave it everything I have. I want to be the best.
Donald (Chicago)
Hey Andre,Do you consider this a tune-up fight, or is Rodriguez a legit contender?
Andre Ward
(2:09 PM)
Every fight at this level, even if I had a guy who had more losses than wins, he'll give his best effort. I can ill-afford to go into a fight at this level and think it's a "tune-up." I didn't get to this point picking and choosing which guys I take seriously. He's going to try and take something from me. That's all I need to know.
Shamarko (Dorchester, MA )
Do you see yourself winning belts at light heavy and even cruiser-weight in the future?
Andre Ward
(2:10 PM)
Light heavy is something that's on my radar. I think it's when, not if. I'll let my team take the lead on that one. When they feel like it's the right time, I'll step up.
Craig (New York)
As a boxer trying to become a all time great, what are the major skills you try to improve each fight?
Andre Ward
(2:11 PM)
Continuously showcasing. I still don't feel like with all of my fights and my championship fights that I've had, I've shown my best. Every fight is different. Every fight isn't amazing. It depends on the fight, on the night. Continue to fight at the highest level. Be the best. Continue to be a great finisher. When he gets tired, finish him off.
Joydeep (Philippines)
The Typhoon here was terrible. Do you think that Pacquiao will lose focus in his upcoming bout with Brandon Rios?
Andre Ward
(2:12 PM)
It's possible. That's a very devastating situation. That country has supported him. It's possible. Those things are devastating. I'm sure he's dealing with a lot mentally.
Jesse (Minneapolis)
Andre, how many weeks were in this training camp versus the others? Any difference based on the surgery?
Andre Ward
(2:13 PM)
It's tough to pick a start date for this, because I've been training for a while. The "camp" part was probably the same as always. I was in shape before leaving for camp. It wasn't like I wasn't training before camp. It's been a long camp. I'm glad that it's over. I'm ready to go Saturday.
Roger (OH)
Andre, huge fan here. It's pretty rare nowadays to see athletes who have had as much success as you still maintain their humility and continue acting as great role models for kids. Is your faith what keeps you grounded, even in a world where it's so easy to do the wrong thing? Good luck this weekend, Champ, and God Bless.
Andre Ward
(2:15 PM)
Part of it was the way I was raised. It's my Christian faith that my dad gave me as a young kid. I haven't perfected everything in my faith. But I know who blessed me with my talents. Who powers me to get up every day. Who protects me in the ring. When you have that understanding, there is no room to boast. I know that's something that's glorified in boxing. You're almost looked at different if you don't brag or boast. Now, I'm confident in my abilities, but I try to keep in that place where I know who has blessed me. There is someone that's keeping you and blessing you, it's hard to take the credit.
Alec (Arlington, Texas)
First of Andre, huge fans from Texas. What is the most important aspect for you personally when preparing for a fight? Also, what is one aspect of your game you would like to approve?
Andre Ward
(2:16 PM)
It's a lot of things. Understanding my opponent. Getting my body and mind and spirit in the best possible shape to go to war. That's what training camp is about. It's not about luxury. It's about getting your mind and body prepared. I'm away from my family. You're eating things that you don't want to eat. Your life for two months, or however long, is getting prepared. Leaving no stone unturned. Preparing so that when it's time, we're ready.
Andre Ward
(2:17 PM)
I appreciate everyone's questions. I appreciate the love and support. Saturday night I will be ready to go!
Buzzmaster
(2:17 PM)
Thanks for chatting Andre!
Buzzmaster
(2:17 PM)
Next up is Edwin Rodriguez at 2:30 p.m. ET!
Jesse (Minneapolis)
Edwin, first and foremost, good luck in the fight. How did you prepare to deal with Andre's speed and power? Also, have you faced a fighter with comparable skills based on your preparation?
Edwin Rodriguez
(2:29 PM)
I have my own speed and power. I think I can match that with my own.
LUIS A (MASSACHUSETTS)
Edwin- why rush to fight the Super Middleweight King? and what will it take to dethrone the Champ. Best of Luck!
Edwin Rodriguez
(2:30 PM)
Just knowing that I'm undefeated just like him. Yes, it's a big step up for me, but I know and believe I can win this fight and have all of the right tools to get it done.
Oliver (Norwell, Ma)
What is your prefight routine?
Edwin Rodriguez
(2:30 PM)
I'm really laid back. I just do things. I'm laid back. I'm not that guy that has to have everything prepared. I don't have any lucky sock or anything.
Steve (Boston, MA)
You sparred with Carl Froch who fought Andre Ward. Have you asked Froch about his experience in the ring with ward?
Edwin Rodriguez
(2:31 PM)
I have not. I didn't ask him about it. I've seen the fight and I saw the things that Andre did against him.
Waleed (Fremont, CA)
We've seen you win against rough fighters, punchers, and pretty good boxers, but we haven't seen you fight against anybody with that elite class of speed. How would you approach a fight like that?
Edwin Rodriguez
(2:32 PM)
I've fought guys who fight inside. Others that want to box. A lot of different styles. I think that's helped me prepare for what Andre's going to bring Nov. 16.
James (NYC)
Will you go after S.O.G. early and test his chin or try to find your distance the first few rounds?
Edwin Rodriguez
(2:32 PM)
I'm going to push him the whole fight.
Greg (DC)
does your gameplan change any considering his layoff?
Edwin Rodriguez
(2:33 PM)
Not at all. He's a good boxer. So he should be fine. He's said he's better than ever. I'm expecting the best Andre Ward in the ring and I'm going to beat the best.
Marci (FL)
what's going through your mind before you enter the ring?
Edwin Rodriguez
(2:34 PM)
Gameplanning. Everything that we worked on in the gym. When he goes to the jab, what to do. Just thinking about things that will go on in the fight and what to do.
Mr. X (Iowa)
If you beat Ward, are you willing to fight Golovkin next?
Edwin Rodriguez
(2:35 PM)
Definitely. He's a good fighter. He fights at 160, if he's willing to come up to 168, that's a fight I'm interested in.
Joydeep (Philippines)
Do you expect to see a more aggressive Andre Ward to what we're used to seeing?
Edwin Rodriguez
(2:36 PM)
No, I think he'll be the same Andre Ward that will try to stay away from the action. He'll be the same guy that comes out and not take a lot of chances.
James (Boston)
Who is your favorite baseball team? Player?
Edwin Rodriguez
(2:36 PM)
Red Sox, of course! Big Papi. David Ortiz. I'm Dominican, so I follow him.
Jesse (Minneapolis)
Is making the 168 pound limit easy for you? How many days prefight are you looking to make 168?
Edwin Rodriguez
(2:37 PM)
A few days before a fight, I look to make it right on at the weigh in. Cut the weight right before then.
paul (california)
what is andre wards biggest weakness and how will you exploit it?
Edwin Rodriguez
(2:37 PM)
I think he thinks that he's the greatest in the world. That's his greatest weakness.
Left Hook (NYC)
Is it true that you have to take 1 on the chin before you really get going?
Edwin Rodriguez
(2:38 PM)
Once that bell rings, I'm ready to go. But there are times when you get hit, then it turns. It's not like I'm looking to get hit in order to turn it up.
JJ (DMV)
Edwin,Out of all the others that have tried and failed against Ward, what do you bring different or see yourself doing better that will make you the first to beat him?
Edwin Rodriguez
(2:39 PM)
I'm young, I'm undefeated and I'm more well-rounded than everyone else he's fought. I have speed, power. I can fight inside, outside. I am young and hungry.
Mr. X (Iowa)
Who can beat Mayweather right now? Just one name.
Edwin Rodriguez
(2:40 PM)
No. No one. He's in a whole different league.
Edwin Rodriguez
(2:40 PM)
Unless he comes up in weight, a really high weight. Then it will be the weight difference. Skill wise, he's in a whole different league.
Jesse (Minneapolis)
How will your preparation and experience with Grachev and the Monaco Tournament help with this fight? Did that tournament give you more than just experience?
Edwin Rodriguez
(2:41 PM)
That will help me big time. Being able to fight out of the country. It's helped, because I'm here in California in Andre Ward's hometown. So being out of the country and being able to be out of my comfort zone will help me in this fight.
Ollie (Massachusetts)
What is your personal favorite boxing moment that you have made for yourself?
Edwin Rodriguez
(2:41 PM)
It was winning the USA National championships in 2005.
Edwin Rodriguez
(2:42 PM)
I want to say thank you for all of your support. Continue to follow me on Twitter: @labombaboxing. On Nov. 16, you'll have a new world champion.