Chat: Matthew Macklin, Glen Tapia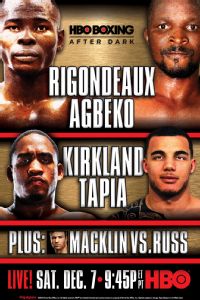 Welcome to SportsNation! On Thursday, we're going inside the boxing ring to chat about this weekend's slate of fights from Atlantic City on HBO Boxing After Dark, which airs Saturday at 9:45 p.m. ET/PT.
Matthew Macklin, @mattmacklin, (chats at 1 p.m. ET) faces Lamar Russ (14-0, 7 KO) as the British-Irish Macklin (29-5, 20 KO) tries to come back from a loss to Gennady Golovkin back in June. The Russ-Macklin fight will be the first bout during HBO's telecast. Macklin is ranked No. 9 in Dan Rafael's divisional rankings.
Following Russ-Macklin, Glen Tapia, @RealGlenTapia, (chats at 1:30 p.m. ET) squares off with James Kirkland (31-1 27 KO). Tapia (20-0, 12 KO) already has four wins in 2013.
Both fights are on the undercard of the junior featherweight title bout as champion Guillermo Rigondeaux (12-0, 8 KO) faces Joseph Agbeko (29-4, 22 KO).
Send your questions now and join the chat Thursday at 1 p.m. ET!
More Special Guests: Previous chats | SportsNation
Buzzmaster
(1:07 PM)
We've got Matthew!
Chris (NYC)
How strange was it changing your preparations in the middle of camp to another opponent?
Matthew Macklin
(1:09 PM)
It wasn't that different. The styles were similar. If anything the sparring partner was more like Russ. It wasn't a problem.
Matt (Boston)
do you feel comfortable fighting in the States?
Matthew Macklin
(1:10 PM)
Yeah, the traveling over and different things, it's become more familiar. I've been fighting over here for two years now. I feel good. I'm established over here.
Nick (NC)
What's the atmosphere been like in AC in getting ready for this fight?
Matthew Macklin
(1:10 PM)
It's good. Atlantic City, like Vegas and New York, it's a fight town. There's a buzz around the casino, getting ready for the fight.
Mike (Miami)
What do you like to do when you're trying to relax and get away from boxing?
Matthew Macklin
(1:11 PM)
Just chill out, relax. Socialize. I'm a big curling fan back in Ireland. I have some friends that play at a high level. I've built friendships in various places in the world, so I like to continue with them, and travel to see those friends.
Ryan (Denver)
What do you think you need to do to keep moving up the ranks in middleweight?
Matthew Macklin
(1:12 PM)
I have fought a few times and feel like I'm one of the top names at middleweight. I just need to bounce back here after fighting Gennady with a big win and get another title chance next year.
Peter (NYC)
What did you learn from your loss to Golovkin in June?
Matthew Macklin
(1:13 PM)
Tactically, we went completely wrong. Initially, I tried to take the fight to him. I changed tactics around the third round, but it was too late then. When you approach fights, you have to listen to yourself.
Tommy (TX)
What kind of impact does having your fights broadcast on national TV have on your career?
Matthew Macklin
(1:14 PM)
It's good. It gives you the profile you need, the exposure you need to get the fan following. Not just to climb the rankings, but to become an attraction. It gives opportunities. You win titles and you prove to people. You win support. It all kind of flows together.
Kevin (FL)
What do you know about Russ? he's a relative newcomer.
Matthew Macklin
(1:15 PM)
He's big. You can see that from the tape I've seen of him. He's sharp. He's undefeated, so he has confidence. He's good. It's a step up for him. He'll be ambitious. It's a good opportunity for him, so I need to be sharp and on the ball.
Matthew Macklin
(1:15 PM)
And I will be.
Kevin (VA)
Do you go away for training camp or did you stay close to home?
Matthew Macklin
(1:15 PM)
I have my own gym out in Spain. I trained out there. We were there for about 10 weeks.
Brandon (Los Angeles)
Hey Matthew, how was the adjustment between training for a staunch contender in Willie Nelson to a green but dangerous prospect/contender in Lamar Russ? Do you feel experience is now an even bigger factor/advantage considering your facing the latter Saturday?
Matthew Macklin
(1:16 PM)
Not really, they are pretty similar. If anything, they're alike in some ways, so it was similar tactics.
Jeff (DC)
what do you think you need to do to get in position for a title shot?
Matthew Macklin
(1:17 PM)
Obviously, I need a good win on Saturday night. Then just keep winning. Improve in any way. I got robbed against Felix Sturm a couple of years ago. I had another close fight. Golovkin is a special fighter. I need to improve, keep looking good and the opportunity will come.
Seamus (Cork)
Do you think you could defeat Golovkin in a rematch?
Matthew Macklin
(1:18 PM)
It would certainly be a different fight before. He's one of the best pound for pound fighters in the world. The tactics were completely wrong. Yeah, definitely, I look for him again. I wouldn't say I'll beat him, but it would be a different fight this time. Whether I win or lose, he's a top, top fighter. Put it this way, he'd know he was in a fight for sure.
Matthew Macklin
(1:19 PM)
Watch HBO on Saturday night. Keep watching and supporting. Next year will be a big year for me and it all starts on Saturday night.
Buzzmaster
(1:19 PM)
Thanks for chatting Matthew!
Buzzmaster
(1:21 PM)
Next up, we've got Glen Tapia at 1:30 p.m. ET who will face James Kirkland on Saturday night in Atlantic City!
Buzzmaster
(1:27 PM)
Glen is here!
Ivan (Chicago)
what do you thgink about fighting in Atlantic City? Is it a good venue?
Glen Tapia
(1:28 PM)
Yes. I have a lot of fans from New Jersey. I'm the "Jersey Boy" of course, so I have a lot of fans here. I'm trying to make this my home, so it's perfect.
Ryan (DC)
Glen, this is only your third 10-round fight, do you prepare any differently for the longer fight?
Glen Tapia
(1:29 PM)
I feel like before I could have done more rounds, if I had to take it there. I'm training real hard. I'm in good shape. I feel like I could go 15 rounds.
Kris (AC)
Kirkland is a step up in competition for you....what kind of fight are you expecting?
Glen Tapia
(1:30 PM)
We know what type of fighter he is. He comes in and throws a lot of punches. He brawls. That's the only thing he can do. I feel like I can do a lot of things. I think I can box or brawl. We'll see. I'm not stupid. I like entertaining too. So, at the end of the day, I'll take a little risk and entertain you guys....aside from winning, of course.
Kyle (DC)
Do you watch a lot of previous fights on your opponent?
Glen Tapia
(1:31 PM)
Yeah, I watch what I can. If it's there, why not use it? When you look at tape, you see what guys do. Their good habits and their bad habits. I watch tape. When I look at him, I look at his best fights. I'm expecting the best Kirkland. A lot of guys like to say they don't like to watch tape. It's stupid not to watch it. I think almost everybody watches tape.
Steven (FL)
Do you prepare any differently for an 8 round fight versus a 10 round fight?
Glen Tapia
(1:32 PM)
I work real hard. First you have to do a little more. The camp is a little longer. There are things you do different. It's the same things, but just a little longer. It's like 2 months of training. But I'm a gym rat anyway, so it doesn't matter.
archie (PH)
you will be messing with an agressive fighter, a fighter that can punch and you winning this fight will lead you to a better opportunity, do you feel pressured at all?
Glen Tapia
(1:33 PM)
No pressure at all. This is what I was born to do. This is my life. This is what I love doing. This is just the beginning for you guys to see me. This is the beginning for Glen Tapia.
Jose (Paterson)
How do you plan to deal with the pressure Kirkland brings do you plan to move a lot? I feel that can get you tired so at some pt will you have to stand your ground? Jersey Stand Up!!!
Glen Tapia
(1:34 PM)
There are a lot of things I could do. I feel like I have the ability to fight him and brawl if I have to. Or I could box him. I love to entertain the crowd. I hate boring fights. I'll see what will happen in the first round.
Luke (Chicago)
You have ended many of your fights early...are you prepared to go the distance?
Glen Tapia
(1:35 PM)
Yes. I'm always prepared to go the distance if I have to. You never know what's going to happen. I'm in the best shape of my life. No excuses. I'm just going to get in there and give it my all. If it goes the distance, it goes.
Richie (Bronx NY)
Do you think speed or power will be more of a benefit too you?
Glen Tapia
(1:35 PM)
My speed. I feel like we both have power, but I'm the only one that has the speed. I can use that more.
Anthony (Clifton NJ)
After this fight are you willing to seek a title fight ? If so with who?
Glen Tapia
(1:36 PM)
I don't know. I just take them one step at a time. I'm not the type of guy to ask for a fight. I don't have the privilege to call people out. This is my first big time fight. After the fight, we'll talk about it and they'll talk about it. Whoever is in front of me to fight, I'll be ready for.
John (Jersey City)
When Joel Julio fought Kirkland he ran from him and got worn down kinda like Cotto vs Margarito I, do u think that's the worst sort of game plan that someone can have against a fighter like Kirkland? Good luck Saturday!!
Glen Tapia
(1:37 PM)
Most of the guys that fought him and ran, they literally ran. They wasted so much energy running away. When they stopped and hit him, they were successful. Instead of doing that, some of these guys should have stopped and boxed him. They were more worried about getting him. They didn't take a chance. You have to take a chance. You can't show him too much respect.
Sun Devil (Los Angeles)
Glen, any chance we see you give Kirkland a boxing lesson on Saturday?
Glen Tapia
(1:38 PM)
Sun Devil, just stay tuned and you'll see.
Ryan (CA)
who is the best p4p out there?
Glen Tapia
(1:38 PM)
Mayweather, of course. Mayweather.
Tim (Boston)
who is your favorite boxer of all time?
Glen Tapia
(1:39 PM)
Woooh...that's a tough one. When I was younger, it was Mike Tyson. I like Prior for a little bit. There were a couple.
Glen Tapia
(1:39 PM)
There are a couple more.
alex (CA)
do you ever get nervous before a fight?
Glen Tapia
(1:40 PM)
You get butterflies here and there. But I've been doing this since I was 8, so it's natural. It comes with the territory.
Fabe (Passaic)
Are you worried about Kirkland's punching power?
Glen Tapia
(1:40 PM)
I'm not worried about anything. This comes with it. This is boxing. You're going to get hit. I've been doing this all my life. I love it. I'm not worried about anything.
Richie (Bronx NY)
how much did sparring with Pac help you?
Glen Tapia
(1:41 PM)
A lot. Not just sparring with him, but being in his camp and seeing how hard he works. Me sparring with him showed me where I'm at, what level I'm at. Being around Freddie Roach and around those guys and around one of the best, he trains so hard and he shows why he's one of the best. I got to go in there and spar with him. It was great.
Glen Tapia
(1:43 PM)
If you guys have ever seen me fight before, you know I put my heart into it. I fight for you guys, for the fans, for the people. And I love to entertain. So, stay tuned on Saturday. I'll give you guys a show.