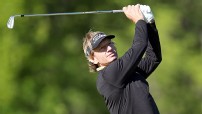 Brad Faxon, who calls Rhode Island home, won the 1979 and 1980 Rhode Island Amateur.
Welcome to SportsNation! On Thursday, PGA Tour pro Brad Faxon stops by to chat about this weekend's St. Jude Classic, next week's U.S. Open and the rest of the golf season, including the tournament Faxon co-hosts in June, the CVS Caremark Charity Classic.
Faxon, an eight-time Tour winner, along with fellow Tour pro Billy Andrade co-host the CVS Caremark Charity Classic which has raised more than $17 million dollars for hundreds of charities throughout Southern New England.
The CVS Caremark Charity Classic runs in a different format than other golf tournaments. Held June 22-24 at Rhode Island Country Club in Barrington, R.I., the tournament features 20 professionals from the PGA, LPGA and Champions Tours, who are all paired into 10 two-person teams, playing a best ball format.
Send your questions now and join Faxon Thursday at 12:15 p.m. ET!
More Special Guests: Previous chats | SportsNation
Buzzmaster
(12:15 PM)
Brad Faxon will be here shortly to take your questions!
Buzzmaster
(12:16 PM)
Brad is here!
Jeff (Boston)
What led you and Billy to create this tournament?
Brad Faxon
(12:17 PM)
Our inspiration was the Fred Meyer Challenge in Portland, Ore. Peter Jacobsen ran a similar event. The CEO of CVS at the time was Tom Ryan. He came out to play at the Fred Meyer and he said we could do the same thing in R.I. He asked Billy and I to help promote it.
Ryan (Chicago)
what's the part of your game you've worked on the most over the years?
Brad Faxon
(12:18 PM)
Ironically, I feel like the best part of my game is my putting, which I work on the least. But I would say I put a lot of my time on driving, pitching and chipping.
Rich (Boston)
Hey Brad, who's your pick for the US Open? I'm thinking it's time for Kuchar to win a major?
Brad Faxon
(12:19 PM)
I love Matt Kuchar as a player. His game is very versatile. He's played all types of courses very well. For a U.S. Open, you need to have a lot of patience. As we all know, Matt's a pretty happy guy and a pretty patient guy.
Brian (New Haven)
How many head-to-head matches do you think you and Billy have played over the years? Who's ahead?
Brad Faxon
(12:20 PM)
I've never been asked that question before!...Believe it or not, it's not that many. We've played together a lot. I can remember a few times playing with him at or around the lead. I would say it's probably 2-1 or 3-2 and if you told me that he was ahead I wouldn't be able to argue, because I don't know.
Jim (Chicago)
If you had to make a prediction today, how many more majors will Tiger win. A year ago I think I still would have predicted he'd beat Jack, but I don't think I'd say that now.
Brad Faxon
(12:22 PM)
That's a question everyone wants to know the answer to. I was in the same camp, that the way that he was going pre-2008, that he was going to beat everyone's records that would never be tied or broken again. Now, we don't know. But I keep telling people that everyone counted out Jack and thought that he was washed up. Tiger is a guy that was the youngest to win The Masters. I think he can still win majors, but I don't know if he can ever get back to where he was.
Evan (Providence)
Do you find the golfers at the event like playing a mid-week tournament instead of on the weekends?
Brad Faxon
(12:23 PM)
Absolutely. Great question. Almost all of the players comment on how great it is to play in an event like this. They don't get a chance to play in a tournament with this format. It's not life or death. You can see their personalities more in our event.
Gerry (Worcester)
Have you seen any of the changes made to Pinehurst? How will the course play differently?
Brad Faxon
(12:24 PM)
Yes, I played Pinehurst last year. The changes are extreme, but I thought fantastic. It will be one of the first U.S. Opens without very narrow fairways and thick rough. It will play more of a British style game. The course always plays difficult. The greens will be some of the hardest of the year. You are going to have to get up and down from some very creative places.
Justin (Johnson City)
Brad, Would you say Adam Scott might be best equipped to have his career take off and be the next dominant golfer. With his swing and ability to hit it both straight and long, no course seems his waterloo. Thoughts?
Brad Faxon
(12:26 PM)
He has a lot of positives, the beauty of his swing, the power, the balance and grace of his swing. Everybody seems to have an Achilles heel and it seems to be his putting. That will make or break him. He's the No. 1 player in the world and has been for three weeks. I think he has the kind of demeanor that he can sustain it for a long time. I'm still a huge Rory McIlroy fan, but I think Adam will be there for a long time too.
Brandon (Lodi,CA)
With no rough at Pinehurst and Poppy Hills recent renovation in Monterey (no rough, removal of turf for water conservation, addition of waste areas, etc.), is this the future of golf course design and renovation across the U.S.?
Brad Faxon
(12:28 PM)
There is a movement of a few architects that are doing simpler style, minimalist style of architecture that has really caught on. I don't see where there will be a lot of courses with no rough. Pinehurst is a unique instance.
John T (The Cape)
How long do you think you and Billy will keep doing the CVS Classic for?
Brad Faxon
(12:29 PM)
CVS just signed a three year contract with RI Country Club to keep it going. I would love to keep doing this event, as long as we keep getting a great group of golfers and keep raising a lot of money for charity.
Hanson (DC)
Match play seems to be made for American TV audiences do you ever see more match play tournaments in the future?
Brad Faxon
(12:31 PM)
I love match play. I would love to play more. I think TV gets nervous, because if the stars lose early and there are only 2 or 4 golfers at the end, it's hard for them to showcase the best players. We're used to seeing the stars in the final pairing in other tournaments.
LT (Providence)
Who is you all-time favorite partner in the CVS?
Brad Faxon
(12:32 PM)
Wow, that's a good question. I played with Gary Player one year, in his 70s. He made a putt on the last hole on Tuesday to tie for the lead, it was so exciting, it was like he was playing for a major. We ended up losing in the playoff to Nick Price.
Lisa (Mass.)
How do you think Jordan Spieth's game will fare in a US Open? Be good for the game to see him break through in a major.
Brad Faxon
(12:33 PM)
Everywhere he goes, his game fares well. This kid is amazing. He is only 20 and he looks like he's been around for 100 years. I think the only negative to his game is that Pinehurst requires a lot of course knowledge.
Ed (Queens Village)
How do you prepare for a tournament?
Brad Faxon
(12:34 PM)
Nowadays, I'm on the Champions Tour. I usually play a couple of practice rounds. Hit a few balls, see what I need to work on in my game and I'm ready to go.
Gary (Boston)
Brad, no matter what I do, I can't cure my slice....any tips?
Brad Faxon
(12:37 PM)
First of all, Gary, you have one of the most common problems in the game. There are a lot of reasons for it. But you must be cutting across it. I would say it's really important to get the path of your club swing straight and probably getting a lesson from a PGA professional.
Shawn (Detroit)
Do you believe it took more golf skill 20-30 years ago than today with all of the advancements in the technology and equipment?
Brad Faxon
(12:38 PM)
That's a fun argument. It's something that I don't think we'll ever be able to decide. But I am a firm believer that an athlete today in any sport is bigger, stronger, faster. It would be impossible for me to believe that a guy like Adam Scott wouldn't be able to use the wooden clubs. Just like Ben Hogan, Sam Snead, Jack Nicklaus would be great players with today's equipment.
Hanson (DC)
When you set up your schedule what are some factors that go into determining what events you play in and how much do you deviate from that plan during the year excluding injuries and such?
Brad Faxon
(12:40 PM)
You look at places where you like the golf course and you like the town. That's important. You can look at it and say, they're giving out a lot of money everywhere, so I'm going everywhere. But you couldn't play in every tournament. You look at how many weeks you want to be on the road. I looked at the courses I liked and never being away from home for more than two weeks, which is really hard to do.
Jason (Canada)
I saw you're playing with Erik Compton this year at the CVS -- have you ever played with him before? He's definitely got a great story.
Brad Faxon
(12:41 PM)
Yes, he's playing my partner this year. I've known Erik since he was young. He has had 2 heart transplants, once when he was 12, I think, and another five years ago.
Ryan (Charlotte)
Hi Brad. The players seem to really be enjoying their practice rounds at Pinehurst. What do you expect from the course this year over the course of 4 rounds? What do you think the winning score will be?
Brad Faxon
(12:42 PM)
Yeah, I think all of the players like the appearance of the golf course. Typically the U.S. Open courses have narrow fairways. I think the USGA would like to have the conditions firm and fast. The last few Opens, the scores have not been very far under par.
Jay (Florida)
Any darkhorse picks for the US Open?
Brad Faxon
(12:43 PM)
I would expect Sergio Garcia to play well. And Zach Johnson is another one.
Matt (Chicago)
How close were you to Payne Stewart and how much do you miss him?
Brad Faxon
(12:44 PM)
Payne and I were very good friends. I lived in Orlando for 10 years and used to practice with him a lot. It's been 15 years since he passed away. I won the Payne Stewart award and that was one of the biggest honors of my career.
Brad Faxon
(12:45 PM)
Thanks for all of the great questions. Being a co-host CVS Charity Classic is one of the most rewarding things I've been able to do. We've raised $20 million for charity in R.I. Everyone in the state feels like they're a part of raising that money.