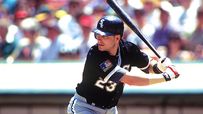 Ventura hit 171 of his career 294 home runs with the White Sox.
Welcome to SportsNation! On Wednesday, former Major League Baseball player Robin Ventura stops by to chat about the final few weeks of the season.
Ventura played 16 seasons in MLB, including 10 with the Chicago White Sox. The White Sox selected him with the 10th overall pick in the 1988 draft after he won the Golden Spikes Award as the nation's top amateur player.
The Oklahoma State product sits 10th all-time in slugging percentage among third basemen (.444) and third all-time in most 90 or more RBI seasons among third basemen (8). In addition to the White Sox, he also played for the New York Mets, New York Yankees and Los Angeles Dodgers.
Send your questions now and join Ventura Wednesday at 2:30 p.m. ET!
More Special Guests: Previous chats | SportsNation
ESPNChicago.com
(2:32 PM)
Welcome to today's chat with former White Sox great Robin Ventura. Robin is on the advisory board for the Capital One Cup, which rewards athletic excellence for Div. 1 programs, both men and women in 13 sports.
Dave (Glendale Heights)
Hey Robin! First off, just wanted to say that you're still my all-time favorite player and thank you for all the great memories with the White Sox...as for this year's team, how big of an impact do you think Omar Vizquel has had on the defense? Last year the Sox were not good in the field and this year they seem dramatically improved, especially Alexei Ramirez. Do you think that has a lot to do with Vizquel's arrival and influence?
Robin Ventura
(2:33 PM)
First, thanks for the comment. Second, I think Omar is a big part of that. You never know quite what the impact will be when you bring in a player, and Omar obviously has helped out, not only with the other players but solidifying a position.
Jc (Fort Myers, FL)
Mr. Robin Ventura. Just wanted to say that during your playing career you were my favorite player. I did everything I could to collect all your baseball cards but I fell a little short. I know you played for great franchises but which was your favorite? I know you spent most of your time with the Sox but you went to a World Series with the Mets, almost won a MVP in 1999. Thanks for those great years as a Met. As a huge Mets fan I appreciated all your great work even. Grand Slam Single....classic.
Robin Ventura
(2:34 PM)
All the places I was fortunate to play, I felt lucky. The year going to the World Series with the Mets was a highlight, because that's where eeryone wants to end up. My years in Chicago were special.
Tom (Palos Park, IL)
Hey Robin, I was a huge fan of yours when I was a kid in the 90's. With that being said, do you think it's possible the White Sox catch the twins with the 30 games they have left to play? I definitely think its possible especially if Manny can give them a spark and Thornton can come back strong.
Robin Ventura
(2:35 PM)
I think so. That addition of Manny is just a huge add-on, especially at a time when you're going down the stretch and need a big bat to DH. I fully expect Thornton to come back and be pivotal.
Nick (Jesup, GA)
Whose your 8 teams making it to the playoffs this year? Red Sox got a chance?
Robin Ventura
(2:36 PM)
I don't think so. YOu look at way Rays and Yankes are playing, they would have to win Wild Card. Those two teams are playing awfully well, especially with the injuries the Red Sox have had. Not impossible, but hard.
M. Williams (Durham, NC)
Robin,I grew up watching you as a Sox Fan and you were always one of my favorite players. I especially enjoyed the way you flashed the glove and came through in the clutch with all those grand slams.My question is what was it like having Big Frank as a teammate. Thanks in advance for response and best of luck to you!
Robin Ventura
(2:37 PM)
It was great. It was nice to see him get his number retired on Sunday. He's definitely the best hitter they've ever had, and it was great being around for most of it.
Robert (Chicago)
Hey Robin! How do you project Dayan Viciedo's career as a third baseman potentially for the White Sox?
Robin Ventura
(2:38 PM)
It's probably going to be at third, but he has ability to play some first. Kenny and Ozzie will put him in situation that's best for him and them. What position, I don't know. I think they are going to find a place for him to play.I think he would be fine at third, does a nice job filling in now.
Tim (Countryside)
I'm a huge fan of yours. What are your thoughts about your future? I know the Sox organization would love to have you back
Robin Ventura
(2:38 PM)
I'm happy right now, I have four kids at home. It's nice to be around for that. I do stuff with ESPN. Coaching is a big commitment, and some people just think you can be a guest celebrity coach, and that's not what it is. Lot of work. Happy doing what I'm doing.
Brad (South Bend)
Hey Robin,I was sorry to see you weren't at the Frank Thomas ceremony over the weekend. Are you still on good terms with The Sox and with Frank? Do you have any interest in working for The Sox again someday? perhaps as hitting coach?
Robin Ventura
(2:39 PM)
I get along great with both. Had a previous commitment to be in New York, couldn't make it.
Six 4 (Chicago's Loop)
Hey Robin! What do you miss most about your days as a White Sox player? And, did you have a favorite teammate?
Robin Ventura
(2:40 PM)
Just playing. Chicago's a great city. i was fortuante to start there for 8-9 years. There were a lot I enjoyed playing with. Those were good years. I wouldn't say there was just one guy, quite a few still friends with.
DC (PA)
As a Mets fan, you provided one of my top 5 all time Mets moments...just wanted to say thanks for being a good ball player. And...you sure you can't play right field for us now? Haha.
Robin Ventura
(2:40 PM)
Thank you, and I'm positive I can't play right field right now.
Rob (St. Charles, IL)
Robin, you were my favorite player growing up! How did you hit so many grand slams? You always seemed to come through with the bases loaded. PS - I cried the day you broke your ankle in spring training...
Robin Ventura
(2:41 PM)
I cried too. I think I was always lucky to bat in front of people like Frank, Albert Belle, Mike Piazza. I felt always put in good position. Either in front of them or behidn them. They either didn't want to face them or wanted to face me.
scott (chicago)
Why don't you think that you were able to stay in Chiacgo? Was it mainly money?
Robin Ventura
(2:42 PM)
I think at that time they were in rebuilding mode, and Joe Crede was on horizon. I don't think any animosity toward each other. That's how business is. Sometimes teams want to go in different direction with a youth movement, and that's what happened.
Mike (Chicago)
What is your favorite memory of Chicago off the field?
Robin Ventura
(2:43 PM)
We loved it, my wife and I, and 3 of our kids were born there. They loved the fact they were born in downtown Chicago.
Mike (Chicago)
In 1994 you guys were on a roll. Any disappointment the World Series was canceled? Did you think you could have won it that year?
Robin Ventura
(2:43 PM)
Absolutely. We had a great team. Really had the kind of ptiching you need to win in the playoffs. It's sad we didn't get chance to see exactly how far we would have ended up.
Mike (Chicago)
I read in a recent book that you didn't even want to charge the mound against Ryan but had to because teammates talked about the "baseball code" before the game and that may have been a reason you really didn't try to fight him. Any truth to that?
Robin Ventura
(2:44 PM)
Probably a little. The way the games were going, in baseball sometimes have to do what's expected of you as a teammate. At that time, that's what it was. It seemed after that, the teams didn't get in that kind of altercation.
Tom (Arlington Heights, IL)
I don't have a question, but I have want to tell you since '92, you are my favorite player of all-time! You are the most underrated 3rd baseman in the history of baseball! You deserve to be in the HOF someday! P.S. I have personally witnessed 7 of your 100 Grand Slams, without a doubt you are the best clutch hitter the Sox every had!
Robin Ventura
(2:45 PM)
Thank you.
scott (chicago)
Who was a better hitter the year the Sox signed Albert Belle? Frank or Albert?
Robin Ventura
(2:46 PM)
At the end of 98, the second half of '98, Albert had the best half I ever saw anyone have offensively. Unbelieavable.
Jordan (Boston)
So, who wins the world series?
Robin Ventura
(2:46 PM)
The White Sox are interesting now that they h ave Manny. I like their rotation and pen once THornton is back in there.
DC (PA)
Which ball park was your favorite to hit at? Probably not Shea....
Robin Ventura
(2:47 PM)
Shea was tough. I would say one of my favorites was Camden. I enjoyed playing in that ballpark, jsut a good park for a lefty.
caleb (zion)
what would you like to see the sox do in the next few years? do you prefer ozzie's idea of small ball or kenny's idea of power and long ball?
Robin Ventura
(2:48 PM)
I'm sure they'll find a nice happy medium to mix and match. Can't have one or the other.
SoxFan (Berwick, PA)
I always admired the way you approached the game. Always ready to play. Who do you credit for you're values?
Robin Ventura
(2:49 PM)
Obviously my parents. I was lucky to grow up with a dad who worked hard and two older brothers, that's where all that comes from. By the time I reached the majors, I was fortunate, Harold baines was there, Ozzie, Fisk, Charlis Hough, guys who were very professional. I was lucky.
preston (lexington, ky)
Do the reds have a legit chance to win it all? what did you think about chapman last night? did you see him pitch?
Robin Ventura
(2:50 PM)
I think they do. You add a guy like him and it helps. They put on a nice little stretch to go in front of the Cardinals.
Robin Ventura
(2:51 PM)
I don't see Girardi going to the Cubs. I think has a good spot. Does a great job in New York. You just can't put anybody in that spot. Bobby Valentine is available. I'm sure Sandberg is a name who can do it, sure.
Robin Ventura
(2:52 PM)
I think Ozzie is going to spend the rest of his career with the White Sox, whether the Sox want him to or not.
Eric (Peoria, Illinois)
Hey, Robin. Do you think your NCAA hitting streak record will be broken next year?
Robin Ventura
(2:53 PM)
I think there's a very good chance it will be broken. he's only two games away. it will be good for the sport.
Chris (Cincinnati, OH)
Why don't people respect the Reds nationally? Because they aren't in it every year like the same teams that are?
Robin Ventura
(2:53 PM)
I would say that's probably true. People expect more out of names they're used to seeing. Like the Rays a few years ago, it can happen.
John (Glendale)
Robin, who was your favorite manager during your playing days?
Robin Ventura
(2:53 PM)
I liked all of them. I was lucky. I wouldn't say one favorite.
Robin Ventura
(2:55 PM)
I'm proud to be part of the Capital One Cup, and everything Capital One has done for NCAA sports. Something I'm passionate about, and definitely what it's involved in as far as using all sports and giving scholarship money to programs. Thanks for all of your questions.