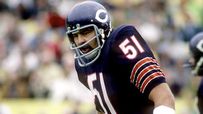 Butkus and fellow hall of famer Gale Sayers were both drafted by the Bears in 1965.
Welcome to SportsNation! On Friday, former Chicago Bear, and member of the Hall of Fame Class of 1979, Dick Butkus stops by to chat about the upcoming NFL season.
Butkus, who had his No. 51 retired by the Bears and his No. 50 retired by the University of Illinois, played his entire nine-year career with the Bears. He was named to the Pro Bowl in each year of his career but his last, in addition to being named to the NFL 75th Anniversary Team in 1994.
While being noted as one of the most feared linebackers in NFL history during his career, Butkus has now teamed up with Abbot Nutrition's EAS as the brand announces that its sports nutrition products are all 100% certified to ensure clean, safe sports nutrition.
Send your questions now and join Butkus Friday at 2:30 p.m. ET!
More Special Guests: Previous chats | SportsNation
Buzzmaster
(2:18 PM)
Hall of famer Dick Butkus will be here at 2:30 p.m. ET to take your questions!
Buzzmaster
(2:31 PM)
Dick is here!
dan (texas)
Dick, your one of my favorite Bears players of all time. What do you think you did differently than anyone else that has played the game, that sets you apart from them?
Dick Butkus
(2:33 PM)
Maybe my ability to cause a lot of turnovers. I had the record like 22 recovered fumbles, but there were many more that I caused and maybe didn't recover. I think that was something that was overlooked by a lot of people.
Jessica (Tampa, FL)
Dick- what do you think of all the substance testing that players are required to go through?
Dick Butkus
(2:35 PM)
I agree with Roger Gooddell that they should test for HGH. It's a step up from steroids. I have a campaign, I Play Clean, that tries to educate teenage athletes on the dangers of steroids. My cardiologist did a study on steroid abusers and they all have heart problems. A 30-year-old former steroid abuser has the heart of a 60-year-old. That's why we're trying to educate kids on the dangers of steroids. Having the testing in the NFL will hopefully help them learn about the dangers.
Steven (Long Beach, CA)
What does EAS's 100% Certified program mean for athletes in the future?
Dick Butkus
(2:37 PM)
It means that they can purchase the EAS brands because they're 100% certified. They've been tested by the third-party, independent laboratories. You have to look at the ingredients when you look that supplements. I think you can go into a healthfood store and pull things off the shelf and you can have a 20% chance of testing positive for steroids. It's important to know what you're taking, because nutrition is getting to be a big thing. You need to have the kids, athletes and gym goers to have the confidence that they're not getting anything they don't want.
Tony (Harlingen,TX)
Mr Butkus, my wife and I had the pleasure of meeting you in Las Vegas last month ( I was the band director guy) and it was the highlight of our trip. I was curious, now that the CBA has been signed , do you think the NFL and the NFLPA are on the right track to provide for retired players?
Dick Butkus
(2:39 PM)
Well, yes, I do. I'm glad it was brough up. The amount is something like $640 million over 10 years. I thought that was just for this year, but that's for over 10 years. Simple math tells you that it's more like $60 million per year into the retirement fund, which is just about what they gave Stafford as a rookie after never playing a down. But it's a step in the right direction. Guys that started this league back in the olden days are dying off. I don't think we'll need to have any tag sale days for the current players. Anything is better than nothing. Some of the guys are really short changed
Matt (Chicago)
What is your best memory from your playing days?
Dick Butkus
(2:41 PM)
I guess catching a wayward extra point attempt. A ball was snapped over Bobby's head. He recovered it around the 35 yard line and then threw it to me in then end zone for the extra point. I caught it with one eye, because like a boxer, I was hit in the eye and it was swollen shut. I jumped up to catch it and caught it around my waist. My teammates saw it on tape and were getting on me about it.
Tash (LA)
I simply wanted to say, you have one of the greatest names in history. Your thoughts on the Bears this season?
Dick Butkus
(2:42 PM)
I think if they can improve both the OL and DL, they should do well. The Packers are the team to beat and the Bears usually play them pretty well. No. 1 is to stay healthy and No. 2 is to get both lines up to snuff and give Cutler some time. Getting a rush with only four people on defense.
Cheesehead Sports Nut (@CheeseheadSN)
I think a majority of younger fans assume that the Bear always played at Soldier Field but don't realize the Bears played at Wrigley Field as well. What was it like playing games at Wrigley Field?
Dick Butkus
(2:43 PM)
I really enjoyed it. I thought that was the best place to play football. As a pro, you were always brought up to believe that you play wherever you play. It doesn't have to be pristine and Wrigley wasn't perfect. There was a pitch from end zone to end zone. Part of the south endzone had some 2x6s laid out across the dugout. The lockerroom was probably good enough for a basketball team. People were close. I thought it was the best.
Matt (Chicago)
Where do you think Urlacher ranks among the top linebackers in the league today and where do you think he ranks in the history of linebackers in the NFL?
Dick Butkus
(2:44 PM)
In history, I don't know what number you put him at, but currently, I put him in the top 3. Patrick Willis, Ray Lewis and Urlacher, I'd say those three.
Mark (San Jose)
Dick, what was it like working on the set of the show "Hang Time"? Seems like a fun show to be a part of. Too bad they don't show the re-runs anymore.
Dick Butkus
(2:45 PM)
I thought Hang Time was a pretty good show in that it was a comedy, but it also delivered a message to high schoolers and kids on Saturday mornings. I thought they did a good job about weaving in messages about issues that high school kids come across. I thought they did a good job of doing it in a fun way. I'm proud to get that message across, because there is so much junk on TV.
Keith (Cleveland, Ohio)
Mr. Butkus...What do you think of the style of play of Pittsburgh's James Harrison and do you think contact in the NFL is becoming too restricted?
Dick Butkus
(2:47 PM)
I think Harrison is an excellent LB. He's made the news with some of his hits or whatever. Given the opportunity to make plays like that, when you definitely go for someone's head when they're not looking, I don't know if I agree with that. You can still put a devastating hit on someone without that. They're trying to make this game a little safer, and I think the QB should be protected. He's the marquee player.
Dick Butkus
(2:48 PM)
For the high school teenagers, go to IPlayClean.org and check it out. For the athletes, we'll have ButkusHits.com and you can upload what you do. We'll have a committee and vote for the hit of the week. We want your hits. Clean hits.
Buzzmaster
(2:48 PM)
Thanks Dick!
THIS WEEK'S CHATS (All Times CT)