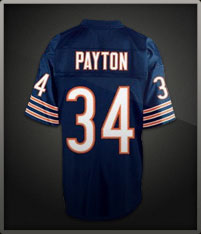 Walter Payton
Bears (1975-1987)
It's tough to determine what about Walter Payton is more impressive, his production or his durability.
He missed one game during his rookie season in 1975 and went on to play in 186 consecutive games, a remarkable feat considering the offensive lines he ran behind for the first eight years of his career.
And then there was his yield. Payton rushed for more than 1,000 yards in 10 of his 13 seasons and retired in 1987 as the NFL's all-time leading rusher. He broke Jim Brown's career rushing record of 12,312 yards on Oct. 7, 1984. Bears officials wanted to stop the game for a ceremony to honor the record, but Payton believed momentum in the game was more important so the celebration lasted only a few minutes. Payton's 16,726 yards rushing were tops until Emmitt Smith broke the mark in 2002.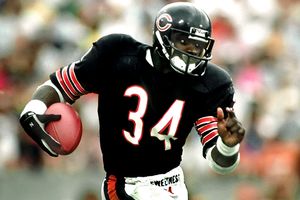 US Presswire

Walter Payton's longevity and durability were nothing short of remarkable for an NFL running back.
At the time of his retirement, the nine-time Pro Bowler also held NFL records for most career rushing touchdowns (110), carries (3,838), 10 seasons with 1,000 or more yards rushing, 77 games with 100-plus yards rushing and the single-game rushing record (275 yards against Minnesota in 1977).
Payton, whom coach Mike Ditka considered the greatest football player he had ever seen, won the NFC rushing crown for five straight years (1976-80). His best season came in 1977, when he led football with 1,852 yards and won NFL MVP.
Payton's Bears went 50-56 during his first seven seasons, but they turned things around under Ditka. The Bears were 40-17 over Payton's final four seasons, including 1985, when the team finished 15-1 and routed the Patriots in Super Bowl XX. As usual, Payton, at age 31, drove the Bears' offense during that championship season. He rushed for 1,551 yards, averaged 4.8 yards a carry and posted nine straight games with at least 100 yards rushing.
He was elected into the Pro Football Hall of Fame in 1993. Payton died in 1999 at age 45 of bile duct cancer that was discovered earlier in the year during treatment for a rare liver disease.
2011 Chicago Hall of Fame classmates: Michael Jordan | Ernie Banks | Dick Butkus | Mike Ditka