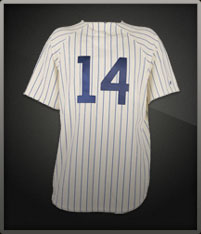 Ernie Banks
Cubs (1953-1971)
"Mr. Cub" became a fan favorite soon after signing with Chicago in 1953 from the Kansas City Monarchs of the Negro League at 22 years old. After 19 seasons with the Cubs, Ernie Banks retired as the franchise's all-time leader in games played (2,528), at-bats (9,421), home runs (512), total bases (4,706) and extra-base hits (1,009). He also ranks second in hits (2,583) and RBIs (1,636).
As one of the first African-American players in Cubs history, Banks was the main attraction for the Cubs in the late 1950s. And he put on quite a show. The shortstop hit 40-plus home runs five times between 1955 and 1960 and he won back-to-back National League MVP awards for the fifth-place Cubs in 1958 and 1959.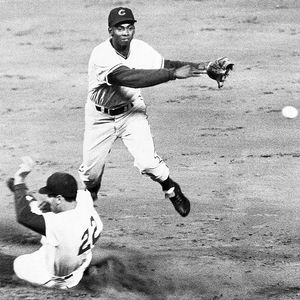 Associated Press

Ernie Banks, in action against the Cardinals in 1970, was the National League MVP in 1958 and 1959.
At 27, Banks hit .313 with 129 RBIs and set a major league record for shortstops with 47 home runs during his 1958 MVP season, but the Cubs finished 72-82. The next season he hit .304 with 45 home runs and an NL-leading 143 RBIs for a 74-80 team.
A Gold Glove at shortstop in 1960, Banks switched to first base full-time in 1962 and led all league first basemen in putouts five times.
For all of Banks' brilliance on the field, he never made the postseason and played on just six teams with winning records in 19 seasons. The closest he came to the playoffs was the infamous 1969 season, when the Cubs lost 17 of their final 25 games, squandering their division lead to the Mets (who went on to win the World Series). Banks hit 23 home runs with 106 RBIs in 1969, at age 38.
Loved for his eternally optimistic attitude and memorable saying -- "What a great day for baseball. Let's play two!" -- Banks has always been a part of the Cubs since his retirement, even if not in an official capacity. He was a coach for the Cubs until 1973, a roving minor league instructor from 1974 to '76 and also worked in the front office.
A first-ballot inductee into the Baseball Hall of Fame in 1977, Banks was the first player to have his jersey (No. 14) retired by the Cubs, in 1982. The club later honored him with a statue outside Wrigley Field that was unveiled in 2008.
2011 Chicago Hall of Fame classmates: Michael Jordan | Walter Payton | Dick Butkus | Mike Ditka