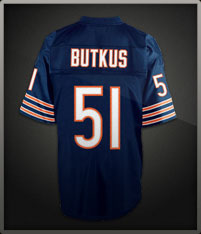 Dick Butkus
Bears (1965-1973)
One of the most feared and intimidating players in NFL history, Dick Butkus began the Bears' run of great middle linebackers that would produce the likes of Mike Singletary and Brian Urlacher.
A star at Chicago Vocational High School and the University of Illinois, Butkus was the third overall pick in the NFL draft in 1965. Also drafted by the Denver Broncos in the AFL draft, Butkus chose to sign with his hometown team and was an immediate force in the NFL, making the first of eight straight Pro Bowls as a rookie.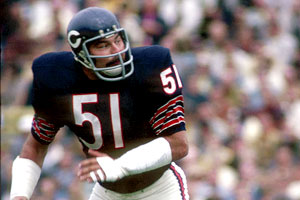 US Presswire

Dick Butkus was a menace to opposing offenses during his run of eight straight Pro Bowl seasons.
With Butkus leading the defense and Gale Sayers, also a first-round pick of the Bears in 1965, fueling the offense, the Bears had two of the league's most dominating players. A punishing hitter, Butkus was known for ripping the ball out of ball carriers' hands. Forced fumbles were not kept as an official statistic when Butkus played, but he surely would be among the game's all-time leaders in that category.
In his nine seasons, Butkus had a team-record 47 takeaways, including 25 fumble recoveries, an NFL record at the time of his retirement. He retired with 1,020 tackles, 489 assists and 22 interceptions.
A combination of size, strength and speed, Butkus played with an anger that he helped stoke during pregame warm-ups, when he would look around to find things that would make him mad. In 1970, a panel of coaches picked Butkus as the player with whom they would choose to start a team.
Knee problems led to Butkus' demise on the field. Offseason knee surgery in 1970 was only partially successful, and Butkus played in pain for the next two seasons before retiring in 1973.
A two-time All-American at Illinois, Butkus (No. 50) is one of just two Illini whose jerseys have been retired by the school, along with Red Grange (No. 77).
Butkus, who was named the 70th greatest athlete of the 20th century by ESPN, was elected to the Pro Football Hall of Fame in 1979.
2011 Chicago Hall of Fame classmates: Michael Jordan | Walter Payton | Ernie Banks | Mike Ditka