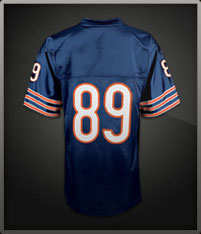 Mike Ditka
Bears TE (1961-1966),
coach (1982-1992)
The only Bears coach to win a Super Bowl, Mike Ditka has experienced championships in three different roles during his nearly 40-year career in the NFL. Ditka and Tom Flores are the only people to win championships as a player, assistant coach and head coach.
A first-round draft pick by the Bears in 1961 out of the University of Pittsburgh, Ditka helped revolutionize the tight end position by becoming a receiving threat rather than just a blocker. He caught 56 passes for 1,076 yards -- fourth-best in the league -- as the NFL Rookie of the Year in 1961, the first of five straight Pro Bowl seasons. He caught 59 passes for 794 yards and eight touchdowns during the Bears' run to the 1963 NFL championship. His 75 receptions in 1964 was a record for tight ends until the advent of the 16-game schedule in 1980.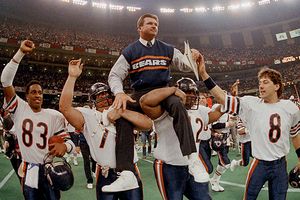 Associated Press

In addition to a Hall of Fame playing career, Mike Ditka is the only Bears coach to win a Super Bowl.
After 84 straight starts with the Bears and a falling-out with coach George Halas, Ditka was traded to the Eagles. Following two tough seasons in Philadelphia, Ditka spent four seasons with the Cowboys under Tom Landry, who gave Ditka his start in coaching. Ditka coached tight ends and special teams for nine seasons with the Cowboys until Halas and the Bears came calling in 1982.
Halas shocked everyone by hiring Ditka, who had once written Halas a letter stating that, despite their differences, he hoped to one day coach the Bears if the job opened up. In 1983 Ditka guided the Bears to an 8-8 season on the strength of deep draft class. That set up a run to the NFC Championship Game in 1984 and a legendary run to the Super Bowl XX victory after a 15-1 season in 1985.
The 1985 Bears team endures as the franchise's most colorful and dominating team. Leading the way was Ditka, the fiery, gum-chomping picture of toughness with the signature mustache and aviator sunglasses. Ditka, who was 106-62 (.631 winning percentage) with five trips to the playoffs in 11 seasons with the Bears, transformed the caricature of himself many fans and media had created into a business empire.
More than 25 years after the Bears' only Super Bowl victory, "Da Coach" remains one of the most marketable sports figures in Chicago with countless endorsement deals and business ventures, including restaurants, a wine label and even a salsa.
Ditka was elected to the Pro Football Hall of Fame as a player in 1988.
2011 Chicago Hall of Fame classmates: Michael Jordan | Walter Payton | Ernie Banks | Dick Butkus