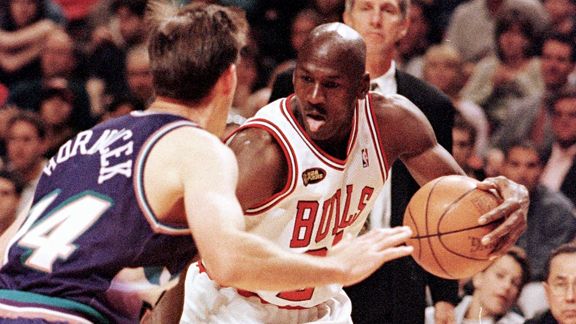 Getty Images
Our panel looks back on the greatness of Michael Jordan: Watch

It is crazy that I would ever forget, ridiculous really.
But Kobe will drop 81; LeBron will drive baseline to baseline; Derrick will do magical things with the basketball and actually finish at the hoop; and I'll gladly make the comparisons.
A Jordan-like game. A Jordan-esque move. Maybe I'll even listen patiently to the notion that not only is the player's game better but the player may be better.
Then, as I did recently while considering ESPN's inaugural Chicago Hall of Fame, I'll allow myself the luxury of looking back. Try it sometime if you ever start to forget the kind of player Michael Jordan was.
YouTube "Michael Jordan Top 40 Moments." Or "Michael Jordan Top 10 Buzzer-Beaters." Or "Top 10 Impossible Shots." Then try to watch without your mouth hanging open, even if you have seen most of the clips before.
Watch the leaping ability of a skinny kid who could actually elevate his jump in midair. Take notice of how many of Jordan's steals triggered some of his most spectacular drives. Observe the sheer audacity of the clutch shots, a "Top 10" being a laughable collection. Consider how utterly predictable it always was that he would take the last shot, and how predictable it was that he would make it.
See his repertoire mature, his majestic play above the rim transition to an almost unstoppable post-up game and one of the surest jump shots around. And yet his athleticism was always there when he needed it: for the defense-gutting drive or -- a month short of his 39th birthday with the Wizards -- pinning the ball against the backboard with a two-handed block against then-Bulls player Ron Mercer.
Photo gallery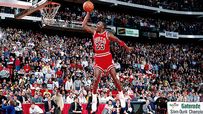 Check out the 20 candidates for the
ESPN Chicago Hall of Fame: Gallery

Notice also the dead sprint downcourt on that play after Ron Artest partially blocked his shot on the other end. Vintage Jordan, of course, always getting in the last word.
Over the eight years that I covered Jordan's career -- three as a Bulls' beat writer -- I very rarely lost that sense of wonder in watching him or took for granted what I was seeing. Even during the dog days of March, even during the Bulls' blowouts, even during his "bad nights" or sick nights, because those were the times he would pull out the one moment that would force you not to make that mistake again.
It was on one such mid-March night in 1993, after Jordan and no one else knew he was going to announce his retirement from basketball after the season, he reminded me of this.
The Bulls were playing the Washington Bullets in a back-to-back, home-away series that had little meaning to a Chicago club that was 43-20 with 19 games left in the regular season. But when second-year guard LaBradford Smith, he of the 8.5-point average, scored 37 points largely on Jordan (33 through the first three quarters), you knew the next night at Washington was going to be something to see.
It did not matter that Jordan, shooting 4-of-21 going into the fourth quarter that first game, ended up scoring 11 straight points in the final five minutes of regulation for the Bulls' five-point victory.
Jordan told Scottie Pippen he wanted 37 by halftime the next night and wound up one point shy with 36. By the end of three quarters, he had 47 and left the game as the Bulls went on to win by 25.
He had intended, he said, not to be selfish in his personal quest. But he flashed the infamous smile as he shrugged in the visitors' locker room afterward.
We had seen that shrug before. We would see more exhibitions many would term self-motivated and others that were simply too amazing to overanalyze. How I could ever forget what I had seen, I do not know. I don't think I will again.
Every generation has its great athletes, some so gifted as to be placed in halls of fame and bestowed streets in their honor; some so fortunate as to win multiple championships. But only if you're lucky as a sports fan do you get to witness one athlete in a lifetime who inspires both fear and awe in his opponents, whose name elicits nods in the remotest of outposts, whose performances are held up as instant classics. Whose highlight reel you can watch again and again and again, and still be amazed.
You're even luckier if he did it in your hometown.
Melissa Isaacson is a columnist for ESPNChicago.com.