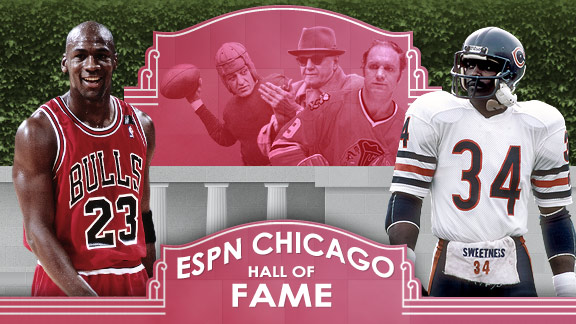 ESPN.com illustration
Are hometown athletes embraced more by Chicago fans? Watch

Michael Jordan and Walter Payton made it easy for us.
Not only did they make it look easy on the field, their brilliance in competition and universal appeal away from the game elevated them to the stuff of legends.
When we started this endeavor, to put together a list of nominees for the ESPN Chicago Hall of Fame, Jordan and Payton were the givens, as dependable as Jordan in the clutch or Payton in the starting lineup. Surely no one can form a rational argument that the duo doesn't belong in the inaugural class of five. At least no one from Chicago.
Of course, even Babe Ruth wasn't a unanimous first-ballot selection in the Baseball Hall of Fame, so there's always a contrarian out there.
That brings us to you, the reader. Our expert panel -- Melissa Isaacson, Michael Wilbon, Gene Wojciechowski and Marc Silverman -- sorted through the list of greatness in Chicago sports history to come up with 20 nominees for the first class of the ESPN Chicago Hall of Fame. Now it's your turn to vote for the five greats who most deserve to be a part of the inaugural class. Voting runs through Aug. 16, and we'll unveil the class on Aug. 17.
Video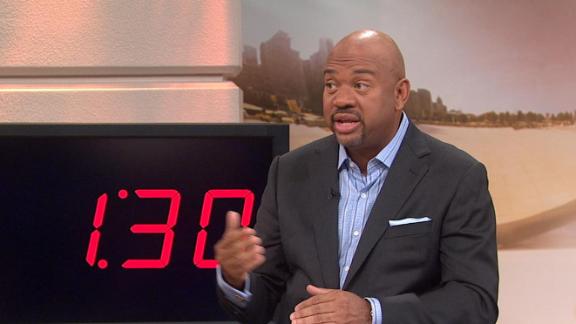 Michael Wilbon makes the case for Red Grange in the first ESPN Chicago Hall of Fame class. Watch

Photo gallery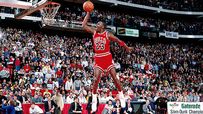 Check out the 20 candidates for the
ESPN Chicago Hall of Fame: Gallery

The real fun for our panel of experts -- and likely for you, the reader -- came in picking who they thought should fill the third, fourth and fifth spots in the first Hall class. As you can see from their ballots, each panelist went in a different direction. And as you will see from their essays and video debates, each had sound logic in his or her arguments.
For instance, if you feel compelled to have a representative from the four major professional teams, how can you leave off Frank Thomas? The Big Hurt brought a remarkable combination of power and discipline to the plate, and his first seven seasons -- in which he averaged 36 home runs with 117 RBIs and a .330 batting average, and won two MVP awards -- are among baseball's best to start a career.
Yet Thomas appeared on only one ballot -- Isaacson's -- for induction in the first year. And he didn't even get a vote for the top 20 from Wojciechowski.
Ernie Banks might be Mr. Cub, but he will have to wait at least another year to get into the ESPN Chicago Hall of Fame … provided our panel has its way. The face of the Cubs in the 1950s and '60s got only one top-five vote from our panel. Ryne Sandberg is one of the greatest second basemen to ever play the game, but he didn't even make the top 20 lists submitted by Wilbon and Silverman.
And then there is Sammy Sosa. If you think he is clean, there is no denying his 609 home runs command a spot in the top five. If you believe he was tainted by suspicion of performance-enhancing drug use, the argument gets complicated. Silverman, the only panelist to put Sosa in the top 20, chooses to overlook the controversy and chalk it up to Sosa just being a part of the steroids era.
When it comes to coaches and if winning is everything, how can you argue with Phil Jackson's six NBA titles with the Bulls? Easy. Try the guy who started the Chicago Bears and is one of the NFL's founding fathers, George Halas, who also happened to win six NFL titles.
Speaking of the Bears, how does a class not include Gale Sayers, Dick Butkus or Red Grange?
We'll see, as we now pass the ballot on to you and open up the debate. Who deserves a place in the first class?
In true Chicago fashion, vote early and vote often.
John Roberts is an editor for ESPNChicago.com.