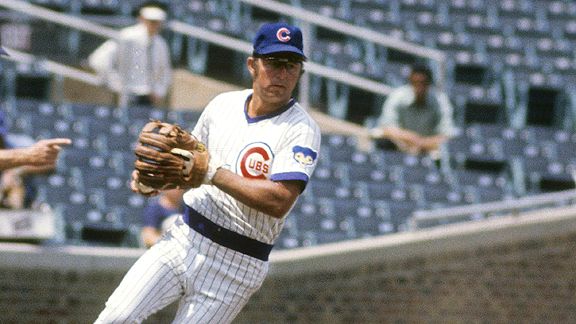 Focus on Sport/Getty Images
Gene Wojciechowski goes against the clock to defend his pick of Ron Santo for his top five: Watch

I didn't exactly arm wrestle myself when it came to putting Ron Santo in my inaugural Chicago Hall of Fame final five. Truth is, it didn't take more than a nanosecond or two to decide.
What's there not to love about Santo? He was as Chicago as Billy Goat Tavern, as popular as a two-for-one happy hour on Western Ave., and as accomplished a ballplayer as this city has ever seen. He ought to be in the big boy HOF in Cooperstown, but he isn't -- yet. It is an omission that still boggles my mind.
So I'm not going to make the same mistake that Cooperstown has made over the years. No less than Bill James -- one of the founding fathers of statistical baseball analysis -- argues in favor of Santo's inclusion. It's one of my favorite quotes:
"To me,'' said James, "it is clear and unequivocal that Santo is a Hall of Famer. … Putting guys like George Kell, Freddy Lindstrom and Tony Lazzeri in the Hall of Fame while you leave out Ron Santo is like putting Dalmatians, Palominos and Siamese in the zoo while you let the lions roam the streets.''
Video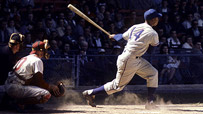 Is it fair to have three players from the infamous 1969 Cubs team among the 20 nominees? Watch

Photo gallery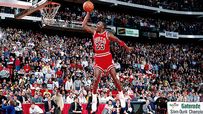 Check out the 20 candidates for the
ESPN Chicago Hall of Fame: Gallery

His numbers don't just speak for themselves; they stand atop the Hancock Center and shout to anybody who will listen. He was a nine-time All-Star third baseman and a five-time Gold Glove winner. During his 13-year career he averaged 25 home runs, 96 RBIs, 156 games and a .277 batting average.
Did I mention that he was the cleanup hitter in a lineup that included Hall of Famers Ernie Banks and Billy Williams? That he led the National League in walks four times? That he hit 342 career dingers? That nobody can blame Santo for what happened to the Cubs in 1969 (he drove in 123 runs that season)?
Most amazing of all: He did this while suffering from Type I diabetes.
But that's not the only reason I put Santo on my list and left the beloved Banks off it. Nothing against Ernie (he was my Chicago HOF first alternate), but Santo connected with this city as a player and as a broadcaster. You got those Cooperstown-caliber numbers during his playing career, and then you got those WGN numbers -- 710 -- during his broadcasting career.
He was a natural at both. He could play the game, and he could call the game. And what I loved best about Santo is that he wore his heart on his jersey sleeve or toupee. He was a homer in the sweetest way.
Chicago can smell a fraud from a Magnificent Mile away. Santo was no fraud. He clicked his cleat heels out of pure joy. He yelled, "Alrighhhhhtttttt!'' into a WGN microphone out of pure joy. He groaned. He muttered. He damn near cried because he cared about the Cubs so much. And he knew Cubs fans cared, too.
I chose Santo because he did what very few people can do: become a baseball, city and broadcast icon. And do it without trying.
He deserved to play in a World Series for a city he adored and a franchise he loved. He deserved to make an induction speech in Cooperstown before he died.
Yeah, I've got a peach fuzz-soft spot for Santo. I don't apologize for it. In fact, I'm proud of it.
So I voted for Ronald Edward Santo to be part of the Chicago Hall of Fame. He earned at least that much. And he earned it on the first ballot.

Gene Wojciechowski is the senior national columnist for ESPN.com. You can contact him at gene.wojciechowski@espn.com. And don't forget to follow him on Twitter @GenoEspn.