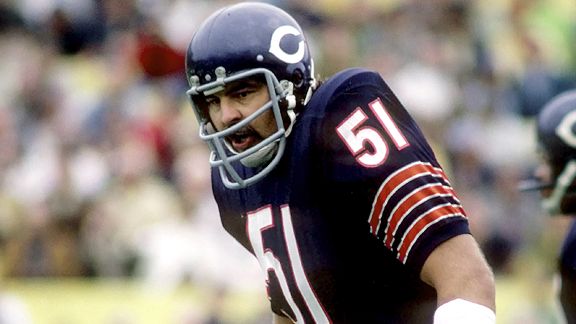 US Presswire
Marc Silverman goes on the clock to defend his picks for the inaugural class: Watch

When it comes to determining Chicago's all-time best, rattling off the first four names is a pretty simple task.
Walk into any bar across the city and for the most part you'll get Michael Jordan, Walter Payton, George Halas and Mike Ditka.
When it comes to the local Mount Rushmores of sports, Chicago's is as good as it gets. I'll put our four names up against anyone's across the country.
In that same bar, the No. 5 slot is where the fight begins.
Let's start at the top.
Jordan could be the greatest, most dominant athlete of all time. He's got everything: MVPs, championships, ability, work ethic. And if you don't pick him No. 1, he'll tell you why you stink. See his Basketball Hall of Fame induction speech.
Video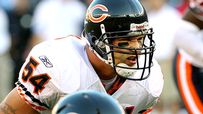 Who is the best middle linebacker in Bears history, Dick Butkus, Mike Singletary or Brian Urlacher?Watch

Photo gallery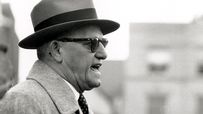 Check out the 20 candidates for the
ESPN Chicago Hall of Fame: Gallery

I mention "Sweetness" and you know who I'm talking about. Payton to the right, Payton to the left. That was the Bears' playbook when I was growing up. Everyone knew what was coming, and nobody could stop him.
He never missed a game. He never ran out of bounds. Payton handed out the punishment to the defense. You can still visualize his dive into the end zone. He blocked, he ran, he even threw. He was loved by the city, and he was loved by his teammates. Has one athlete ever been embraced by our entire city like Payton?
Halas started the most popular sports league in the country. He brought our city's most popular team from Decatur to Chicago. He hired Ditka. I rest my case. Bearsssssssssss.
There have been two Bears championships in the past 50 years. Ditka was a part of both of them. As a Hall of Fame tight end on the 1963 championship team, Ditka revolutionized his position. And he was the coach of the most popular team in Chicago sports history, the 1985 Bears.
He's one of only two people in the history of the NFL to win championships as a player, assistant coach and head coach. His temper is legendary. His mustache iconic. The pork chops at his restaurant are delicious.
Now we get to No. 5. It could have been Ernie Banks. It could have been Scottie Pippen. And it could have been Phil Jackson. I'm not going to pick apart why they weren't in my top five because they are Chicago sports legends. And they'll be on my ballot next year.
What clinched Dick Butkus for me was his well-rounded Chicago résumé. This is the Chicago sports Hall of Fame, after all. Butkus played high school ball at Chicago Vocational. College ball at Illinois. And then for the Bears. He was also the "Ron Santo of broadcasting" before Santo.
His cheering could be heard in the Bears' radio booth in the mid '80s, including when the Bears won the Super Bowl. He was nasty, mean and punished any opponent on the football field. Any linebacker that plays today will always be measured against Butkus.
He played nine seasons but somehow was included on two all-decade teams in the NFL. On most lists, he's one of the top 10 all-time greatest NFL players. Butkus was great. He was also as Chicago as it gets.
Marc Silverman co-hosts "The Waddle & Silvy Show" on ESPN 1000 weekdays from 9 a.m.-1 p.m. CT.