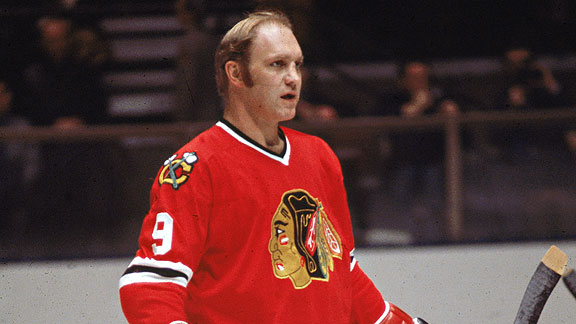 NBAE via Getty Images
Melissa Isaacson defends her picks, including Bobby Hull, for the inaugural class: Watch

Picking the top five Chicago Blackhawks of all-time was a hard task. Sure, Stan Mikita and Bobby Hull are givens but after that it's a wide open affair.
Leaving out Doug Wilson was difficult. And cases could have been made for Jeremy Roenick, Chris Chelios and others, but ultimately, longevity and success narrowed my picks.
I'm lucky the list is beholden to retired players only or Jonathan Toews and a few others would have made it even harder. That's for another decade or so from now.
1. Stan Mikita, 1958-1980: There is no other player in franchise history who epitomizes the Blackhawks brand more than Mikita. Wearing the sweater in four different decades, Mikita is the Blackhawks' all-time points leader, amassing 926 assists alone. That's over 200 more helpers than Denis Savard, who ranks second. He was tough but found discipline within his game going from 154 penalty minutes in 1965 to just 12 minutes two seasons later, winning the Lady Byng Trophy. His 1467 points are 14th all-time in the NHL.
Video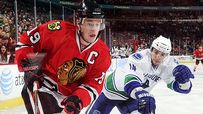 Is Jonathan Toews among the current crop of stars bound for the ESPN Chicago Hall of Fame? Watch

Photo gallery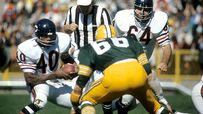 Check out the 20 candidates for the
ESPN Chicago Hall of Fame: Gallery

2. Bobby Hull, 1957-1972: He's arguably the best left winger of all-time and the best to don a Hawks sweater. He scored 50 goals five times for the Hawks including his last season before jumping to the WHA in a contract dispute. Leaving didn't diminish his legend as Hull could do it all using the most wicked slap shot of his time to help amass 604 goals, the most ever for a Blackhawk. Along with Mikita, Hull led the Hawks to their last Stanley Cup title in 1961, before the franchise ended a championship long drought in 2010. In a word, Hull was dynamic.
3. Tony Esposito, goalie, 1969-1984: Considering his longevity, position and success, Esposito could be No. 1 on the list. His 15 shutouts as a rookie in 1969-70 is still an NHL record for first year net-minders and were the most in the league, at the time, since 1929. He played in at least 66 games for eight consecutive seasons, amassing 423 wins, ranking seventh all-time, but was only 45-53 in the playoffs.
4. Denis Savard, center, 1980-1990, 1994-1997: Savard was a human highlight reel who might have cracked the top 5 just for the entertainment factor. But his numbers speak for themselves. He's one of three Hawks with over 1,000 points, and his 1.24 per game average is by far the highest among any of the stars. While Savard's scoring plays are legendary, he was a playmaker at heart, finishing second all-time in franchise history with 719 assists. His 175 points in 169 playoff games assures he wasn't just a regular season player either.
5. Pierre Pilote, defenseman, 1955-1968: The only defenseman to make the top 5, Pilote is a three-time Norris Trophy winner and a three-time runner-up. He was the back-bone of the defense which won a Stanley Cup in 1961 as well as the captain during the 60's when the Hawks were dominant. Doug Wilson gets a mention here as well as the fifth all-time leading scorer in franchise history, but Pilote's play is enshrined in the NHL Hall of Fame. He was ranked 59th of the top 100 players of all-time, according to the Sporting News.
Jesse Rogers covers the Blackhawks for ESPNChicago.com and ESPN 1000.