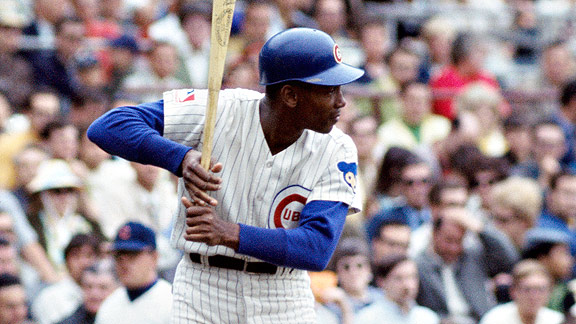 Getty Images
Is it fair that a team as disappointing as the 1969 Cubs has three nominees for the Hall? Watch

The Chicago Cubs are certainly rich in history if not world championships. They have had plenty of great players in their 136 years.
For my choices, I used the modern ball era of 1900 on. Maybe the greatest Cub ever, Cap Anson, has been excluded. Sammy Sosa would also have been in my top five if not for the inconclusive steroid-era cloud hanging over him. A tip of the cap and apologies to pitcher Charlie Root (201 victories, the most in team history), Ron Santo and player-managers Charlie Grimm and Gabby Hartnett.
1. Ernie Banks, 1953-71, inducted into Hall of Fame in 1977: This two-time MVP may be the most influential player in Chicago sports history. Banks became the first African-American to play professionally in Chicago at the end of the 1953 season. He hit 512 home runs in his Hall of Fame career, and his always optimistic view of people makes him an easy choice as the top Cub in their long history. Banks was the ultimate gentleman and helped changed people's stereotyped images of African-Americans in the City of Big Shoulders and even bigger prejudices.
Video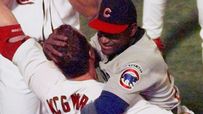 Does Sammy Sosa deserve a spot in the ESPN Chicago Hall of Fame? Watch

Photo gallery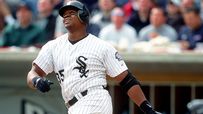 Check out the 20 candidates for the
ESPN Chicago Hall of Fame: Gallery

2. Frank Chance, 1902-1912, Hall of Fame in 1946: Chance took over the managerial reigns of the Cubs in 1905, beginning the most successful run in the team's modern franchise history. In seven and a half years, Chance had a franchise-high .664 winning percentage, and he won over 100 games four times and never won less than 91. In 1906, he guided the Cubs to a major league record 116 wins, which was tied by the 2001 Seattle Mariners. Under Chance, the Cubs had their best run in team history, winning pennants in 1906, 1907, 1908 and 1910, and won the team's only two championships. He is the only player-manager to win two World Series in baseball history. Nicknamed "Husk" for his size, Chance anchored the fabled Tinkers-to-Evers-to-Chance double-play combination. A .297 career hitter with the Cubs, his 404 stolen bases are still a franchise record.
3. Billy Williams, 1961-74, Hall of Fame in 1987: Williams' clutch hitting and perfect batting stroke made him the most feared hitter in a Cubs lineup that also included Banks and Santo. Williams' 1,117 consecutive games played is the second-most in National League history. The six-time All-Star hit 426 home runs and finished second in MVP voting in 1972. His influence continued after his playing career, as he has been the hitting coach and an advisor to the Cubs since his retirement. His statue on the corner of Waveland and Addison is a testament to his great career and popularity.
4. Ryne Sandberg, 1982-94, 96-97, Hall of Fame in 2005: The 1984 National League MVP was a throw-in on a trade that sent Larry Bowa to the Cubs for the Philadelphia Phillies' Ivan DeJesus. Sandberg might have been the best all-around player in Cubs history. His speed and defense alone separated him from the rest of his contemporaries. Nine Gold Gloves and over 300 stolen bases are just a small part of his overall game. Sandberg ended his career with the most home runs by a second baseman in major league history (282). The Cubs' perennial All-Star was arguably their most popular player since Banks retired.
5. Ferguson Jenkins, 1966-73, 82-83, Hall of Fame in 1991: The popular Canadian-born pitcher won an incredible 20 games six years in a row, pitching in Wrigley Field when it was a home run ballpark. Jenkins' greatest season as a Cub was 1971 when he won the Cy Young award with 24 wins and 30 complete games. He anchored a pitching staff that would have been in the playoffs numerous times if the wild card had existed in his era. He holds the Cubs' all-time strikeout record (2,038). A great all-around athlete, Jenkins was a Carlos Zambrano-like threat at the plate.
Bruce Levine covers the Cubs for ESPNChicago.com and ESPN 1000.