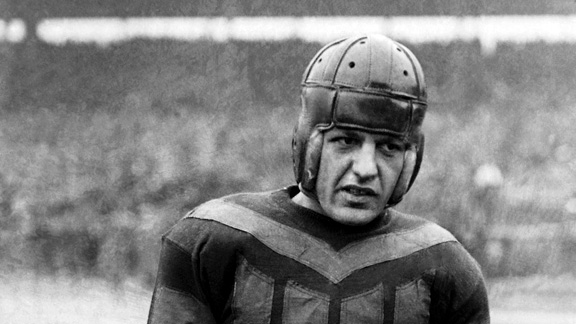 Getty Images
Michael Wilbon says Red Grange should be a lock for the inaugural class. Watch

Although Michael Jordan, Walter Payton and others grew up elsewhere before finding their stardom in Chicago, plenty of big-name athletes began their storied careers at high schools throughout the Chicago area.
Here's a look at 10 of the Chicago area's greatest high school athletes (in alphabetical order):
• Lou Boudreau, Thornton, baseball: Boudreau's earliest successes came on the basketball court. He helped Thornton High School to three consecutive state basketball championship games, winning one. But his career was made in Major League Baseball. He was an eight-time All-Star, won the 1944 American League batting title and led AL shortstops in fielding eight times. He won the American League MVP in 1948 while also managing the Cleveland Indians to the World Series title. He was inducted into the Baseball Hall of Fame in 1970.
Video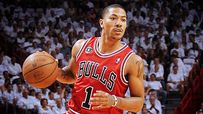 Are Chicago-born athletes such as Derrick Rose embraced more? Watch

Photo gallery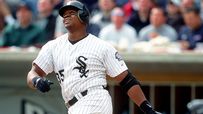 Check out the 20 candidates for the
ESPN Chicago Hall of Fame: Gallery

• Dick Butkus, Vocational, football: Butkus terrorized ball carriers his entire playing career not far from where he grew up on Chicago's South Side. He starred at Vocational High School in Chicago, then went on to the University of Illinois and ended up with the Chicago Bears. At Illinois, he was a two-time All-American. With the Bears, he was selected to eight Pro Bowls and was inducted into the Hall of Fame in 1979. The Dick Butkus Award is given annually to the top high school, college and NFL linebacker.
• Mike Conley, Luther South, track: Conley is one of three Illinois high school athletes to win four events at the state track and field meet. In 1981, he won the 100-yard dash, 200-yard dash, long jump and triple jump. In college, he won 16 long jump and triple jump titles at Arkansas. He went on to win a gold medal in the 1992 Olympics and a silver medal in the 1984 Olympics. He still owns the U.S. indoor triple jump record at 58 feet, 3.25 inches. Conley also starred in basketball at Luther South and played one season in college.
• Otto Graham, Waukegan, football: Graham was a jack of all trades. He starred in baseball, basketball and football. He even lettered in all three and played in the school band at Northwestern. His greatest successes came on the football field. Considered one of the game's greatest quarterbacks, the Hall of Famer threw 188 touchdowns in 10 seasons and led the Cleveland Browns to six NFL championships games and three NFL titles. He also played one season of professional basketball and helped the Rochester Royals win a championship in 1945-1946.
• Red Grange, Wheaton, football: Grange excelled at all sports, but football was his best. Later known as "The Galloping Ghost," Grange, a running back, scored 75 touchdowns and 532 career points at Wheaton High School. He once scored seven touchdowns and accounted for 59 points in one high school game in 1920. He later starred at Illinois, where his number is retired, and with the Chicago Bears in the NFL. He is a member of the NCAA Hall of Fame and the Pro Football Hall of Fame. He was recently named the Big Ten's No. 1 icon.
• Yolanda Griffith, Carver, basketball: Griffith was one of the first stars of the WNBA. She was a seven-time All-Star and won the league's MVP and Defensive Player of the Year awards in 1999. She averaged 13.6 points and 7.9 rebounds during her 11 seasons in the WNBA. At Carver High School, she averaged 34.8 points in his career. She also starred in softball in high school and still holds the state's record for career batting average (.623).
• George Mikan, Joliet Catholic, basketball: Mikan helped revolutionize the game of basketball because of his size and athletic ability. Nicknamed "Mr. Basketball," the 6-foot-10 Mikan was the NCAA player of the year twice at DePaul. As a professional player, he won three scoring titles and seven championships. Mikan's game led to the foul lane being widened and the creation of the shot clock and goaltending. He was named one of the NBA's 50 greatest players in 1996.
• Dana Miroballi, Wheeling, cross country: Miroballi had one of the most prolific high school careers of any athlete. She won four consecutive state cross country championships. She's the only runner to ever win four titles under the one-class system. She also starred in track and field and was a four-time state champion in the 3,200-meter run and two-time champion in the 1,600-meter run. She continued her running career at Indiana. She was inducted into the National High School Hall of Fame in 2009.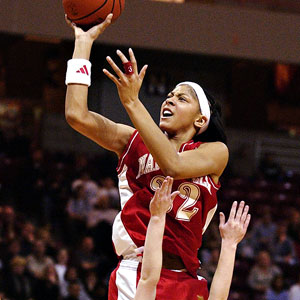 Associated Press
Candace Parker gained national fame for her dunks during her career at Naperville Central.
• Candace Parker, Naperville Central, basketball: Parker may go down as one of the best women's basketball players of all time. Her success began at Naperville Central, where she was a two-time national high school player of the year and three-time Illinois Miss Basketball, and won two state championships. She led Tennessee to back-to-back NCAA titles and was a two-time national player of the year. She was selected No. 1 in the 2008 WNBA draft by the Los Angeles Sparks and was named the WNBA MVP and rookie of the year. She has averaged 16.9 points and 7.9 rebounds in her four WNBA seasons.
• Isiah Thomas, St. Joseph, basketball: Thomas is considered one of the greatest point guards of all time. His stardom began at St. Joseph High School, and he was a McDonald's All-American in 1979. He led Bobby Knight's 1981 Indiana team to an NCAA championship. After being taken No. 2 in the 1981 NBA draft by the Detroit Pistons, Thomas went on to be a 12-time All-Star. He won two NBA championships with the Pistons and was named the Finals MVP in 1990. He was inducted into the Basketball Hall of Fame in 1999.
Honorable mention: Mark Aguirre, Westinghouse, basketball; Alexandria Anderson, Morgan Park, track; Quinn Buckner, Thornridge, basketball; Tamika Catchings, Stevenson, basketball; Bart Conner, Niles West, gymnastics; George Connor, De La Salle, football; Mary Eggers, West Aurora, volleyball; Dan Issel, Batavia, basketball; Debbie Keller, Waubonsie Valley, soccer; Freddie Lindstrom, Loyola, baseball; MaryAnne Kelley, Fremd, gymnastics; John Kinsella, Hinsdale Central, swimming; Elizabeth Lumpkin, Naperville Central, tennis; Brian McBride, Buffalo Grove, soccer; Terry McCann, Schurz, wrestling; Donovan McNabb, Mount Carmel, football; Ray Nitschke, Proviso East, football; Kirby Puckett, Calumet, baseball; Doc Rivers, Proviso East, basketball; Derrick Rose, Simeon, basketball; Cazzie Russell, Carver, basketball; Katie Schumacher, McCauley, volleyball; Dwyane Wade, Richards, basketball; Joe Williams, Mount Carmel, wrestling.
Scott Powers covers high school and college sports for ESPNChicago.com and can be reached at spowers@espnchicago.com.