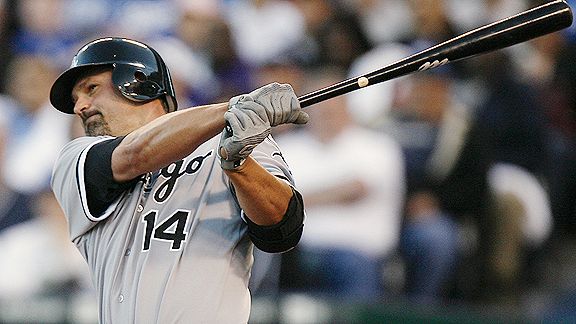 Associated Press
Will Paul Konerko be a first-ballot Chicago Hall of Famer when he retires? Watch

With over a century of history, selecting the top five players in Chicago White Sox history had its challenges.
Comparing players from generations ago to those in the modern era always stirs debate. How much bias comes into play when considering players we have watched and those we have only read about?
All it takes to realize how many greats have played in the organization is to look at the left field wall at U.S. Cellular Field wall, where they are honored. Nellie Fox, Harold Baines, Luke Appling, Minnie Minoso, Luis Aparicio, Ted Lyons, Billy Pierce, Carlton Fisk and Frank Thomas have had their numbers retired by the White Sox.
And now I have to compile a list in which four of those players don't make the cut? Brutal.
So let the second-guessing begin. Here is my list of the top five players in White Sox history:
1. Minnie Minoso, 1951-57, '60-61, '64, '76, '80: His baseball contributions combined with his historical significance separate him, in my opinion, from any player in club history. Considered the Jackie Robinson of Latin-born players, the Cuba native broke the White Sox's color barrier in 1951 at 25 years old. A seven-time All-Star, Minoso was honored as such five times as a member of the White Sox. Minoso wound up a .298 career hitter but batted over .300 eight times. What would his numbers be if he was allowed to play in the major leagues sooner? Sure it was mostly a gimmick that he played in the major leagues during five decades and professionally in seven decades, counting minor league promotions, but it says something about the man that teams would even let him do it. He will be considered for enshrinement into the Hall of Fame this winter by the veterans committee.
Video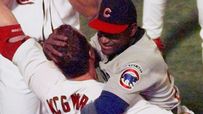 Does Sammy Sosa deserve a spot in the ESPN Chicago Hall of Fame? Watch

Photo gallery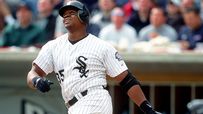 Check out the 20 candidates for the
ESPN Chicago Hall of Fame: Gallery

2. Frank Thomas, 1990-2005: The greatest offensive player in team history is just one of four players in major league history to finish his career with a .300 batting average or better (.301), 500 home runs (521), 1,500 RBIs (1,704), 1,000 runs (1,494) and 1,500 walks (1,667) to join Mel Ott, Ted Williams and Babe Ruth. In 15 seasons on the South Side, he became the franchise leader in home runs, RBIs, runs, walks, doubles, extra-base hits, on-base percentage, slugging percentage, OPS and total bases. Although he wasn't a major contributor in the 2005 season because of injury, Thomas was still able to get a World Series ring to go along with his individual career accomplishments. He is eligible for the Hall of Fame in 2014.
3. Ted Lyons 1923-46: The eternal member of the White Sox, Lyons not only pitched for 21 seasons, he managed the club from 1946-48. Elected to the Hall of Fame in 1955, Lyons is the White Sox's all-time leader in wins (260), games started (484) and complete games (356) and is second in overall games as a pitcher (594). He was a 20-game winner twice, winning 21 games in 1925 and 22 games in 1927. A right-handed pitcher, Lyons also hit from both sides of the plate and even delivered five home runs and 149 RBIs in his career.
4. Nellie Fox, 1950-63: Inducted into the Hall of Fame in 1997, Fox delivered on offense and defense. The 1959 American League Most Valuable Player led the league in hits four times (1952, '54, '57 and '58). On defense he won three Gold Glove awards, picking up the honor in 1957, '59 and '60. Fox was an All-Star 12 times, earning the honor for 11 consecutive seasons at one point. The second baseman is associated most with his double-play partner, shortstop Luis Aparicio, and the two have a sculpture together on the U.S. Cellular Field concourse.
5. Luke Appling, 1930-50: With apologies to Aparicio, who played 10 seasons with the White Sox, Appling gets the final spot in my top five by doing his damage in just over 20 seasons on the South Side, as opposed to Appling's 10. Inducted into the Hall of Fame in 1964, Appling was a career .310 hitter, collecting 2,749 hits during his career. He is the White Sox's all-time leader in games played (2,422), at-bats (8,857) and hits. He is also second in RBIs (1,116), doubles (440), runs (1,319) and walks (1,302). In 1936 he won the American League batting title with a .388 average. A seven-time All-Star, Appling finished second in AL MVP voting two times (1936, '43).
Doug Padilla covers the White Sox for ESPNChicago.com and ESPN 1000.