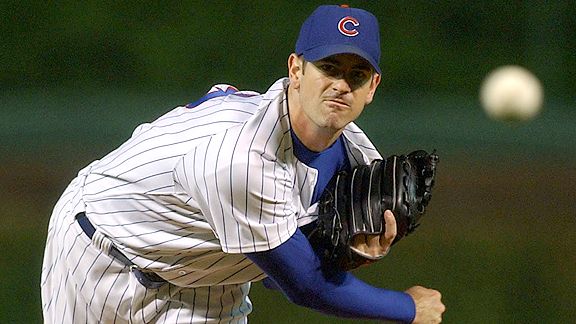 Getty Images
Was there a bigger tease of greatness in Chicago sports history than Mark Prior? Watch

Years ago, whenever former Chicago Tribune photographer Charles Cherney was at a baseball game, he always made sure to look for colleague Jerome Holtzman and take his picture.
Action shots of a sports writer?
"Because he was so colorful," Cherney said.
That's how he got one of his most famous pictures, at least in these parts. It almost looks like a Norman Rockwell painting actually.
There's Holtzman, garrulous and resplendent in his short-sleeve dress shirt, suspenders, bushy eyebrows and fat cigar. He's sitting next to manager Don Zimmer, stuffed into his Cubs blue uniform, in a dugout that looks like it belongs inside a submarine.
Zimmer looks downcast as Holtzman stares into the field, deep in thought.
The picture was taken at that dilapidated dump of a park, The Vet in Philadelphia, during the memorable 1989 pennant race. That road trip is a special memory for Cherney because reporters traveled together by train, just like in Holtzman's early days.
Video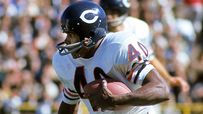 Who was the Bears best running back, Walter Payton or Gale Sayers? Watch

Photo gallery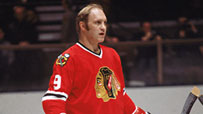 Check out the 20 candidates for the
ESPN Chicago Hall of Fame: Gallery

"Jerome got a club car," he said. "I thought that was cool."
When I look at his picture, it represents some inner truth about the reporter-subject relationship and perhaps a reversal on who has the power. Holtzman looks at peace while Zimmer is conflicted. I asked Cherney what hidden meaning he saw in it.
"I think they were just shooting the [bull]," he said.
Holtzman, of course, loved the picture.
"Years later, after Jerome retired, he'd call me every couple of months and say, 'Can I get 10 more pictures?'" Cherney said. "Then I'd go into Hackney's and see a signed copy on the wall."
The picture is worthy of a Pulitzer, but the type of person it embodies, the Chicago journalist, makes it that much more significant.
As ESPN Chicago establishes its inaugural Hall of Fame, we want to create a media wing. This isn't a perfect list, but that's the point.
Now for the inductees:
You Know Me, Al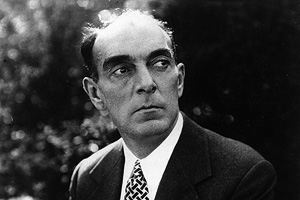 Associated Press
Ring Lardner's "You Know Me Al," published in 1914, still has relevance today.
Ring Lardner is not a household name now, but in his time, he was a national treasure, friends with F. Scott Fitzgerald and an inspiration to Ernest Hemingway. That's a long way from being Facebook friends with some athlete.
Lardner's greatest contribution to the world of sports letters was his satirical take on baseball, "You Know Me Al," a series of letters from a baseball player to his buddy back home. These fictional, slang-ridden dispatches from the life of the dense "busher" Jack Keefe, who played for both the Cubs and White Sox, were a hit when published in the Saturday Evening Post in 1914 and turned into a fine epistolary novel two years later.
The book, considered one of the best sports books and humor books, doesn't suffer from age. One reporter said he thinks of that book when at least one current Chicago baseball player talks.
"It still rings true," the reporter said.
Lardner's biggest impact in Chicago was when he penned the still-living "In the Wake of the News" column for the Chicago Tribune in 1913. He replaced columnist Hugh Keough, who started the tradition in 1907. As Lardner's New York Times obituary put it, "At first twenty letters a day to The Tribune told him how he failed."
Some things never change. Imagine if he had a comments section?
Lardner left the column and Chicago in 1919 and passed away in 1933 at the young age of 48. He won the second J.G. Taylor Spink award, getting him "into" the Baseball Hall of Fame in 1963. Spink was the first winner.
Jack Brickhouse vs. Harry Caray
In terms of post-life impact (both passed away in 1998) and staying power in Chicago, Caray is presumably a home run for first ballot in a media Hall of Fame. But when you talk to reporters and Chicagoans in general, it's not quite as clear.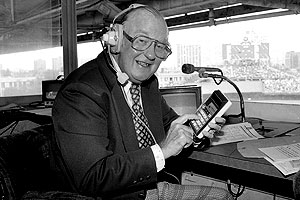 Associated Press
Jack Brickhouse is most known for calling Cubs games, but he was a versatile broadcaster.
"Jack Brickhouse would be my No. 1," Chicago native and former Tribune sports editor Dan McGrath said. "Covered everything, had fun doing it, and made it fun for his listeners, even if he was a bit of a homer. Those stories about kids rushing home from school to catch the last few innings of the Cubs on TV, very true. A lot of kids became baseball fans, Cub fans, because of Brickhouse. I'd put him ahead of Harry Caray because Harry was more St. Louis to people of my generation."
"Brickhouse was the better, versatile broadcaster who did more than baseball," Chicago native and NBC reporter Peggy Kusinski said. "Caray became the 'personality.'"
"Jack Brickhouse has to be No. 1, right," longtime Chicago media columnist Robert Feder said.
Brickhouse did everything: boxing, football, pro wrestling, pro basketball. He was calling the World Series game when Willie Mays made his famous catch.
Still, Harry was Harry. His legacy dominates the Cubs to this day, from the eponymous restaurants to the warbly guest conductors for "Take Me Out to the Ballgame." Whenever the Cubs are on national TV, Ryan Dempster is asked to do that impression of Will Ferrell doing Caray. It's safe to say Wrigley Field got its reputation as "America's favorite beer garden" from Caray's lubricated broadcasts.
But Brickhouse was the best broadcaster, even if he was a homer. He received the Ford C. Frick award in Cooperstown in 1983 and is honored with his trademark "Hey Hey" on the screens of both foul poles at Wrigley and a statue downtown by the Tribune building.
Brickhouse wins and Caray, as they say, will have to wait 'til next year.
Next to the Tire Ads
In the foreword for the updated paperback of Bill Veeck's autobiography, "Veeck -- As In Wreck," Bob Verdi penned a lede that described Veeck, and the state of sportswriting today: "It's not as much fun anymore."
Verdi, the only living member of this class, probably isn't as famous today as he should be. Now the team historian, and in-house writer for the Chicago Blackhawks, he was shown the door at the Tribune in 2009, after a 42-year career at the paper. He had been writing on the weekend for the newspaper for years, "next to the tire ads" as he liked to joke.
Verdi is still an ubiquitous presence at Blackhawks games, which is a treat for many, especially other reporters.
"We all grew up wanting to be Verdi," Daily Herald baseball writer Bruce Miles said.
Mike Royko once wrote: "Verdi isn't a throwback to the days when they told it the way we wanted it to be, but really wasn't. Nor does he insult us with the obvious and irrelevant, as the grumps do. What he does is use his words gracefully, wittily, concisely, and honestly. He reports and writes the way a fine athlete performs, by making it look easy, although we know it isn't."
Verdi, a world-class golf and hockey writer, was one of the few unanimous choices from Chicago reporters consulted for the Hall of Fame.
He probably belongs simply for coming up with one of the city's best nicknames, "Dollar Bill," for the late Hawks owner Bill Wirtz. It was a pejorative, to be sure, but even Wirtz came to like it.
The ultimate fan
Mike Royko made his career writing about Chicago, the politicians, the characters, his take on the ever-changing cultural landscape and, yes, the sporting heroes and villains. His book on Mayor Richard J. Daley, "Boss," should be read every year by every Chicagoan.
A print legend, who worked for the Daily News, Sun-Times and Tribune, needs no defense for entry into any Hall of Fame in this city.
As Sun-Times columnist Rick Morrissey reminded me, whenever Royko wrote a sports column he would say he was the best sports writer in the city that day.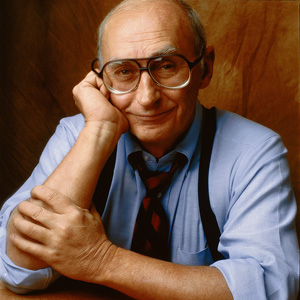 Getty Images
Mike Royko was considered by many as the voice of Chicago, thanks to syndication of his newspaper column.
"He did say that," said his old legman, Paul Sullivan of the Chicago Tribune.
Royko's 1987 column on Keith Hernandez's book about the 1986 Mets made "The Best American Sports Writing of the Century." No other Chicago newspapers were represented in the book.
His last column before he died in spring 1997 was how the Cubs were only cursed by bad ownership.
Royko was considered the voice of Chicago, thanks to newspaper syndication, and he often spoke for the common fan, especially when writing about his favorite sport, 16-inch softball.
"No one championed 16-inch softball as Chicago's game more than Royko. And no one played it with more heart," said Feder, a longtime writer for the Sun-Times who now pens a media column for Time Out Chicago. "One of his most memorable columns included a vivid description of the game in which he broke his ankle in the first inning -- and played the whole game anyway. It wasn't until the next day that he learned he'd broken it."
Royko's 1979 column "An Ode to the 'Softies" was an inspired gem in defense of true 16-inch softball, which is to mean no gloves.
In a column about the Cubs' first night game in 1988, Royko wrote, in words that ring true today, "Yes, it is a new era. The only thing that remains the same is that the team stunk then and it stinks now."
Bring in The Dean

It's fitting that Holtzman is last, considering all he did for the relief pitcher. Holtzman came up with the save statistic in 1959, and a decade later, baseball made it an official statistic.

Players always gave him his due respect and every closer since the dawn of free agency should tithe in Holtzman's name.

Holtzman, who passed away in 2008, rose from a newspaper copy boy to privileged status among writers. He won the J.G. Taylor Spink Award that put him in Cooperstown in 1989. He became famous when he wrote for the Sun-Times and moved to the Tribune late in his career.

His most famous quote, among writers, came when he was called out by a younger editor for using too many clichés in his copy. "But they're my clichés," Jerry argued, according to Mike Downey's story in the Tribune after Holtzman's death. "I invented them."

They don't make them like Holtzman anymore. Tribune teammate Sullivan stayed in close contract with Holtzman until his death. He was in awe of Holtzman's voluminous file system, which documented the game in unusual, fastidious fashion.

"He had a file this thick of just beanball stories," Sullivan said the other day, measuring his hands a foot high. "This was before Google. He would clip out stories about beanball incidents and file them. He did that with everything. I wish I had those files today."

It looked to Sullivan like Holtzman would go through issues of the Sporting News and clip out nearly every story. Everything fit somewhere.

Holtzman was more than a librarian. He was a walking encyclopedia and in his prime, an ace reporter who was known as a "truthsayer" and broke important stories and wrote about labor issues. His book about sportswriting, "No Cheering in the Press Box" is a classic in its genre.

Respect for Holtzman was given recently by the White Sox who created a kind of mini-exhibit for the writer at U.S. Cellular Field in 2009. The display included his book and green Olivetti typewriter. Jerry Reinsdorf spoke at the unveiling. Ozzie Guillen left the clubhouse for the brief ceremony.

"A lot of managers have different ways to think about the media," Guillen said at the time. "I know the media has to do their job. I tell my players to talk to the media because the media is more important than the agents. The media is a big part of this game now."

Now and forever, hopefully.

Jon Greenberg is a columnist for ESPNChicago.com.