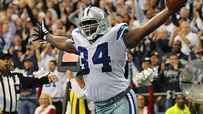 The Cowboys are 8-3 and in first place in the NFC East as they head to the Meadowlands to take on the Giants this weekend.
Welcome to SportsNation! On Tuesday, Dallas Cowboys fullback Deon Anderson stops by to chat about the season.
Anderson is in his third season with the Cowboys out of the University of Connecticut.
With only two career carries in his three seasons, Anderson is often overlooked, but he is the man leading the way for the Cowboys' successful trio of running backs.
Send your questions now and join Anderson Tuesday at 2 p.m. CT/3 p.m. ET!
More Special Guests: Previous chats | SportsNation
Deon Anderson
(3:00 PM)
Good afternoon, Dallas Cowboys fans. I'm glad you're here with me to spend a little time today.
Jim Friedline (Austin Arkansas)
Why don't the Cowboys roll Tony out and throw to the fullback in the flat more?
Deon Anderson
(3:01 PM)
Tony's job is hard enough already. The reason why he doesn't throw to me that often in the flat is because he goes through his progressions and throws to guys who are already wide open. By the time he gets to me in his progression, the ball is already out. I'm like a safety valve.
Brad (Gadsden,Alabama)
Deon, Do you have any pre-game rituals?
Deon Anderson
(3:03 PM)
Yeah, I get to the stadium and go to the locker room. If it's a home game, I'm there three hours before the game starts. I start off on my iPod and have my game day mix. I listen to DMX. Put that on and listen to it and bathe in Flex-All to make sure I'm loose. Sometimes it gets in the wrong crevice. Then I get taped and get stretched. I put my pads on and everything and make sure all the bases are covered -- my gloves, tape on my fingers, mouthpiece. After I have everything, I head out to the field and warm up with the team and come back in and get ready for the game.
Neil (Tyler,Texas)
What is team chemistry like inside the locker room and off the field right now?
Deon Anderson
(3:06 PM)
Inside the locker room is just like it is off the field. Guys are in there just cracking jokes on each other, setting each other up for pranks. I was just in there with Marion, about 10 or 20 minutes ago, and he was dropping elbows on me because I was in the wrong position. Even on the field, we crack jokes. I remember when Felix got tackled and landed on his head. He came to the sideline with all this grass on his head. The only thing he could say is, "I landed on my face." Everybody just started laughing. The chemistry is definitely there on and off the field.
Red Johnson (Callisburg)
What's your favorite play to run and why?
Deon Anderson
(3:08 PM)
C'mon, now, you should know. I'm a fullback. It's the Iso. The reason I like it is because I take a little draw step and while I take that draw step the line clears everybody in the vicinity and it's just me and the middle linebacker. Let it be Takeo Spikes, Ray Lewis, Brian Urlacher ... it doesn't matter. At that point in time, it's me and him. That's my favorite play.
Dustin (CA)
First off your a beast!! Are you guys using Eli's "first win" signature in your visiting locker room as bulletin board material for this week? That wasnt very cool, stomp those guys this week.
Deon Anderson
(3:09 PM)
Thanks for the compliment. I don't even know about any first win signature.
Jim Schneider (Flower Mound)
Who is the toughest player that you have to block?
Deon Anderson
(3:11 PM)
DeMarcus Ware. He's strong and has good explosion and all that, but the thing I can't get around is his 7-foot reach. When we hit and he locks me up, I'm like a little kid. You know, like the little kid whose older brother holds him up while he's swinging away? I feel like the little brother.
Joe Franklin (Grand Prairie)
How would you compare Marion Barber, Felix Jones and Tashard Choice?
Deon Anderson
(3:13 PM)
It's hard to compare them because their styles are so different. At the same time, they all have game-changing abilities. Felix, as everybody in the world can see, is extremely fast. Tashard is like a combination of speed and power. If he has to run it up in there, he's not scared to put his face in the mix. Marion is just tough, and he displayed some speed last week when he caught that pass up the sideline. They all have different styles. And they're all beasts.
Byron (Dallas)
Deon, as far as leadership in the locker room have you seen a big change from last year to this year?
Deon Anderson
(3:15 PM)
Leadership was always there. This year there are new faces. I feel that with that year of experience guys are stepping it up a little bit more. When you have more experience, it's easier to do something. Guys are being more vocal, more active in the locker room. Keith Brooking has also made an impact. He's been in the league for a long time and knows how to lead. I'm not taking anything away from other guys, but the longer you've been in this business, the easier it becomes to lead. It's like second nature.
alex (fontana ca)
what was your fav team growing up and if it wasnt the cowboys do u stil go for them if your eliminated which i hope isnt that often?
Deon Anderson
(3:16 PM)
My favorite team since I'm from Providence, Rhode Island was the Patriots. I just don't like them anymore. They are the enemy.
Ted Smith (Duncanville)
What was the biggest adjustment for you after you were drafted by the Cowboys?
Deon Anderson
(3:17 PM)
Probably being precise and exact with everything. Like running a flat and shoot route. A shoot is 2 yards and a flat is like 4 1/2. It's knowing the difference and being precise. It's knowing different defenses, how to read them, how to see a blitz coming. That was the biggest adjustment.
Neil (Las Vegas)
Is it important for a fullback to have good timing with his tailback? If so, how are you able to maintain timing with three unique backs with different styles?
Deon Anderson
(3:19 PM)
That's the thing. Because they're so good, they set me up for the block. I know Marion will run right behind me, therefore the LB will have to go through me. Felix sort of bubbles, makes it look like he's going to outside me, setting up the linebacker to get kicked out. Tashard does a little bit of both depending on the play.
bigdawg (Shreveport La)
What do you think the team need to improve on to win the championship?
Deon Anderson
(3:21 PM)
Starting fast and eliminating mistakes. We start fast sometimes and then there will be a penalty or we come out flat and wait until the third drive to score instead of coming out scoring and taking control of the game.
Bill (CT)
Do you stay in touch with Randy Edsall and the UConn program?
Deon Anderson
(3:22 PM)
Oh, yeah. Last week Coach sent me a message saying that he was watching me block Tyvon Branch. Him and I were teammates at UConn and he's out there starting for the Raiders. We're constantly in contact.
alex (fontana ca)
whats the coolest thing about the new stadium to you besides the gaint screen?
Deon Anderson
(3:24 PM)
The entire stadium. It's like you could live there. The locker room is ridiculous. You can get freshly brewed coffee. For real. Freshly brewed coffee in the locker room before the game. It's crazy.
Michael (Dallas)
Honest answer here! Is there any talk amoung you and the rest of the team about December? Is December a season with in a season that you must win?
Deon Anderson
(3:26 PM)
No. What is up with these people and December? Basically, we focus on Wednesday's practice and then Wednesday's meetings and then Thursday's practice and Thursday's meetings. History is history. You can never rewrite history. We don't focus on anything that's happened before. What we're focused on now is just handling our business one day at a time.
Chris (Dallas, TX)
what gets you more excited? A carry for yourself and a 1st down or a key block that sets one of the other backs off for a long downfield run?
Deon Anderson
(3:28 PM)
Blocking is my job. I love making key blocks. That's what I thrive off of as a fullback. Most definitely a key block that will spring Marion, Felix or Tashard for a touchdown or a key block that protects Romo for a touchdown pass. Definitely blocking. I block, baby!!!
Neil (Tyler,Texas)
How is your progression coming? I see you as another Daryl Johnson and thats a good thing!
Deon Anderson
(3:30 PM)
The more reps I get, the more comfortable I become out there on the field. Like my rookie season, I'm trying to make kill shots every time I hit someone. I'm trying to knock them out of the water. I've learned that I'm going to have to bang every now and then, but it's more about making a sustaining a block then getting a kill shot. In time, those kill shots will come.
Deon Anderson
(3:31 PM)
I appreciate all the support. Stay tuned this week for a great game against the Giants. Watch me out there busting some heads on special teams as well as offense. Go Cowboys!
THIS WEEK'S CHATS (All Times CT)