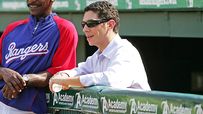 Jon Daniels, at 32, is the youngest general manager in Major League Baseball.
Welcome to SportsNation! On Monday, the Rangers general manager will chat with readers about all the moves the team made at last week's Winter Meetings and what they mean to the 2010 edition.
The Rangers traded away starter Kevin Milwood, but filled that slot by signing Rich Harden. The team is also involved in a deal that could net them Red Sox third baseman Mike Lowell.
Send your questions now and join Daniels Monday at 10:30 a.m. CT/11:30 a.m. ET!
More Special Guests: Previous chats | SportsNation
Jon Daniels
(11:31 AM)
Hi everyone. Let's get started.
Brian Sisk (Fort Worth)
Marlon Byrd is one of the reasons for the success that the Rangers had last year, so why not sign him for the 2010 season?
Jon Daniels
(11:34 AM)
Brian - I agree that Marlon played a big role for us and is one of the reasons we had a good year. We'd like to have him back. That said, it's not as simple as bringing him back for 2010 - he's got options for multi-year deals. And given the makeup of our roster and our other needs, we don't feel we can bring Marlon back for the type of contract he's earned AND address the other spots we need to this year and in the future. We're still in touch and if things change on either side, you never know.
Chad (Rogers, AR)
Do you foresee signing any other Starting pitching candidates?
Jon Daniels
(11:35 AM)
We're still looking at additional starting help. I'd put it around 50/50 if we add someone to our existing group. Adding a starter could indirectly strengthen our bullpen as it may cause us to leave CJ and/or Neftali in the pen.
David (Grapevine)
How do you see the NFC East shaking out with only three games left?
Jon Daniels
(11:38 AM)
I didn't see the Cowboys game yesterday. But the Giants' defense wasn't very encouraging last night. They have more young offensive weapons than they've had in a while but it's hard to win, especially in this division, if you can't stop the opponent. At the very least you know the games are going to be entertaining. The Eagles just have so many quick athletic interchangeable parts on offense, not sure anyone can match up with them right now. Giants have 3 games to make up 1 in the standings, we shall see...I'm sure everyone was dying to know my thoughts on that...
Chad (Rogers, AR)
Are you comfortable going into Spring with Borbon as the everyday center fielder?
Jon Daniels
(11:41 AM)
Yes. He'll have to continue to prove himself & earn it - primarily by working hard and showing continual improvement. But we feel he can do the job. We're always going to have some guys learning on the job, this is no different. He'll make mistakes, which is ok as long as he learns from them quickly.
Michael (Austin, Tx)
Do you expect Saltalamacchia to be ready to play every day by the seaon opener?
Jon Daniels
(11:43 AM)
We hope so, but can't say for sure right now. That's why we wanted him to go to winterball - so we'd know. Unfortunately he had a setback. THe doctors aren't concerned but until we see him out there at game speed, I can't say with 100% certainty that he'll be ready. We'll prepare for both possibilities.
BG (MN)
How do the rangers plan on using Mike Lowell?
Jon Daniels
(11:47 AM)
Lots of Lowell questions, so let me sum the situation up here:As for the trade, nothing is final. As we've said it's something both teams are looking at and the parameters are generally understood. Still some things to work through though, and it's not a lock to happen. I expect resolution one way or the other fairly soon.If we did acquire Mike, he'd fill several roles for us. He's DH at times, play 1B at times, and give us a strong option at 3B if Mike Young needed a day or had an injury. Some of the more potent bats available for the DH spot are attractive too, but we really wanted to maintain roster flexibility and have our DH be able to play defense when needed. Depth and interchangeable parts are so important over the course of 162... He also brings an element of experience that can only help.
Robert (NewbergReport)
Will there be an ownership change in time to affect this offseason? In other words, will there be more "financial flexibility" to sign or trade for players in the near future?
Jon Daniels
(11:51 AM)
I honestly don't know. My understanding is there's a strong likelihood that the situation will be resolved before Opening Day, but how much before we don't know. We're carrying out our offseason plan given our current budget. Until we're told differently, that's our expectation - and we expect to field a winning team under that plan. If there are additional funds later, depending how the market and our needs look at that time, we'll figure out the best course of action then.
Remarks52 (Connecticut)
Where do you think Ian Kinsler will bat this year? Leading off, or somehwere in the middle of the lineup?
Jon Daniels
(11:53 AM)
Wash has said that Borbon would be the primarily leadoff man as we sit today. Kins is so versatile that he can hit almost anywhere. I realize it dropped last year, but he has a history of getting on base at a solid clip, and obviously has power. So he can fill any number of spots in the order, at the top or in the middle.
David (Grapevine)
Do you think Dr. Meister's growing reputation and Mike Maddux played significant roles in convincing Harden to sign as a Ranger?
Jon Daniels
(11:55 AM)
Probably. I'm sure they were factors, as was the good young team, the familiarity with the division, Arizona spring training, comfort zone with some guys on the team, the contract, etc. Mike and Keith have outstanding reputations as being one of, if not the best in their fields. We're lucky to have them.
Jl (Dallas)
Any concern that O'Day will regress and not be as dependable as he was last season? The bullpen seems to be a bit iffy going into next season, and he was one of the more dependable guys for most of the yr, but he doesn't have much history to say he can do it again necessarily.
Jon Daniels
(11:58 AM)
You have to expect him to somewhat, don't you? Hard to have a sub-2 ERA every year. Darren's always been a strikethrower, and his arm slot and style will always be tough to pick up. If those things continue, I expect he'll keep getting guys out. As for the pen in general, we're trying to add as many quality options as possible. We feel we already had depth (between relievers and some starters that won't make the OD rotation) and we've added to it. If we put the right combination of guys together, the pen will be a strength again.
Dean (Dallas)
Jon, what's the latest on Brandon Boggs and will he be in the outfield mix going into spring training?
Jon Daniels
(11:59 AM)
Brandon had his shoulder scoped in September and is doing great. He just saw Dr Meister last week and should be 100% for Spring Training. He'll be in the mix for an extra OF spot.
Chad (Roger,AR)
Congrats on the Millwood trade...I am really excited about Harden and think Ray could have a bounce back year. How are did you press the Orioles for one of their young arms ? Did you have to settle for Ray or was he a main target all along?
Jon Daniels
(12:01 PM)
Chris was of interest from the start. He was one of several relievers we felt could outperform his contract, and could help us. We had interest in him before he got hurt and have followed him since then. In the negotiations with Baltimore, several other names came up. There was somewhat of a sliding scale between talent we got back and the financial obligation they'd take on. We found a deal that worked for both sides.
Ryan (St. Louis)
Every December since 1992, I've said to myself: this year is the year. Is this year the year?
Jon Daniels
(12:02 PM)
We think so. It's going to be a very competitive division - top to bottom - but we feel we can win it. More importantly, our players believe that's the case.
Bennie (Burleson)
If Teagarden is considered by the Rangers to only be a backup catcher, but you don't want to have him take Salty's place at the beginning of the year then why even have Teagarden on the roster. Why don't you just cut him?If he can't be used for a few weeks while Salty recovers then he is of no use to the team and is clogging up a roster spot. Why have a player on the roster that you are afraid to use?
Jon Daniels
(12:04 PM)
Taylor caught 60 games for us last year - we're clearly not afraid to use him. He's going to play at 26 next year. Hardly clogging up a roster spot.
Chad (Rogers, AR)
Any conversations with the agent for Ben Sheets?
Jon Daniels
(12:05 PM)
We met with Casey Close in Indy. Obviously we've had interest in Ben for some time now. We still wish he'd have been healthy last year, as he'd have just finished his first year with us and be preparing for his second. We'll continue to stay in touch this winter. If he's healthy, we'd have interest.
Chris (Dallas)
What is the status on Hurly and Scheppers are they going to be restricted this year due to their injury history or will they have a chance to see the ML?
Jon Daniels
(12:07 PM)
Eric is here in Arlington rehabbing now. He's doing well. We'll be a little cautious with him this spring, probably won't see him break with a club on opening day - may be a little bit behind by design. Tanner is working out in Surprise. He's penciled in on the Frisco club right now. We'll have a specific program for him, designed to build him up and keep him healthy all year - particularly late in the season, since we want him to finish strong. Depending on how the season goes, both guys could get a look.
Adam Myers (Oklahoma City, OK)
How does the catching situation look with an injured Salty? Will he be ready for the season? Is there money to sign a veteran catcher like John Buck?
Jon Daniels
(12:08 PM)
We made Buck an offer but Toronto offered him more, and they were able to guarantee him the starting job. We're still looking at other options for catching depth.
Guy (OKlahoma)
do you see Nolan being with the club in the future
Jon Daniels
(12:12 PM)
I hope so, and it seems that all of the men bidding on the club see his value here as well.
Chris (Plano)
Are you looking for any other big right handed bats if you are not able to sign lowell?
Jon Daniels
(12:13 PM)
If we don't trade for Lowell, there are several other bats on the market that intrigue us. We're in contact with their agents now.
Dave H (Fort Worth)
What are the odds that you start with an eight man bullpen out of spring training?
Jon Daniels
(12:14 PM)
Hard to say right now. Depends on a few things - the composition of our bench at the end of camp, who the starters are and are they ready to go deep into games, and how long does the schedule allow us to go one player/starter short? In general, we expect to have 13 pos player, 5 starters, and 7 relievers. But for a short period of time, we could consider a different mix.
Jeff (Dallas)
Do you have any plans on just testing the waters and starting Neftali any time throughout the season to see how well he performs? Or will he still play the same role this season?
Jon Daniels
(12:16 PM)
Neftali will come to camp as a starter this year. He'll get stretched out and we'll give him a look in the rotation. If we chose to put him back in the pen, that's an easy transition. We know he can do that, but the upside of his stuff making 30+ starts is too good to not look at that first.
Colby (Waco)
There were rumors flying around that the Rangers are shopping Josh Hamilton. With him being one of the most popular players, what are the reality of these rumors?
Jon Daniels
(12:17 PM)
No substance to them at all. We haven't had a single conversation about Josh this winter.
Jared (Rockwall)
With the unlikelihood of resigning Byrd, should we expect an outfield of Murphy, Hamilton and Borbon? Or are you still looking for at the free agent outfield crop?
Jon Daniels
(12:18 PM)
Add Nellie Cruz to that mix. We've got 4 quality ML OF's plus guys like Gentry, Golson, Boggs on the roster and Moreland, others right behind in the system. Outside of talking with Marlon, OF has not been a priority this winter.
dudeInAfghanistan (Guess!)
What can you tell us about Ben Snyder? It seems you are really stocking up on lefty reliever options.
Jon Daniels
(12:22 PM)
Assuming you're in the military - thanks for what you do for our country.Ben was a starter in college and for the first few years in the minors. He's got a starter's repertoire and build, but when he moved to the bullpen he kind of took off. His delivery has some deception to it, primarily because he has a crossfire delivery (he steps towards the 1B dugout) and is hard to pick up. He throws k's with his fastball and his breaker is a true L-on-L weapon. We'll see how he handles himself in camp. Other guys that were available may have had a little more upside but we felt Ben had a better chance of sticking and filling a real need.
Ross (Keller)
Reports out of the winter meetings were that the Rangers proposed Feliz and Smoak for Josh Johnson. I LOVE Johnson and would love to see him here long term, but was there any truth to this rumor?
Jon Daniels
(12:24 PM)
We'd love to have Johnson too (which team wouldn't?), but this rumor is completely innacurate.
Kyle (Fort Worth)
We have been hearing lately a lot about how players with past injuries should be more interested in coming to Texas because of our great medical staff. Was this something the organization had in mind to develop or has it just come about because of reputation
Jon Daniels
(12:28 PM)
We've tried to create every competitive advantage we can to combat big payroll clubs that we can't compete with on the FA market. That includes the amateur/international/pro scouting staff, player development, strength & conditioning program, Dominican program, ML coaching staff, front office team, among others. Our medical groupis right there as well. Jamie Reed, our Medical Director and Head Trainer, may be the best in the game. He's worked with us to assemble the team that includes Dr Meister, Dr Hunter, Jose Vazquez, Matt Lucero, Kevin Harmon, and on and on. They allow us to take chances on guys that need a strong medical/training staff to get the most out of their abilities.
Rob M. (McKinney, TX)
Last year was suppose to be a development year but you ended up competing for the division late into Sept. This is still a young team going into 2010. On a percentage basis, how much of next year is devlopment vs competing?
Jon Daniels
(12:29 PM)
We're 100% focused on winning. The reality is that we're not going to win unless we continue to get major contributions from our younger players. So in that respect, winning and developing go hand in hand.
Dave H (Fort Worth)
If Feliz doesn't make the rotation out of spring training but is just outside the cut, would he pitch in AAA until a slot opens up, or will he just stay in the major league bulpen?
Jon Daniels
(12:30 PM)
Both would be options. However, I'm of the mindset to take our best 25. Would be hard to leave him behind if he's throwing like he's capable of.
Adam (Dallas)
Who will start-Salty or Pudge?
Jon Daniels
(12:30 PM)
Strong question.
Alan (Flower Mound)
Do you expect the Rangers to fall back a little this year, in terms of wins, because of the surprisingly good years many players had last year?
Jon Daniels
(12:33 PM)
We view it differently. Not many guys had what you'd consider to be career years. However, there are many we can reasonably expect significant improvement from. We expect to be better than we were in 2009.
Ed (NoCal)
Can you tell us a bit of the trends you see in MLB from your vantage point, as you try to build the Rangers? Anything surprising to you?
Jon Daniels
(12:35 PM)
Some off the top of my head... Heavy emphasis on defense, and to a lesser degree versatility. Teams coveting their prospects. Teams in certain areas of the country pulling back financially in response to their local economies.
red3biggs (Newberg)
With the growing reputation about the Rangers FO growing, and with the ownership concern also growing, do you see a loss of major people at the end of this season. (Thad, Scouts, trainers)?
Jon Daniels
(12:40 PM)
If we continue to have success as an organization, there's no doubt teams will call for our people. That's already started actually - Toronto, Cleveland, Kansas City, Oakland, Boston, Atlanta, Seattle, NY Mets and others have all recently hired or interviewed folks from our group. There are several people here that could be GM's soon, in my opinion. Not to mention scouting directors, managers, etc. We're fortunate to have such a good staff, and for ownership to allow us to keep the group together. Some have had opportunities to leave but have stayed because they believe in what we're doing and ownership has stepped up to keep them. You don't read about that stuff, but it happens all the time.
Matt (DC)
Do you have to run major decisions by Nolan or Mr Hicks first?
Jon Daniels
(12:45 PM)
Yes - I think the days of one person making major decisions in a vacuum are long gone. We've got a decision making process that we're all very comfortable with. Take the winter meetings for example - we were all together in a hotel suite. Guys were gathering info from our scouts, our coaches. We were talking with agents, other teams. We'd bring all the info together, look through our options and how they fit together. As a group we taked through it, factored in all the extras - medical info, makeup, finances, etc. Nolan was there for a good part of it. The room dynamic was outstanding. When we were ready to move, we'd already talked through it so there was no delay in acting. Typically either Nolan or I would bring Tom up to speed - often well in advance, sometimes right before a deal is made - and get final approval on the bigger items. On the smaller deals, it's a shorter process with fewer approvals but the group discussion (scouts, coaches, etc) is the same.
Jon Daniels
(12:46 PM)
Ok everyone, I need to run. Thanks for your time, questions, and continued support. Happy Holidays to you & your families.Best,JD